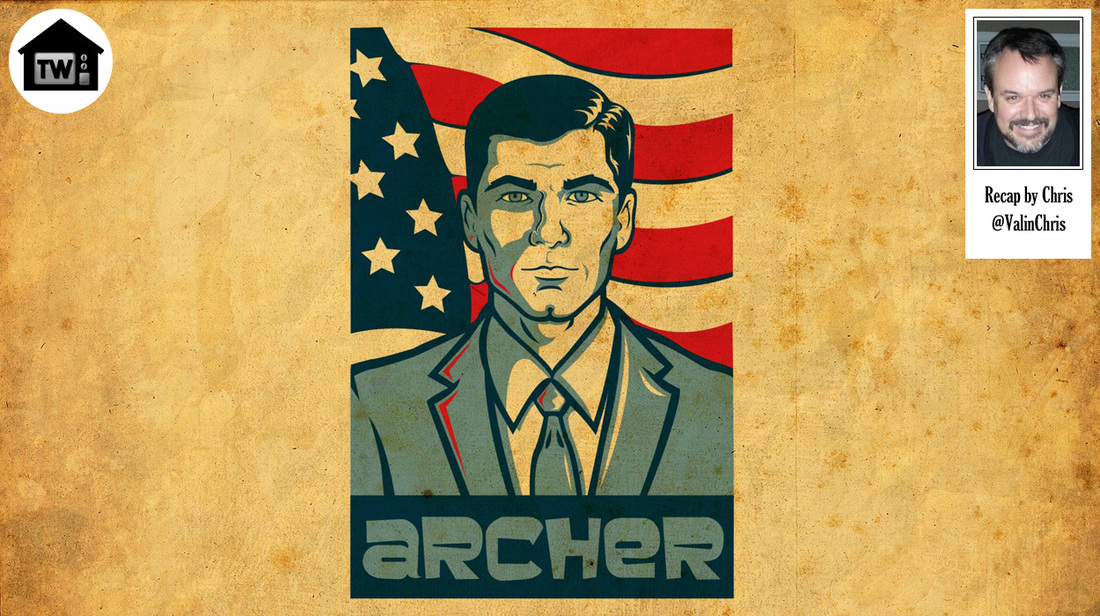 Season premiere! No more drug running! And no more ISIS (those terrorists really put a bad spin on that name).
Archer's off on another self-pity bender, this time because he became a parent against his will. The CIA (the agency's "new overlords") tracks him down in Southeast Asia and gives him a mission to destroy a downed plane and retrieve an important computer. But first he has to get rid of the lady-boys in his shower.

Back at headquarters, the rest of the team is checking out the renovations to the office made by Cheryl and Pam (because they always get everything right, no?). At first it looks like they actually did a great job, but it turns out to be a hologram hiding the actual renovation: they restored everything back to its former craptastic glory, including blood stains where people had been shot (minus the ISIS sign, of course). While Malory is in tears because she's so disappointed, Pam goes into a janitorial closet and enters a secret Jacuzzi room where she gets naked with Krieger (shudder) ... or is it a clone?

After being dropped into the jungle by Air America, Archer is attacked by an old Japanese man in a uniform who, of course, doesn't know World War II ended. The guy, whose name is Ken, doesn't believe Archer that the war ended, so Archer gets out his smart phone and shows him pictures of the signing of the surrender, a scene from The Bad News Bears Go to Japan, and a link to an episode of The Six Million Dollar Man episode in which the same exact thing happened that's happening to them now. And Archer feels like the most important thing to explain about the whole thing is who Steve Austin is.

Archer ties him up and forces him to come with him because he's afraid he's going to sneak up and slit his throat. But Archer falls into a tiger trap and injures his leg. The old soldier rescues him, but then gets him drunk, calls him a dickhole because he ran off on his and Lana's daughter, then grabs his phone when he passes out. Then he watches, of all things, old war footage about the U.S. kicking Japan's ass in WWII. Looks like this is going to end just fine, right?

Actually, surprisingly, it does. Ken sees Japan's surrender and accepts it, then helps Archer finish his mission while they're shot at by Communist insurgents. He even carries Archer to the extraction point on the beach, and in return Archer calls Ken's wife and they have what amounts to probably the most touching moment in the history of the show.

Archer returns to headquarters (I don't know what to call it any more, since it isn't ISIS), where Lana bitches him out for disappearing and everyone finds out Archer was on the planning committee for the new office, so it was mostly his fault the office looks exactly like it used to. Apparently, he doesn't like change, which is probably either an admission by Adam Reed, or a jab at viewers who complained about the strange direction they went in last season. Either way, it's good to be back.

​