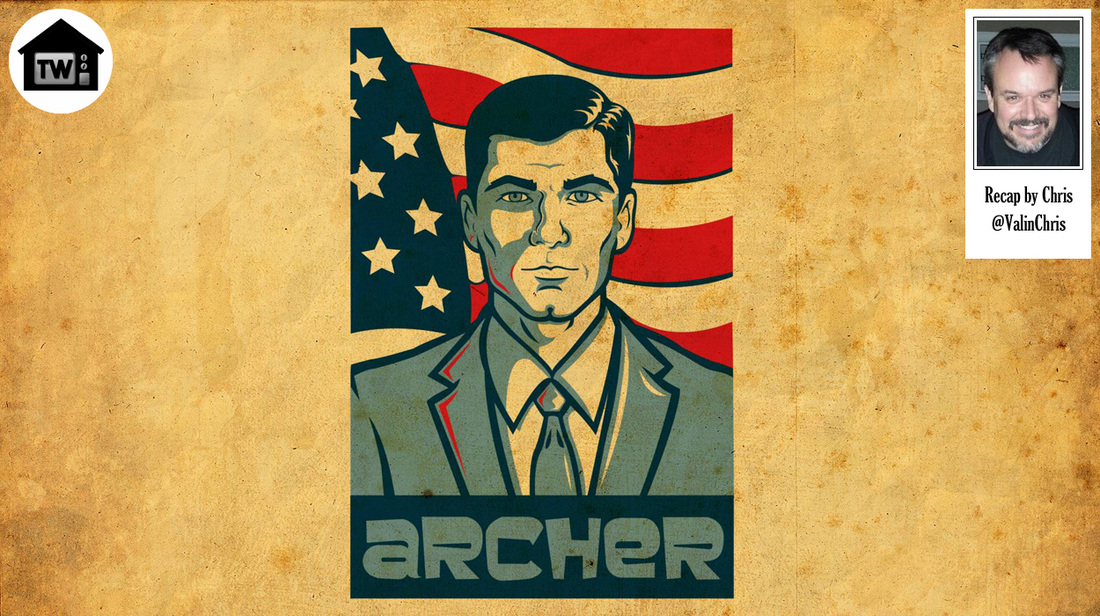 The CIA finally has a mission for Archer and company. Too bad it's to rescue one of Archer's biggest enemies.
CIA handler Slater (voiced by and modeled after Christian Slater, so ... basically Christian Slater) shows up in Malory's newly-remodeled-to-look-exactly-the-same office to give them a job (now that they're sub-contractors). But it turns out to be a mission to Buenos Ares to save Conway Stern, who LITERALLY (as Sterling keeps reminding us) stabbed him in the back the last time they met.

Archer and Lana head to Argentina, where Sterling immediately gets into a brawl with Conway, who has a bionic hand because Archer ripped one off last time. Stern reminds Lana that he "scorned" her before, but she remembers differently. He does hit on her this time, until he finds out she just had a baby, then it's "never mind." This, needless to say, does not go over well with Lana.

But what they were told was an extraction mission turns out to be not so simple, as Conway has to get a computer file containing the names of all the CIA agents working in Latin America, which the Argentinians are planning on selling to the Soviets (who still exist in this screwy, anachronistic Archerverse). They plan to take a "tour" at the HQ of Argentinian intelligence, with Conway and Lana disguised as the president and first lady of Brazil, but Archer blows it by pretending to be their driver, "Lando Calrissiano," and they have to tranq the guard outside of the building.

So Sterling "Archerizes" the plan by speeding into the parking garage and ordering around the guards until they figure out he's not who he's pretending to be. He takes on about a dozen guards by himself, but not by choice ... he just forgets to unlock the limo doors, so Conway and Lana can't help him. Once Archer takes out all the guards, they continue their plan to get the disc with the intel, which includes carrying a guard up the elevator because Archer is too squeamish to cut out his retina for the scanner.

Meanwhile, Malory, who is babysitting Baby A.J., loses her. She blames Cheryl first because she hates babies, but then the entire office starts looking for the baby. Malory finally figures out it must have been Krieger, so they go down to his lab and, sure enough, that's where she is. Because of a misunderstanding with some diagrams on a chalkboard, they assume Krieger was going to turn A.J. into a baby cyborg.

Malory tells Krieger if he ever goes near the baby again, she'll shoot him in the genitals and sip Sherry while he bleeds to death. They all agree not to tell Lana the baby was missing for a few hours, which is probably for the best.

Archer and Lana break into the computer center at the HQ using the retina of the unconscious guard, then get ahold of the disc. But Conway double-crosses them, shoots Archer in the back, and tries to take the disc to sell it to the Soviets. On his way out the window with his parachute, he tells Lana if she ever loses the baby weight, he'd be willing to have sex with her, and she gets so mad that she slams the window on his non-bionic hand (which is holding the disc), cutting it off, and he falls out the window and floats away.

Slater picks them up and tells them they suspected Conway was a traitor, but they didn't tell them because they were newbies. In the car, they finish their episode-long discussion about why Malory wouldn't get the baby if anything happened to them, and Lana says A.J. would live with her parents, and if they weren't around, then her sister. Archer being Archer, his first question is whether her sister is younger, which gets him a sponge pushed into his bullet wounds. Oh, Archer ... when you gonna learn?
​