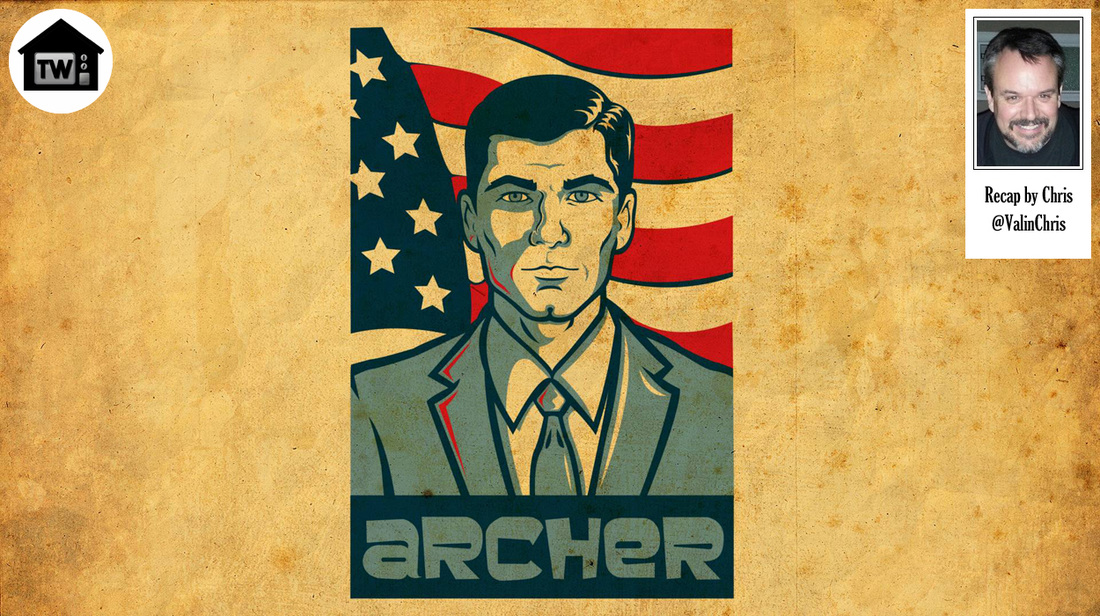 Archer, Lana, and Ray have a mission in the Alps to assassinate an assassin. Now if they can only figure out who their target is. Plus: Ray forgets the gum! (Not really, he just doesn't want to give any to Sterling.)
Once again, Archer has neglected to read the dossier given to the now-unnamed-since-they-can't-use-ISIS team by the CIA (he skimmed it on the toilet, then left it in his bathroom). The only thing he can remember about the target that he's been sent to kill, along with Lana and Ray, is that he or she is from an Axis country. Should be easy enough to figure out among a small group of tourist climbers doing a dangerous climb in the Alps, right?

Of course not! Because the other three climbers on the "tour" are German, Japanese, and Italian. At least their guide is Canadian (with the studly name of "Crash" McCarren, a nickname he earned by saving several climbers in an avalanche), so they know it's not him.

Okay, so they can simply make a phone call to Malory on the satellite phone and find out who to kill. Except Malory has chosen now to get revenge on Sterling for his elaborate voicemail hoaxes, and leaves one of her own, while refusing to answer her phone. This, by the way, does not make Lana happy, since Malory is supposed to be watching A.J. and now she doesn't know what's going on with that. So they call the office instead, where there's a crazy-ass birthday party going down in the secret hot tub room, and ask the drones to go to Malory's apartment and find out.

While Lana and Ray both gush over their bearded guide, the team has to both figure out who their mark is, and ensure their mark doesn't make them. Oh, and Archer will not let up about Ray not bringing gum so their ears will pop. On the climb, the Japanese woman falls over the edge and Crash goes to save her, but he returns and says her neck is broken and she's dead. In comes a huge, dark storm that causes Archer to ask if they need to call Ghostbusters to save them. They pitch the two tents they have and split into two groups of three to strip down and use their body heat to keep warm in two sleeping bags. Ray and Lana both volunteer to be in Crash's bag, but Archer insists they stick together, although Lana makes sure Ray is a "buffer" between them.

Meanwhile, Malory isn't home, but Pam and Cheryl/Carol both have keys given to them when they were sleeping with Malory's ex-husband, so they let themselves in, along with Cyril and maybe-not-the-real Kreiger. Since they're hung over and hungry, they immediately head for Malory's fridge, and everyone except Krieger starts devouring everything they can find. They get sick and start puking everywhere, first thinking it was the alcohol, then the ceviche Cyril brought. But Krieger figures out that Malory had her apartment bug-bombed, and they've actually been poisoned.

The next morning on the mountain, the team wakes up and dresses, to find that the German and Italian guys are both dead. Well, that problem took care of itself then, right? Except that they died of hypothermia, plus being asphyxiated by their belts. Gee, do you think Crash is the real killer? Archer suddenly realizes that he thought McCarren was Irish, and that Ireland was an Axis power. But he's too late, because Crash takes Lana hostage when he realizes they're there to kill him for the CIA. When Archer pulls his gun on him, Crash warns him that a gunshot would bring an avalanche down on them.

Obviously, Crash doesn't know Sterling Archer, who shoots him in the shoulder, then rides the ensuing avalanche down the mountain with a "Whoo-hoo!" as if he's on an amusement park ride. Turns out it was on his bucket list.

While Archer, Lana, and Ray are assisted by medics, they decide to assume Crash is dead. Malory returns home with A.J. from her stay at the Plaza Hotel, and they finally get a hold of her as she wonders what the hell her employees are doing being treated by medics themselves outside of her apartment. Just another mission for the ... uh ... whatever the hell they're supposed to be called now.

​