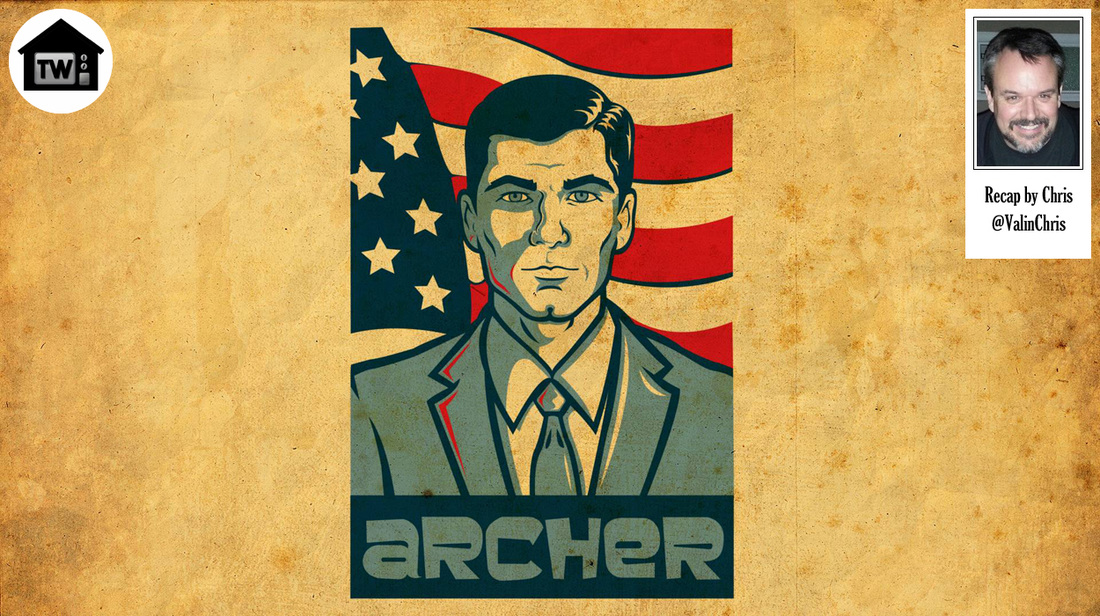 Archer agrees to take Pam to her sister's wedding in Wisconsin and pose as her boyfriend. This has disaster written all over it, even without the fact that evil cyborg Barry follows them in order to kill Sterling, Roy Batty-style. I mean Terminator-style. Or is it Silence of the Lambs?
After holding out far longer than any other human being could, Archer finally, albeit reluctantly, asks the sobbing Pam what's wrong. She says she's going to be a bridesmaid (not even the maid of honor) at her sister, Edie's, wedding in Wisconsin and she doesn't have a date. Edie is an even meaner version of Pam (yeah, I know, hard to believe, right?) who's tormented her since they were kids. In a seemingly uncharacteristic move, Sterling agrees to accompany her and pretend to be her boyfriend.

While checking in at the airport they're coincidentally spotted by turncoat cyborg spy Barry, Archer's nemesis, who decides to follow them by hiding in the wheel well of their plane. NO, I don't know why he didn't just buy a ticket to Green Bay. Maybe the flight was sold out.

Meanwhile, we discover the real reason Archer went with Pam was that he was supposed to watch A.J. all weekend while Lana goes up north for survival school. After asking almost everyone left at the office to babysit – including Krieger, until he reveals his poop ray (not a ray that shoots poop, a ray that makes people poop) – she finally gets around to Cyril, who's offended she didn't think of him earlier. She tells him it's weird since they used to date, but he valiantly suggests that he go north with her and get a hotel room near the survival school so that she can come and see A.J. whenever she needs to. But, this being Archer (the show, not the character), once Lana's asleep in the car on the way up, we find out Cyril's real motive is simply to "hit it" again.

Once they're in their crappy hotel in rural Wisconsin, Edie shows up before the rehearsal dinner, and she looks exactly like Pam, only brunette. In fact, she basically is Pam ... turned up to eleven. Edie and Pam immediately get into a fight, and being who they are it isn't just an argument – it's a knock-down-drag-out brawl between sisters in nice dresses. When Pam leaves the room, she's kidnapped by Barry, who's gone full-on psychotic because Katya, the cyborg chick whom he stole away from Archer, left him for literally the dumbest guy in Russia (with a flashback to confirm this).

While Barry ties up Pam and heads for a nearby grain elevator (why a grain elevator? Because shut up and stop asking so many questions, that's why!), Archer tries to convince Edie that he's really Pam's boyfriend, as well as the worlds' greatest spy, rather than her gay co-worker doing her a favor. And he demands that she apologize to Pam (wow! Who saw that coming?). When Barry calls him up and says to meet him or Pam dies, Edie's more concerned about being late for the surf and turf at the rehearsal dinner, so Archer has to knock her out cold with a fist to the kisser.

When Archer and Edie arrive at the grain elevator, Archer's main concern is, of course, finding out why grain elevators even exist when they could just have a giant trough full of grain for the cows, with a "salad roof" on it in case it rains. He pretty much ignores Barry's Warriors call and attempt to recreate the third act of Blade Runner, and gets knocked to the ground by the super-strong cyborg immediately.

Pam, who's tied up, asks Edie to cut her down, and Edie obviously takes it to mean she's supposed to hurl the most venomous insults at her that she can. When Barry tells Edie she's no prize herself, she attacks him full Poovey-style, which is a short distraction in Archer's favor, but Barry's able to get her into a deadly chokehold within seconds.

Archer, who still can't get up, draws Pam's attention to the shotgun in the flower box he brought, and she breaks free and grabs it. When Barry scoffs at the weapon, Archer informs him that it's full of explosive ammo and Pam blows a giant hole in Barry's torso. Then she blows half his face off with the next shot, and he falls into the grain shaft. So they bury him under tons of grain. Then set the whole place on fire for good measure.

Edie must be grateful to Pam for saving her life, right? WRONG. You would definitely be wrong if you thought that. But Pam is happy, because the whole incident led Edie's fiancé to get tired of waiting for her to show up to the rehearsal dinner, and he ended up hooking up with one of her friends. So, wedding off.

And Barry? He rises from the flames exactly like the T-800 at the end of the first (and best – don't even TRY to tell me different) Terminator film. But then he gets hit by the ambulance racing toward the grain elevator, and the lights go out in his red eyes while he lies in a field. So Barry's finally dead.

No, wait! He's not. So never mind. I'm sure he'll be back next season.

​