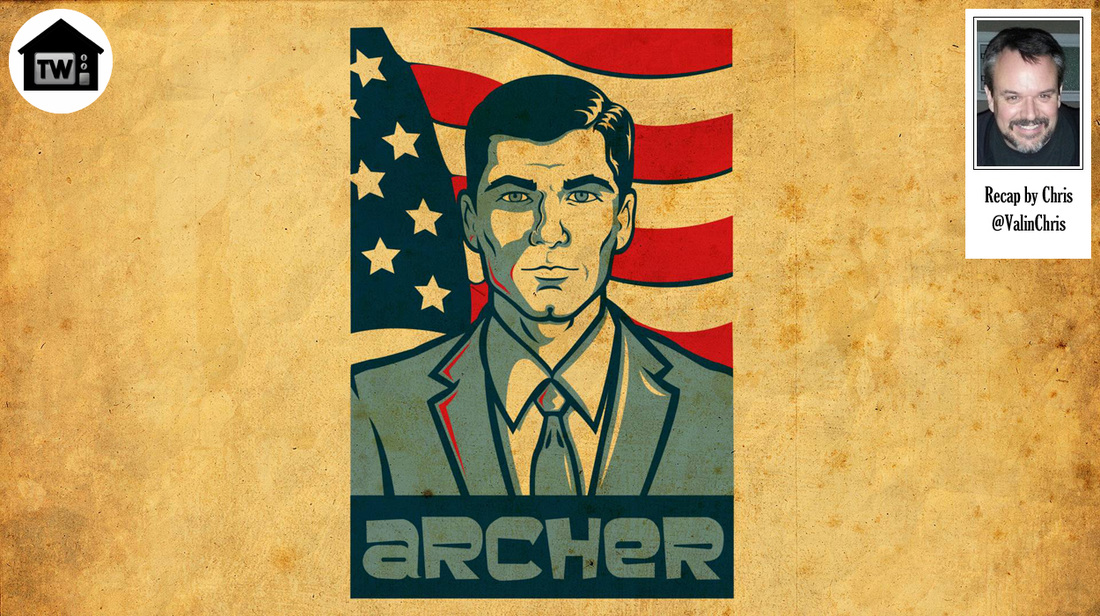 Archer and company get stuck in an elevator. So, yeah, that's about it.
The gang gets to work early for an important meeting that Malory has told them they must attend or face "grave consequences." Archer almost doesn't make it on board the elevator in time, but thanks to a handy broom handle, he gets in, which proves to be the unluckiest thing that happens to him all day. The elevator goes almost all the way past the top floor where they work, then gets stuck.

They can't get any help because (1) nobody is at work yet, because (2) nobody else works there any more besides them, and (3) Krieger installed an RF jammer on the roof of the elevator so that people would stop staring at their phones and talk to each other. Even Cyril, who turns out to be an expert on elevators, isn't any help, especially since the elevator phone that he points out to everyone is broken.

Oh yeah, and Krieger has a mystery fluid in his thermos, and keeps making vague references to scary shit.

Archer turns to Ray and tells him to interface with the elevator like R2-D2, since he's a cyborg. Of course, Ray has no way of doing that, and Archer is probably just being a dick anyway. Cheryl calls out to Milton the robotic toaster on wheels to go get help, and it scurries off, leaving everyone starving at the mention of toast.

In seconds, everybody is at each other's throats, fighting over Pam's bear claw and Cyril's bagel. This causes Archer to fire his gun to shut everyone up, which deafens them all momentarily. But he threatens to do it again if they don't calm down.

And we're not even ten minutes in.

Archer suggests they all pool their food and drink together so that "the strong" like he and Lana and Pam don't prey upon the weak, meaning Cyril, Cheryl, Krieger, and Ray. Instead, Pam chugs her forty-ouncer (remember, this is before 7 a.m.) and burps up the linguine and clam sauce she had for breakfast (again, sometime before 7 a.m.).

Then, as you can imagine, she has to pee. Which she does, except she can't keep it in the beer bottle, so it goes all over the elevator floor. When everyone freaks out on her, she takes off her skirt to mop it up (but only because Cyril's sweater vest was made of cashmere, and Archer does have some standards, at least for important crap like that), aaaannnnnd ... Pam being Pam, she's not wearing any underwear.

Following arguments about their respective addictions and a 911 call gone awry, they end up almost killing each other just as Malory arrives downstairs and uses her key to bring the elevator back down. She's horrified by what she sees when the doors open: A naked Pam strangling Ray, Lana choking Archer, Cheryl and Krieger fighting, and Cyril ... um ... masturbating in the corner. Yeah, I'm not making this up.

When Malory says she had blocked out the morning for a team-building exercise, Lana assumes the stuck elevator was the exercise she planned. But, it turns out her plan was, instead, to watch a VHS copy of Vision Quest. And thus ends the Archer bottle episode.

Next week: Save the baby!

​