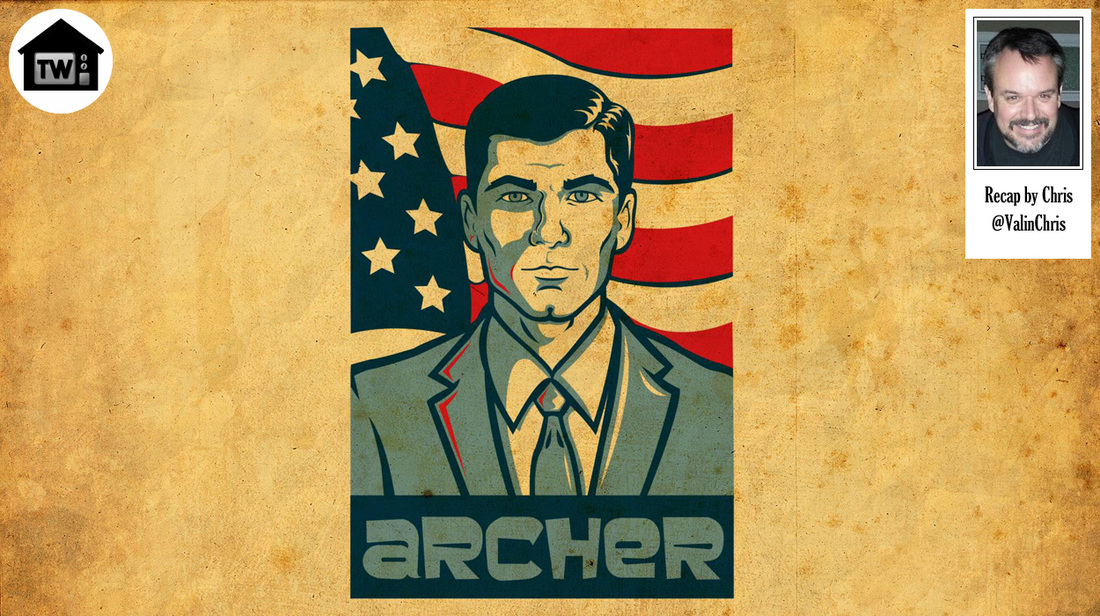 You'd think Sterling Archer wouldn't be so great at babysitting. And you'd be right. Plus: Eight times the normal bad-assage.
Before Lana had the baby, they never showed her going off on trips anywhere unless it was a mission for ISIS. Now, it's a weekly occurrence to set up the hilarity that ensues from other people trying to take care of A.J. So far, "other people" hasn't included Sterling, who happens to be the baby's father. Now it's time to give him a chance.

Lana is obviously and justifiably nervous about leaving A.J. with Archer, but surprisingly it turns out – oh, who I am kidding? Of course things start to go wrong immediately. He starts drinking (his new concoction made from the only things left in his bar: tequila and coffee liqueur). Then CIA agent and '90s heartthrob Slater shows up so fast that he must have been coming up in one elevator while Lana was going down in another. And he's been shot in the shoulder. And he has with him a Pakistani intelligence agent, Farooq, who is defecting to the U.S.

So Archer immediately decides that this is really a test set up by Lana, but they manage to convince him that he needs to let Farooq hole up at his apartment until the CIA can figure out what to do. Also, Sterling allows the complete stranger to hold A.J. because he's an idiot when it comes to everything except spying, drinking, and women.

As soon as Slater is gone, Farooq confirms that Archer doesn't have a gun, and pulls out one of his own. Turns out he's not so much defecting as triple-agenting. When Archer thinks he won't shoot him, Farooq does shoot him in the shoulder, and tells him he needs to take him to the mainframe at the office so that he can access the CIA's computer system. Archer complies for the sake of A.J., and says he doesn't care what Farooq's plans are as long as A.J. is safe. But when they show up at the former ISIS headquarters, the drones are all there playing poker (with all the firearms locked up, because that's the only way to prevent them from shooting each other during the game ... although, to be fair, there aren't a whole lot of weapons left anyway, because when ISIS shut down, Rodney took off with them and became an arms dealer).

Once Archer and Farooq are alone in the mainframe room, Archer gets the drop on him, then explains how his badass dial has gone from "half-assed" to "quadruple-assed" because Farooq threatened his daughter. He has Pam get A.J. to safety (and she does, although for some reason she acts like King Kong and heads for the roof), and then prepares to literally – "no, wait ... yes, literally" – beat him to death. But Farooq has a second gun and prevents that from happening. Which is lucky for Sterling, since Lana shows up and informs him that it really was a test to see how he'd do babysitting A.J. Except for the gun part, because Farooq – actually an improv actor portraying a Pakistani intelligence agent – decided it would help him with his part to have a real one instead of the fake gun he was supposed to use.

So, basically a reset at the end of the ep, kind of like a dream show. If it wasn't so funny, it'd definitely be annoying.

Next week: Sterling is stuck somewhere and can neither fly nor take the train home. Yes, that's all the information I am able to glean from the preview.

​