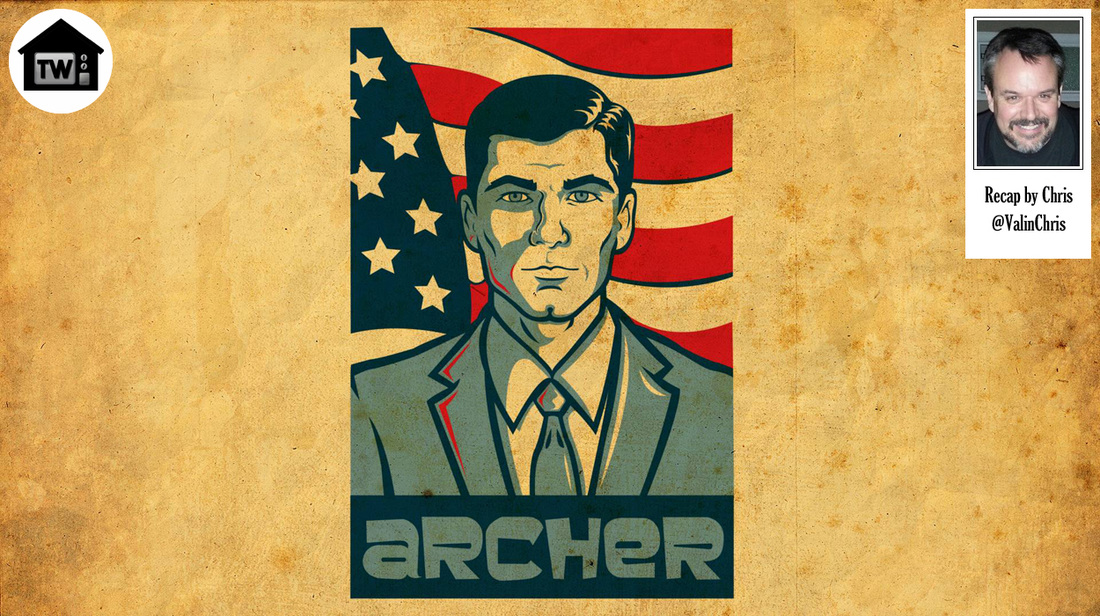 Sterling Archer. Aliens. Area 51. Sounds like the best episode ever, right? Ehhhhh, not so much.
It's another week, and Archer's off on another bender because that's how he deals with things (like Lana getting him shot by an improv actor in order to test his babysitting skills last week). Now he's stuck in Vegas because he's not only on the "no fly" list, but also the "no train" list (who knew that was a thing?), and he absolutely, positively refuses to take the bus. Smart man. So he convinces Cheryl/Carol to send her private plane, which is not some little Gulfstream, but rather something along the lines of a 727 that goes by the name "Sky Tunt" (in a callback to her family yacht, the "Sea Tunt").

But the plane doesn't show up in Vegas with just any old pilot. It's full of almost the entire team from the organization formerly known as ISIS (SERIOUSLY: They really need a new name, if for no other reason than to save me some typing), decked out in full vay-cay gear. And Ray is flying it.

Archer just wants to get home, but the crew has other ideas. They want to stop in Branson to see such great musical acts as Tony Orlando and Dawn (which brings me back to my mom playing records on our old turntable). And Cheryl/Carol/Cherlene doesn't remember anything about being the number one country music star in the country last season. Apparently having a chip installed and then removed from your brain isn't great for your memory (again: who knew?).

But what they want even more is a better view of Area 51 as they fly over, and Ray has no willpower when it comes to peer pressure. As he dips into the no-fly zone over the base, they end up with surface-to-air missiles on their tail. Ray's a good pilot, but one of the missiles takes out an engine, and they're forced to land at the base. Thanks to Archer's quick thinking, they aren't shot on sight when they get off the plane. He has them strip down to their underwear and pretends they're his prisoners, and that he's CIA agent Slater. How does he know Slater's authorization code? I have no idea, and they aren't telling.

For some reason they're allowed to hang out at a small bar on base, where Krieger and Pam are the only ones to see the pair of aliens (of the familiar Gray variety) wander in, then run out. As Archer complains about the booze selection, the pair runs after the aliens and sets off alarms all over the base.

Meanwhile, Lana and Malory, the only ones left at the office (because they need a B story, and missiles taking down planes with babies in them aren't all that funny), have a talk. About AJ. And her name. Malory offers Lana $100,000 to change the baby's name to Malory. Lana can't believe she's serious, but eventually gives in and agrees to change her middle name to Malory for $22,500. And an extra $5,000 if she gets her baptized in "a white church." No, there wasn't really any more to it. Yes, it appears they were really, really reaching for that B story.

Back at Area 51, Archer goes looking for Pam and Krieger, but runs into about a dozen armed airmen instead. This time they don't fall for his BS about being Slater, especially since he can't remember the name of the Lt. Colonel who allowed him on base. Or, to be more accurate, he actually thought the guy was a lieutenant with the last name Colonel. So he pretends to surrender, then takes them down with very little effort, commenting that it's a good thing the Air Force has planes (because they can't fight worth a damn).

Pam and Krieger actually catch up to the aliens, who telepathically tell them the meaning of the universe (no biggie), then disappear in a flash when Archer shows up. He finds them on their knees sobbing, but since he didn't see the Grays himself, he doesn't believe their story. Then they steal the uniforms of the airmen and prepare to go to the hangar and steal an Air Force plane. Cut to them aboard an Air Force plane, and Archer saying it was much easier than he expected. He calls Pam an idiot for believing in aliens as a UFO de-cloaks behind them and takes off into space.

You know what I miss? Phrasing.

Next Week: A car chase. What? That's all they showed us.

​