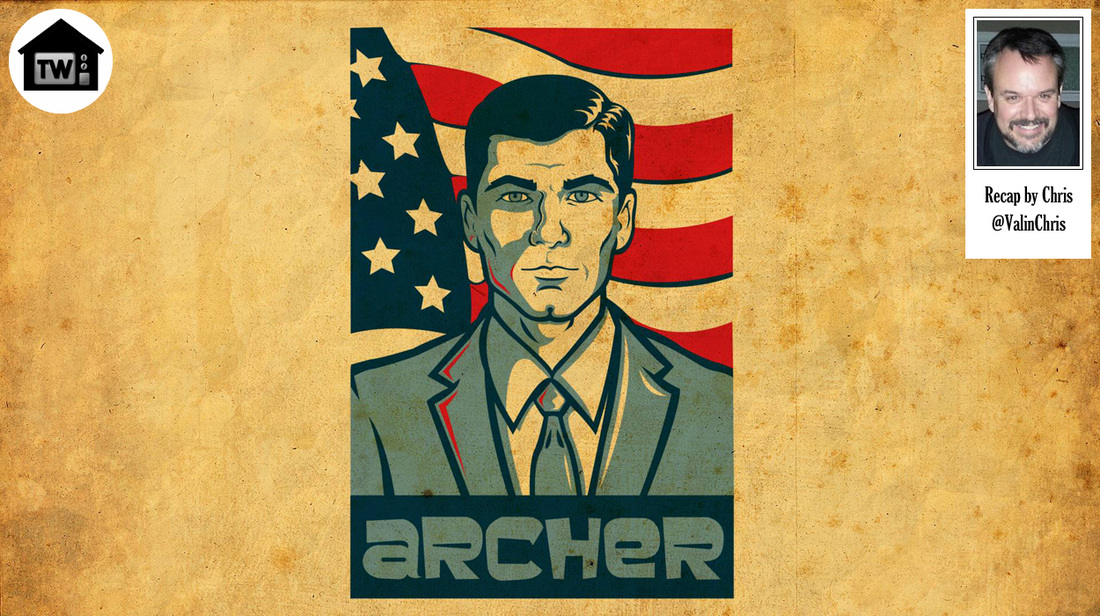 Guess who's coming to dinner? Yeah, it is more like the sucky recent version, although the episode itself is a good 'un. But the B-story? Seriously. Why even bother?
Archer and Lana fly to Berkeley to meet Lana's parents, Lem and Claudette, who are liberal academics. But they're not so liberal that they take a liking to the father of their grandbaby, Sterling Archer, especially when they start to realize he's faking the fact that he's working on his PhD in "Medieval Slavic History." They've actually met once before when Lana and Sterling were dating, but Archer doesn't remember because he was so stinking drunk that he passed out in the restaurant moments after they were introduced. Or, as he likes to call it, "Wednesday night."

The Kanes manage to tolerate Sterling up until the point when they insist he take off his swimsuit in their hot tub, and then climb in naked themselves. But they do it because they're old hippies, not because they want a threesome, as Archer misinterprets the situation to be (or, as he puts it when he apologizes to Lana later: "I'm sorry I almost spit-roasted your mother"). Top that off with the stress of having to lie to them about being spies (they think Lana is just taking a really long time to finish her dissertation), and it's a recipe for disaster.

Meanwhile, in what turns out to be literally – wait ... yes, LITERALLY the thinnest B-story in Archer history, the drones (along with Krieger's holographic Anime girlfriend) break down in Krieger's van in a bad part of town on their way to their bowling league. Pam pulls the van uphill with a rope while Krieger steers and the rest, who are supposed to be pushing, sit in the back with the door open. When they dump their bowling balls to make the load lighter, the balls roll down and smash into the car of some gangbangers, who are about to murder them. But Pam recognizes their leader, since she used to kick his ass in fight club, and he helps them out instead. And it took me longer to type this than the actual screen time that was devoted to this meaningless subplot. This was one time creator Adam Reid may have wanted to allow someone else to pitch some ideas rather than come up with everything himself.

Back at the Kanes', Archer and Lana get the opportunity to show what they really do and how good they are at it. Because they discover that someone has broken into Lem's home office safe and stolen his research into using algae as an energy source to replace fossil fuels. Archer spots some guys in black masks getting away in a car and shoots the driver through the back window, causing them to crash. While the Kanes freak the hell out, Sterling says he needs a car to chase after them, and Lem shows him the Mustang from Bullit in his garage. Once Archer is done with his cargasm, he, Lana, and Lem chase the guys in black through the streets of Berkeley and actually have a great conversation as Lana's dad finds out she's actually a spy, and Archer finds out Lana's middle name is "Anthony" (after Susan B. – "Our ugliest president?"). They finally shoot the other car to the point where it stops, and just before there's a showdown, they realize the leader of these guys is CIA handler Slater (just as he recognizes them).

Slater apologizes for going in while they were home, especially with the baby there, and says he didn't know. He explains that no matter how bad the situation in the Middle East seems now, it will get exponentially worse when nobody needs their oil any more, but that they're going to be depositing shloads of money directly into Lem's account every month to make up for it. Lem checks his account on his phone and decides he's not THAT much of a liberal environmentalist after all.

And I can't help thinking that if someone reads this recap and they've never actually seen Archer, it must seem like the most insane show ever.

Next week: "An office romance is interrupted by the Russians." Yeah, sorry, that's all I can find.
​