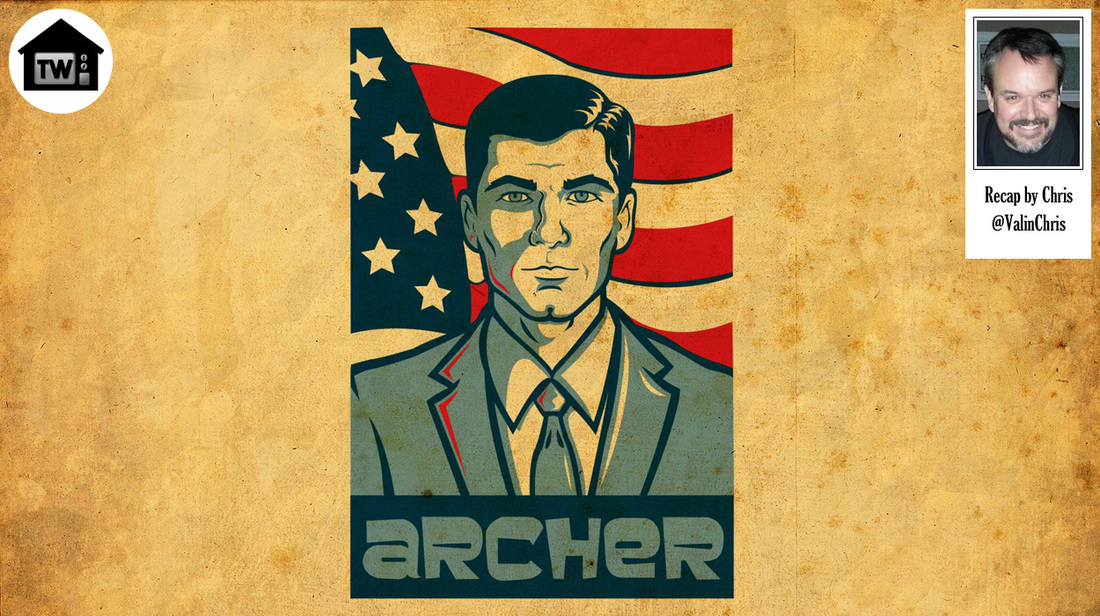 The group's back together for a mission! At Tunt Manor! Yeah, but it still isn't going to go well, is it?
Slater shows up in Malory's office to brief the entire team on "Operation: Because I Said So," which is his answer to anyone's questions about why they have to: (1) separate the crown prince of Durhan (an ally of the U.S.) from his bodyguards and overbearing mom; (2) shoot him with a tranquilizer gun that knocks him out for sixty seconds and leaves him unable to remember the previous few minutes; and (3) scan his handprints and retinas before he wakes up. You're thinking, "Piece of cake for a seasoned group of spies, right?"

Wait, have you seen this show?

The prince has an internship at some Wall Street firm, so he's going to rent out one of the swankiest places available in the Big Apple – one choice being Tunt Manor. So Cheryl/Carol gets to pretend to be the listing agent for her own place because she knows it so well. The rest of the team will either assist Slater, or act as servants and distract the guards and the queen (who is so hot that Lana says she actually hears Archer get hard when Slater shows her picture). After the briefing, Lana tells Slater his plans are always too complicated ... he's "like Wile E. Coyote with access to predator drones," but they work for the CIA now, so here goes ...

Cheryl introduces herself to the prince and the queen as Ms. Escrow ("Seriously?" "Trust me, I've heard all the jokes.") while Slater checks on Krieger's camera setup, the idea of which is to monitor all the bathrooms (which gets him tranq'd by Slater for the second time in the episode). Archer shows up and introduces himself as Butler, the butler ("Trust me, I've heard all the jokes."), and the queen smacks fake maid Pam for speaking to her without being spoken to. When Archer says he's going to have sex with the queen, Pam says she thought he and Lana were ... whatever. And that's when they figure out that the two of them (Archer and Pam) are best friends. Yeah, that was kind of weird.

Cyril, who's still trying to get Lana back, tells her that Archer is planning on bedding the queen, hoping she'll get jealous and try to make Archer jealous by having sex with him (Cyril). But instead, Lana decides she's going to have sex with the young prince.

As Cheryl shows off the terrarium, Ray hits the bodyguards with Krieger's "brown note" ray, which makes them all scurry for the restroom despite the queen's reprimand. They reach the elevator, which is too small for Pam to take up more than one person, so Lana shows up with some cleavage showing and her hair down, and offers to take the prince upstairs herself. But Cyril tells Archer about Lana's plan, and Sterling goes crazy with jealousy, putting the plan in jeopardy by worrying more about stopping Lana from having sex with the prince than actually doing what he's supposed to. He bursts into the control room, tranqs Slater, and smashes the monitor setup when he can't find her.

Oh yeah, and a giant, carnivorous plant in the terrarium attacks Ray and bites off half of his arm. So, anyway ...

Lana seduces the prince in a bedroom by ... uh ... taking off her clothes (like it would really take any effort), but Archer comes in and shoots him with the tranquilizer gun before anything can happen. Archer and Lana start arguing about who is jealous of whom, and when Slater shows up and could possibly fix the plan with his scanner, Archer tranqs him as well. Then, as Cyril shows up and thinks he's going to finally get Lana, he enters and finds them passionately making out. The queen finally makes it up there and starts screaming, but Archer isn't able to tranq her until after she calls for the guards.

As the guards run up the stairs prepared to kill the team, everyone exits the bedroom through the secret passageways (that Cheryl's grandfather used to use to "look in on the children" at night) ... everyone, that is, except for Archer and Lana, who are so hot for each other now that they hide in the bathroom so they can have sex.

Back at the office, everyone except Malory brushes off the fact that they've screwed up a major mission for the CIA, and Archer even makes a joke about "giving Ray a hand." I'm sure he'll end up with a bionic one, to match his legs.

Next week: Archer and Lana's newfound affection for one another makes everyone so sick that they try to break them up.
​