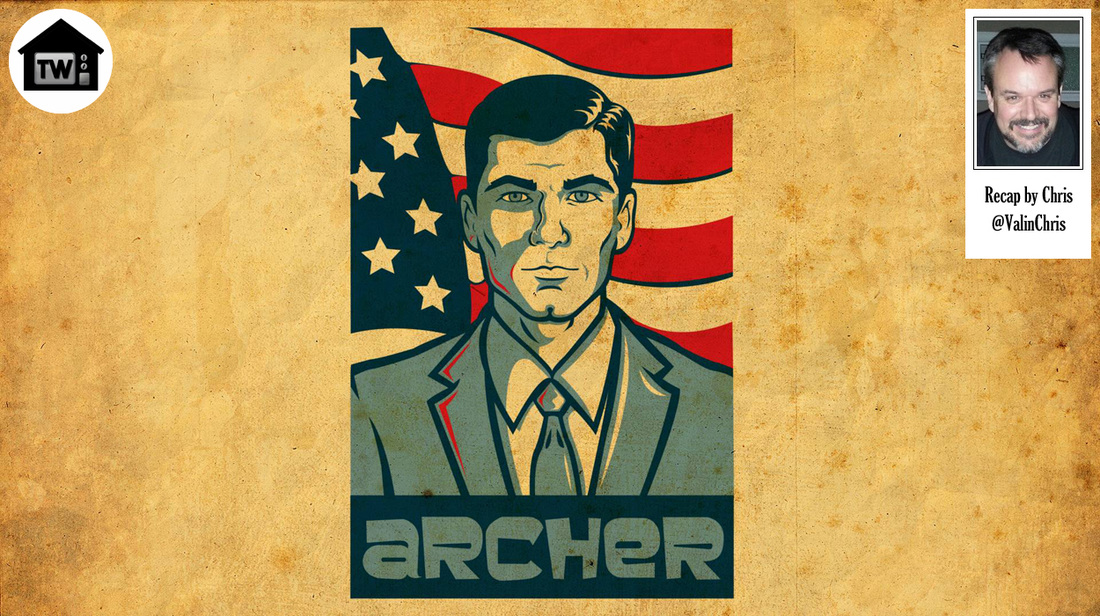 The drones try to break up Archer and Lana using the one thing that could probably do it: his hot, cyborg KGB ex.
After witnessing a sickening display of both romantic affection and burrito depravity from Lana and Sterling in the break room, the rest of the crew decide they need to break them up. (And, as an aside, I have to say I love how the soda machine in the break room says "20 cents." The fact that you can't place this show in any time period is one of the awesome things about it.)

After rejecting Cheryl/Carol's first idea to throw acid in their faces, and her second idea to have their baby killed (or, alternatively, have her kidnapped and sent to be trained as an assassin by Ra's al Ghul for 20 years ... no, I'm not making this up), they decide to go with Pam's plan to present Archer with an irresistible woman to seduce him away from Lana.

Meanwhile, post-coitus in the broom closet, Archer and Lana decide that both their physical and emotional relationships are way better than they were the first time they were together. But Archer warns her that they need to keep it a secret from Malory, because him being in a relationship seems to cause her physical pain and she'll try to break them up.

The members of the self-proclaimed "break-up crew" try to find a hooker – sorry, high-class prostitute – online who will be hot enough to make Archer cheat on Lana, but they're $10,000 a night. Pam points out that it's only $2,000 apiece, but Ray says he wouldn't even spend that much to get himself laid (and Cheryl says he may change his mind after his hand has been missing longer).

Malory walks in on the group in the middle of a huge argument and informs them that if she wanted to hear them scream, she'd have them flown to a black site and listen to their torture session on speakerphone. After she finds out Slater hasn't called and warns them that they may be wanted for treason again after the last mission fiasco, she leaves in a huff. They decide that the odds of finding a hooker that Archer hasn't already slept with in New York City are only about 50/50, so Krieger suggests they find a woman who already has a powerful psychological hold on him. The other four assume he means Malory at first (ewwww), but he meant Katya, his bionic KGB ex (try saying that three times fast).

At the copy machine, Archer invites Lana to his apartment for dinner, and says he's making stir-fry. Lana assumes he means Woodhouse is making dinner, but he says he hasn't seen his butler in weeks. Malory comes by and assumes their flirting is more of their former "bickering," and Archer says that Lana is hogging the copy machine. When she walks away, Lana says she'll get a sitter for A.J., and Archer tells her to bring a hundred copies of "this" – a flyer for a "Loss Valet: Answers to the name Woodhouse" and also indicates that he "Needs medicine: Heroin."

The crew stakes out Archer's place in Krieger's ice cream truck ... not the Rush van ("It's too iconic"). When Sterling walks in, he hears a noise from the bedroom and assumes Woodhouse is back, but instead Katya has a fire going in his bedroom fireplace, lit candles, and rose petals spread all over his bed. She's surprised that he knows she's no longer with Barry (because he assumed it would happen eventually, and he's still alive, not burned to death and crushed in a grain silo).

Archer tells her he can't do anything because he has a child with Lana and he realized she's his best friend, and now he's in love with her, and Katya feels bad for what she was trying to do. As Lana is on her way upstairs (because the elevator is broken), the break-up crew watches everything on Krieger's camera feed, and they all feel like crap that they were trying to break them up, and race up the stairs after Lana (as Krieger's annoying holographic anime girlfriend flies ahead of them, and when Pam asks how he doesn't murder her every day, he responds, "I dooooo.").

Katya agrees to leave via the balcony, even though the last time she did it, she died (before being brought back as a cyborg), and she even has a grappling hook that shoots out of her arm. Before she goes, she kisses him, then says she needs to grab something out of the bedroom, but he says he'll mail it to her. After she leaves, he immediately makes himself a stiff drink.

The drones catch up to Lana just as she's about to enter Sterling's apartment, and Cyril tells her not to go in because he still loves her (in order to stall her), to which she laughs and goes in anyway. At first she thinks the "Old Archer" is back, because he's drunk, in his underwear, and didn't actually cook dinner, but then she sees the romantic setup in the bedroom and tells him she's ready to go with the "New Archer," which makes him very excited ... until she finds Katya's removable vagina in the bathroom sink. Kind of a mood killer, I guess.

Next week: Archer and Lana travel to Wales for a romantic getaway. Hijinks, I can only assume, ensue.

​