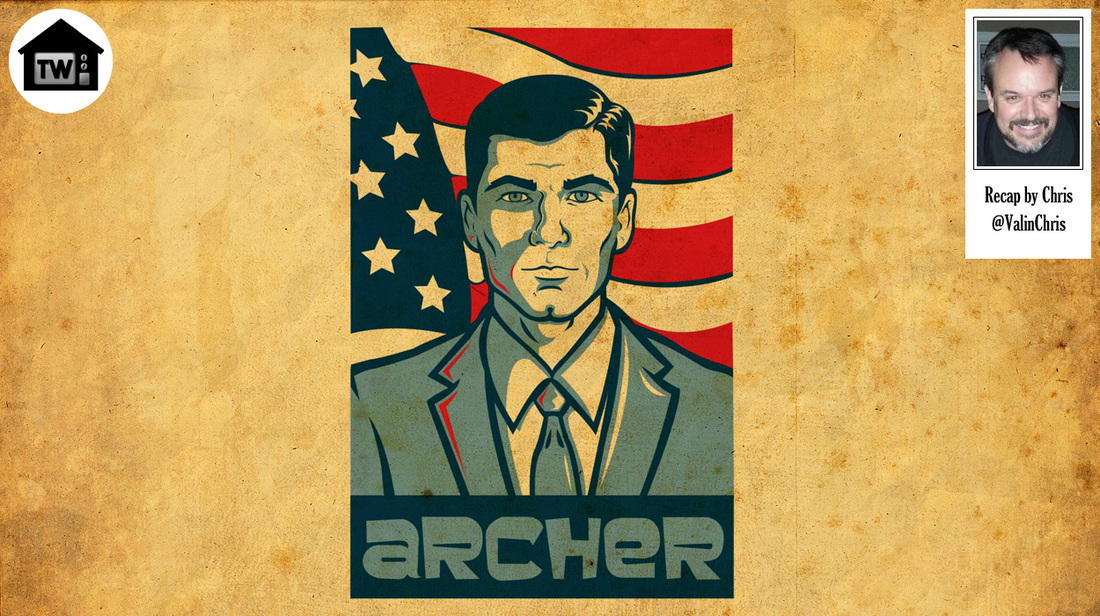 No, there was not a cat walking on my keyboard, it's the title of the episode. Archer and Lana take a business/pleasure trip to Wales (without Lana's prior consent). Guess which part of that slash description screws up the other one?
Lana wakes up in the back of a convertible being driven by Archer wearing nothing but lingerie and a trenchcoat and suddenly realizes the last thing she remembers is discovering Katya's "bionic vagina" in Sterling's bathroom sink at the end of the last episode.
He tries to explain that the reason he rendered her unconscious and flew her to Wales in a CIA plane against her will was for the good of their relationship ... really, it was. But she's not buying it, and starts choking him to death with a scarf until he crashes their car next to the romantic farmhouse where they were headed.
At the farmhouse, Lana starts to believe Archer's story about the drones setting him up with Katya and about how he resisted her advances, but their make-up session is interrupted by the work part of their trip – which Sterling neglected to inform her about until this point.
Two brothers show up, Lloyd and Daffyd Llewelyn, who are Welsh freedom fighters (or terrorists, depending on your point of view) on the run from MI-5 because they tried to blow up a dam. Sterling informs Lana that the CIA wants to save them from this fate, and Lana gets so mad she has to step outside, where she overhears Archer telling the brothers how hot Katya was, but that he resisted her.
As she's about to go back in, he screws up by adding how they had an incredible goodbye kiss, which understandably makes her upset. And, as fans of this show are aware, getting Lana upset is a little like getting Bruce Banner upset. She spots a man driving up to the farmhouse and, assuming he's MI-5, rushes back in with a plan.
She has Archer hide in the closet with Daffyd, the stupider, wounded brother, while she borrows Sterling's fake passport and has Lloyd do an American accent and pretend to be her husband. (Lloyd is voiced by Matthew Rhys, the Welsh actor from
The Americans
, so this is an inside joke that only fans of
The Americans
will get.)
Ostensibly, this is because Archer is all jacked up from the car crash earlier, but the reality is that she wants to make Archer jealous, which she does as soon as the MI-5 dude questions whether they're really a married couple on a romantic getaway, by making out with Lloyd on the kitchen table.
Meanwhile, in the thinnest B-story ever (with the exception of Krieger's van breaking down on bowling night), the drones help Krieger attach a bionic hand onto Ray while they discuss M.A.S.H. (yawn). And it turns out to be dark-skinned. Also, there's a running gag with Malory thinking A.J. is too chubby and not wanting to feed her anything except ice chips while she watches her.
Archer can't handle the jealousy and busts out of the closet, causing MI-5 dude to pull a gun, and Lana to knock him unconscious. But then Lloyd makes the mistake of holding the same gun on Lana and Archer to make sure they're going to kill MI-5 dude, so he gets knocked out as well. They end up taking MI-5 guy with them to let the CIA sort it out, but they also don't have the Welsh brothers with them, so chalk this mission up as another failure. How long will the CIA put up with this before they fire the No-Longer-ISIS team anyway?
Next week: The first part of the two-part season finale, in which Archer and his team are shrunk down to the size of bacteria to enter a person. In a little spaceship-thingie.
​