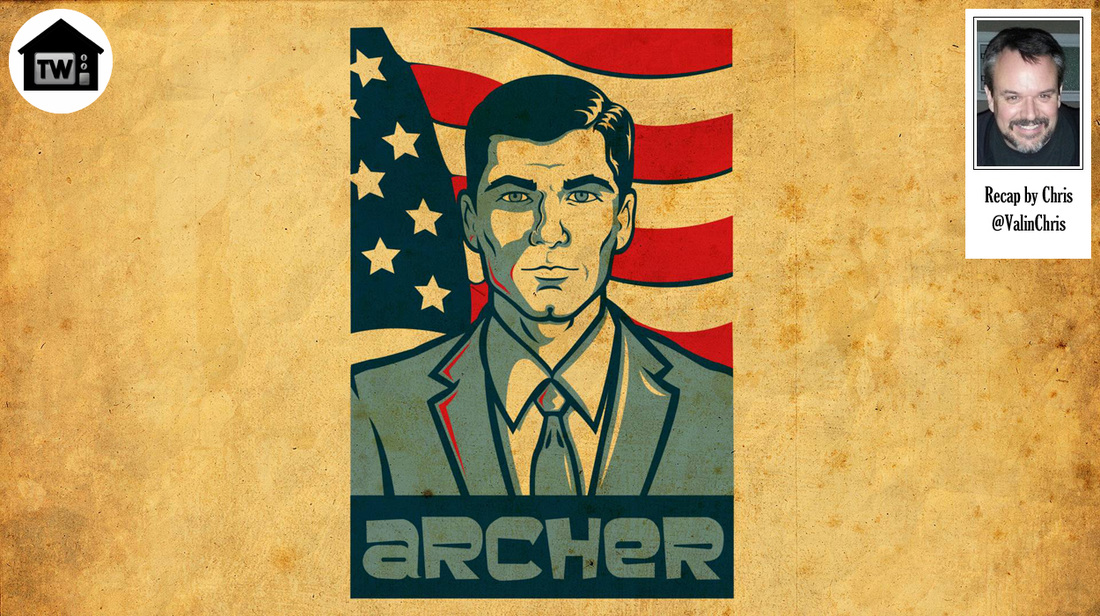 As the episode title suggests, Archer and company shrink down inside a tiny sub to enter a human body. Hey, where else can you get an homage to a classic sci-fi movie, double entendres galore, and more pop culture references than a Dennis Miller monologue?
Is it considered an
in media res
opening if all they're in the middle of is a CIA briefing? I don't know, but that's how this episode begins, with Slater's boss, Hawley, explaining that they're going to be shrunk down to the size of bacteria and take a submarine into the brain of a defecting scientist in order to laser away a clot. It's a carrot-and-stick thing. If they go, they each get a million bucks. And if they don't go? They're done with the CIA and the espionage biz in general, since they've effed up every single mission they were supposed to do for them.
In the kind of logic that makes this show special, Hawley points out that Pam and Cheryl/Carol don't belong on the mission but end up stowing away every time anyway, so he just assumes they're going to go as well. (Later we discover that Cheryl is going to spend her million smackers on an orphanage so she can bulldoze it and hear the cries of the orphans ... "Porridge!")
They head off to a CIA black ops base in New Mexico (because real estate is cheap there), where a scientist named Dr. Sklodowska (voiced by the
Portlandia
chick) feels the need to announce that the old Russian scientist they're trying to save is also her lover ("If that is shocking to you, so be it!"). They find out they only have exactly sixty minutes to destroy the clot before they will revert to full size again. And Cyril actually gets jealous because Archer spends so much time being a jerk to Slater instead of him.
The debriefing is suddenly interrupted by "TV's Michael Gray," the dude who used to play Billy Batson on the old '70s
SHAZAM!
show (and quite possibly the record holder for the longest
IMDb
gap, since there is literally nothing between that show and this episode). He's wearing a Slim Goodbody-type suit showing all the internal organs, and Dr. Sklodowska is quick to point out that he, too, was her lover ("If that is shocking to you, so be it!").
Because of the interruption, as well as Archer's fangasm over seeing Billy Batson in person and his demands to be the pilot (and insistence that they're going to be weightless in the submarine, despite all evidence to the contrary), they run out of time for the complete briefing and are going to be sent on this extremely dangerous mission wholly unprepared.
Krieger is almost immediately kicked out of the operating theater because he insists that Dr. Kovacs is obviously a serial killer due to his phrenological measurements, as well as his assumption that he's supposed to execute him as a result. Plus, he slaps the guy's head around quite a bit.
Archer seems to be over his recent romantic obsession with Lana all of a sudden, as he's more interested in the laser cannon on the ship and pretending to blast womp rats than he is in her nervousness at being shrunk down and what would happen to baby AJ if they didn't make it out through this mission alive. This, along with a couple of flashbacks showing what a horrible babysitter Malory is, serves as the very thin B-story for this episode (which Adam Reed appears to be sick of this season ... B-stories, I mean).
The shrinking process is a success, and they're about to be injected into the base of Kovacs' skull when Krieger busts into the operating theater to protest getting kicked out of there earlier, and asks (holy crap, by the way, that they actually did this): If he were a clone of Adolf goddamn Hitler, wouldn't he LOOK like Adolf goddamn Hitler? To which Malory replies, "Huh. I never thought of that." He didn't quite stop the injection, but he did cause it to be in Dr. Kovacs' toe instead of his skull. So now they have less than sixty minutes to move up Kovacs' entire body, laser the brain clot, and escape through a tear duct before they get big again. Any bets on how successful this is going to be?
Next week: Probably a setup for next season. I'm guessing things continue to go wrong.