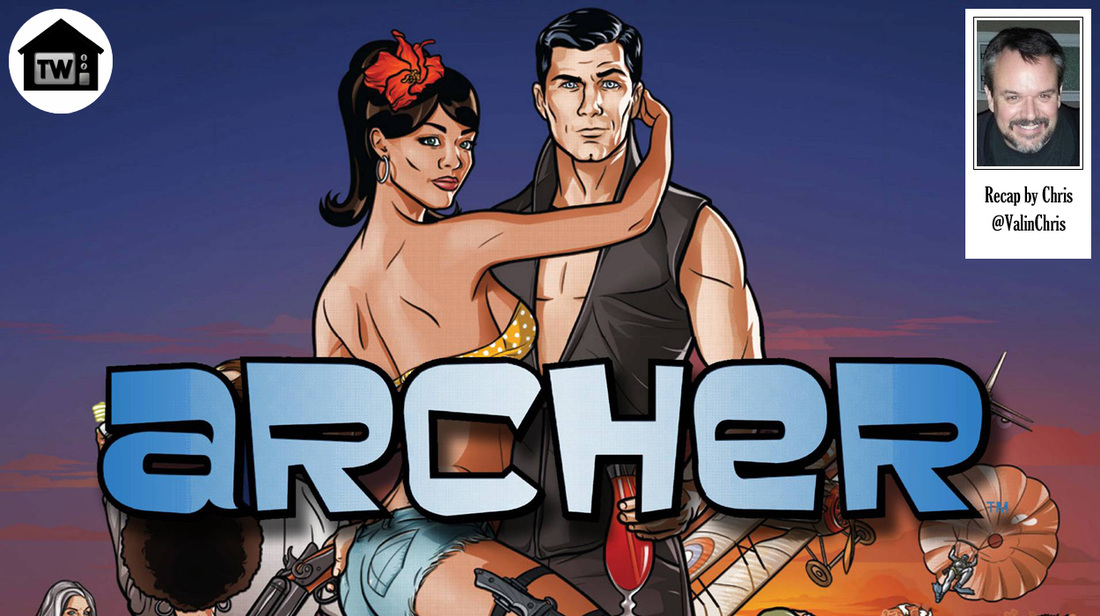 Archer and the gang are back, and this season they're running an '80s-style detective agency. Cue the Magnum, P.I. theme!
Two scuzzball detectives discuss a dead "waiter" floating in a movie starlet's pool, as well as gay porn names. As they head off to talk to the actress, we get a good look at the white-tux-clad floater, and see that it's none other than one Sterling Archer. Yeah. That's how you start a season.

Six Months Earlier: The team is settling in at their brand-new detective agency named, as the episode title suggests, "The Figgis Agency." "Why Figgis?" you ask? Of course you do, because that's a perfectly reasonable question. It turns out the state of California (at least in the Archerverse, I didn't Google it or anything) requires a private detective agency owner to have a law degree. Which Figgis does. So he gets to be the owner, and to name said agency.

Their first client arrives: Veronica Deane, in standard famous movie star giant hat and sunglasses, asking them to retrieve a computer disk containing "sensitive information" (<cough> sex tape? <cough>) that was stolen from her mansion. And she offers them a hundred grand if they succeed. Once she's out the door, they all burst out laughing, since they were thinking more along the lines of $10,000. Sucker!

Team Archer makes its plan to break into the Tony Stark-esque Hollywood home of a lawyer named Alan Shapiro, the guy who's blackmailing Ms. Deane. Krieger, in full Q-mode, provides Archer, Lana, and Ray with night vision goggles, grappling guns, and a rocket lance (the last of which they decline), and Archer's ready to drive his new red Ferrari to the gig. Except it won't start, so he ends up riding in the van with everyone else.

At the mission site, Archer is pumped to be back in the field, and shows it by his usual insults to the other members of the team. And he does it while his teammates do the actual work of disarming the alarms, taking out the cameras, and picking the locks.

Meanwhile, back at HQ, Mallory is breaking out the Champagne — because she's out of liquor, not because she's celebrating, even though the supermarkets sell alcohol here. ("Literally the only thing about Los Angeles that doesn't make me want to vomit.") She actually talks about how good of a spy Sterling was (shocker!), and how the same skills should translate well to P.I. work.

Speaking of investigating, Cheryl/Carol forgot to let the others know that she discovered that Shapiro has a pair of giant, vicious Rottweilers, which promptly tear into Archer's arm and leg. Luckily, Ray throws some dog treats and they let go of him. Unluckily, he's standing on the edge of a very steep hill, and rolls down at a rapid, painful pace.

Lana and Ray get into the safe and pull out the disk, which is labeled "Longwater," and are about to complete the mission, but Archer suddenly shows up again and then they get caught by Shapiro. Archer wonders how they were discovered as the Patton Oswalt-voiced Hollywood attorney looks at the blood trails leading from the door to the safe — Archer's blood, of course.

As they rappel down the hill, Shapiro's men fire machine guns at them, then start tossing grenades. So Archer suddenly does the heroic thing and has Ray carry Lana away as fast as his superfast cyborg legs will take him while he distracts the henchmen.

They all make it back to HQ in one piece, and they hand over the disk to their client in exchange for the $100,000 cashier's check. She leaves just in time for them to welcome their second client, a beautiful actress named ... Veronica Deane. Uh oh.

Hey, wait … where the hell was Archer and Lana's baby?

Next Time: Ray gets all leathery.

​