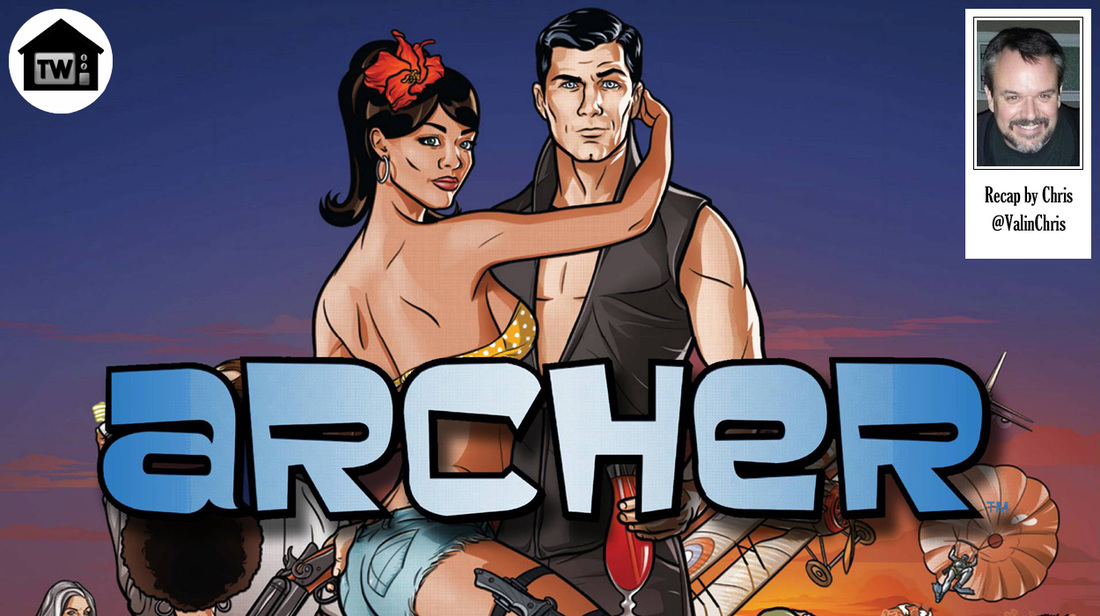 More phrasing! Malory reaches Archer on his cell phone, but assumes it's another of his prank messages! There's your fridge magnet! (If you're not an Archer fan, you have no idea what I'm talking about.) ​
​So last week Archer, Lana, and Ray were nearly killed trying to steal a disk for fake Veronica Deane, who claimed an attorney named Shapiro had it, and now they've been hired by the real Veronica Deane to get it back for her. Aaaannnnd ... they almost get killed again.

The real Veronica Deane offers to pay The Figgis Agency $200,000 to get back the "Longwater" disk that was stolen from her attorney's safe, and Archer and company barely manage not to expose the fact that they were the ones who stole it. After some jokes about old women giving Sterling and Krieger both erections (ew), they decide on a plan.

Lana and Archer head back to Shapiro's house the day after causing havoc there, with Archer confident that nobody will recognize them because it was dark and they were wearing goggles. He forgot about the dogs, who IMMEDIATELY recognize them, of course, and Shapiro can't figure out why they're going nuts, since they never bark at guests.

After a long story about how the dogs crapped all over the house because of a bad reaction to the tranquilizers, and how he had to threaten to deport the help if they didn't clean up that and all the blood, Shapiro says that some bikers have the disk and are offering to give it back for two million dollars.

Since he's only allowed to bring a driver, Lana dresses up in a chauffeur outfit, and Archer has to ride in the trunk. They just need to be there to make sure things go according to plan. Seems easy enough, right? Have you seen this show?

When they get to the meeting, the head biker dude opens the briefcase and finds out it's just full of flyers for The Figgis Agency, so they take Lana and Shapiro hostage and drive to their HQ with a clueless Archer in the trunk. Despite admitting he's in love with Ms. Deane and knowing that Lana and Archer are "together," Shapiro keeps hitting on Lana through all of this.

Back at the agency, the rest of the crew are wondering why Lana and Archer haven't checked in. When Lana doesn't answer her phone (because the bikers left it behind at the meet), they make the desperate move of trying to call Archer's phone, knowing full well that they'll probably get one of his infamous voicemail message pranks. Instead, Archer answers just as the bikers open the trunk and start beating him up — a fight that goes on for about a minute and a half. And ... they think it's Archer's most epic voicemail message prank ever.

Of course, Archer being Archer, he manages to take out most of the bikers, despite still being in bad shape from the previous day's mission. He ends up battered, bruised, and naked, but luckily not in the woodchipper where the bikers wanted him. He finds Lana and Shapiro handcuffed to a pipe, and they accidentally give away that they were the ones who stole the disk. But, before Archer can free them, he makes a comment about her thighs and gets a swift kick to the nuts.

The two remaining bikers walk in with guns drawn, and are about take the $200,000 cashier's check from Shapiro, but the rest of the team, who had finally figured out that it wasn't actually Archer's voicemail, shows up and rescues them, including Ray in assless chaps, with his pistols, Barbara and Liza.

With the disk returned to Veronica Deane, the agents return to HQ, where they're surprised to learn that they don't get to split all the fees equally. Finally, they go through the pros and cons of the mission and a lot of disagreement ensues on those points.

Next Time: The episode is called "Deadly Prep." That's all I've got.