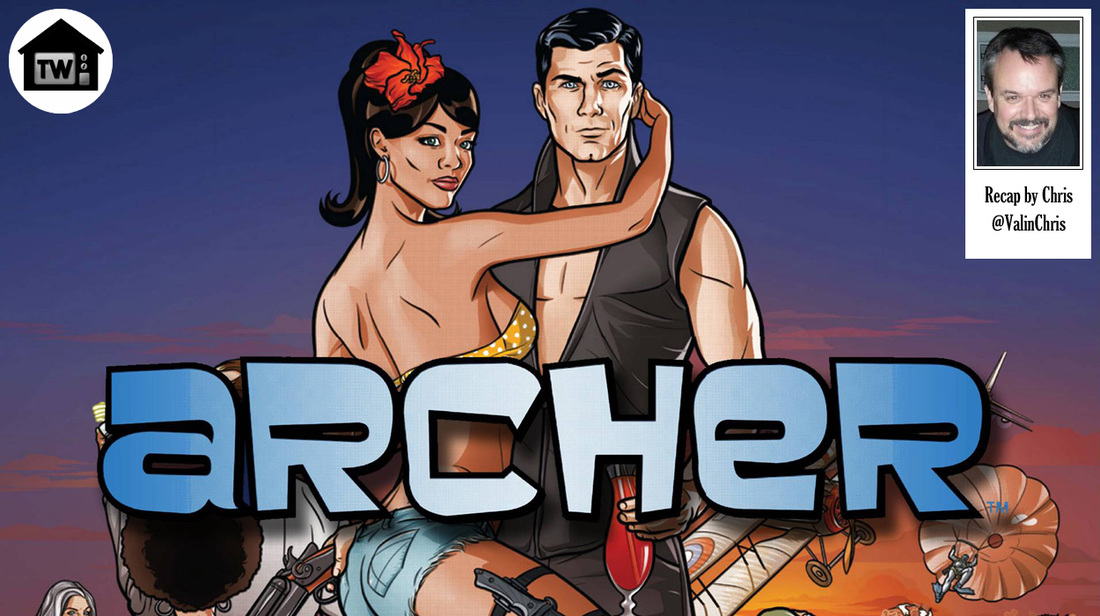 Archer gets hired to kill the guy who bullied him mercilessly in prep school ... by the very same guy himself. Double win!
While waiting for their interview to try to get A.J. into a fancy pre-pre-school, one of the board members comes along and recognizes Archer as the guy he and his buddy used to "bully the $#!+ out of" in prep school. In a flashback, we see that Richard "Ivy" Stratton IV and Trent Whitney gave Archer the nickname "Swirling" because ... well, they used to give him swirlies. In fact, his freshman year, he ended up in the hospital with pneumonia after one particularly nasty head-in-a-urine-filled-toilet incident.

When Ivy finds out Archer is a P.I., he tells him he has liver cancer and wants Archer to kill him because if he commits suicide, there won't be any insurance payout. The plan is for Sterling to break into his house that night and shoot him so that it looks like a home invasion gone bad. And Ivy says he's going to drink like crazy in preparation.

Back at the Figgis Agency, Archer is in a great mood because he's going to get paid $100,000 to kill someone he's hated for years. Cyril finds out, but Archer claims he's only getting paid $10,000 for a corporate security gig. Cyril is suspicious, but Lana and Ray both have excuses for not being able to tail Archer, so he decides to follow Sterling himself.

Meanwhile, Lana and Malory's meeting with the headmaster of the pre-pre-school doesn't go so well, so Lana decides to bring him a pie at home. Despite warnings from everyone else that it's a bad idea, she does it anyway ... and ends up arrested for stalking, since she was carrying a gun, and doesn't actually have a P.I. license yet.

Archer shows up to Ivy's extremely ritzy glass house and breaks in easily, but actually has second thoughts when he sees Ivy lying in bed, face-down and passed out drunk. He also wants to make sure he didn't forget to leave the safe open according to plan, so that he can get his $100,000 out of it. But as he's looking for the safe, his "victim" wakes up and goes after him with a lamp — only it turns out to be Trent, not Ivy.

He shoots off Trent's pinkie toe, and threatens to shoot off the other one if he doesn't cooperate. He finds out that Trent has been embezzling from the Stratton-Whitney hedge fund, and also sleeping with Ivy's wife. Trent offers Archer $300,000 not to kill him, and that's when Cyril walks in and finds out what's really going on. Trent goes to get the cash out of his floor safe, but pulls out a gun instead, and holds it on Archer and Cyril.

Then, POW! Trent is shot in the head, splattering Cyril with blood. It turns out Ivy planned to kill Archer with a sniper rifle after Archer was done murdering Trent, and went ahead and shot Trent himself. Since Ivy was good enough at the biathlon that he almost made the Olympics, Archer and Cyril are in genuine danger. Archer can't call anyone because Malory took away his cell phone after the biker voicemail fiasco, and Cyril can't call because he's between companies and still comparison shopping. Archer decides to attract Ivy's fire by running for Trent's car while Cyril grabs the money out of the safe. While he's grabbing it, he spots a bunch of files, documents, and disks labeled "Longwater" (as in the Veronica Deane case), but Archer yells that he's leaving without him, so Cyril runs for the car without grabbing them. Then Ivy hits a gas line and the entire house blows up.

They jump in Trent's Ferrari and take off, but Ivy chases them and almost manages to kill them until Archer jumps over into Ivy's car. When Ivy dares Archer to shoot him, Archer says he's going to jail and beats the crap out of him. So Ivy decides to drive off a cliff (causing Cyril to think Archer is dead). But Archer's not dead (not yet, anyway — don't forget the first scene of the season opener), and they once again make it through a mission.

Later, Archer tells Lana he thinks A.J. should go to public school because it would be better for her. Plus, there's a restraining order against her from the headmaster at the pre-pre-school, and ... she's in jail for stalking.

Next Time: "Motherless Child." Well, I love the Eric Clapton version of that song, so ... nah, I'm sure it has nothing to do with it. Maybe Lana is still in jail?