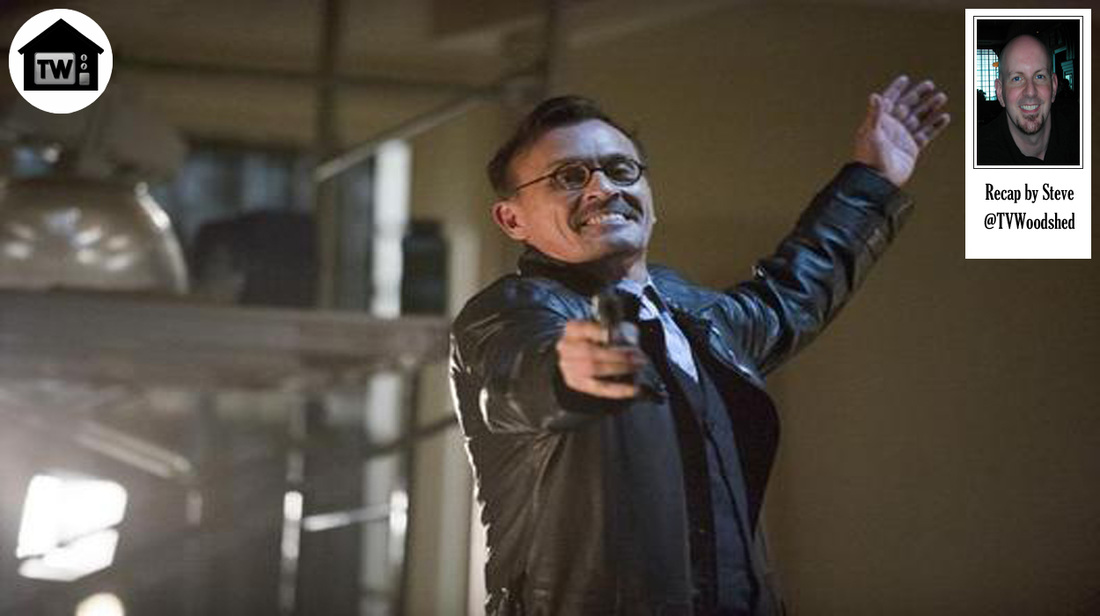 A very silly villain arrives in Starling to make sure we keep the episode to exactly 60 minutes. Well played, goofy bad guy. Well played.
We start this week's episode in the middle of a caper. Shenanigans! We've got a couple of lackeys trying to steal something for the Clock Man. Or the Tick-Tock Man? The Dick-Cock Man? I dunno, he's this week's bad guy and he's obsessed with time. Look, I know that Arrow is trying to stay grounded in the real world and is trying to stay away from really over-the-top characters, but seriously, we deserve a better class of villain. Anyway, the lackeys steal some sort of steel dildo and Clock Boy is so pleased he stabs one lackey to death while the other watches. Violence!

Then we get to see some gratuitous flesh as Ollie, Sara, and Diggle attempt to whack each other with poles dressed in their skivvies. It's as dirty as it sounds, and yes, we can almost see Diggle's dongle. Felicity (Smokin') Smoak arrives just in time to feel jealous that she has no cool battle scars. Never fear, Felicity. You're still the best thing this show has by a country mile.

The Queens throw Sara a coming back party – as opposed to the coming out party she had a few weeks back – and Officer Lance takes the opportunity to finally make nice with Ollie. He also makes nice with his ex-wife, which is sweet but cut short since, like all Queen parties, it's interrupted by phone calls that send everyone packing. Oh, and there's a blink-and-you'll-miss-him shot of Roy, but that's it, people. No Red Arrow for you. No Arsenal, either. It's enough to make you wonder if the episode that ended with Roy joining Team Arrow was aired out of order.

Anyway, Officer Lance meets Green Arrow and Cleavage Canary to discuss a homicide. I've said this a thousand times before and I'm gonna say it again now, so bear with me – it's Ollie, you morons! You can see his face AS CLEAR AS DAY! If I wore a hood and a mask and used a voice changer but then stood there in plenty of light, people who know me would still know me! It's OLIVER FUCKING QUEEN in a getup! God, I love this show, but that will always make me NUTS. And … scene.

So it turns out the Clockblocker has stolen a doohickey that will let him break into bank vaults. Really, bank vaults? No aspirations of taking over the world? Just stealing money? Oh, Clocksmoker, you're really not even trying.

While Officer Lance sets up a Lance family reunion dinner with Laurel, the Clock of the Walk sends his boys to one of those bank vaults, but Arrow and Cleavage Canary show up to spoil the fun. The Clockknocker has a cyber battle with Felicity while Arrow saves a bus from a train and Cleavage Canary hides from gunfire. See, there it is again – because it's so real world, these shitty heroes can be chased off by a few bullets. Where's Superman when we need him?

Back in the ArrowCave, Felicity gets more annoyed that Sara's better than her at everything (truly, Felicity, sweetheart, she's not) and Sara figures out where they can find the Clockatoo. Arrow and Cleavage arrive to the scene on motorcycles – cause, y'know, they can't fly – and then some weird tech shit happens that lets Clock-a-Doodle-Doo access the ArrowCave's computers and blow everything the fuck up. Kerboom!

The Lances have their reunion dinner, which goes south fast when Officer Lance says he wants his ex back and she shoots him down, and then Laurel divines that Ollie and Sara are bumping uglies. Laurel storms out, and Ollie lays some really heavy shit on her about being a worthless pill-popping drunk and a really one-dimensional character. But we all know, when things get ugly in Arrowland, we can always count on Tommy to come in with a smile and a joke to defuse the tension. Ah shit, that's right. Tommy's dead. Dammit.

Felicity decides she wants in on the action and the rest of the team meet her at a bank to have a showdown with Clocktail and his baddies. Felicity saves Cleavage and takes a bullet in the process, and then shocks the shit out of Clock-and-Bull using the guy's cell phone. Wait, what?

Then after a very funny and sweet scene with Felicity all hopped up on Oxy as she gets her wounds stitched (oh, and special thanks to the writers for the shot of Felicity in her bra), there's a lot of wrap-up, but none of it really compelling, save for Ollie. He goes home and discovers his mom in a meeting with SLADE ONE-EYED MOTHERFUCKING WILSON! Shit just got real.
​