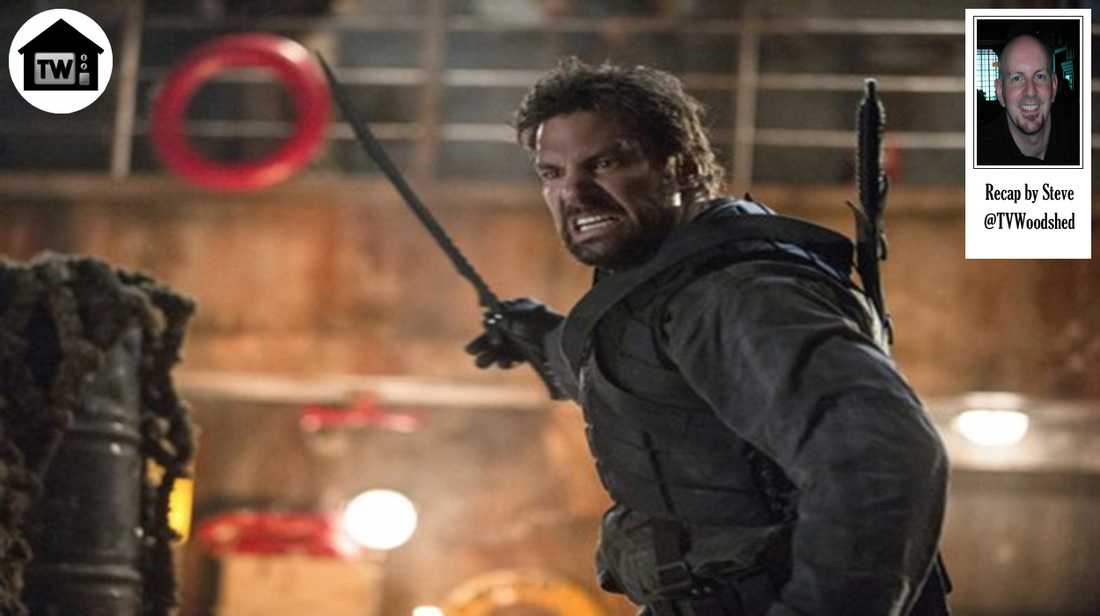 Slade Wilson's back in town to stir things up a bit, but not in a Deathstrokey kind of way. Unless you count the past.
Hey, they changed the opening montage! Huzzah! It's still the same narration, but now there are different scenes and a quick shot of Roy joining Team Arrow. Maybe that's The CW's way of justifying Roy's salary. "Look, he's in every episode, he's worth every penny!"

We pick up exactly where we left off last week with SLADE ONE-EYED MOTHERFUCKING WILSON in the Luthor/Xavier/Queen mansion making all nicey-nice with Moira. There's weirdness, obviously, and we find out that Slade has made a generous donation to Moira's campaign. Geez, Slade really made something of himself after the island, didn't he? We see an obscured shot of a maid wheeling in a cart of booze for those better than she … and holy shit, the maid is Shado! No, she isn't really, but that's what I would have done, if anyone cares. Slade proposes that they drink to friendship, which is … sad? Ironic? A dick move? Sorry, without knowing how things ended with Ollie and Slade on the island, it's really hard to say.

And speaking of said island, we use a potted tree in the mansion to transition to that very locale and find Ollie in the midst of a training montage. You know something? Without the Rocky music – or at the very least, the Karate Kid music – a training montage just doesn't fly. Ollie runs and shoots arrows at a bunch of makeshift targets cut into trees, which really must have taken a long time to set up, but hey, time passes slowly on an island. Slade gives Ollie the ol' attaboy and tells him when they make their attempt to take Ivo's freighter, shoot first and ask questions later.

The Skipper, Gilligan, and Ginger get prepped for the big assault the next day, and Ollie and Sara have a heart to heart. Ollie says if he dies, he wants Sara to tell his family that he didn't die as the stupid kid who boarded the Queen's Gambit. Sara says if she dies, she wants him to tell her family that she died on the Queen's Gambit so they remember her as she was. So … as a slut who bedded her sister's boyfriend? Okay, kid, you got it.

Ollie has a really fucked-up dream where Shado asks why he chose Sara over her (we're all asking that at this point) and then she goes all Mortal Kombat Kano on his ass, carving him up like a Thanksgiving turkey. He wakes up and it's time to go, so he dons Shado's mangy old green hood in a very dramatic fashion. Not to be outdone, Slade digs out the ol' Deathstroke mask and lets the sun shine through one of the eye holes. And what an eye hole it is.

On the freighter, we see a few prisoners in the floating Arkham Asylum. One of them is apparently a preacher who keeps a mouse as a pet. Mr. Jingles! Another is that Russian dude we met back in the Moscow caper, the guy who evidently goes on to become KGBeast. Right now, though, Ivo wants the dude's eye, and looks to dig it out with a melon baller. Yeowch!

He's interrupted by Ollie lighting a pyre with a s'mores arrow – just like in the original opening narration – and he sends two armed guys to the island to bring Ollie back alive. Two armed guys? That's all you could spare? They find Ollie in front of the pyre and are so mesmerized, they apparently forget they have automatic weapons. In the ensuing chase, Ollie trips, like a dope, and is taken back to the freighter.

After telling Ivo he can dish out all the torture he wants, Ollie gets squirrely as the sight of a needle. Bravado! As he gets injected with truth serum, we transition back to the present where Slade, Ollie, and Moira are still having their tea party. When Moira steps out of the room, Ollie goes for Slade with a knife, but the old Cyclops is too fast for him. Thea arrives at the worst possible moment, and Slade sneers that he needs to meet the rest of the Queens. Oh and Tommy! You've got to meet Tommy, he's a hoot! He's clever and witty and loyal and not at all someone you'd ever want to kill off. Oh wait …

Thea is charmed by Slade and they begin a tour of the Luthor/Xavier/Queen mansion as we slip back in time to the freighter. Ollie appears to be under the truth serum's spell, but in a flashback (during a flashback) we see that Sara gave Ollie the antidote. So he's just pretending. Ivo's first question is classic – "Oliver, what is your name?" Dude, is this a trick question?

As Ollie starts the revolution inside the ship, Slade and Sara parachute in and not only land on the ship, but in the exact spot on the ship where they needed to be. For a show that calls for an awful lot of suspension of disbelief, this not only crosses the line, it shits all over it. Have these people not attempted the parachuting missions in GTA 5? That shit is impossible! But mere moments later, all is forgiven as Slade dons the Deathstroke mask. For such a simple design, that thing is BAD ASS.

Flash forward to the increasingly less interesting present as Slade and the Queens (also a popular group in the '60s) walk around looking at artwork. Let's see, what can we do to draw the audience back in? Of course! Shirtless Roy, Diggle, Sara, and Felicity (Smokin') Smoak to the rescue, thanks to Ollie conferencing them in on a call to Felicity's phone. Sara recognizes Slade's voice, and tells the gang that unless they act, mass slaughter will ensue. Suspense!

Team Arrow loads up their biggest gun and gets Roy in a shirt as we flash back to the boat, where all hell is breaking loose thanks to Sara letting all the prisoners out of their cages. Arrow – is he Arrow now? Meh, call him pre-Arrow, corners Ivo and they have typical hero/villain exposition, which unfortunately explains what happened to poor Shado, which unfortunately Slade/Deathstroke overhears. Awkward!

Pre-Arrow tries to explain, but Slade is a little miffed, so there are fisticuffs, during which Ivo escapes and the ship is knocked off course and into … something. A reef? An iceberg? I'll never let go, Jack! Either way, the ship starts blowing up. Goddammit, we needed that ship! Amid all sorts of gunfire, Sara tells Ollie it's time to man overboard, which Ollie tries, but Slade grabs him by the ankle and Matrixes him back onboard. He locks Ollie in a cell, and after one of the mercenaries shoots Slade to no avail, Slade announces it's his ship. And there are no dissenting opinions, baby. Your ship. You got it. Can Isaac get you a cocktail?

In the present, Diggle is set up outside the mansion with a Deadshot-esque rifle and Sara tells him not to hesitate if he gets the shot. Sara does some Matrixing of her own to get to the upper level and Roy's orders are to secure Moira and Thea and not start a fight, which he doesn't seem too convinced of.

Slade's house tour is at an end and Roy shows up to give Ollie the nod. Roy's handshake impresses Slade, and he's even more impressed when Sara shows up, alive and well. Ollie asks Slade what he'd like to do, and Slade, realizing he's surrounded by Team Arrow, takes his leave. Outside, Diggle's got his shot but somebody knocks him out. Who conked Diggle? Was it Colonel Mustard?

As Slade gets into his sweet ride, Ollie asks what it is that he wants, and Slade reminds him of a promise from five years ago. So, to five years ago we go, where Slade, Ivo, and Ollie are on the freighter. Slade forces Ivo to reenact the Shado shooting, this time with Ollie playing the part of Shado, but then Slade decides to CUT IVO'S MOTHERFUCKING HAND OFF! Jesus, Deathstroke! What the hell? Slade then promises Ollie that he's going to suffer and suffer hard. But not, like, cut your hand off kind of suffer. Yikes.

Back to the present and Moira tells Ollie that if he's going to be a douche to company, don't come 'round here no mo. And then we discover that Slade used his mansion tour to plant tiny lil' cameras all over the house. Voyeur! We get one last shot of Slade without his eye patch and we can see into his big gaping eye socket. Um, yeah. Please don't ever show that again under any circumstances. Kthanksbye.

Next week: We finally get some Suicide Squad up in hyah! Let the madness begin!
​