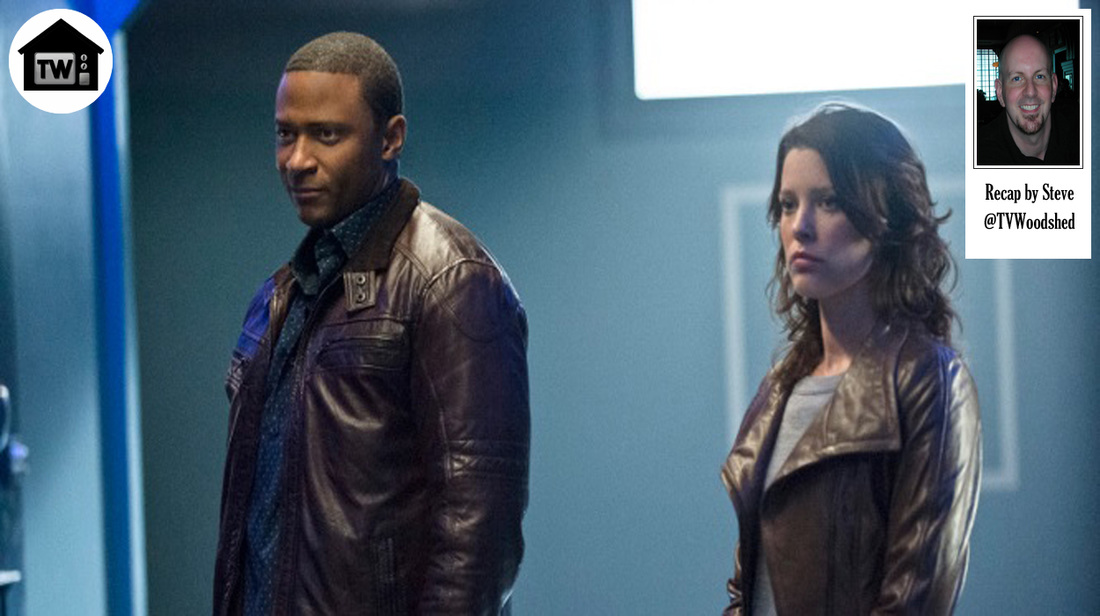 Digg takes the Suicide Squad out on a Suicide mission, while Ollie's pointless subplot is just plain suicide.
Well, Roy's out of the opening montage again. Seriously, show, either commit to Roy or let him go. Leading him on is just going to hurt you both in the end.

We start with some previouslies which, if you watch the show, you shouldn't need. We pick up with Oliver sleeping in … a train station? A Turkish bath? There's a lot of steam coming from somewhere. Above a dry cleaners? Either way, he wakes up unconvincingly from a nightmare and tries to rouse Sara. Instead he finds blood on his hand and rouses Shado, who says "Murderer." Shado needs to work on her pillow talk. Ollie wakes up for real and more convincingly this time and Sara is sleeping, calmly and unbloodied, beside him. He grabs his phone, calls a number, and says something in Russian. Like you do.

Ollie goes to meet up with some Russian thugs to ask for information about SLADE ONE-EYED MOTHERFUCKING WILSON and of course, it turns into a brawl. But Ollie ends up with all the guns so he gets to call the shots. Get it? Guns? Shots? No? Moving on, then.

In the extra-neon ArrowCave, Ollie finds Sara waiting. They chat for a bit, and Ollie brings us all up to speed on what Slade's been up to. Um, we watch the show every week and we already had previouslies. Get ON with it! Ollie says that this time when he kills Slade he'll make damn sure he stays dead. Wait, this time?

We catch up with Digg – hi, Digg! – sitting outside the home of one Felicity (Smokin') Smoak, keeping an eye on her. So sweet. She gives him some hot cocoa and tells him to beat it, saying if Slade wants to kill her, he can, and there's nothing Digg can do about it. That's the spirit! Digg gets a text that he's needed elsewhere right fucking now so off he goes.

Straight into a booty call! Now we're getting somewhere! I know we've seen her before and I know she and Diggle have some kind of thing, but I can just barely keep track of the B characters in this show, let alone the C characters, so we'll just call her the Booty Babe and try not to think about WCW in the mid '90s.

And we won't have to, because Digg's bogarting the flashbacks this week! We go back to Afghanistan six years ago and find Digg and company on patrol. Fatigues! They're leading some refugees through the desert and they stop because everyone's tired. Fatigue! During the stop, they discover they've got a drug lord in their midst that the U.S. wants very badly. They bag him and tag him. No wait, they cuff him and stuff him. Whatever, they take him into custody. Oo-rah!

Back in the present, with the booty call now yummy history, the Booty Babe asks why they didn't do things like that when they were married. Wait, what? Who is this woman? Am I watching the right show?

Then Amanda Waller shows up – yes, I remember her name, oddly enough – and we get a shit-ton of exposition in a very short period of time. It boils down to the fact that Diggle's got to get to that drug lord from earlier and take back some nerve agent whatchamajigger, and to do that, he's gonna need … wait for it … the Suicide Squad! Deadshot! Bronze Tiger! And … ah, fuck … Shrapnel.

Look, don't get me wrong, I love Sean Maher the actor (Firefly!) and I love the comic book version of Shrapnel, but it's as if the show creators sat down and said "How pussified can we make Shrapnel on the show?" And the writers popped in and said, "Real pussified! Leave it to us! He'll be the least villainous villain you've ever seen!" Mission. Accomplished.

Back from commercial and there's some banter among the Squad, which manages to pussify Shrapnel even more, and then in one of the still-locked cages, oh yes, there can be no doubt now. Spoiler alert. Harley Quinn.

And lest you think this episode is all Diggle and Suicide, Felicity sends Arrow off to investigate a robbery, and who should be standing menacingly on a rooftop but Deathstroke! Look out, Ollie! They don't call him Deathstroke for nothin'!

Oh wait, he disappears Batman-style. Stealth! Never mind, Ollie. Go about your business. Don't worry about that ratty old Deathstroke mask with the arrow through the eye. That could have been left for anybody.

Zip over to Markovia for a change of scenery. My geography's not so good, is Markovia in Pennsylvania? Michigan? The Mission Impossible team is gathered and everyone sounds off. Harbinger! Deadshot! Shrapnel! Tiger! Mockingbird! And … Diggle. Actually, he's "Freelancer." Hard to say which is worse.

They set up a ruse to make it look like Digg saves the former drug lord's life – just like he did in a quick flashback – and all seems to be well until Shrapnel realizes how badly he's been written and attempts to speed out of the episode. Amanda hits him with a high-pitched signal and it's implied he pops his top and crashes his car. Hooray! Shrapnel's dead!

The Squad – sans Shrapnel who evidently is now sans head – reconvenes and I discover the Booty Babe is Lyla. Meh. I like my name better. Has she really been on the show before? Digg has scored an invitation to the former drug lord's humanitarian benefit. The former drug lord is Gholem, but I think I'll go with Gollum. Tertiary characters abound!

Back in Starling City, Ollie gets Slade's bank account number – and hopefully the routing number – from the grumpy Russian mobsters, and then Sara confronts him about obsessing over Slade. While they gab, there's a really long camera shot of Sara's ass. Not a complaint, just an observation. Sara's ass. Yep.

Deadshot and Digg make desultory conversation – with the obligatory Windows tablet product placement in the middle – while a high-tech printer cooks up a new fingerprint. Neat! Digg and Lyla charm their way into Gollum's shindig while Deadshot fake-fingerprints his way past security. They're just about to … do whatever it is they're going to do when we flash back to Afghanistan and see Digg unknowingly kill a kid to save Gollum's life. Is all of this going anywhere? Because it's really not all that compelling. Oh well, maybe something will blow up soon.

Back from commercial, Lyla and Digg share an uncomfortable dance. Yawn. Let's see what's shaking back in Starling City. Ah, shit! It's Laurel! Quick, switch back to the A story! Dammit. Her scene is mercifully short, though it's yet another recap of what's been happening on the show lately. Did they start a new season while I wasn't looking? Felicity tracks down Slade's address and Ollie insists on going it alone. Does he, like, get dressed in front of everyone when he puts on the Arrow gear? The mannequin is right there in the middle of the ArrowCave. Point to ponder.

Meanwhile, Deadshot is in an underground bunker making his way to the package. You know, I get the feeling that something is going to go horribly wrong. Just a hunch.

Still more meanwhile, Arrow finds Slade's office … and holy shit, the Russian mob underboss is in Slade's chair with an arrow where his eye should be! Don't worry, Ollie, that could have been left there for anyone. On the opposite wall we see creepy home movie footage of Shado. Who the hell shot that? And when? Ollie returns to the ArrowCave and exchanges such awful dialog with Sara that I refuse to recap it, but when they hug, we get a side shot of Sara's ass. I'm gonna guess Sara's ass = ratings.

And hey, I was right! Deadshot finds that the nerve agent whatchamajigger isn't pocketable after all, so Mockingbird tells her team to pull out and orders a drone strike on the party locale. Bummer. It looks like a swell party. Y'know, for an ex-drug lord and all.

With a shitty looking CGI drone inbound, Digg comes up with a plan to evacuate the building of innocent partygoers. He announces that there's deadly nerve gas right below them. Truth bomb! Everyone scatters, but Gollum puts a knife to Lyla's throat. Lucky for her, Wolverine is there to put some new holes in Gollum's back. Oops, sorry, did I say Wolverine? I meant Wolverine. Look, you can call him Bronze Tiger all you want, but if it's a bad-ass anti-hero with three claws on each hand, it's Wolverine.

Digg and Deadshot have a standoff downstairs. Deadshot apparently wants to put the suicide in Suicide Squad, but Diggle ain't with that. They evac to a waiting van, and we see the crappy CGI drone change course to pursue said vehicle. They figure it's locked on to Deadshot's tracker, so Lyla grabs Wolverine's claws – which I thought were attached, but what do I know? – and they dump the tracker in the street. One ker-boom later, and everything's cool again.

Amanda Waller's not happy about how the gig went down and lets Digg have it, but Digg shrugs it off with a smile. Oh, Digg. You dogg. Once Digg

takes his leave, Waller tells Lyla they're going to make the trackers harder to cut out and tells her to prep the squad for surgery. Obamacare!

After Deadshot's put back on ice, Digg says something to Lyla about things being black and white, and then they're suddenly black and white and hot all over as they, ahem, reconcile. Right there in the prison. Prison sex is hot. Then a quick flashback to when they first met as soldiers. On Parris Island. They left as inmates. From an asylum. Keep singing, you know you want to.

Ollie decides to pay Amanda Waller a visit to see if he can get some help with the whole Slade Wilson thing, and she says sure, we're tracking this bad-ass mercenary. He can help. Goes by the name of Deathstroke. Now this is supposed to be all crazy confusing, but I've got it all figured out. Slade is Slade … and Tommy is Deathstroke! See that? I knew in my heart of hearts Tommy was somehow still alive! Oh, Tommy. How we've all missed you. Welcome home, buddy. Welcome home.

Next week: The Huntress returns to battle Cleavage Canary to see whose boobs can be pushed up the highest. And we all win.
​