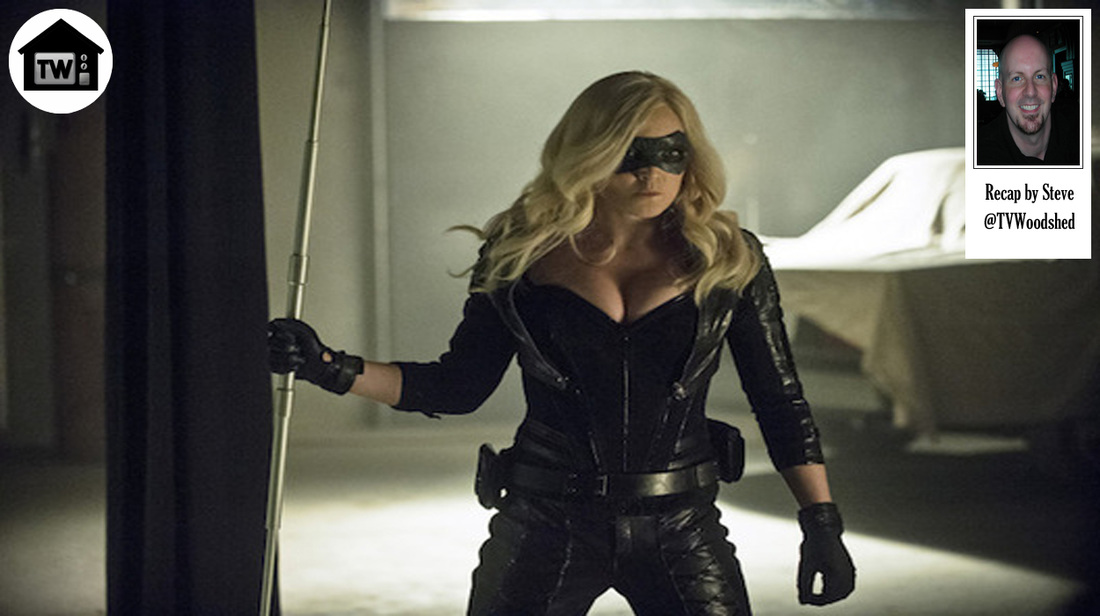 The Huntress is back in town, looking to wrap things up eye-for-an-eye style with her Mafioso dad. Too bad a bunch of less interesting stories get in the way.
Oh, I get it. The opening montage is just rotating a bunch of different scenes in every week. It has nothing to do with Roy. Just like this show lately. We love you, Roy!

The previouslies get us back up to speed with the whole Huntress thing, which is good, because there's kind of a lot there. Now before we get into the show proper, I'm going to channel my inner proctologist and let you know that this week's installment is going to be uncomfortable, possibly a little painful, because the CW is celebrating Useless Characters Week, so you guessed it, there's gonna be a whole lot of Laurel. But just take deep breaths, assume the position, and let's get this over with as quickly as possible.

Lock and load! Starling City's finest are cocking up their weapons and looking for some action. Their orders are from Officer Lance – wait, he can give orders? Maybe demotion means something different in Starling City. The target is a goombah – Lance's word, not mine – who has a laundry list of dirty deeds done dirt cheap. As the cops head out, who should appear on the rooftop nearby but Arrow and Cleavage Canary? Out for an evening stroll, are we? Well focus, 'cause there's gunfire aplenty! Cops versus goombah!

The heroes jump in and do their thing, Canary's moves accented by a convenient strobe light, and miraculously neither gets shot. But Officer Lance does! Secondary character down! Canary checks on him and sees that he pulled a Martin Riggs and is fine, but she looks ready to, I don't know, throw somebody out a window or something. We'll have to see where that leads.

Arrow chases a guy down and when the dramatic light hits his face, we see that it's Huntress's dad, Frank Bertinelli. Burtinelli? Frank Bert & Ernie. He supposes that his daughter sent the Emerald Archer to kill him, but we don't have time to dwell on that because Canary throws the other dude out a freakin' window! Nailed it. Wait, was the other guy the goombah they were looking for? Meh.

The cops take Frank into custody while Officer Lance has a heart-to-heart with Canary. He asks her not to throw dudes out of windows. Meanwhile Arrow's standing there with his FACE FULLY LIT so any moron with half-decent eyesight can tell that it's Oliver FUCKING Queen. But you know what? It gets way worse later, so I'm not even gonna start.

Back in the ArrowCave, the team gets Sara up to speed on Helena Bert & Ernie, aka Huntress. Although not yet Huntress. But, okay, Huntress. Felicity shows Helena's recent exploits, killing Mafia guys over in Italy. A little on the nose, innit?

Flashback! Ollie's getting the crap beat out of him on board the boat with the world's silliest name. Slade's supervising, but then wonders why the Love Boat hasn't yet set sail for romance. A lackey says the ship's broken. Slade grabs him by the throat and tells him to fix it. The lackey says he can't. Can't? Or won't? I guess it's both, really. Slade tells him to find someone who can Scotty this shit up. On it, boss!

Back in the present … ah, nuts. It's Laurel. She's at a Bad Characters Anonymous meeting. "Hi, I'm Laurel, and I have yet to be fully developed." Hi, Laurel! She whines about how tough she's had it and how she ain't no lawyer no more, and as everyone applauds her astonishing bravery and testicular fortitude, she gets a phone call. Look, run your meetings however you want, but I'd have a no cell policy. But then, I'd also have a no Laurel policy, so don't listen to me. The call is from A. Donner. Is it about Santa? Is he okay?

Oh, no, Donner is that guy from Orphan Black. Love that show! Shout out to the Clone Club! Laurel meets with him and he offers her her job back. Says he pulled some strings to get around that whole drinking/pill-popping/disbarment thing. Laurel's gonna be laying the legal smackdown on Frank Bert & Ernie. Jurisprudence!

Over at the club, Roy spends time he should be working showering Thea with a bracelet from Tiffany's that she could probably buy with her own allowance. Gets him some sugar, though. Team Arrow is meeting at the other end of the bar, so he makes his way past the whitest people performing the whitest dancing you can imagine to see what's the haps. Turns out Helena's on her way back to Starling. Ollie asks Roy if he's ready to get back out in the field. When was Roy ever in the field?

A car – theoretically carrying Helena – comes screeching to a halt when Arrow appears in front of it. Um … he's not Superman, y'know. You can run him over. The car turns and screeches again for Canary. Ditto. Roy approaches the car and manages to get shot through the hand. Stigmata! He heaves the driver out and advances on him, all the while ignoring Arrow's commands to stand down. Then for some reason, when there's an arrow pointed at him, he complies. Shot through the hand. Just a reminder. Roy sure is dumb. The driver dude was Helena's decoy and she's in another car with a driver who gets his SAG card with two lines. Good for you, random guy we never see again!

ArrowCave. Felicity (Smokin') Smoak implies that Ollie can be easily manipulated by boobs – nothing we didn't already know – and cue the boobs, Sara nods toward Roy, who is sulking in the background. Ollie goes and talks to him, and apparently when he was trying to get Roy to stand down, he called him "Speedy." I thought he said "Freeze!" But "Speedy" was to remind Roy of Thea. Roy thought it was a new nickname, which he warns Ollie not to give him. Ha! That's funny if you're a comic book nerd. If not, look it up on Wikipedia. Ollie tells Roy to break up with Thea on account of him being a rage monster and all. Roy goes into expression #2 – confused but still aloof and brooding, like he was taught in "acting school." They're interrupted by the announcement that Laurel's going to be prosecuting Frank Bert & Ernie. Slow news day, huh?

Sara goes to see Laurel and they have a little sister time, which leads into a flashback. On the island, Sara's led the survivors of the freighter to the abandoned plane. Slade contacts Sara and tells her that he's torturing Ollie, but he'll exchange him for Mr. Hendrik, who apparently knows how to fix boats. What an unfortunate skill to have, given the circumstances.

Back in the present, both Digg and Sara give Ollie shit about his non-lethal baby arrows, but Ollie's all about the not killing since there's a Huntress in town to take care of that. Sara asks what happens if it comes down to killing Helena or saving Laurel. Ooh! Can we do the reverse? That would rule! Ollie says he created the Huntress. Sara says he created Slade too. And on the seventh day, Ollie rested. Ollie tells Sara to stay put and he'll protect Laurel. Felicity and Digg think Sara should go kick some ass. Wonder who she'll listen to.

Ollie goes to see Laurel at the courthouse. The cops are bringing in Frank Bert & Ernie through the front, which Laurel thinks is weird. Then all hell breaks loose as a smoke grenade rolls in and Ollie shouts for everyone to take cover. Cue the Huntress, all set to resolve her daddy issues with a crossbow. Therapy! Huntress brings up her dead fiancé – sweetheart, let it go already – and Frank shouts "What are you waiting for?!" Which is the cue, see, 'cause he's wearing a wire. Narc! Cops swarm in and, naturally, just stand there instead of gunning the Huntress down on sight, which gives the Huntress time to tell her boys – we didn't know she had boys until this very moment – to start shooting things up. In the chaos, Frank and Ollie escape while Laurel is trapped inside as the boys take hostages.

There's a lot of blather among the cops outside the courthouse, and it turns out Donner was the one who used Frank as bait. Blitzen would never have approved. Huntress wants her daddy delivered or she starts singing show tunes. And executing hostages. Oliver checks in with Team Arrow and finds out that Sara didn't stay put. Well, duh.

And now, ladies and gentlemen, is when things get completely fucking retarded. Laurel, inside the courthouse, is attacked by a thug. Cleavage Canary arrives to save her. So yes, the Lance sisters are about five feet apart, and the only disguise Sara has is a flimsy mask. Surely Laurel's going to recognize her, right? What will Sara do to protect her secret? What can she do? She employs the only option left to her. She turns on her VOICE CHANGER. Seriously, Arrow? Seriously?

Back at the club, Roy strong-arms a douche on the dance floor and realizes he's a brute after all. So he goes to break up with Thea. Just like that. Sorry kid, we're broken up. Thea's like, "Um, no we're not," and goes to solve a vodka problem. Women, right? Can't live with 'em, can't suddenly break up with 'em for no good reason.

Laurel and Cleavage Canary skulk around the courthouse, looking for a way out, and Laurel still can't tell it's her sister. They break into an office and Laurel wants a bottle of liquid courage, but her sister, who is now two feet away and in plenty of good light, talks her down. Hey, Laurel? It's your FUCKING SISTER, you moron.

Arrow tells Canary to get Laurel out, but Laurel's a stubborn bitch who won't leave the hostages behind. Martyr! Oh, and there's another moment where Sara's face is as clear as day, but nope, Laurel still doesn't see it. Oy. Canary gives the conversation with Arrow the brush, which leads to a flashback.

Sara swears there ain't no Mr. Hendrik here, but Slade's not falling for that. He zaps Ollie with some electricity, and tells Sara she's got one hour to deliver Mr. Hendrik. Mr. Hendrik's gun says otherwise.

In the present, Huntress makes a call to the cops and tells them it's killin' time, but the room is suddenly filled with Canary's screamy device. Oh yeah, forgot all about that thing. The windows shatter and we've got ourselves a Birds of Prey battle! Copyright DC Comics! After some fancy fisticuffs, Huntress throws Canary out the window. See? How do you like it? Canary saves herself by … um … a web shooter? Spinning a drape? Black velvet, if you please? I dunno, she saves herself and Arrow's arrow hits Huntress's arrow and no arrow reaches Canary. Except Arrow. Got it?

Inside, the Huntress takes off her mask – and amazingly, all that black makeup around her eyes comes off as well. The phone rings and it's Arrow. The deal is proffered – Huntress gets her dad and Arrow gets Laurel. Geez, Arrow gets the shit end of that stick, doesn't he?

At the club, Thea catches Roy making out with some blonde chick in the storage room. And it never even dawns on her that it's part of his ploy to break it off with her. Never even enters her mind. She doesn't laugh it off and say, "Nice try, Roy." She just cries and runs away. Maybe Roy's dumb is rubbing off.

Officer Lance grabs Frank Bert & Ernie to bring him to Huntress, who is still shepherding her flock. Laurel starts a chat with her. It's Laurel-level dialog, so I won't bother with it, but they do mention Tommy. Tommy! Tommy, can you hear me?

The cops are getting ready to raid the courthouse, and the standing order is to shoot anything with a mask. Good thing this isn't happening on Halloween night. PR nightmare! The cops raid and discover a hostage dressed like the Huntress, while the Huntress herself slips the leash wearing an ill-fitting cop outfit. Maybe Roy's dumb is affecting the entire city.

On the way to the prisoner exchange, Sara has another flashback. Mr. Hendrik maintains that he's not going back to the ship named after a cheap magician, but Sara knocks Mr. Hendrik right the fuck out. Oh, you're going back to the ship, Mr. Hendrik. Make no mistake.

Prisoner exchange! Everything is cool as a fool until the head cop shows up and starts shooting up the place. Arrow chases him down and we get Birds of Prey fight part II. Just as Arrow's about to get dropped, Officer Lance shows up and knocks the head cop out. And gets a perfectly clear view of Arrow's face and still can't figure out it's OLIVER FUCKING QUEEN.

Anyway, Canary's about to kill Huntress when Laurel runs in and screams for her to stop. And gets a perfectly clear view of Canary's face and still can't figure out it's HER FUCKING SISTER. Huntress lives, but discovers that of the million or so bullets that haven't hit anyone this entire episode, one managed to kill her dad before she could. And she's all like, "Hey. I need a do-over." Sorry, no do-overs. You could have killed him half a dozen times by this point, you dizzy broad. Officer Lance slaps the cuffs on Helena and Laurel has one last long unrecognizing look at her sister's face before she tells her to go.

Ollie visits Helena in a holding room. You know, with all that goth shit washed off her face, she's not half-bad looking. She's actually much softer in the final scene, and we catch a glimpse of the hero who might one day be. We'll need an Oracle, though, if we're going to do the Birds of Prey properly. Get casting on the line. Make sure she's a redhead with big jahoobies. Oh, and if she can act, so much the better.

And another flashback, this late in the show? Okay. Slade is having Ollie tattooed with the same design Shado had as a reminder of his poor choices. Good thing she didn't have a tramp stamp. Sara calls and tells Slade she made the right choice as the others are tying up poor Mr. Hendrik in the background.

Back in the present, the crabby old DA lady tells Laurel that Donner wasn't authorized to give her the job back, so she's still unemployed. Laurel says she'll go public about Donner (and Cupid and Comet) if she's not gainfully employed again. The the crabby old DA lady caves. Pretty quickly, I might add. This all seems highly unethical, but I suppose it's lawyers, after all.

At the club, Thea's crying over Roy because she's just that dumb, and Ollie tries to ease her sorrow. Even though he caused it. In a delicious bit of irony, Thea tells Ollie he's the only one in her life who doesn't keep secrets. Ha! Thea leaves and Roy crushes the bracelet in frustration. Arsenal smash!

As Thea walks home, who should roll up to offer her a ride but SLADE ONE-EYED MOTHERFUCKING WILSON! She gets in the car. Yep, the dumb has really taken hold.

Next week: Get Slade or get slayed! Who writes this stuff?
​