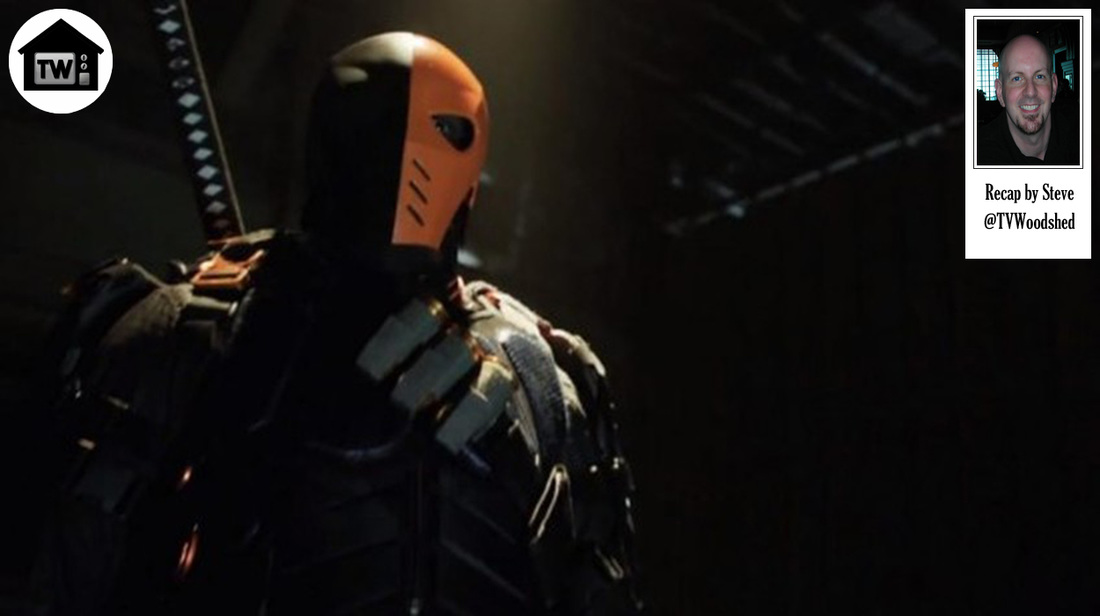 Slade Wilson goes and screws everything up in Starling City, resulting in Thea hating Ollie, Roy skipping town, and pretty much everyone knowing Arrow's secret identity.
Not a whole lot of previouslies this week. Slade, the broken boat, Roy, Thea. Meh.
We pick up right where we left off last week with SLADE ONE-EYED MOTHERFUCKING WILSON offering Thea a ride home. How much more than an eye patch do you need to see before you know a guy is trouble? Thea hops in, and Slade offers her a hankie for her running mascara. See that, kids? Even homicidal revenge-seeking sociopaths can have manners! Thea snivels about Roy and Slade makes vague statements about love and loss before going all freaky and telling Thea she's not going home. They pull up next to an alley and Slade tells her to get out. GET OUT! Well, so, technically if she's out of the car, she can go wherever she wants, right? Including home? Thea runs for a bit before bumping into Brother Blood, who greets her in his scary voice. But really, since Slade came to town, Brother Blood is so ten minutes ago.
ArrowCave. So in one of the myriad storylines this week, Iron Heights prison is reopening, and Digg tells Ollie that ever since he stopped killing bad guys, the prisons are overflowing. Back to the killing it is! Roy's fooling around with a bow and arrow and says that he's not exactly a natural. He proves it by missing the target completely and shorting out some wires in the far wall. But nothing seems to lose power, so, do we need those? Roy can't focus because he wants to tell Thea the truth, and Felicity (Smokin') Smoak shows up to tell us that she told a guy the truth once and he got struck by lightning. Y'know, in case you all forgot about that Flash spinoff. Ollie tells Roy to try again, and this time to aim. He really wasn't aiming the first time? Then no wonder the arrow hit where it did.
Felicity reminds Ollie – and us, frankly – that he's been shirking his duties as CEO of Queen Consolidated. Ollie's all, "Yeah, but Slade!" Felicity asks him if he remembers where his business suit is, or does he keep it in a cool glass case too? Felicity. Don't ever leave this show.
Flashback! On the island, Sara's orchestrating the return of Mr. Hendrik to Slade in exchange for Ollie. KGBeast finishes tying the man up, and then it looks like The Spin Doctors come in to carry him away. If you want to buy me flowers, just go ahead now. There's arguing about what's going to happen to poor Mr. Hendrik, and Sara wonders if this whole prisoner exchange thing is a chance to kill Slade. I'm gonna go with doubtful on that one.
Present day at Queen headquarters. Ollie arrives and – holy cow, it's Summer Glau! We almost forgot all about you, sweetheart! So, how's it going? You look great, by the way. Loved you in
Firefly
and
Sarah Connor Chronicles
and that episode of
Big Bang
… oh, sorry. Just, y'know, Summer Glau! They exchange some really pleasant pleasantries. Huh. Did he bang all the crazy out of her in Russia? Because damn, dude, write a book. Help a brother out! Felicity interrupts to tell Ollie his mother's there. Ollie's in trouble! Moira asks if Ollie's heard from Thea. He hasn't. She wants to know if he'll be at the debate tonight. He will. She wants him to pretend to still be her son. He tells her he's gotten good at being someone he's not – he learned it from her. So she's Green Arrow? She must be the Silver Age version.
Backstage at the debate, Ollie still can't get a hold of Speedy. Goddammit, Speedy, stop screening your calls already! Sebastian Blood arrives and tells Ollie that Thea's no-show is his fault. Confessions! He says his motorcade tied up traffic and Thea's probably "fallen victim" to gridlock. Ah, I see what you did there, you oblique bastard. Ollie wishes Sebastian good luck and splits, and we move right along to the … oh. No. We don't. Because Laurel's here. Sigh. The scene with Blood, and unfortunately not Laurel's blood, is mercifully short, they make nice, and on we go to more interesting characters.
Debate! Hilary Clinton versus John Edwards! From a distance, tell me I'm wrong. The two candidates snipe at one another for a bit until the moderator – the reporter who I thought was Diggle for the entire first season – puts a stop to it. While we're here, Blood's podium has a "Sebastian for Mayor" sign on it. That's the best you could come up with? What about "Blood is Thicker Than Moira"? Or "There Will Be Blood Tonight!" Anything. The moderator says they're moving on to video questions submitted by Starling City voters – which seems like a really terrible idea – and says the first one's from Thea Queen. The hell? The video screen goes all crackly and there's Thea with runny mascara pleading for her life. Apparently Deathstroke either doesn't have manners or doesn't carry hankies. And then Deathstroke appears to shut Thea up and the words HOW MUCH IS THEA QUEEN'S LIFE WORTH TO YOU? appear. I'll open the bidding at five dollars! Do I hear five dollars? Five anywhere? Four, then! I'll take four!
Elevator! Digg reassures Roy that Thea's gonna be a-ok as they ascend to the top of Queen Tower. When they arrive, Digg is swarmed by reporters who all know his name. When did Digg become famous? They pass Felicity, who's working on a lead, and a nearby TV shows Blood announcing that he's suspending his campaign and devoting all its resources to finding Thea. Shouldn't that be Moira's speech? And anyway, Mister Blood, you know exactly where Thea is, you leather mask-wearing freak. Everyone is gathered in Ollie's office and the board room, which has been converted into a Find Thea war room. When did all this happen? The cops ask Moira if she can think of anyone who would want to do this, and we get 1.5 seconds of Malcom Merlyn's face on the screen. Does he get paid for that? It also gets all all thinking about Tommy, who … well, you know. Miss ya, pal. Summer Glau's still being crazy nice to Ollie, so much so that Ollie scribbles a little note on a legal pad that temporarily hands over CEOness of Queen Consolidated to her during this time of crisis. Oh, you poor, poor sap.
ArrowCave. We get a quick shot of Sara's cleavage – thank God for that, it's been 15 minutes already – and Felicity tells the boys about her lead. She's found a car registered to, in her words, "a Slade Wilson." Slade Wilson? Anyone? Does that name ring a bell? No? Shame. Digg smells a trap, but you know Ollie. Where angels fear to tread and all that. Sara's cooked up a sedative from some snake or something – it's really hard to focus on what she's saying with those sweater cows pushed up to her chin. Whatever it is, it should knock Slade the fuck out. And Ollie wants Roy to channel all his dumb rage. Okay. We've got a plan.
And a flashback! At Sara's behest, KGBeast is removing the explosive from a land mine. Seems safe enough, carry on. The idea is that they'll wire up Mr. Hendrik and then hand him over to Slade and KER-BOOM! Good, so we've got a plan there too.
Back to a shitty part of Starling City. Team Arrow finds Slade sitting in a comfy chair, like you do, and demand to know where Thea is. Roy gives Slade the old right hook, which does nothing. Nice one, Roy. Ollie tells Roy to call Detective Lance, even though everyone else in the episode correctly refers to him as Officer Lance, to come and arrest Slade. Then he fires the sleepy arrow, which drives Slade back into the comfy chair. Convenient! Also quite a trick, since Slade was a good six feet away from the chair at that point. But whatever.
Police station. Slade's handcuffed to that metal bar in the interrogation room. Is there anyone on the show who hasn't been handcuffed to that thing? Thought not. Officer Lance asks Sara if Oliver knows that she's working with The Arrow. Whoa, back up. That was a total mindfuck. The Queen family arrives and the lieutenant tells them that Slade's got proof he's been in Costa Rica for the past 72 hours. What the hey? Moira wants to know why he was arrested then. The lieutenant says he was apprehended by the vigilante, who then called it in to Lance. Well, technically, Roy called it in. So let's blame Roy. The lieutenant blames Lance, though. Poor Lance. Stuck with Laurel for a daughter and now this.
Ollie slips into the room where Slade's being held for some one-on-one time. Well, here's another fine mess you've gotten us into, Ollie. Slade's disappointed that Ollie's first question is how Slade got off the island, but if you must know, he swam. Damn, Ollie, why didn't you think of that? Oh, because the currents and riptides kept pushing him into the reef and cutting him all up. Yeah, no, pass on the swimming thing. Apparently the Mirakuru healed all Slade's wounds except the gross gaping eye socket. Mirakuru sucks. Ollie says it's just the two of them, so why not try some honesty? Yeah, I'm sure there's no one watching or listening in a police station interrogation room. They yell at each other some more about the island – always the island with this guy, right? Ollie breaks down and begs to know where Thea is, but before Slade can tell, the lieutenant arrives to set him free. Bad timing! As Slade leaves, he too is swarmed by reporters who all know his name. What, is everybody famous in this town? He announces he's putting up $5 million for information about Thea. You don't have $5 million, Slade. Do you? Either way, that's a pretty safe bet.
Team Arrow coordinates to track Slade, but things go all sideways when they lose sight of him. Shit! Meanwhile, Thea's being held by machine gun-toting thugs in a warehouse somewhere. Slade arrives and dismisses them, and then tells Thea she can go. Really? Oh, but if she sticks around, Slade will tell her a SECRET OLLIE'S BEEN KEEPING. Temptation!
ArrowCave. There's dissention in Team Arrow! Roy says they can't do anything without King Queen's permission. Hooray! Roy got a clever line this week! More squabbling, and tons of exposition from Roy, during which Roy points out that Sara sides with Ollie because she's screwing him. Truth bombs!
Queen mansion. Damned if we don't have a shit-ton of locations this week. Moira gets all weepy about Thea and recalls how much the girl loved her crayons. Okay, that may be true, but it sounds like nervous breakdown-speak. Ollie can't stand to see his mom suffer, so he ends up taking her hand. Oh, you poor, poor sap.
And flashback. Though an oddly colorful one. Was whomever is in charge of graying out the flashbacks on break? Slade shows up for the prisoner exchange with Ivo, sans hand, and Ollie, who's got a nasty-looking shiner. Kudos to the makeup people! Slade and his lackeys are about to leave with the now-armed Mister Hendrik, but Slade smells a trap. And the explosives. Ah, shit. Slade waves the explosives around and threatens to use them, but eschews them in favor of a gun to Sara's head. Then we find out that island Slade was fucked in the head because imaginary Shado shows up to talk him out of murder. Yeah, you read that right. Imaginary Shado.
ArrowCave. Things go from bad to worse as Roy gets his rage on and threatens to break Digg's arm. Sara's got the bow and arrow and is ready for business. It's a standoff until King Queen arrives to ask WHAT THE FUCK is going on here? Roy gives Ollie what for and quits the team. Wait, Roy! Come back! Your character isn't nearly developed enough yet!
Queen boardroom. Yep, we sure are all over the map this week. Did a bunch of different writers slap this shit together? Summer Glau's holding a board meeting when Oliver storms in. She dismisses the board and … ahhh, there's the crazy bitch we've been waiting for! She's the new CEO of Queen Consolidated, and she's working with Slade! Nice swerve! She and Ollie, both dressed in their business finest, start beating the everlovin' crap out of each other. Hostile takeover! Ollie eventually bends Summer over the table – fulfilling the fantasies of fanboys everywhere – and demands to know where Thea is, or it's death! Cake or death! Um, cake please.
Surprisingly, Summer tells Ollie where to find Thea, but he must go alone. Sara doesn't like it, but Felicity tells him to go do it and do it hardcore. Felicity! Chewing bubblegum and kicking ass! Arrow arrives at the warehouse on the ArrowCycle and finds lackeys waiting for him. Really? Lackeys? And not just one or two lackeys but a bunch of lackeys. I like saying lackeys. He dispatches them all, and we see Deathstroke suiting up so we think there might be a confrontation, but no. Deathstroke occupies himself by stopping a busload of prisoners and freeing them. And looks so freakin' badass doing it. Ollie reaches the last room and there's no Thea, so all of that lackey nonsense meant precisely dick. Nice one, Ollie. What are you, Roy? Felicity calls Ollie and tells him that Thea's at the police station. D'oh!
Sara and Digg are at the police station to tell Oliver what a horse's ass he ended up being. Thea's kidnapping was a diversion and Deathstroke's got new recruits for his army. Great. Just great. Moira arrives and she and Ollie go to see Thea. Thea's very troubled, though, because she now knows Ollie's secret. That Ollie … wait for it … knew that Malcom Merlyn was Thea's father! Wait, that's not Ollie's secret! I mean, Ollie's got the other secret, yes, but the Malcom Merlyn thing was MOIRA'S SECRET! Way to shoehorn in a reason for Thea to hate Ollie, writing staff. That's just plain lazy.
Quick flashback to imaginary Shado talking Slade out of shooting up the joint. Before he leaves, Slade asks Ollie if he has a message for his family, because once the boat is fixed, he's paying them a visit. Foreshadowing!
Present day. Thea starts walking home from the police station. Because, y'know, nothing bad ever happens to her when she's walking anywhere. Roy watches from his car, and then drives off and out of Starling City. Oh, Roy. Where are you going? Gotham? Metropolis? Bludhaven? Wherever it is, I hope they never discover how dumb you are.
In the police station, the lieutenant gives Officer Lance a chance to tell him who the Arrow is. Lance doesn't know. It's not like Arrow has stood with perfect lighting on his face time and time again with only a flimsy green Lone Ranger mask concealing the fact that he's OLIVER FUCKING QUEEN, after all. Lance is arrested for conspiracy. Cops arresting cops. Jesus, what next? Laurel finding out the vigilante's secret identity?
Ollie's former office. Summer, Slade, and Sebastian Blood are gathered around a news report that Moira's campaign has gotten a sympathy bump. Blood is boiling – get it? – that he's not going to be mayor, but Slade tells him he'll be able to take the town with the army they're building. Kind of yells it, actually. Summer assures them both that the army's being built. Slade heads out to find one more distraction for Ollie, but not before we see imaginary Shado standing there in the office. Oh, so Slade was batshit on the island and he's batshit here too. Good to know.
ArrowCave. Yes, again. The core of Team Arrow regroups and reminds Ollie he's not alone, and then waits for instructions. Ollie tells them it's time to fight back, which was included in the previews for THIS episode, which is a really bullshit thing to do.
One more location! Laurel's pad. Oy. Slade shows up and pushes his way in. Funny that Laurel has plenty of neighbors just outside her apartment but she never thinks to scream bloody murder when these killers show up. Slade just goes ahead and tells her that Ollie is the Arrow. Doesn't even buy her dinner first. Laurel's eyes move back and forth really fast, as if she's processing this revelation and thinking, "You mean all those times I saw Ollie dressed as the Arrow that Ollie was the Arrow? Fuck!" So now is there anyone left on this show who doesn't know Ollie's secret identity? Yeah. Didn't think so.
In two weeks: How do you kill the ultimate weapon? How the fuck should I know?
​