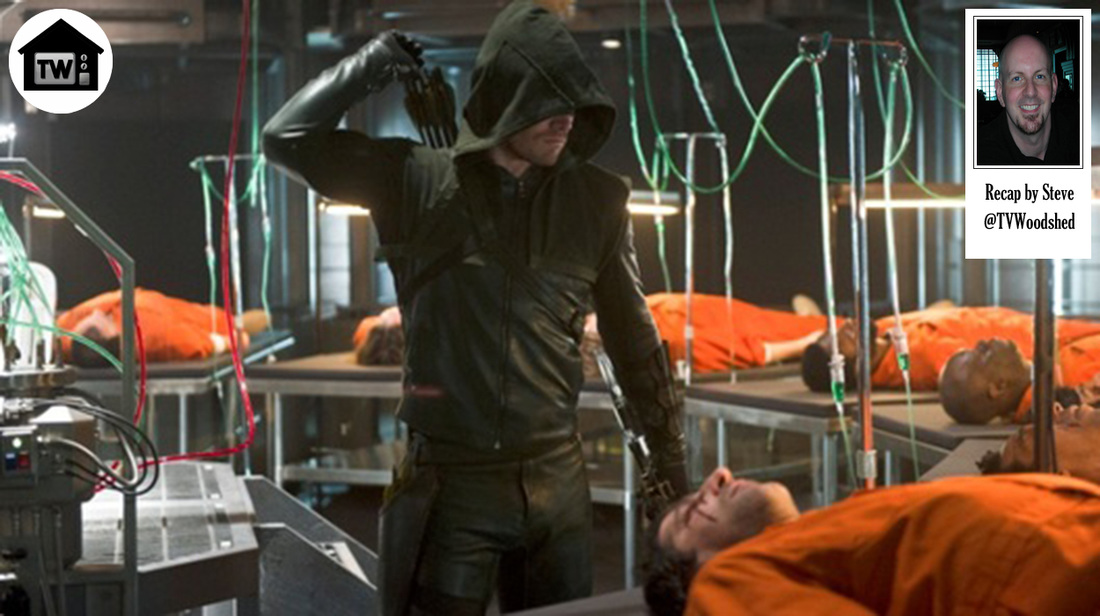 Team Arrow is trying to get one step ahead of Deathstroke, but don't seem to be making a whole lot of headway. Thea's all bent out of shape – must be Wednesday – and Laurel realizes what a dope she's been. About time!
And we're back! After an agonizing week's hiatus. Were the Olympics on? I need to stay on top of current events.
Previouslies. In case that week-long absence made you feel like you've never seen the show before. Slade, Ollie, Roy, Thea – you know the drill.
There's a black van making its way through an industrial park. Oh geez, I hope there isn't a filthy mattress smeared with clown makeup in the back. Oh, even better – it's Team Arrow, dressed in black from head to toe. Ooh, are they going to a Mummenschanz party? As Felicity (Smokin') Smoak dithers with her eye holes (insert your own joke here) Ollie reminds her that the plan they're about to execute was her idea. It's a caper!
They arrive at the Robert Queen Applied Sciences Center, which is just a dumpy-looking warehouse. You know, if I ever become a billionaire philanthropist and I die at sea, I hope they name a shitty-looking building after me, too. They approach the fence and one of them – I think it's Digg – starts cutting the chain links. What, we don't have fence-cutting arrows in the quiver, Ollie? Over by the warehouse, a couple of dopey guards stand there, just waiting to be knocked out, and Sara obliges. Ollie hisses at her that these guys used to work for him. Sara replies that now they work for the enemy. Well, yeah, kinda, but that's not
their
fault, is it? Ollie handed the company over to Summer Glau. These two guys were just trying to make a living, goddammit.
Felicity produces the electronic skeleton key she somehow got from the
Dick-Cock Man
. Episode references! She uses it to break into the warehouse. Oh, so it's a crime when
he
uses it to break into stuff. They enter, and Felicity says, "This is where we met Barry." Barry Gibb? Barry Williams, aka Greg Brady? Oh, I see what they're doing. They're reminding us of the Flash spinoff show. Barry Allen. Gotcha. Well, that line wasn't shoehorned in or anything. Wasn't this also where they were housing the
Queen's Gambit?
Anyway, tense music plays as Digg hands out explosives for everyone to plant throughout the warehouse, which seems to be filled with some pretty cool sciency stuff. Felicity gets caught by a guard, but Ollie gives him the ol' right hook/fireman's carry routine, and they get the hell out of there.
As they ride away, Felicity confirms with the thermal app on her iPad that the building's empty. What was the plan going to be if it wasn't? Digg tells Ollie it's just a building – see, what did I tell you? – and Ollie blows it the fuck up. KA-BLAM!
ArrowCave. Hey, Summer Glau's on the TV. Hi Summer! Loved you in
Dollhouse!
She's telling the world that the terrorists who blew up her precious warehouse will be found and brought to justice. Oh, and those very terrorists are watching the broadcast.
Awk
-ward. A quick conversation where everyone puts their two cents in explains that for Slade to build his army of supermen, he needs a centrifuge, and Summer could have given him one, but now it's all blowed up. Ollie, ever the downer, says that this is just a setback for Slade. Ollie, our little ray of sunshine.
Speaking of rays of sunshine, hi Laurel! If you can believe it, Laurel's got a corkboard with articles about the Arrow and is piecing it all together. Which she was never able to do for nearly two seasons. This gal is even less observant than Lois Lane, and that's saying something. It's Superman in glasses!
Iron Heights prison. Laurel's visiting with Prisoner Lance, née Officer Lance, née Detective Lance. Dad asks if Laurel's still going to her AA meetings, and she tells him that's where she talks about her father facing prison. Okay, first, that's not what you're there to talk about. It's not a Laurel support group. And second, your father's
in
prison, you dope. Lance tries to assure his one-dimensional character of a daughter that everything will be fine, but she presses him about the Arrow's identity. He swears he doesn't know it. Then she asks about the "woman in black." Oh, you mean your sister? I mean – what? Nope, don't know her either. Oh, and she's right behind you. Your sister, that is. Not the woman in black. Um. Hi, Sara! Whoops, time's up, back to the cell we go.
Queen/Luthor/Xavier mansion. Moira and Ollie are meeting with some dude about money matters. Is he a lawyer? He's got a briefcase and a tie, so yeah, must be a lawyer. He tells the Queens that they're financially fucked and they've got to sign papers to save the farm. But they've all got to sign, including Thea, or it's no good. Wait, what? Doesn't Moira own everything? Why would Thea have to sign anything? So they can put her halter tops in a tax shelter? This guy's not a lawyer, this is crazy talk. The guy leaves, and Moira says now she has to become mayor because she'll need the income. Ethics! How's she going to run a campaign with no money? Maybe she'll sell off Thea's stuff.
Moira tells Ollie it's not his fault Summer got the best of him. She got the best of Robert too, in the Biblical sense. Hot damn! Robert was enjoying a taste of Summer! Aw, yeah.
Brown chicken brown cow.
Moira gives the paperwork to Ollie and tells him to somehow convince Thea to help them fight back. And if that isn't a cue for a flashback, I don't know what is.
Flashback! Ollie's still beat up from Slade's torture session, and KGBeast is looking to take a wee bit of revenge on Ivo, who's looking even more black-and-white than the rest of them. Ivo saves himself by saying there's a Mirakuru cure. There is? Well that's a handy plot device, innit?
Verdant. Ollie and Sara chat while Felicity and Digg arrive. They tell Ollie that Roy's apartment is empty. Wait, they're
just now
looking for him? Go team! Ollie says Roy will have to wait. Well, he's waited this long, what's a little longer? They head off to the ArrowCave.
ArrowCave. Looks like everything's in order. Monitors, arrows, costume, Deathstroke, fluorescent lights, workbench … wait, what was that fourth thing? Oh shit! Deathstroke's in the ArrowCave! Deathstroke's in the ArrowCave! Did he come in through the club? And if so, did he pay the cover?
And all motherfucking hell breaks loose! Deathstroke fires off, like, 35 rounds and doesn't hit a soul. You're not gonna keep a name like Deathstroke that way, Slade. Digg shuts off the lights. Good work, Digg! You've plunged us into … semi-darkness. Everyone has a go at the big guy, but he beats the snot out of them. Deathstroke gets in a few supervillain quips before he leaves and Felicity turns the lights back on. What a well-oiled machine! Lights off! Lights on!
Hospital. Oh good, more Laurel. She talks to a doctor about Sara and he tells her that Sara's got a lot of scarring from previous injuries. He really goes on and on about it. Way to keep the patient confidentiality, doc. Sara gives Laurel a bullshit story about a bike accident, and Ollie shows up and tells the same bullshit story even less convincingly, and when Laurel leaves, she sees her own set of previouslies where she FINALLY makes the connection between Sara and Cleavage Canary. Jesus, Laurel, how long you been stupid for?
Verdant. Ollie finds Thea stocking shelves with booze and tries to start a conversation, but it looks like Thea's forgotten her lines. Oh, no, wait – she doesn't want to talk to her asshole brother. Fair enough. She looks at the paperwork and asks who "Thea Queen" is. She's Malcom Merlyn's daughter so she's Thea Merlyn. She says that has a nice ring, and I tend to agree. Ollie tries to convince Thea that her family still loves her and he's still her brother, but she points out that both he and Tommy are her half-brothers. Tommy! At last I don't have to plug you in myself! Thea says she tried to kiss her half-brother before her real father killed him. Whoa! Wasn't that the sub-plot in
Star Wars?
Thea rants and raves for a few more minutes before storming off, and Digg arrives to drag Ollie back to the ArrowCave.
ArrowCave. Turns out Slade wasn't there to kill them after all. So, he actually did a really good job. He wanted the skeleton key so he could help himself to that juicy centrifuge he's had his eye on. Ollie asks where all the cool tech in Starling City is. And then … shit, I can only guess that my DVR accidentally jumped over to another show and started recording it, because suddenly nothing has anything to do with
Arrow.
It's almost like they took half a pilot episode of something else and just greased it up and wedged it into this show. But who would do that? That's crazy. Well, I guess I'll recap the new show. I think it's called
S.T.A.R. Labs.
S.T.A.R. Labs headquarters. We meet up with the male and female lead of this new show, Cisco and Caitlin. I think they live in S.T.A.R. Labs together. They're cute, in a CW kind of way. They exchange some witty banter, and then hear a noise. It's a security guard who doesn't look at all well, and proves it by spewing blood and collapsing. Not a good episode to be a security guard, I'll say that much. His cause of death is … Deathstroke? Wait, that can't be right. This is still
Arrow
? Who the hell are these people?
Cisco and Caitlin run, as anyone would, and find a weapon that belonged to a Doctor Light? Ohhhhh, I see. More
Flash
spinoff bullshit. So it's Vibe and Killer Frost. Oh, sorry, spoiler alert. Cisco and Caitlin are Vibe and Killer Frost. They shoot Deathstroke with a ray gun that fucks him up pretty good. Hey, keep that handy! Oh, it shorts out. Never mind. Cisco and Caitlin take off, but it's okay, because Deathstroke sees what he came for – a big tech thingie. A centrifuge? I guess. He loads it on a truck and drives off with it. It's very funny to see Deathstroke as a truck driver. Breaker, breaker, we've got a Black Canary on our tail, over? That's my CB talk. Note to self: Never try that again.
S.T.A.R. Labs headquarters, but later. Felicity shows up with Digg, and Cisco and Caitlin are all friendly with her like they've met before. Have I been dosed? What the fuck is going on here? What show is this? There's some blather and then Felicity asks how Barry's doing. 'Cause, y'know,
Flash
. They tell her Barry's the same. Still in a coma? You know, for the fastest man on Earth, he's taking his sweet-ass time regaining consciousness. Cisco mentions that "Iris" visits Barry a lot in his comatose state. Remember that, kids. Iris.
ArrowCave. Felicity discovers that the doohickey Slade took was a "bio transfuser," but everyone pronounces it like "bio transfusier," which makes no sense to me. Anyway, Team Arrow figures out that Slade is gonna drain his blood and pump it into his new army, and since he'll be all weak and dizzy – unless he sits for a few minutes and eats some crackers – that'll be the best time to kill him. They'll find it when he flips the switch, because that thing takes a lot of juice, baby. A transfuser doesn't, but a transfusier does.
Flashback, and a really dull one this week, frankly. Ivo agrees to give Sara the cure if Sara agrees to kill him. Done and done! Sara gets the key to the safe that has the cure and then grabs the gun, but we flash back to the present to build some tension.
Queen Tower. Ollie barges in and tells Summer she can still do the right thing, and she reminds him that with all the success she's had, she's already done the right thing. Touché! There are some angry words exchanged before Summer tells the tale of her dalliance with Robert. Ah, but not just a dalliance! Robert was going to leave the Queen family and spend his days under the Summer sun, but at the airport, Robert got the call that dumb Thea broke her arm and he went running back. Oh, and Robert knew Thea wasn't his. Just FYI. Summer finishes her story and security arrives. She tells them to escort Ollie off the premises, but they only escort him as far as the elevators. Lazy! Ollie calls Speedy and she agrees to give him five minutes – and since they're not related, that can mean all sorts of things – and Laurel wants a meeting with the Arrow. Oh, geez, more Laurel?
Iron Heights prison. Prisoner Lance is hanging out shooting the shit with the guards when an unruly new prisoner breaks free, gets into his cell, and beats the shit out of him. Yikes!
Somewhere in Starling City. Laurel meets up with the Arrow and is all like, "Oh yeah, that is Ollie, isn't it? Duh!" She yammers on about being drawn to him and how he was always there for her, yadda yadda, get on with it, Laurel! She's about to drop the hammer when she gets a call from Sara about their dad. Timing!
Prison infirmary. Laurel arrives and that crabby old DA lady apologizes for the slipshod protective custody they had her father in. Laurel goes in and Prisoner Lance looks okay, all things considered. She asks Sara to get the fuck out and then tells her dad she knows who the Arrow is. Yeah, who doesn't? Prisoner Lance has a great speech about how he doesn't want to know who the Arrow is and how tough it must be to keep a secret like that. It's a great monologue. Such a shame he wasted it on Laurel.
Laurel confronts the crabby old DA lady and tells her to drop all the charges against her dad and reinstate him, and the DA lady agrees. She can do that? She's got to be the worst DA who ever lived. She warns Laurel it won't always be that easy. Well, so far it's been a piece of cake. Sara and Laurel share a tender moment, and Laurel's all like, "Okay, fine, I'll keep the goddamn secrets."
Alleyway behind Verdant. Hey, Thea's out walking alone. That
always
ends well. Oh, no, sorry. She's just meeting Ollie for their –
ahem
– five minutes. Now if this were a typical Queen get-together, Ollie's phone would ring and he'd have to bug out at the worst possible moment. Hey look, Ollie's phone is ringing and it's Felicity, telling him that the transfusier just kicked on, but that he should probably stay and talk with Thea. That point's moot, though, because Thea's gone. Shit.
Some random location that looks like a planetarium. Arrow infiltrates and discovers the transfusier online and feeding a bunch of orange jumpsuit guys. Slade couldn't afford new threads for his Mirakuru army? Well, orange is the new black. See what I did there? All the test subjects are bleeding from the eyes. I can't remember if that's a good thing or a bad thing. In the center of everything is a figure on a raised dais and Ollie approaches with wonder. Arms spread, blood, bright light – it's Jesus! No, wait, it's the next best thing. It's Roy! Roy's feeding the army! Slade, I hate to break this to you, but you're going to have some seriously dumb soldiers.
Back from commercial and we get a better look at Roy. Is that the same actor? He looks different. Maybe it's a new haircut. Or maybe he just looks less dumb when he's unconscious. Ollie reaches for one of the blood pipes when Slade and Summer appear. Arrow's got the arrow ready and tells Slade that Roy's just a kid. A dumb kid. A real dumb kid. Slade says he's there because Ollie pushed him away, and Summer says that they found him at a shelter in Bludhaven. Hey,
I was right
! I bet Nightwing kicked Roy's ass.
Slade, brandishing a sword for some odd reason, tells Ollie he doesn't fear an arrow. Ollie turns and fires the arrow into the transfusier, shutting it down. Looks like the transfusier fears an arrow, huh? Then there's swinging swords and flying arrows and gunfire. Woo! Just like a party at Wayne Manor! Ollie threatens Slade with another Arrow, and this one is a shocky explody arrow that knocks Slade down. And we haven't used this arrow before because why? Summer has a gun aimed right at Arrow, but before she can fire, Digg drops her like a penny in a wishing well. Damn, Summer, don't be dead. Slade's up again, so Ollie grabs Roy and arrow-zips the two of them the fuck out of there. Hasty retreat!
ArrowCave. Roy's out cold on a table, and yeah, I guess it's the same Roy, but he still looks different. Maybe he's just a better actor when he's lying silent and motionless. Acting choice! Roy's apparently in bad shape, but Ollie says they can't take him to a hospital because they run tests. Well yeah, Sherlock, it's a fucking hospital. The better plan than the hospital, apparently, is to wait. Yeah, that worked out real well for Jim Henson. Ollie produces a vial of Mirakuru that he swiped from the observatory and tells everyone they're going to use it to make a cure. Yay, Roy won't be dumb any more! Ollie confesses that he had the chance to use the previous cure on Slade but chose to kill him instead. If we're talking about the past, we should probably flash back, then.
Flashback. Ivo's begging to be shot but Sara can't quite do it. No worries, Ollie can! Blam! Blam! So long, Ivo.
Queen/Xavier/Luthor mansion. Thea's packed up some stuff and is heading out to the highway, despite Moira's protests. Ollie stops her and makes a lovely speech about Robert and how he knew about Thea and he loved her anyway and chose the family and whoops, there goes Thea, out the door. Oh well. We tried.
S.T.A.R. Labs headquarters. Felicity shows up with the Mirakuru and manages to remind us one last time that yes, for Christ's sweet sake, there's a Flash spinoff. Okay, already!
Verdant. Ollie's looking at a horribly Photoshopped picture of his family when Laurel shows up to give him a hug. Aww.
Planetarium. It looks like Slade finished what Roy started, so his army should have at least
some
brains. And Summer's bleeding from the eyes! That's a good thing, right? I sure hope so.
Next week: "No one dies tonight!" are apparently famous last words. So I guess someone dies tonight?
​