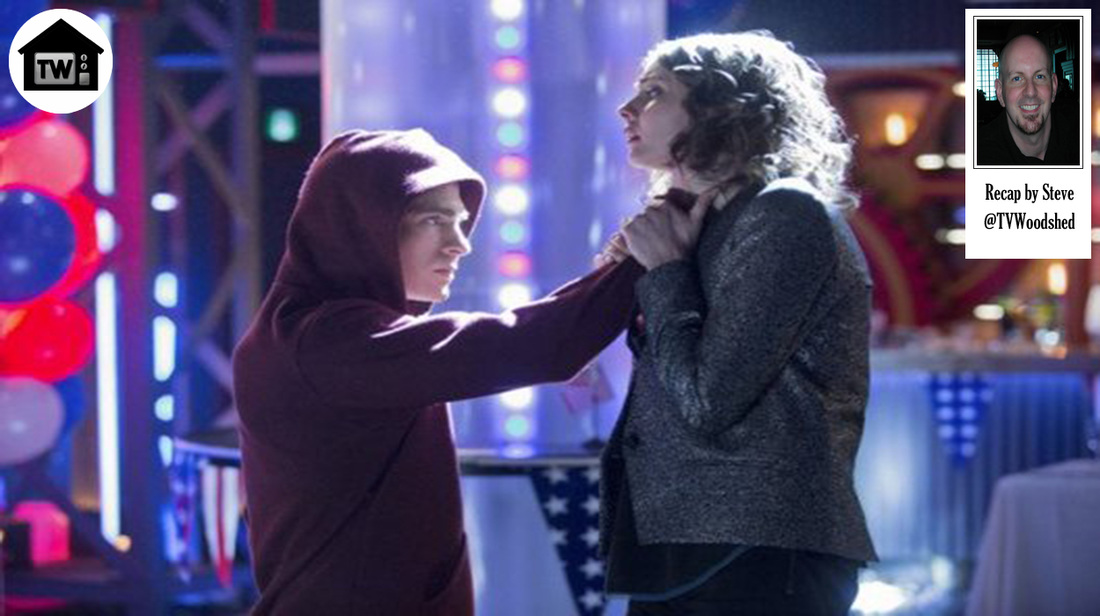 Roy's loose and terrorizing the city, and Team Arrow can't seem to agree on what to do about him. Thea's still being all Thea about everything, and Moira drops out of the mayoral race – the hard way.
Previouslies. Lots of people saying lots of stuff to lots of other people. And they end with Roy unconscious on the table.
And we begin with Roy unconscious on the table! Seamless! Oh wait, here's a noodle-scratcher – when we left Roy he was shirtless, and now he's got his red hoodie on. How did they do that with all the IVs running into his arm? Felicity (Smokin') Smoak and Digg talk about all this Roy business, and how Caitlin's working on the cure. Yes, Caitlin, from the Flash spinoff, we get it, Christ almighty. Digg asks if there's any news out there on Summer Glau's death, and Felicity mentions it didn't get any "column inches." Is that a newspaper reference? What's a newspaper?
In the background, Roy jerks and scares the crap out of everyone. But it's not a wake-up jerk, just a sleepy jerk, so Digg invites Felicity to dinner. Wait, who's going to watch Roy? Y'know, sleep and jerk and stuff? Felicity doesn't want a burger so sushi it is, and she goes back to searching the web. And somehow by tapping a bunch of keys, the page she's on scrolls down. Hi-tech!
She turns to look at Roy and Roy's gone. Oh shit. Digg! We lost Roy! Help me find him before Ollie gets back or he's gonna kill us! Oh wait, there he is, right behind me. Hi Roy! You look all well-rested and not at all like someone driven by a psychopathic rage to kill and destroy and break bones. Digg's gonna get sushi. You in?
Roy's all aquiver with Mirakuru rage and flips over Felicity's work station. See, this is why we can't have nice things. Digg comes back and Roy throws him down hard on his way out of the ArrowCave, but Digg jumps right back up, completely unhurt. Ya gotta sell it, Digg! You'll never make it to the WWE like that.
Digg chases Roy up to the club, where they apparently have go-go dancers. Or table dancers. Hot! He catches sight of the red hood and runs past everyone with his gun drawn, which is a great way to keep everything cool and on the down low. He makes it outside, but Roy is over the hills and far away. Bye, Roy! Good seeing you!
Hotel room. Oh, now, here we go! Empty bottle of Champagne, clothes strewn about the place, and Ollie and Sara in the sack. Oh yeah. It's vigilante love! So either they're about to have sex or they just did – they're in the missionary position, but there's no thrusting or gasping or pleas to any deity. They're just talking. Boo! Let's see some action here!
They have some pillow talk about Roy and about Ollie's history with the hotel and how he really can't afford a room like this any more. Hey, that's right, aren't the Queens broke? What the hey? Emo music plays, and it must be post-coitus, because Ollie suggests that he and Sara get a place of their own. And she's all like, "Move in with you?" And he's all like, "Well, yeah." And she's all like, "Um … your phone is ringing." In fact, both of their phones are ringing, and it's Felicity for both of them. They each have a different head shot of her, and she's equally adorable in both.
Trashed ArrowCave. Team Arrow regroups, and here's some powerful dialogue for you: Felicity: "He looked like Roy but he wasn't Roy." Sara: "Where do you think he's headed?" Ollie: "I don't know, but we've gotta find him." Did … did some writing warm-up exercises make their way into the script?
Queen/Luthor/Xavier mansion. Moira's being interviewed about her mayoral campaign, and she has a thing or two to say about "Alderman Blood." When she first said it, it sounded like "Ultimate Blood," whom I would totally vote for. She says she has an experienced apparatus to make her vision a reality. Is it the earthquake machine again? 'Cause that didn't go over so well last time. You don't want to kill the voters.
Moira points out that Alderman Blood doesn't have kids so he doesn't know about sacrificing for those you love. She's been very lucky as a parent. Except for right this second, because Thea arrives and bitches her out in front of the interview guy. Ooh, that's gotta feel like a sword right through Moira's heart. Geez, Thea, why don't
you
try running for mayor and see how it feels when someone brings up your Vertigo addiction. See? See that? Now shut your hole.
Thea tells Moira that she can't hold her mayor party at Verdant. Can too! Moira reminds her that they have a contract, and Thea's disgusted that Moira would threaten her own daughter. Um, Thea? That's not really a threat. It's a reminder that you signed a contract. Do you see all contracts as threats? Because that's going to make doing business a real challenge.
Moira's nondescript aide basically tells her that Thea's more trouble than she's worth – nothing we didn't all know anyway – and that Moira can't be a mother and mayor. Well it's a little late for this news, isn't it? Moira agrees, but doesn't really commit to either. It's clear she feels like she's been stabbed in the chest.
Flashback! But Moira's flashback. Was she on the island too? No, the title card clearly says seven years ago and we're in the Queen living room. Weird! Ollie is on the couch with Laurel and has just the worst wig ever. Just the worst. How could anyone take Ollie seriously looking like that? Laurel tells Ollie he's mopey, and he denies it. She tells him that mopey is his default. Zing! Just curious, as an actor or a character? Doesn't matter – I love seven years ago Laurel! Ollie claims he was out late with Tommy – Tommy! – and that he's tired and Laurel tells him to get some sleep and takes her leave.
Enter younger Moira, and it's abundantly clear where they blew the wig budget this week. She looks fine! She reminds Ollie that he didn't go out with Tommy – Tommy! – last night and wants to know the dilly-o. After some hemming and hawing, Ollie confides in her that he got a girl pregnant. And that girl is not Laurel. Or Sara. Or the Huntress. Or Felicity. Or Amanda Waller. Or even Harley Quinn, but seriously, how awesome would that have been?
Present-day streets of Starling City. Arrow and Cleavage Canary are riding around on their super-bikes. Canary informs her dope of a boyfriend that they can't just ride around all night, hoping they'll find Roy. Arrow calls Digg, who says Roy's place is still empty. What did he really have, anyway? A half-empty jar of mustard and a P90X DVD? Felicity checks in and says an ambulance has been dispatched because four guys got beat up by a suspect in a red hoodie. Now, let's not jump to any conclusions. Red is very popular this time of year.
Arrow and Canary arrive on the scene. A bloodied guy says they were jumped by a guy who must have been all 'roided out. Or would that be Royded out?
Some bar on the wrong side of the tracks. Sin – remember Sin, everybody? – has just exited and spots Roy. She calls out, "Yo, Abercrombie!" Which is hilarious. Can we change Roy's name? She tries to engage him in idle chatter, but Roy no speak. Roy angry! He shoves her aside and a few guys from the bar run over to see what's up. Sin says it's chill and asks them to step off. So street! One guy grabs Roy's shoulder. Roy no like! Roy smash! He breaks an arm, throws a dude on top of a car, sends a face through a car window, and gives Sin the back of his hand. Roy no want hurt no one. Roy glower. Roy leave now.
Verdant. Everything's decked out for the Moira party as Ollie and Sara arrive. Thea's immediately in their faces, being all, y'know, Thea. Ollie tells her that Digg is now protecting her in case Slade Wilson shows up. Um, what's Digg going to do, exactly? This is not a great plan. Thea says she's going up to the stock room, and if she gets attacked by some shot glasses, she'll call 911. Really? That's the zinger you leave on? Weak.
Sin shows up to see Sara, and Sara wants to know who's been roughing her up. It wasn't Roy! Okay, yeah, it was Roy, but Roy's not right in the head. Roy was never right in the head, sister. Sin tells Sara that Roy needs help, not a beatdown. We'll see which way Sara runs with that.
Ultimate Blood's office. Moira shows up and Blood's bodyguard asks if he should stay. For what? Blood says nah, I got this. Moira tells Blood that she's dropping out of the race. That's got to feel like something sharp piercing your chest. Blood smells a rat, but there are no rats to be found. Moira tells him that her daughter needs her more than Starling does. Oddly enough, Starling likes her more. Blood launches into a political speech and vows to change the city for the better. He must drone on for a while because at this moment we …
Flashback. Moira's comforting Ollie and tells him they'll figure out this whole pregnancy mess. Moira asks Ollie if he's sure the baby's his, 'cause, y'know, there are some money-grubbers out there. Ollie says the young lady's not that type of person. She's a whore, not a greedy whore.
ArrowCave. Felicity sees Roy's path of destruction is headed east, and Ollie thinks he might be headed for the Luthor/Xavier/Queen mansion so he can grab Thea and climb to the top of the Empire State Building with her. Sara thinks it's a co-inky-dink that he's headed east. She and Ollie start to butt heads, but Sin calls and says she found Roy. He's in the clock tower. Save the clock tower!
Clock tower. Arrow and Cleavage Canary show up, ready for business. They stalk around for a bit but there's no Roy to be found. Oh wait, there he is. He needed to drop down from somewhere for a dramatic entrance. The phaaaaan-tom of the op-e-ra is here! Cleavage Canary strikes first – instead of she and Arrow attacking together, because that would be
laughable
– and gets knocked the fuck out. Arrow fires an arrow but Roy catches it and stares at it. Pointy stick! Roy no like pointy stick! Ollie takes off his dumb disguise and tries to get Roy to recognize him. Roy no recognize! They exchange blows, and then Roy gets a kick right to Ollie's knee and breaks that fucker! Ollie screams in pain as Roy drops down to the streets below. The cops arrive and one shouts, "Drop the arrow!" Roy no drop! They surround him and Roy kills one and knocks the other out – like you do – before taking off into the night. Cop killa!
Starling City Hospital. The doctor who likes to tell everyone everything about every patient he's ever had is on the phone, telling someone that the full moon brings out the whack-jobs. Cue the whack-jobs! Arrow and Cleavage Canary are waiting for the doc. Oh, so they couldn't bring Roy to the hospital when he was dying, but Ollie can go when he's got a bad pin? Bitch, please. The doc tells Ollie he can slap on a leg brace, but that dog will still be barking. He's also got some pain meds, which he didn't used to have because the Triads were stealing everything in sight. So since Arrow got the pain meds through, he deserves a little somethin' somethin'. Right, doc?
Verdant. Thea tells Digg to quit lurking, and Digg appears from around a corner and says he can't let her out of his sight. But … but you were just … oh, never mind. As they descend into the club, Digg tries to remind Thea how great her family is, but Thea reminds him that Ollie will be out of money soon so Digg will be unemployed. Harsh! As Digg continues to lay it on thick, a reporter on the news announces the demise of the one cop and the smackdown of the other thanks to the guy in the red hood. She warns viewers that the footage is graphic, but shit, that never stopped any news outlet anywhere from showing anything. Thea sees that it's Roy and bugs out, with Digg hot on her heels.
ArrowCave. Ollie's mashing up some of that miracle root from the island that cures everything. Sara tells him it won't fix his knee. Helpful! Ollie asks Felicity if she's got facial recognition on Roy, but really, how's she going to see his face on a traffic cam if he's got his hood up? She says she understands why Ollie wears one. Ollie and Sara snipe at each other over Roy. Ollie wants to save him and Sara wants to kill him. Go Sara! To that end, she grabs a gun and tells Ollie that Roy's Mirakuru won't help if she pops him in the head. True. There's also not much inside his head to damage, so keep that in mind. Ollie tells Felicity that Sara reminds him of himself when he first came home – all bloodlusty and whatnot – and Felicity tells him that he came around, and so will Sara. Yeah, let's go with that.
Darkened alleyway. Thea meets up with Sin, who's wearing a hoodie in a sad attempt to fool us all. This is probably not the best night to be wearing one, by the way. Just sayin'. Sin asks who Digg is, and Thea says, "My shadow." That sounds a little racist. Is that racist? Thea and Sin discuss the Roy situation. What's to be done about all this Roy?
Another darkened alleyway. Speaking of Roy, there's the lumbering oaf now. He sees Thea, but it's not really Thea, it's all an illusion. Geez, Slade seeing Shado and Roy seeing Thea – is anyone real in this town? Illusion-Thea blames herself for what happened to Roy and begs him to kill her. Roy quakes with rage. Kill Thea! Roy have plan!
Verdant. Moira's lickspittle squeals to Ollie that Moira's dropping out of the race. Ollie hobbles upstairs to get the scoop. When Moira asks what happened to him, Ollie offers up the same bullshit excuse he always does – motorcycle accident. Y'know, Ollie, one of these days you
will
have a motorcycle accident and no one's gonna believe you. Ollie and Moira have some back-and-forth about her dropping out of the race, and Ollie tells her she should do something good so that Thea can look up to her. Like politics? Ollie says he knows a little something about sacrificing relationships for the good of the city. Moira says she knows. Ollie's all like, cool, okay, and goes to leave. No, Ollie. She knows. Don't do this, man! Don't do this, man, not you! Moira knows. She's known since last year. Okay, we're all 99% sure of what it is she knows, but it would really be great if she could just, y'know, articulate it. Well, whatever she knows, she's very proud of Ollie. So it can't be that he's the Arrow, then.
Flashback! Moira meets with the girl carrying Ollie's lil' Arrow. She pays her two million smackeroos to tell Ollie she lost the baby and to move back to Central City. Did Moira tell Robert about all this? Do they have separate checking accounts? The girl seems very sweet, but she's no dummy. Lost the baby! Got it! So long, screwy! See you in Saint Louie!
Verdant. Moira takes the podium and is about to announce that she's dropping out when she sees Ollie and Thea in the crowd. Time for a swerve! She announces that all of her supporters are like her family and nothing is more important than family, so she's gonna win this thing! Mr. Blood is watching on the TV and, as you can well imagine, doesn't look too pleased. Moira comes off the stage and her sycophant is thrilled that he's still got a job. Then Thea takes the podium. Um, security? I know she owns the club and all, but c'mon! She shamelessly plugs the club and its location, and Ollie figures she's trying to draw Roy out. Ah, but Roy's too smart for that. Ha! Just kidding, Roy's not too smart for anything. Ever.
ArrowCave. Ollie's leaning on Felicity – literally – to prep for Roy's arrival. He needs his venom arrows and a big ol' shot of lidocaine. Don't worry, it's strictly medicinal.
Verdant. Moira's glad-handing people when suddenly shots ring out. It's Roy, being shot at by security. Bullets make Roy mad! Things get all crazy as Roy busts up the place, and Digg goes down hard. Thea tries to reason with him, but it's, y'know, Roy. He grabs her by the throat and lifts her off the ground. Luckily Cleavage Canary is there with a gun and orders Roy to put her down. Okay, a couple of observations about this moment. First, Canary's arms are high and together, and damned if she doesn't have cleavage all the way up to her forehead. Second, why is she ordering Roy to drop Thea? Her plan was to splatter Roy's limited brains all over the pavement. So shoot him. He'll drop Thea, trust me.
Thea tells Canary not to do it, which means Roy's not really choking her that hard. Canary's going to do it anyway when Sin jumps in and tries to talk her down. Was Sin at the rally? Canary shoots Roy in the leg and he goes down. Well then what were we all worried about? Shoot his other leg and be done with it! Roy begs Canary to kill him. Meh, kill him, don't kill him, whatever. As Canary's thinking it over, Arrow shows up and hits Roy with three venom arrows. Roy goes down like a sack of shit and Arrow tells Canary, "No one dies tonight!" Um … that's, um … well. Canary and Arrow pick Roy up and drag him off.
ArrowCave. Roy's right back where he started, unconscious on the table. So aside from the busted computers, the injured cop, the dead cop, Ollie's knee, the four guys who originally got beat up, the three friends of Sin who got beat up, and a few nameless bystanders, no harm done! Sara realizes she's a stone cold killa and tells Ollie that she'll only bring him down if she sticks around. Nooooo! Sara, don't leave! Whose cleavage will we stare at now? Goddammit.
Alleyway. Sara says good-bye to Sin and tells her that she's off to see an old friend. Let the speculation begin! Bruce Wayne? Oracle? The Wonder Twins? The mind boggles!
Verdant. The Queens gather in the aftermath and Thea's still being Thea. Give it rest for five minutes, will you? They make their way out to the family limo – which they can apparently still afford – and some of the election signs are obscured so it looks like they say "QUEEN MAYO." Now I'm hungry.
Limo. Thea wants to know how Ollie knew about Roy. Ollie's evasive, so Thea calls him out about secrets and lies. Seriously, can we change this record? These discussions must puncture Moira's heart, can't you see that? Thea brings up Malcom Merlyn, and Moira says there's something about Malcom that Thea and Ollie need to know. She's just about to say it … when a truck smashes the everloving shit out of the limo! MotherFUCKER! Did not see that coming.
Somewhere in the woods. Ollie's coming to and is seeing all kinds of weird, disjointed shit. His mother, Thea, Shado … and SLADE ONE-EYED MOTHERFUCKING WILSON! Oh fuck. Slade's got all three Queens tied up, and he's going to make Ollie choose between Thea and Moira, just like he had to choose between Sara and Shado on the island. Let's see, let's see … I guess choose Moira? She's certainly the less annoying of the two. Slade refers once again to the invisible Shado and Ollie begs for Slade to kill him, but nothing doing. Choose, Ollie. No. Choose, Ollie! No! Moira stands up and tells Slade that both of her children will live. Slade admires her courage, and wishes Ollie had gotten some. Hurtful! Slade turns to leave … AND THEN STABS MOIRA THROUGH THE CHEST WITH A MOTHERFUCKING SWORD! Oh Jesus Christ. Jesus Christ, Slade, what the fuck? Slade says one more person has to die before this can end. Can it be Slade? Because Jesus Christ, Slade.
Flashback. Ollie gets a call on his flip phone – because, seven years ago, after all – and tells Moira that the girl lost the baby and is moving back to Central City. Ka-ching! Ollie really wrestles with the notion that he was almost a dad. Moira comforts him by telling him that he's never without her. Poignant!
Next week: Hordes of Deathstrokes swarm the city, including what appears to be a reanimated Summer Glau. Summerstroke!
​