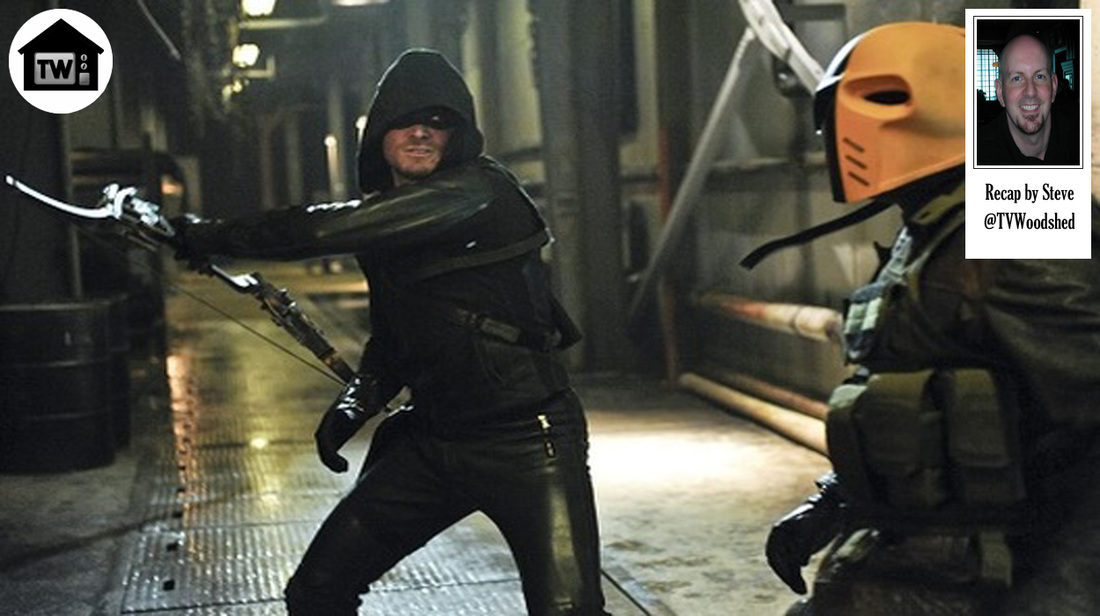 Ollie wants to pack it all in following Moira's death, but no one seems to want to let him. Meanwhile, Sebastian Blood is handing out a whole lot of orange-and-black masks as he mayors things up but good.
Previouslies. Ergh, we have to revisit Moira getting the ol' sword through the heart routine. Just brutal. What we need now is a bright, sunny day to cheer us all up.
Bright sunny day! Oh … in the cemetery at Moira's funeral. Note to self: be more specific when stating what we need now. Shots of mourners are intercut with Sebastian Blood being sworn in as mayor. They couldn't delay it an hour so he could attend the service? At the funeral we see loads of familiar faces, including Walter – hey Walter! – Thea, Felicity (Smokin') Smoak, Digg, Laurel, and Officer Lance. But no Ollie. Just an empty chair with a rose on it. Ollie Ollie oxen free! They should have brought unconscious Roy and done a whole
Weekend at Bernie's
routine with him. That would have been hilarious. What? We've got an empty chair! Might as well use it for some slapstick, right?
Luthor/Queen/Xavier mansion. There's an after-funeral reception going on, and as if it weren't depressing enough, Laurel shows up. She consoles Thea and says she's there for her. Well, yeah, you're right there. We can all see that. And then Sebastian Blood arrives. Well this can't be good. He offers his condolences and then says he'd love to speak to Oliver, and Thea says if Blood sees him, tell him he missed his own mother's funeral. I'm sure Ollie knows that, Thea. Everyone's phone has a calendar app. April 30, mom's funeral. Set reminder to off? Thea storms away – like Thea does – and Blood is stuck with Laurel, the poor bastard. Laurel says Ollie's been missing for a few days, and Blood says the loss of a parent changes you. Does it turn you into a leather mask-wearing genocidal freak? Just wondering.
On the other side of the room, Felicity is crying. Oh don't cry, Felicity! We all love you more than we can say! Digg offers a hanky, because that's what Digg does, and Felicity says she doesn't know why she's crying. She says she didn't even like Moira because she was diabolical. Spitting on the grave! Digg says Felicity is crying for Oliver. Did Oliver die too? Oh, and speaking of dead people … it's Summer Glau! She's alive! So bleeding out the eyes
is
a good thing. Got it. She sneaks up on Felicity and Digg and says if Oliver's smart, he ran back to his island to hide. He spent five years trying to get off that island, Summer, and it was hellish. Don't you listen to the show's intro? Summer says maybe Ollie will come to their funerals. Well that's just silly, Digg and Felicity are in perfect health and … oh, I see what you did there. Yikes!
Upstairs. Walter's admiring a picture of him and Moira when Thea comes in to kill the mood. Can I just say what a great voice Walter has? He could be reading a cookbook and I'd be riveted. They have a little heart-to-heart and Thea tells Walter that Ollie knew Slade was a nutbag and he never warned her or Moira. Secrets and lies! If it's any consolation, Thea, your brother is the Arrow. Okay? Everyone else knows, you might as well too.
Flashback. Oh yeah, that plan Ollie and Sara hatched with the submarine and stuff. Right. Almost forgot about that. So, yeah, Ollie and Sara and KGBeast and some other guy in a handsome cable-knit sweater board the submarine. Fashion! Ollie wants KGBeast to fix the sub, but KGBeast doesn't know how. Ollie wants him to try, so fine, he'll try.
Police headquarters. Officer Lance is going over the Slade Wilson case, and as if his day weren't going badly enough, here comes Laurel. She voices her concerns about Sebastian Blood, and says that it struck her that the only reason Blood is mayor is because Moira was killed. You needed that to strike you? Apparently Officer Lance once told her that an officer is only as good as his gut, and she thinks being a cop's daughter gives her the selfsame gut. You'd better start eating some donuts, honey. Either way, her gut says something's amiss. Try Activia?
City hall. Mayor Blood is signing some paper for the press when his lovely redheaded assistant approaches. Well, hello there, strawberry. Do you live around here often? Strawberry says Blood has an important phone call and that it's his father. Blood's all like, "That's not possible. Oh, wait. Maybe it is." He picks up the phone and it's SLADE ONE-EYED MOTHERFUCKING WILSON on the other end. Hi dad! He tells Blood to get to work. Yes sir!
ArrowCave. Felicity and Digg are tending to Roy and Digg says they're almost out of snake venom. Did you try Target? Seems like a natural product placement. Arrow. Target. No? Just a thought. Felicity says that seeing Roy all laid out reminds her of Barry and S.T.A.R. Labs and Jesus Christ on a fucking chariot, WE KNOW THERE'S A FLASH SPINOFF! OKAY? ENOUGH! Holy fucking shit, it's like an anvil on your head every goddamn time! I'm not yelling at you, Felicity, it's not your fault. But CW Network, make no mistake, I've got my eye on you.
Digg divines that Summer Glau must have gotten her Mirakuru on to survive the bullets he put in her, and then asks Felicity if she's had any luck finding Oliver. She says tons. Really? Yes, all bad. Oh, snap! Nice one, Felicity! She says that there hasn't been any activity from Ollie or Sara, and starts to think maybe they're both dead. Digg ain't down with that. And he's got an idea of someone who might be able to help. To the Batmobile!
ARGUS headquarters. Sounds Scottish. Hey, it's Amanda Waller! Fancy meeting you here! She's less than thrilled to see Digg, considering how things turned out the last time they crossed paths, but I think there might be a little underlying sexual tension. Hot! And really, if she didn't want Digg in the building, she could have done something about it, amiright? Amanda tries to tell Digg that ARGUS ain't doing shit for him, but Digg's a man who knows what he wants, and he wants Amanda to find Oliver. So get crackin', sister.
Back from commercial, Felicity is drooling over the ARGUS computers while Amanda keeps digging at Digg. She suggests they haven't found Ollie because they haven't been looking in the right place. Is he in Oz? It's hard to look there because it's somewhere over the rainbow. And way up high. Digg tells Amanda about the Slade army. Amanda didn't know about this? What kind of shitty clandestine agency we running here?
Verdant. Thea's giving orders to some chick who, in theory, will get her SAG card for saying "no" and "okay." Acting! The door opens and it's Summer. Ah, nothing like opening the door to Summer, is there? Thea knows who she is, but not what she wants. Turns out she wants to give Thea the boot from the club. Verdant and the steel factory are mine now, bitch! Thea tells her she can't do this, and Summer says it's a done deal. But Thea's not one to give up without a fight! She comes right back with, "How long do I have?" Oh, sorry, my mistake. She caved, just like that. Arrow's sister, everyone! She's got a couple days before she's out on her scrawny ass. How's that whole "I won't sign the paperwork to save the family fortune, Ollie!" thing working out for you now?
Mayor Blood's office. Oooh, it's Strawberry again. I bet she smells like Fruity Pebbles. She's asking about Sebastian's dinner plans when Laurel barges right in. The Mayor says it's okay and dismisses Strawberry. But come back later for some … dictation. Yow. Laurel blathers on about a favor she needs for some case she's working on, and Blood is more than happy to help out. It's all nonsense, though, because even a blind man could see that Laurel's sticking something to the underside of Blood's desk. I hope it's not a booger. Or gum. As Laurel leaves, we see that the doohickey she left behind is flashing red. Now I'm no James Bond, but maybe the best doohickey to leave behind is one that doesn't FLASH. Perhaps it's a subtle reminder of the Flash spinoff. I would not be surprised.
Police headquarters. Laurel, Officer Lance, and that bald computer hacker guy who turns up now and then are checking out the flashy doohickey's usefulness. Officer Lance tells Laurel she'd make a decent spy. Seriously? She's not even a decent character. And, again, the flashing. Hacker asks if they have a warrant. We don't need no stinking warrant! Do we? Hacker sees who they're hacking and hesitates because he voted for Blood. As opposed to his dead opponent? They access Blood's files and find the usual stuff – half-finished screenplays, cat memes, a porn folder labeled "Tax Records." Nothing big. Except for the press release about Moira's death written
before
Moira's death. Jesus, Sebastian! Impatient much? Connection between Sebastian and Slade established!
ARGUS headquarters. Felicity wants to, ahem, touch the hardware, but Amanda whacks her on the nose with a rolled-up newspaper. Felicity stammers about how Amanda's power is more knowledge-based than dictator-based, and then an ARGUS guy comes in with some info. We found Ollie! Huzzah! Amanda says he's in his lair. Ollie has a lair? Digg and Felicity misunderstand and tell Amanda they were just in the ArrowCave and the number of Ollies there totaled zero. No, not the ArrowCave, dummies. The
other lair
.
Before we find out what that means, flashback! Ollie and Sara stand around like dopes while KGBeast powers up the sub. I have the power! He throws some switches and levers and such, and determines they're stuck. Everyone get out and push! Ollie asks if they've got torpedoes and whether or not they can blast their way out. Hey, just putting it out there, but if it turns out you do have torpedoes, what about torpedoing Slade's boat? KGBeast finds some conveniently placed blueprints that look like they're drawn on parchment and determines that the torpedoes they have are manual and someone needs to steer them. What. The. Fuck. Those aren't real! Who designs torpedoes you have to
steer
? That totally defeats the purpose of having them! And Ollie asks what we're all wondering – how does the poor sap who's steering avoid the explosion? They don't. Good, okay then.
Some shitty building somewhere with pretty lanterns on the floor. Felicity and Digg find Ollie leaning against a post in a nice suit. He asks how they found him. Amanda Waller, dummy. Ollie says this is a secondary facility in case the ArrowCave was compromised. Which, shit. It is now. Why didn't they set up shop there when the Dick-Cock Man blew the ArrowCave to hell? Or when Deathstroke found his way in? Oh, Ollie likes to be there alone. Okay, never mind. Ollie beats himself up over everything – again – and tells Felicity and Digg that he's gonna hand himself over to Slade so Slade can put him six feet under. Why don't we call that Plan B and think this thing through a little more? Felicity suddenly blurts out all kinds of personal stuff about her mom being a cocktail waitress and going to college and moving to Starling and working in IT and shit. Doesn't faze Ollie, but in 10 seconds she got more character development than Laurel's had in two seasons. Ollie says that someone once told him that the essence of heroism is to die so others can live. Was it Buffy? I think she said that to Dawn at the end of Season 5. Felicity and Digg give it one last shot, but Ollie's determined and he limps away. Hey, from the broken knee! Continuity!
Luthor/Queen/Xavier mansion. Walter and Thea are standing among boxed-up possessions. Thea observes that she's a jobless, homeless orphan. Ha! Again, still proud of that "Nope, not signing the papers, Ollie!" stance you took? Thea says she needs to start over, and out of nowhere, Oliver walks in. Oh, hey. Yeah, about that whole funeral thing. There'll be another one, right? Ollie requests a private audience with Thea. He tells her it's a good idea for her to leave and wants her to get as far away from Starling as she can. Don't the Superfriends have an orbiting base? Maybe she could go there. He tells her to keep her heart pure and that he's treasured her as a sister, even though he's sucked as a brother, friend, and funeral attendee.
Exeunt
Thea. Ollie calls Summer and tells her it ends now. He'll be at the pier and he'll be alone. Starling City only has one pier? It's on the ocean, isn't it?
Flashback! So who's gonna steer this crazy-ass torpedo? Let's see … Ollie, Sara, and KGBeast make it off the island … soooo … yeah, cable-knit sweater guy volunteers. Turns out he's got some really nasty radiation poisoning anyhow, so perfect! Let's do this thing! Cable-knit sweater guy says the essence of heroism is to die so others can live. Wait,
this
guy said that? Aw, weak. But I'm thinking he saw it on
Buffy
, though, so I'm sticking with my original notion.
The only pier in Starling City. Ollie stands across the bay from at least two dozen other piers and the skyline of Boston beyond. Or Miami. Or San Francisco. Vancouver? Hard to say, really. Crafty production people. Ollie starts talking about the past. Wait, is he talking to us? There's no one else in the shot. Breaking the fourth wall! Ollie vows that no one else will die because of him. He turns slowly and gets a knockout dart in the neck. Who the hell did that? It's actually never explained. Speaking of which, did we ever find out who conked Diggle on the noggin bone outside Queen Manor when he was going to take the headshot in Slade? Do we assume it was Sebastian Blood? Too many unanswered questions!
ArrowCave. Or Lair #1, if you prefer. Ollie regains consciousness – no mark on his neck, by the way, nice going – and he sees Felicity, Digg, and … Laurel? God, why don't you just start guided tours down here? There's a lot of blather about Ollie not giving up and so on and so on … you know how these Laurel conversations drag on with almost no substance. They do talk about Tommy, which is great, because we all love Tommy and none of us accept that he's gone. So, yeah, blah blah blah, Ollie don't do it, Laurel I have to do it. You have to stop Slade, Ollie. I can't stop him, Laurel. I wonder if the Red Sox are winning. Oh wait! Laurel tips Ollie off about the Slade/Blood connection, and now Ollie's suddenly all, "Oh, okay, I guess I won't go off and die then." Change of heart!
Flashback. Ollie sends Sara off to a safe part of the sub while they load cable-knit sweater guy into the torpedo tube. Okay, seriously, you guys, this was an episode of
Gilligan's Island
, I'm sure of it. Ollie grabs the periscope as KGBeast fires the most poorly designed torpedo in the history of warfare. It goes out, comes back, and BLAM! Right into the rock where the sub is stuck. Freedom! Sweet, horrible freedom!
Chinese restaurant. Sebastian Blood arrives and gives his bodyguard the night off. He calls him by name several times, but I can't quite catch it. Is it Clinton? Quentin? Glen? Evs, I like Clinton. Blood glad-hands his way through the restaurant and spots Ollie sitting at the last table. Sebastian, may I join you for dinner? Don't do it, Sebastian! He boiled your rabbit alive!
Elevator. Bodyguard Clinton gets in and Digg joins him. Oooh, I smell shenanigans! And I'm right, as Clinton ends up tied to a chair while Digg and Felicity ask him some questions. When he's uncooperative, Felicity uses her Windows Tablet to start draining Clinton's bank accounts and donating the money to charity. Modern-day torture! He calls Felicity a bitch, but she just smiles and says "Bitch with wifi." Zing! She threatens to take his parents' retirement fund when he finally agrees to talk.
Restaurant. Ollie and Sebastian make some small talk, and then Ollie goes and spoils everything by bringing up Slade Wilson. Can't we just have a nice meal? Blood wants to know how Ollie knows, and Ollie says, "Because I'm the Arrow." For fuck's sake, why not just put it on a billboard at this point? Apparently Blood thinks that Slade's Mirakuru army will do just enough damage to Starling to make it ready for his vision. Dude, honestly, are you tripping balls here? That's some crazy talk. Ollie tells Blood that whatever Slade promised him, he won't deliver. Blood says he promised he'd be mayor, and now look. He's mayor. Burn on you, Ollie! Ollie grabs a steak knife, but Blood knows he won't stab him in front of everyone. Hopes he won't stab him in front of everyone. Please don't stab me, Ollie. Blood leaves, and tells Ollie there's nothing he can do to stop what's coming. Ollie glowers, because let's face it, Blood's probably right.
Empty, creepy Luthor/Xavier/no longer Queen mansion. Thea takes one last look around. She gets a call from Walter but ignores it, and her phone reverts to her wallpaper of a Thea and Roy selfie. Oh yeah, Roy! Did they move Roy? Has he been transferred to the other lair? Anyone? Roy? Meh. Sad Thea shuts off the lights, and leaves.
ArrowCave. Team Arrow has a plan! They're gonna … go somewhere and … do something. To Slade's army. Go team! Laurel wants to come along, but Ollie wants her to be safe. And besides, he wants it to be the original team of three. That's what we all want, Ollie. Stupid Laurel, always wanting to tag along. I swear to God, if they make Laurel the new Black Canary, I'm gonna drive thumbtacks into my eyeballs. Just FYI.
Starling sewers. Arrow is stalking his way around as Sebastian Blood puts on his leatherface and becomes Brother Blood. He stands up and addresses his army of Deathstrokes in a really goofy voice. Does the mask have a built-in voice changer? Arrow tells Felicity he's got eyes on Brother Blood. And he only has eyes for him.
Topside. Ah, now we see the plan. Digg's gonna put explosives on the overpass supports, and when they blow up, Blood and his Blood Brothers will be buried. Finally we're gonna blow some shit up!
Train station. Thea's in line, annoyed that she can't board the train because she's in coach. Could have signed the papers, Thea. Hate to beat a dead horse here, but you could have signed the papers.
Police station. Some generic dude is brought in for robbery and sits quietly in his handcuffs. Nothing bad will come of that, surely.
Sewers. Ollie tries to sneak away from having eyes on Brother Blood, but he bumps into a Deathstroke. Arrows ensue! In the fisticuffs, the dude busts out a garrote and starts choking Ollie. Was this part of the plan? I thought we were sticking to the plan! And then bonk! Someone hits the Deathstroke with a pipe. It's Laurel. Surely this wasn't part of the plan. Ah fuck, they're gonna make her Black Canary II, I just know it. Anyway, off the distraction, Ollie hits the Deathstroke with an explody arrow, which would have saved him a whole lot of grief if he'd just used in the first place. I'm starting to think there is no plan up in hyah.
Topside. Digg doesn't want to blow the supports with Ollie still below but fires up the detonator anyhow. It's moot, though, as he gets kicked hard by Summer Glau in a really bad Ravager mask. Does everyone know Ravager? In the comics, it's Slade Wilson's daughter, who is basically a female Deathstroke. In the comics, she looks bad ass. Summer looks silly because the mask is too big for her lil' head. She looks like the Great Gazoo. Sigh.
Police station. The polite robber asks the bald hacker guy for the time. It's 9 o'clock. The dude breaks his handcuffs and snaps hacker guy's neck! Hey! He just gave you the time! Crazy dude goes after Officer Lance, and after roughing him up a bit, puts on his Deathstroke mask.
Train station. It's 9 o'clock there too. But it's 5 o'clock somewhere. Another dude dons his orange and black goalie gear and starts shooting up the place. It's not a good night to be anywhere, is it?
Arrow van. Felicity is anxiously watching things unfold on her computer screen when the phone rings. Hey look, the spinoff show is calling. No, for real, it's S.T.A.R. Labs on the phone. Christ on crutches.
Sewers. Arrow and Laurel are running with a group of Deathstrokes hot on their heels. They take a wrong turn and now they're trapped. Great plan so far! Arrow does the only thing he can do – shoot an explody arrow at the ceiling and bring that fucker right down on their Deathstrokey heads!
Right into a flashback! The submarine finally comes loose and Ollie calls Sara to tell her the good news, but something's wrong.
Streets of Starling. Speaking of something wrong, an army of Deathstrokes are marching on the city. This … this won't end well.
Next week: With the city under siege, what better time to bring back our old pal, Malcom Merlyn?
​