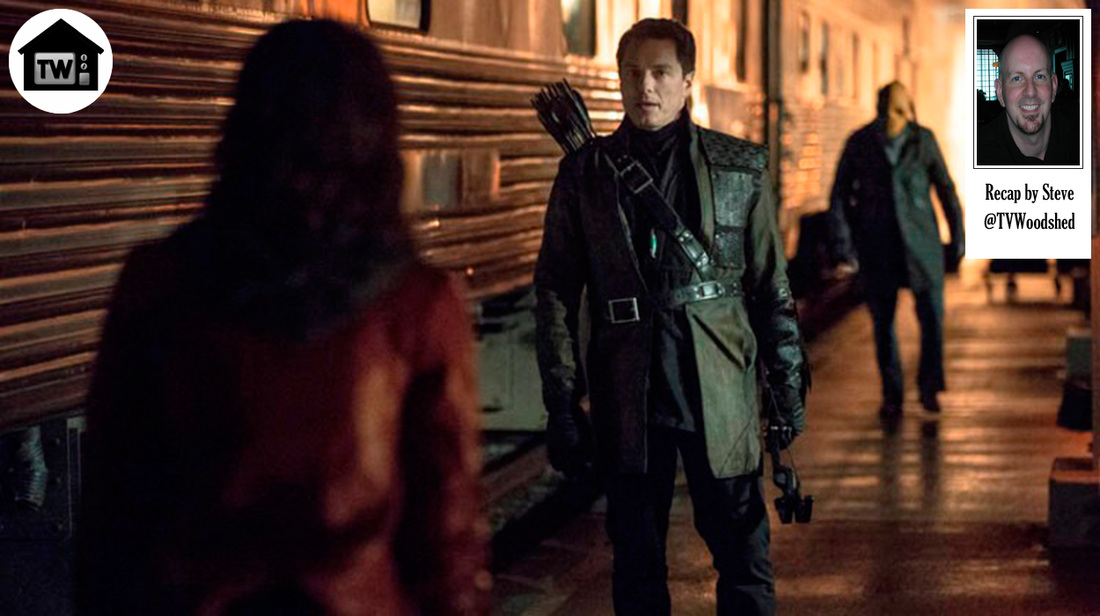 Slade Wilson's Mirakuru death army running wild in the streets is really killing the tourist trade in Starling City, and Team Arrow is getting frustrated and beat up hard.
Previouslies. Mirakuru and orange-and-black hockey masks for everyone! Now fly, my pretties! And build up a no-win scenario for the season finale!
Starling sewers. It's the aftermath of Ollie's brilliant plan to bring 50 tons of concrete down on the Deathstrokes, himself, and Laurel. Okay, bringing that much concrete down on Laurel actually is brilliant, so I'll give him that. Either way, no human could ever survive being buried under that much weight, so Ollie and Laurel are dead. I mean, think how heavy a cinderblock is. And then imagine a thousand cinder blocks falling on top of you. Simple physics: you'd be dead. So Ollie and Laurel are dead. Dead as disco.
Oh wait, some rocks are shifting, and here comes Ollie out from under the rubble, not only not dead but not even hurt. Just out of breath. Really,
Arrow
? I happily suspend disbelief for you on a weekly basis and this is how you repay me? Ollie starts calling for Laurel, matter-of-factly at first and then with more urgency. You're wasting your time, Ollie. Laurel's dead. Dead as a doorknob.
Oh wait, there's Laurel, not only not dead but also not even hurt. Are we all clear on what tons of falling concrete does? She helpfully informs Ollie that the tunnel collapsed. How did we make it this long without you, Sherlock? Laurel says it's getting hard to breathe. Maybe you should shut your hole, then. Ollie wants her to tell him everything she sees. Um … collapsed concrete? Yup, that's about it. Oh wait, she sees his bow. And his quiver. Neither of them trapped or destroyed by fallen concrete. Tonight, on Plot Convenience Theater! Ollie directs Laurel to find the explodey arrow and tells her she's going to shoot it. Archery!
Topside. Oh man, Summer in her goofy-ass Ravager helmet/mask thing. My guess? Summer Glau wasn't available for a mask fitting so they just made the biggest one they could and hoped for the best. She's got a bone to pick with Diggle for, y'know, shooting her and all, so she starts swinging swords. Digg dodges and weaves and parries and thrusts, and I think he breakdances a little bit, before he's down on the ground. Summer wants to know where she can find Felicity (Smokin') Smoak so she can put a bullet in her smug face. Hey! Don't talk smack about Felicity! I've a good mind to run you the fuck over with a van. Which is just what Felicity does! WHAM! Digg gets in the van and Summer starts to stir, which makes Felicity wonder if she should give her another grill-to-the-face routine. Digg tells her to floor it – but away from Summer, not toward – and they get the hell out of there.
Police station. Cops are getting their asses handed to them left and right as a Deathstroke tears up the place. They shoot the fuck out of the guy but he just keeps coming. Note to self: bullets don't work. Officer Lance gets conveniently thrown in the alcove near the weapons locker and hatches himself a plan. He comes running out with some grenades, drops them at the Deathstroke's feet, and lands on the other side of the room. He calls for everyone to get out – except for you, Deathstroke, you stand right there – and KA-BLAM! The grenades only destroy a very small area. So, like, closet grenades? Elevator grenades? Either way, they seem to do the trick, so second note to self: grenades good.
City hall. Lots of guys in suits running around on their cell phones while TVs in the background show devastation. So, typical day. Sebastian Blood is on the line with the governor and tells him not to send in the National Guard because it will cause a panic. What do we have right now? And also, bullets don't work. He tells the governor to trust Starling City's Finest and that everything's cool. Enter the crabby DA lady, whose name I never bothered to learn. And it might. Just. Be. Moot. She and Blood go back and forth on what's to be done about all this Deathstrokeyness, and Blood more or less convinces her that everything will be fine if they stick together.
Sewers. Ollie is talking Laurel through the mechanics of firing an explodey arrow without blowing yourself up. Oh God, this is worse than I feared. They're not gonna make her Black Canary II, they're gonna make her the new Arrow. From Green Arrow to Bland Arrow. What did any of us do to deserve this? Anyway, Ollie counts to three, Laurel fires, and KER-BOOM! Quick reunion, and then into a flashback.
Flashback. Ollie and KGBeast are on the newly freed submarine. Ollie says that Sara's gone and Slade must have taken her. Maybe she just got bored with her character development and wandered off. The sub's sonar tells them that the ship with the dumbest name in history is moving. Bon voyage! Ollie asks about their remaining Steer-Master torpedo and whether it can fire in a straight line. It can. Ollie says he's going over to the Amazo to get Sara, and if they're not back in an hour, use the torpedo and sink that fucker. Wow, Ollie's always had bad plans, huh?
Train station. Screaming and fighting and bullets and mayhem. So, rush hour. Thea's running around all crazy trying to stay safe when she gets grabbed around the throat by a Deathstroke. If Thea weren't a major character, I imagine he would have snapped her neck, but instead he stands there long enough to get some arrows in his back. That gets his attention, but still another note: arrows don't work. We see the Dark Archer – which would have had enormous impact if they hadn't put him in the previews – and the Deathstroke pulls out one of the arrows and asks who the fuck he thinks he is. The arrow explodes and flips the dude a full 360 degrees. Agility! Yet another note: explosions work. Dark Archer takes off the hood to reveal Malcom Merlyn and says, "I'm her father." The guy's unconscious. He can't hear you, dummy.
Blasted out police station. Bodies and debris are being shifted around for better feng shui. Officer Lance is pitching in, and as if all the death and destruction weren't bad enough, Laurel calls. He wants to know if she's okay and she says she's with Ollie. I mean the Arrow. Keep forgetting there's
one guy
in the city who doesn't know Ollie's secret. Laurel and her dad chat for a bit, then Laurel suddenly goes breathless at the sight of … something. Helicopters? I assume it's a reaction to Starling City burning, but the background is blurry so I guess we'll never know. Felicity and Digg come rolling up in the Black Mystery Machine. Felicity tells Arrow that S.T.A.R. Labs called and they've got a cure. To the constant mentions of the Flash spinoff? Let me have it! Apparently a courier's bringing it in. Where is said courier? Funny you should ask.
Overturned car. The courier, carrying a silver case with the S.T.A.R. Labs logo splashed all over it, wiggles out and takes a call from Felicity. Hello? Gravely injured courier? He says a guy in a hockey mask attacked his car. Jason, no! Arrow doesn't want to leave Laurel, but she tells him she'll head for the precinct, which is in the opposite direction, so she'll be fine. Um … about the precinct. Yeah. Laurel tells Arrow to go save the city, so he loads up with Digg and Felicity. They keep talking to the courier, which turns out to be problematic because …
Queen Tower. Summer, a Deathstroke, and SLADE ONE-EYED MOTHERFUCKING WILSON are eavesdropping on the phone call. See, this is what the NSA
really
looks like. Slade tells the Deathstroke to go find the courier. It's the third overturned car on the left, you can't miss it.
Flashback. KGBeast tells Oliver they're 10 meters from Slade's ship. Crazy Europeans with their crazy measurements! I believe 10 meters equals 43,000 feet. Or maybe it's six inches. Either way, Ollie and KGBeast part ways, and swear eternal friendship and loyalty to one another and then hug. Geez, get a room, you two.
Police station. Officer Lance is barking out orders about setting up containment and perimeters and shit. Um, question? Why don't the cops take all the grenades they have and just blow the shit out of the Deathstrokes? Remember? Grenades good? The lieutenant shows up and wants to lay the smack down on the Deathstrokes, but Lance reminds him that it ain't that simple. They need the National Guard! With bullets! That don't work! Lance tips off the lieutenant that Blood is behind the mayhem. Snitch! He says the chief of police can call in the big guns, but the chief is dead. Long live the chief! Lance says there's only one option left, and that's the Arrow. Oh, well, we're fucked then. But before we're fucked, the lieutenant slips Officer Lance his detective shield. Has he been carrying it around all this time?
Streets of Starling. Laurel's running away from a Deathstroke when all of a sudden Cleavage Canary shows up OUT OF NOWHERE and offers to take her to safety. The fuck? I thought Canary was off seeing an old friend. Maybe the old friend wasn't home. The girls run off through an alley and Laurel stops and stares at Canary. She calls her Sara. Like it's some big revelation at this point. But they hug and then run off to avoid getting killed.
Mayor's office. Sebastian Blood and the crabby DA lady are watching the mayhem on the TV when suddenly the power flickers. There are screams from the office next door and a Deathstroke comes busting in. Sir, do you have an appointment? He grabs the crabby DA lady and Blood says this isn't part of the plan. Is it Ollie's plan? Because that one was terrible. The DA lady now knows something's rotten in Denmark, but one snap of the neck later and it doesn't matter. The Deathstroke says he doesn't take orders from Blood. Do you take orders online?
Starling streets. The Team Arrow van is still looking for the courier. Still? I hope the dude's getting overtime. Digg asks about Thea's safety, and Arrow says she left town before the shit went down. That worked out real well, huh? I tell ya, these Queens and their plans. Ollie gets a call from Lance and asks, "What is it, Detective?" How did Ollie know Lance had gotten his shield back? Anyhow, Detective Lance tells him that the cops stand ready to assist, and Ollie asks for containment and time. Lance says they can do that. With what? Bullets? We've been over this! The Deathstrokes spot the van and give chase, and one of them shoves a car in its path so it flips right the fuck over. One thing you've got to give this Mirakuru army – they know a thing or two about car flipping.
Team Arrow's hurt and moving slow, but thankfully so are the Deathstrokes. Hey, no hurry, fellas. We've got all night. Ollie fires an explodey arrow into the van and it knocks out two of the bad guys. Let's see … explodey arrow good? Yes! Consistency!
The episode's getting a little too interesting and a bit too exciting, so let's go see what Thea's doing. Huh. She's running alongside some trains. Oh, she's running from the Dark Archer. Got it. I never really noticed how totally goofy the Dark Archer's outfit is. It looks like he escaped from a Renaissance fair. He says he's not there to hurt her, and she calls him a murderer, a terrorist, and a psychopath. Words can hurt too, Thea. And wasn't it just a few episodes ago that you were saying that "Thea Merlyn" had a nice ring to it? He just wants to help and protect her. Aw.
Queen Tower. Slade Wilson and Summer are watching Starling City burn to the ground, like you do, when Slade says he now understands why Nero sang as Rome burned. Um, can you fill us in? Because that was seriously random. Blood comes in all fired up and complains that one of Wilson's "juiced-up jackboots" just killed his whole office staff. Oh, not strawberry! I wanted to see more of her, if you know what I mean. Blood and Slade compare plans and find out they had different ones. Blood only wanted the city
mostly
dead but Slade wants it
all
dead. Plans are just falling apart left and right, aren't they? Slade's plan is to kill every living soul in Starling City. So far, so good! Blood realizes that he might be mayor, but if he's going to be mayor of an abandoned, wrecked city, he might as well move to Detroit.
Alleyway. The Lance sisters have a little quality time, and Laurel asks where Sara's been. Sara says it doesn't matter. It does to us! Where the fuck were you? Sara gets frustrated and takes off her mask – which amazingly also takes off all that black shit from around her eyes – and pulls off her wig as well. Wait – Cleavage Canary wears an easy-to-remove wig when she's out fighting crime? One that changes her hair from blonde to blonde? The hell? Sara tries to hint around to Laurel that she's a hardcore killer, but she should know better. Laurel's not going to pick up on subtleties. She does call Sara a hero, and focuses on the name the League of Assassins gave her – talier al safir? That's what it sounded like, I don't know. It means The Canary. Laurel says Sara can't be beyond hope if the League gave her a beautiful name like that. Laurel clearly hasn't worked in any coal mines.
Flashback. Ollie sneaks onto the Amazo to rescue Sara. He wants her to go but she wants to stay with him while he tries to save Slade. Yeah, that was really worth flashing back for.
Streets. Team Arrow is closing in on the courier. They still haven't reached him? Guy's got a broken leg, for Christ's sake. Get a move on! They call him and tell him to honk his horn. Which is brilliant, because it tells the Deathstrokes exactly where he is. There's a terrible scream over the phone, and now suddenly Team Arrow is shaking a tailfeather. But it's too late. Courier is dead and cure is gone. Nice work, everyone! Same time tomorrow?
Queen Tower. Slade and Blood are watching more craziness on the TV when a Deathstroke comes in with the cure briefcase and offers it to Slade. That's just what I wanted, thanks so much. I'll kill you last.
Clock tower. Felicity and Digg tell Oliver that there's no more cure and no way to make any more. Not surprisingly, Ollie wants to throw in the towel and give up. Hero! Ollie says the foundry's been compromised and they need to get Roy out of there. Time out. Hold on. You left Roy
at the foundry
? Jesus Christ, man, you don't just leave an unconscious guy somewhere that isn't safe! What the hell is wrong with you? It's almost like Roy has his own writer, a meek little fella who speaks up at the end of plot meetings and says, "But what about Roy?" And all the other writers sigh and roll their eyes and come up with some token thing involving the poor guy. Anyhow, Digg's off to get him. Don't worry, Digg, just throw him over your shoulder like a sack of potatoes, he'll be fine.
Oliver does some soul searching, and brings up everyone who died on his watch, including poor Tommy. Yeah, you really do suck as Starling City's protector, Ollie. All of this brings Felicity to angry tears, which is so hard to watch but so well acted that I have nary a snarky thing to say about it. Great job, Felicity! She reminds Ollie that he's not alone, and that she believes in him. Like, that he exists?
Starling streets. The Lance sisters are hanging about when they hear a woman screaming. Her apartment building is on fire and her daughter is trapped inside. Wasn't this scene in
Spider-Man 2
? Anyway, Sara has the chance to be a hero by saving the girl and does so, even though there are so many flames and so much smoke that no one could have survived. I mean, it's like a tunnel collapsed and tons of concrete fell in. No one could live through that. Right?
Train station.
Yawn
. Thea and Malcom are going back and forth about feelings and relationships and shit until a Deathstroke shows up to make things interesting. Malcom shoots him with an arrow. Dude, we've been
over
this! They fight hand to hand for a bit, which is really smart if your opponent has super-strength, and then the Deathstroke gives Malcom a nice hug. He tells Malcom "You're out of arrows!" and Malcom replies, "You're not!" Then he pulls an arrow from the guy's back and does something with it that drops the guy. What did he do, exactly? Maybe we could pass the information on to the cops?
Clock tower. Ollie gets a call from Blood. Now what? You want to unleash your unholy army on Gotham too? No, actually, he wants to save the city by giving Ollie the Mirakuru cure. Swerve!
Digg arrives with poor forgotten Roy and announces they've got about two hours of venom left to keep him quiet and still. That should have him waking up just in time for the finale. Ollie asks Felicity to stay with the big dope and she agrees, and when she asks the boys if they might be headed into a trap, she calls Digg "John." Oh, Felicity. What would we ever do without you? There's a quick close-up on Roy, but he doesn't do anything, so … why the quick close-up on Roy? Just so we remember what he looks like?
Mayor's office. Everyone's dead but the mayor. Which will no doubt be the case for a long, long time. Yep, I predict a long, full life for Sebastian. Ollie and Digg arrive, and Blood tells a sad, sad tale about being afraid of his father and that he fashioned the Brother Blood mask after how he saw the old man. So then … why did you
wear
it, exactly? Blood is still making speeches about the poor and downtrodden and saving the stupid city, but Ollie just wants the cure. Blood hands it over, and then promises to do whatever it takes to rebuild Starling City. Ollie asks if Blood really thinks they'll let him continue being mayor. Well who is "they," exactly? If everybody's dead, it should be fine to let him continue running things, right?
Police station. The Lances all reunite and everyone's fine. A cop comes in and wedges in a horribly clunky line about Cleavage Canary being a hero. I don't blame you, unnamed actress, you did your best with the material you were given. But man, did that line stick out like a cockroach on a wedding cake or what?
Back to the mayor's office. Summer shows up. God, we really need to get people on a visitors' list. Blood admits to giving Ollie the cure, and Summer calls Slade. Slade tells him, "Goodbye, Mister Blood." Well I don't know what you mean by that, Slade. I'm not planning on going anywhere. As a matter of fact, as I was just telling Oliver – oooh, two of Summer's swords to the chest! Ah, now I see what you meant. Well played, sir.
Clock tower. Felicity opens the briefcase of glowy goodness. Oliver grabs a vial of cure and says they're going to test it on Roy. Yeah, test it on Roy! He'll try anything! Felicity thinks it's a bad idea, but rather than argue let's …
Flashback. Ollie and Sara are in Ivo's old quarters on the Amazo, looking for something. Something to believe in? He finds Ivo's safe but the damn thing's empty. That's because Slade got to it first. Oh, and speaking of Slade, here he is with two gun-toting lackeys. Slade holds up a blue syringe and asks if that what Ollie's looking for. Is it Cool Blue Gatorade? So thirsty!
Police station. Everyone gathers around the TV to watch footage of the military making its way to Starling. After talking it over, though, they all agree it's not the military. Is it the Coast Guard?
Clock tower. Time to inject Roy and see if he develops any secondary female characteristics. Ollie comes this close but can't quite do it. Detective Lance calls and tells Felicity to find a TV. She does better – she grabs her Windows 8 Tablet. Product placement! Ollie sees the footage of the military and somehow knows immediately that it's ARGUS troops. Perceptive! He calls Amanda Waller. She wants to know how the fuck he got the number. He wants to know what the fuck she thinks she's doing. She's planning to bomb the shit out of Starling to keep the Mirakuru army from escaping and terrorizing the rest of the country. That's prudent. Ollie wants time to implement his non-devastation/cure implementation plan, and Amanda tells him he has until dawn. So he injects Roy. That'll show her!
Train station. Malcom's hurting – physically, not just because Thea's being all Thea about their relationship. She grabs a gun and threatens to shoot, but gives Malcom an opportunity to monologue first. And then BLAM! BLAM! She fires the gun, but we don't actually see what she hits. That will probably be important later.
Next week: The finale and the showdown! Who will survive? Not us over the summer, that's for sure!
​