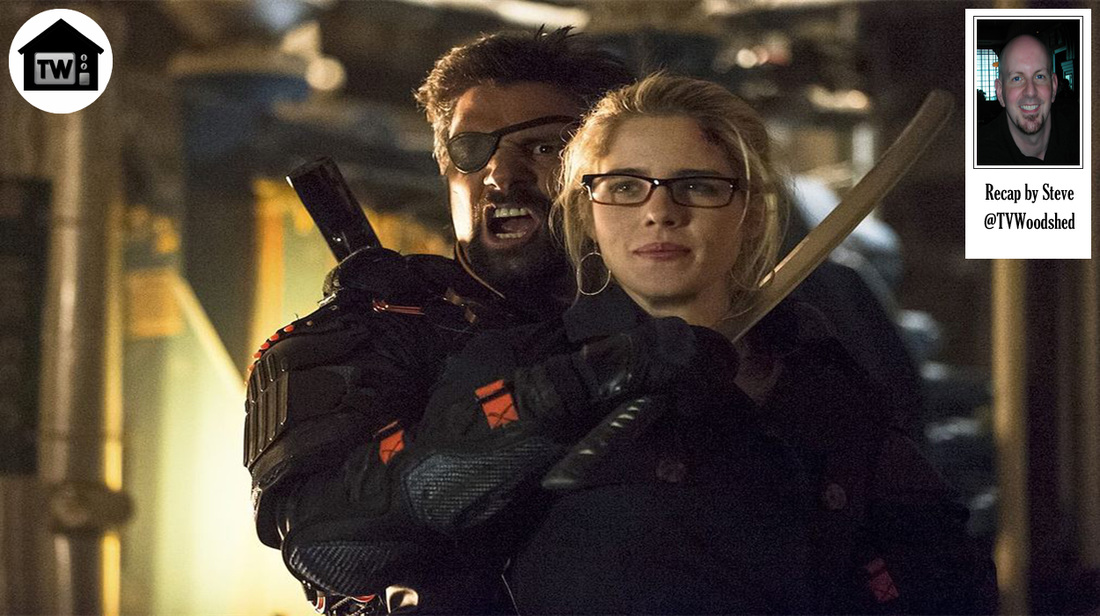 With a little help from his friends, Ollie is finally able to save the city. Everyone's in love with everyone else, and we have no real cliffhanger for next season. But we've got Flash!
Previouslies. Pretty much the entire history of Ollie and Slade. Makes sense, but goddamn, how many times do we need to see Moira get run through? Enough, already!
Clock tower. The previouslies fade right into Ollie zoning out. Was he watching the previouslies on a monitor? The city's still being torn apart, judging by the sirens, and Ollie stares at Roy and says the cure didn't work. Why, because Roy's still sleeping? Did you mix the cure with Red Bull?
Felicity's proximity alarm sounds and tells the team that there's trouble a-brewin'. A group of Deathstrokes are on their way up to kill them. Or possibly evict them. Squatters' rights! Okay, since they're here, let's review what we learned from last week's episode. Punches, bullets, and regular arrows don't hurt them. Explodey arrows and grenades do. And whatever it was that Malcom Merlyn did to that one Deathstroke on the train platform. Okay? And, go team!
Roy conveniently wakes up and wants to know where he is. Okay, let me 'splain. No, there is too much, let me sum up. The Deathstrokes start popping up from below. We got popping Deathstrokes, people! Arrow kicks one, which shouldn't work but does, and Digg shoots another, which shouldn't work but does. Continuity! Arrow fires a zip line out the window and orders everyone on it. Everyone obliges, but shit, how do you use a zip line with your bare hands? I suppose there are more pressing issues, but yeowch. Oh, and one more Deathstroke pops up, and Arrow handles him with his bow. We haven't measured the effectiveness of the bow yet, so … bow good?
With Team Arrow safe on another rooftop, a helicopter arrives and blows the everloving shit out of the clock tower. Save the clock tower! And who's holding the bazooka that just made Deathstroke flambé? Why, it's none other than Digg's ex-wife and occasional booty call, Lyla. Thanks for the KER-BOOM, honey! Love you!
Wrecked ArrowCave. Team Arrow arrives and are going to have to accept the fact that they're not getting their security deposit back. Lyla tells Digg that she came back to Starling because of him, which is sweet, but Ollie wants her to go back to ARGUS and stop Amanda's drone or buy them more time. Hey, chill out, man. Lyla just got here. But Ollie's not done barking out orders – he wants weapons scrounged, especially injection arrows. How many of those do you have on hand at any given time? Seems more like a special order item. Ollie's plan is to load up the arrows with the cure and stop the Deathstrokes with no killing. What if they kill you? Does that count?
Flashback. Oh, wait, it's not an actual flashback. Just Ollie remembering Moira getting kebabed by Slade. Honestly, what the fuck? Maybe Susanna Thompson only gets paid if she appears in the episode.
Train station. Oh Lord, do we really need to wrap up this awful plot line? Sigh. All right. So Thea shoots Malcom Merlyn, but of course he's fine. He's got the Kevlar. Kevlar, for when your daughter has serious daddy issues. Can Thea really be so cavalier about killing parents at this point? She tells him if he's going to kill her, just kill her. Yes, please kill her. Man, I thought Laurel's storylines were dull. And they are, just for the record. Malcom tells Thea she's made of iron or whatever, and she storms off. Wow. Riveting.
Police station. Detective Lance is handing out guns – which, as we all remember, don't work – and giving a pep talk to the remaining Starling cops. His native English accent is slipping in, but what the fuck, it's the end of the season. We'll let it slide. He sends them off to certain doom. Bye! Lance has to take care of business so Laurel heads off to another part of the building, where she finds Sara talking with someone. That someone hits Laurel with a dart that knocks her out but, unfortunately, doesn't kill her. But it's early yet.
ArrowCave. Roy and Felicity are loading up arrows with Cool Blue Gatorade. It's a thirst-quenching cure! Roy says it seems like he missed a lot. Meh, not really. He remembers going to Bludhaven, but not killing that cop or beating up those guys or hurting Sin or breaking Ollie's knee or trying to kill Thea. Felicity tells him he was out the whole time. Probably best.
And surprise! Nyssa al Ghul shows up with Sara, a clipped British accent, and an army of assassins. Well, we can use two of those things. Felicity tells Sara to call first when she's going to bring a bunch of assassins down to their secret lair. We don't have enough dip! Ollie's bent out of shape that Sara brought the League of Assassins into their happy home, but Sara's cut a deal to return to them in exchange for their help. Looks like she'll be scissoring Nyssa again before long. Rowr.
Ollie tells Sara that he's willing to do whatever it takes, but that cold-blooded killing isn't the answer. What was the question again? Nyssa pops in and tells Ollie he needs her help. Do not! She knows where Slade's base of operations is. Oh, okay, maybe we do need your help then.
Ollie asks Roy if he's ready to get back out there, and now that he's not a homicidal killing machine, yeah, he's good to go. Ollie gives him a gift box, and inside is an impossibly goofy red mask. What. The. Fuck. First of all, when did Ollie box that up? Did the store offer free gift wrapping? Second, how did he get a cast of Roy's face so it would fit perfectly? Did he run a mold while Roy was unconscious? Roy sees the mask and asks, "Are you for real?" Funny, we were all just asking that.
Roy asks Ollie if Thea's all right. This is just now occurring to him? Ollie says she got out of town before the shit went down. Eh, sort of. Roy calls her while Ollie tells Nyssa that they're going to do things his way tonight. Nyssa says the League doesn't take prisoners. Does too!
Train station. Oh God, will this never end? Even Thea seems sick of this thread. She and Malcom are sniping away when Roy calls. He makes sure she's all right and then asks her to meet him at his place. Sure, it's not like the streets are overrun with superhumanly strong killing machines. What time? She hangs up and Malcom asks if that was Roy. He knows things about her. Okay, yeah, now it's getting weird. Malcom assures Thea that Roy is no different from Ollie or her mother. Well, now, let's think about this. Roy wears red, not green. And he's, y'know, alive. So yeah, he's a little different. Thea leaves, and promises to shoot dear ol' dad if he follows, but he simply tells her that when she needs him, he'll be there. I hope it's with a nice, long stretch limo.
Queen Tower. A Deathstroke is patrolling the halls when the elevator arrives, filled with unconscious Deathstrokes. Certain he has nothing to fear, the Deathstroke moves to investigate and gets an injection arrow in the leg, courtesy of Cleavage Canary. Couldn't they have done up some injection knives? For stabbing? Arrow takes out a bunch more Deathstrokes in the conference room with injection arrows before moving to his old office. A group of Deathstrokes just turn and look at him. Can we help you? The original Deathstroke, SLADE ONE-EYED MOTHERFUCKING WILSON, is standing there with Ravager and says Arrow must have had a lot of faith in the cure to come alone. Hey! Canary is standing
right there
. She even gets an angled hero shot. Don't be rude. And anyway, they're not alone because the windows bust in and the League of Assassins is here!
Injection arrows fly everywhere, except into Deathstroke because he's got armor. Deathstroke is smart. So smart that he jumps out the window of a skyscraper. But it's okay because there's a zip line to catch him and zip him to safety. When did we install that? Awful lot of zipping this episode. Canary and Ravager battle for a bit until Nyssa knocks Ravager to her knees and finally pulls of that stupid Eli Manning-sized mask/helmet combo. And hey, it's Summer Glau! Hey Summer! Loved you in
The 4400
! Summer starts to tell Arrow how she beat him and he sucks and she rules and
snap
! Nyssa breaks her neck. It's such a delicate neck, I doubt it took much torque. Oh well. Bye, Summer. We'll always have season 2.
Arrow tells Canary that he can't get the cure to Slade through the armor, and she asks what they should do. Hmmmm. Why don't we flash back?
Flashback. Aboard the
Amazo
, Ollie and Sara are forced to watch as an increasingly unstable Slade is injecting random guys with Mirakuru. For science. Ollie tries to get Slade to focus on him, but Slade is hearing opposing viewpoints from Imaginary Shado. You should never argue with a crazy mi-mi-mi-mi-mi-mind. Slade's head hurts, but the last thing he hears is Shado telling him to kill Ollie. Yeah, makes sense, kill Ollie. Oho, but hang on a tick! KGBeast is still onboard the submarine with his one torpedo and he reluctantly launches it at the
Amazo
. Oh, they're gonna be so surprised! Slade pulls on the old rubber Deathstroke mask and grabs his gun to shoot Ollie, but KER-BLAM! You sank my battleship!
Police station. Detective Lance finds Laurel and revives her. She's woozy and all like, "Wha? I'm still on this show?" A Deathstroke shows up and Lance threatens him with his gun. Dude, how many times to we have to go over this? For the last time,
bullets don't work
. Blam! Blam! Blam! Blam! Blam! See? Detective Lance gets thrown across the room for his stupidity, and the Deathstroke drags Laurel off. Don't you think you ought to kill her instead?
ARGUS headquarters. Amanda Waller's still got that drone inbound to blow the fucking city right off the map. Or deliver something from Amazon. It could be both.
Queen tower. Felicity and Detective Lance arrive to meet up with the rest of the gang. Hey gang! Lance sees Nyssa and goes for his gun, like you do, but Cleavage Canary talks him down. He tells everyone that Laurel's been kidnapped, and strangely, no one celebrates. Maybe they need to see a body first.
Felicity hacks a satellite – possibly the Satellite of Love – and sees that all the Deathstrokes are headed for a tunnel. So, then, the city's safe? No more terror in the streets? Ah, they're heading there to avoid Amanda Waller's incoming flaming death. Smart Deathstrokes. Nyssa points out that all of their targets will be together in one place, which is just the kind of intuitive thinking we need around here. Ollie tells Nyssa to mount up, but Detective Lance has a thing or two to say about saving Laurel. Are you nuts? Save Laurel? This is what we've all been waiting for! Die, Laurel! Lance tells Arrow that he killed before, and he better get back in the habit. Now's not the time to watch
Sister Act 2
! Come to think of it, the time is never right for that.
Everyone leaves, and Felicity and Ollie go back and forth about the whole killing/not killing thing. Ollie says he can't out-think Slade. Boy, ain't that the truth? Felicity says, "Make him out-think you." What in the hell does that even mean? Enough with your riddles, woman!
Roy's place. Okay, hate to be a nit-picker, but let's rewind a little here. Roy took off for Bludhaven, right? Felicity and Digg went to his place and all his stuff was gone, right? Roy's been unconscious for quite some time, right? And now all of Roy's stuff is all back where it always was. Right. Did he redecorate during his murderous rampage? Because that's some serious multitasking.
Thea arrives, relieved to be in a slightly more interesting storyline at long last. Roy apologizes for everything. Even the wooden acting? He tells Thea that he was injected with something, but now he's better and he'd like to get back to injecting her with something. Yow. Thea brings up the Arrow, and Roy denies knowing anything about him. Peter, you will deny me three times before the cock crows! Thea says they should run away and start over. Roy's cool with that. Oh, let me just take this one call. Um, sorry, I've got this thing. This thing I need to do. He tells Thea to pack some stuff and when he's done with this thing that has nothing to do with the Arrow, they're leaving Starling City for good. Roy says he loves her. That's one!
Abandoned Luthor/Xavier/Queen mansion. Ollie brings Felicity to the old homestead to keep her safe, but Felicity doesn't want to be safe! She wants to be unsafe, like always. Ollie says Slade took Laurel because he wants to kill the woman he loves. Ew, Laurel? Really? Whatever happened with that Huntress chick? I liked her. Ollie says Slade took the wrong woman. And then, "I love you." That's two! Although … there's no kiss to seal this deal. Hmmmmm.
ARGUS Headquarters. Lyla and Digg are skulking around, and Lyla stops in mid-skulk to tell "Johnny" something, but hesitates. Digg takes the moment to tell Lyla he loves her. That's three! Lyla uses her access card and they head inside.
Inside. Amanda Waller wants to know how long before her precious drone craters the whole fucking city. A lackey tells her it's 52 minutes until impact. The fuck? That's the slowest fucking drone in the history of everything! What's it doing, rowing there? ARGUS sucks. Amanda's annoyed that she can't see what's going on in the Tunnel O' Deathstrokes, so why don't we take a look?
Tunnel O' Deathstrokes. Just what you'd expect. A bunch of Deathstrokes standing over a bunch of dead army guys. I bet it smells like pennies in there. But whoa Nelly, here come the good guys! Arrow! Cleavage Canary! Nyssa! Assassins! And … Roy. I guess we need to call him something now that he's got his dopey mask on. Speedy is just too silly. Red Arrow isn't bad. Arsenal is pretty bad-ass. Eh, we'll just call him Roy. The Deathstrokes start running toward their certain defeat and the arrows fly! The battle is well and truly joined!
ARGUS prison. Oh sweet, Digg and Lyla are releasing the Suicide Squad. Goddamn, it's a party now! Except I only recognize Deadshot. Where's Bronze Tiger? And that other guy. Was there another guy? And where's Harley Quinn? What the hell, man? This ain't no Suicide Squad. It's, at best, an annoyed Girl Scout troop.
Tunnel. The battle rages on and Deathstrokes are getting cured left and right. Even Detective Lance gets in on the curing. Is all this curing, strictly speaking, missionary work?
Flashback. The
Amazo
is sinking, as any torpedoed ship would, and Ollie and Slade are duking it out. Ollie throws the Mirakuru in the fire, which annoys Slade, and in the ensuing fisticuffs, Sara gets sucked out of the ship by a funnel of water. Again. That woman just can't stay on sinking boats, can she?
Roy's place. Thea's packing up Roy's hair gel, bronzer, manscaping equipment, barbells, dumbbells, and P90X DVD when she digs out a quiver of arrows from under the bed. I swear, honey, I only look at them for the articles!
ARGUS Headquarters. Amanda's tired of waiting for this stupid drone to take the scenic route. She wants devastation now! And she gets some, as Digg, Lyla, and Deadshot blast their way into the control room. They get guns on Amanda and she gets guns on them. Mr. White! Mr. Orange! No! Amanda chooses this moment to drop the bombshell that Lyla's going to have a baby. Daddy Diggle!
Tunnel. Still plenty of violent curing going on. Slade calls Ollie and tells him they're going to meet. Ollie doesn't wanna, but Slade reminds him that he's got Ollie's lady-love. Ho-hum. Go on and kill Laurel, see if we care. Oh shit! It's Felicity! Do as he says, Ollie! Do as he says!
Factory. Arrow's making his way among the machinery as Slade narrates. He mentions that if he'd killed Ollie when they first met, everything would be different. Well, yeah, we wouldn't have a show. Arrow round a corner and there's Slade with a sword against Felicity's throat. Slade orders Arrow to drop the bow. But then I can't shoot you with my arrow! Oh, I get it. Another Deathstroke comes in with Laurel, but we don't care about her. Oh, and Ollie – if you have to choose between them like before and you choose Laurel, we riot.
Anyway, Arrow mentions Shado and Slade gets a little wary. Arrow says that she'd be horrified by what Slade has done. Well, maybe, maybe not. Shado was a little nuts herself, to be honest. Slade rants like a lunatic for a bit, and in the process his sword drops away from Felicity. She grabs a syringe of cure out of her pocket and jams it in Slade's neck! Go Felicity! Yeah! A series of quick flashbacks show Ollie finding the hidden cameras Slade put in the mansion, so … wait, his love scene with Felicity was
staged
? You motherfuckers.
Slade's tweaking out on cure and Cleavage Canary arrives to shoot the Deathstroke holding Laurel. I'd put it out there once again that bullets don't work, but we're in the home stretch now. So, meh.
Flashback and present. Scenes of Slade and Ollie fighting on the doomed
Amazo
are intercut with scenes of Slade and Ollie battling through the factory. Pow! Thwap! Boom! End result in the past: some girders of convenience fall on Slade and pin him down so that Ollie can jam an arrow in his eye. Jesus, Ollie. What the hell? On the plus side, Slade only has to buy half as many contact lenses now. End result in the present: Slade gets tied to a concrete post with tying-up arrows. Ollie calls Amanda and tells her everything's cool and to call off the drones. There's more than one? Amanda lays down her arms and touches the "A" key on the keyboard and the drone flies away. That's all we had to do? Shit. Wish we'd known. So Slade wants to know – what now?
Docks. The Lances reunite near the
Nordic Pearl
. It's no
Pacific Princess
, I'll say that much. Sara's going off with Nyssa, and Detective Lance and Laurel are going to miss her. Detective Lance tells Sara he loves her. That's four! Sara tells Laurel that she loves her. That's five! Oh Jesus, and now Sara gives Laurel the black Canary jacket. I knew it, I fucking knew it. Son of a bitch. Laurel says, "It fits." It does not! You can't be the Canary! I won't have it! That's it, I'm watching
The Flash
from now on.
Detective Lance and Laurel are walking away when he says he's going to need some Pepto – his stomach's not feeling right. And to demonstrate, he starts coughing up blood and collapses. Apparently it's his abdominal contusion from earlier acting up now. Contusions can do that? Laurel frantically calls for an ambulance.
Roy's place. Roy comes home to collect Thea, only to find a Dear Roy letter on his quiver. Roy cries as we see Thea get in a nice, long stretch limo with Malcom. Hey, I called it! Roy pulls the dopey mask out of his pocket. Stupid mask! This is all your fault!
Jail cell. Slade wakes up and finds himself … well, in a jail cell. Ollie's on a stool outside it. They chat a bit, and Ollie thanks Slade for allowing him to become a hero. As Slade promises that he'll escape the cell, Ollie leaves and climbs up a ladder and through a hatch and pops out on the island. Yes,
the
island. Okay, so, Slade's on the island, underground, in a cell. Is anyone planning on feeding him? Checking in on him every once in a while? It's made clear the prison's an ARGUS facility now, but this is all terribly inconvenient for someone.
Digg and Felicity are waiting for Ollie and they banter a bit as they walk down the beach. Felicity reminds Ollie he's poor, and he wonders if there's a job out there for an ex-billionaire with superior archery skills. The circus? Digg gives the two of them a moment, and they talk about their previous moment. How they were both pretending. Lots of pretending. Really good pretending. I don't buy any of it, and neither should you.
Flashback. Ollie wakes up in a hotel room somewhere. Some scary Chinese dudes with guns come in to get him. He goes outside and meets Amanda Waller, who tells him he's in Hong Kong. Say hi to Leung Chun-ying for me!
And that'll do it for Season 2 of Arrow. See everybody in the fall!