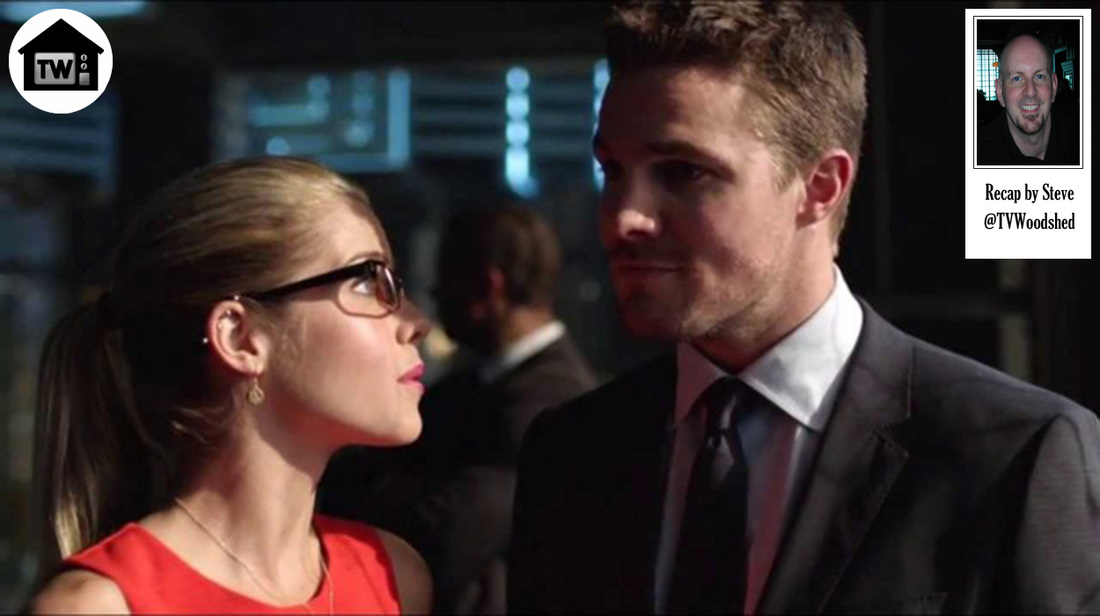 Oliver and Felicity are dating, Digg's having a baby, and Detective Lance survived that indigestion that almost killed him at the end of last season. So why muck it all up with a memorable villain? Not to worry – they didn't.
Previouslies. Um ... all the good stuff from Season 2? Which, they're happy to inform you, is now available on Blu-Ray and DVD. Buy it now or fail this city!
And we. Are. Back! Damn, it feels good to slip back into my comfy, comfy
Arrow
slippers. For those of you who are new around here, I used to write
Arrow
reviews for another site, but that site closed down, so I started Television Woodshed so I'd have someplace to post them going forward. As it turned out, I found some very talented writers to join me on this crazy merry-go-round, so now we've got recaps a-plenty. But to me, this is the heart and soul of the site. This is where it all started. So what are we waiting for? Let's boogie!
Streets of Starling City. We're running through the woods with the Arrow! Hitting the Season 3 ground running, all right! Arrow's chasing down an 18-wheeler that you just gotta know is full of bad stuff. Felicity (Smokin') Smoak, in the ArrowCave, and Digg – who now evidently goes by "John" – in a van, coordinate with Arrow to bring this failed truck to justice! Arrow jumps off an overpass and onto the roof of the truck, thus breaking his legs. Oh no, wait, this is a superhero show, I forgot. He's fine. He fires a trick arrow in between the truck's cab and its ... back part. What? I don't know truck lingo, okay?
Digg – sorry, John – secures the back part of the truck, which was loaded with RPGs, while Arrow does some fancy parkour moves on the driver. Arrow calls Roy to let him know the truck's on the way, and then steers it from outside. Roy, who looks like a complete dork chop, blows out the tires with some well-placed arrows. Ah, Roy, you've been practicing! Suddenly it's raining, because Starling City is supposed to be Seattle after all, and the driver runs off through an abandoned building, where it's also raining. Arrow catches him, tells him he failed this city, and punches the guy so hard he sees the show's title card. Ouch!
ArrowCave. Felicity is watching a show where two folks debate whether or not the Arrow is good for Starling City. It's certainly good for The CW, have you seen the ratings? Arrow, Roy, and John arrive and tell Felicity to take another one off the board. See, they have a touch-screen board filled with pictures of bad guys. No product placement on it, though. Weird.
Oliver notices something green and wants to know what it is. Felicity tells him that it's a fern, and since he's living there now, it should spruce up the place. Ollie smiles at Felicity. She smiles back. Are they ... ? Is this ... ? Before we have a chance to ask more incomplete questions, there's a text from Thea. Oh, right. Thea. Roy gets all ... y'know,
Roy
at the sound of Thea's name, so he says he's going to go out on patrol. Didn't you just come back from patrol? And anyway, I think you only have an apprentice license. You need a licensed super hero with you if it's after 10 p.m. Ollie tells Roy he did good out there, and Roy ... has no acknowledgement whatsoever. He just leaves. Roy, you've been practicing your archery but not your acting. Bad Roy! Felicity leaves too, as she has an early shift. Wherever she's working. Ollie asks if they're "still on" for tomorrow night, and she tells him she's going to make him over as a badass businessman so he can get Queen Consolidated back. She touches both his cheeks. Are they ... ? Did we ... ?
John is going to "roll out" too because Lyla wants him to build a bassinet from hell. So, with flames and devils and pitchforks and stuff? Kick. Ass. As an aside, John, you can just buy bassinets, y'know. You don't have to build one. Ollie remembers something, and presents John with a gift ... a lovely necklace. So wait, did these two ... ? John says Ollie can't afford it, but Ollie says he made it for John's impending baby with his mad arrowhead-making skills. Can we really afford to be using arrowheads as anything other than arrowheads? Ollie congratulates John for being happy, and John says Ollie should try it sometime. Oooh, burn! Ollie mentions that he has relationship issues, and John tells him to seize the day by seizing Felicity. Oh, okay, so they're not ... they haven't yet ... but they're ...
Flashback! Ah, I remember when flashbacks meant the island. Now they mean Hong Kong. No offense, Hong Kong, I'm sure you're a lovely place, but we just don't get that same feeling of isolation from you, what with the thousands of people milling about in the streets and all. Speaking of streets and people, Ollie's running through one and knocking over the other. He's got that old Ollie look, and I see they've upped the wig budget for this season. Well played,
Arrow
. Ollie's being chased by a Chinese Reservoir Dog who has to be the worst shot in the universe, and that includes imperial stormtroopers.
Ollie runs into an Internet Café-slash-opium den and throws some poor shmoe to the ground to use his computer. Hey, I was downloading Two Girls One Cup! Over a 56K modem! Do you have any idea how long that takes? Ollie manages to write an email to his mom telling her he's alive and in Hong Kong. But unless he had time to log into his own e-mail account – which he didn't – Moira would have gotten an e-mail from 新隶体 新隸體. Like she's really going to open that. Would-be Chinese assassin – I'll just call him Hong Kong Phooey – shoots the computer before Ollie can send the message and then gets in a hand-to-hand fight with Ollie. Hand to hand. Even though he has a gun. I can only conclude that Phooey doesn't know what a gun is for. He punches Ollie so hard that we bounce right back to the present.
Starling City courthouse. Oh God, it's Laurel. Ergh. She and Ollie watch a criminal be hauled away and Laurel says, "You catch 'em, I cook 'em." Is it too late for me to back out of recapping this? Laurel has a surprise for Ollie, and it's her dad – with a cool shaved head and promotion to captain – announcing at a press conference that the Arrow is officially a-OK. But not other vigilantes. Just him. So stay in Gotham, Batman! We've only got room for one hero in this town!
Shady lair. A bunch of generic bad guys grouse about this Arrow business and they wonder what they should do. A guy with a funny accent nominates himself to lead the criminal underground, and to prove he's the real deal, he throws a Vertigo-filled dart at one of the other bad guys. As the bad guy starts tripping, the new Count Vertigo explains that this upgraded Vertigo makes you see your deepest fear, which for the bad guy is some kind of leech man wearing a suit. I guess that is pretty scary, but if that's the guy's deepest fear, he needs a better imagination. Like if I got dosed with that stuff, I'd see my browser history going public on the Internet. The bad guy dies, and Count Vertigo II – who will just be known as Vertigo, which is orders of magnitude better – announces they're gonna kill the Arrow. You know, technically Roy is the Red Arrow. You could kill Roy. Just sayin'.
Verdant. Or what's left of it. Ollie and Felicity have some playful banter as Ollie works up the courage to ask her to dinner. He does, and we all sigh contentedly. Felicity wants clarification if this is an actual date, and Ollie clarifies that it is. More or less. Felicity smiles and says yes. Yay! It's what we've all been praying for! Which means it's guaranteed to go balls-up before we're done. Fuck.
Streets of Starling. Ollie's on the ArrowCycle and John's in the van. They're talking about something that's happening or someone they're chasing, but either they're seriously mumbling or I'm getting old. Or both. They call Felicity, and we finally get to see where she's working – behind the counter at, in essence, a Radio Shack. Oh Felicity. What has become of you? She ducks into the back to use the computer to find the guy Ollie and John are looking for, who is in the sewer. Are we supposed to know what's going on here? Felicity also confirms that she loves Italian – you know, for their BIG DATE – and that Captain Lance is in pursuit of sewer guy. I'm sure this will all make sense soon.
Sewers. Arrow and Captain Lance team up to take this guy out. Wait, that's it? Who was that guy? Maybe I skipped a scene or something. Lance has to take some pills for the excitement, and Arrow makes sure to thank him for his kind words at the press conference. He also stands close enough and in sufficient light to show Lance that HE'S OLIVER FUCKING QUEEN, but I've given up chasing that particular dragon. Arrow leaves right into a ...
Flashback. Amanda Waller is having a chat with Ollie, but he's all "Go to hell" and "I don't care." She tells Hong Kong Phooey that they're going to have to try this another way, and Ollie gets punched so hard he falls off his chair. Isn't that the way you tried it before?
Starling City at night. Felicity's working and helping a customer. Hey wait a minute ... that's not just a customer. That's Brandon Routh! She's waiting on Superman! Not, y'know, cool
Man of Steel
Superman or anything but rather forgettable
Superman Returns
Superman. But hey, Superman's Superman, right? Wow. So Brandon Routh is looking to buy a <technobabble> because he wants to <technobabble>. Felicity tells him that she once <technobabble> and he's all impressed. He also somehow recognizes her from Queen Consolidated, which is creepy. Anyway, she tells him not to buy the <technobabble> but wait for the <technobabble> to come out in a few months. Then she writes down the URL for something, which only takes her a tenth of a second, so I assume it's a.com.
Hospital. John and a very pregnant Lyla are in for a visit, but the doctor tells them it's a false alarm. I think this is the doctor from last season who treats Ollie for all his super-hero ouchies and loves to tell everyone everything about every patient he treats. Apparently he's also an ob/gyn. Jack of all trades, this guy.
Italian restaurant. Arrow zip-lines onto the roof and makes his way through some random hallways. He retracts his bow – which is a neat trick, by the way – and then peels off his green pleather to show a nice suit underneath. Goddamn, Ollie, aren't you
hot
? He transforms from Arrow to Ollie and stores his ArrowBag, with all his gear, in a ... dumbwaiter? I guess?
He checks in with the host and is led to his table, where Felicity is waiting. And I simply do not have the words to convey how stunning she looks. There are no words. They should have sent a poet. Jesus. She's hotter than a freshly fucked fox in a forest fire. They fumble around for some conversation, and Ollie decides to tell her about Hong Kong. Why is Hong Kong so important? No idea. But Ollie uses it to explain how he could never trust anyone or see people as people until the day he walked into Felicity's office. This dude is smooooth.
Ollie's ArrowBag is beeping, which tells the bad guys on the roof across the street that he's in the restaurant. Ollie must have forgotten to log out of his Google account. Vertigo sets up an RPG and points it at the restaurant, which isn't insane at all. Ollie's ArrowSense tingles and he's able to grab Felicity and jump away with her before the entire place is blown the fuck up.
Ollie comes to in the wreckage and debris and finds a bloody and unconscious Felicity nearby. He picks her up, because that's what you should do when you don't know if someone has back or neck trauma, and carries her to the ArrowCave. Because why the fuck would you bring an injured person to a hospital? Also, I know Ollie's in shape, but did he really carry her from the restaurant to the ArrowCave? How far is that? John and Roy look as concerned as they can, and Ollie, who suddenly graduated medical school, announces that Felicity is just knocked out. Thank you, Doctor Queen.
Roy finds a GPS tracker. Um, no he doesn't, because Roy's not that smart. Ollie says that there was a setup? And the tracker was planted on him? I'm not getting this at all. Was it sewer guy who planted it? Eh, whatever. Ollie pounces on the opportunity to blame himself for being happy and losing focus. Well, the Felicity thing was nice while it lasted. Cue the brooding, mopey super hero who will never find true love. Ollie calls Captain Lance – and still calls him detective, which is maddening – and wants to know who some guy is. I'm still lost in all of this, but I assume that Ollie will eventually find Vertigo, so I'll just be patient. Felicity wakes up in a panic and Ollie calms her down, and there's a really sudden jump cut to a view of the city. Come to think of it, there have been a bunch of weird editing cuts throughout this episode. Almost like the editor had too much coffee. Decaf!
Abandoned warehouse. Arrow discovers Captain Lance is backing him up on this operation, and Lance says he's not sitting this one out. But because of his lisp, it sounds like he says he's not shitting this one out. Ha! I'm twelve! Arrow encounters Vertigo – and then literally encounters Vertigo when he's dosed – and comes face-to-face with his deepest fear – himself! It's just like when Luke Skywalker saw his face in Vader's mask. So there's some fisticuffs, and Arrow's not doing well, but Captain Lance is here! He gets the drop on Vertigo and says "Let go of him or get put down!" He throws a Vertigo dart instead. That wasn't one of the options! Lance appears to have a heart attack and Vertigo gets an arrow in the back. Yeowch!
ArrowCave. The team regroups to get us all caught up. Ollie's fine. Felicity's really ... really fine. Captain Lance – whom Ollie again calls Detective Lance, which is getting infuriating – had a coronary artery spasm. Ah, he'll be fine. Just rub some dirt in it and walk it off. Ollie tells Roy to hit the streets and John offers to back him up. Ollie tells "Diggle" to go home. Oh, so he's Diggle now, is he? Cold. Diggle leaves and Ollie wants to talk to Felicity, but she puts that off until after the board meeting. Which, for no reason, sends us into ...
Flashback. An Asian woman is tending to Ollie and speaking Japanese to him. Is this
The Last Samurai
? Ollie discovers he's in Hong Kong Phooey's home. The hell?
Starling General. Captain Lance is on the world's narrowest hospital bed when he's visited by Laurel. As if he weren't in enough pain and misery. She makes him feel guilty for going out in the field when he shouldn't, but he tells her he's a cop and that's all he knows. And if he's not a cop, what is he? She says he's her father. Way to kick a man when he's down, Laurel.
Queen Tower. Felicity and Ollie show up for the meeting to save the company, but oh boy, it's Superman again. Superman, Green Arrow. Green Arrow, Superman. Not, y'know, old-school
Adventures of Superman
Superman or anything but, hey, if you liked
Superman Returns,
this is the Superman for you. Superman is another bidder for the company. So would it then be Kent Consolidated? Both he and Ollie are going to try to convince the board that they should run the show. Really, that's how you get control of a company? Because I make a mean PowerPoint presentation.
Ollie makes a nice little speech and mentions his family legacy. Superman does a full-on multimedia presentation where he presents his idea of changing Starling City to Star City. Hey, just like in the comics! Does this guy really have the ability to rename the city? Ollie and Felicity both know they're beat. They have a chat outside the building and agree that it's best for Ollie to be the Arrow and not the CEO after all. Wonder if they'll both still feel that way when the money really starts to run out. Right in the middle of their one-on-one, it cuts hard to a commercial. Was this a two-hour episode that they had to chop down to one? It's really starting to feel that way.
ArrowCave. Ollie and Felicity return with a purpose. See, there's something missing here. They were just casually chatting and now they're double-timing it into the HQ? I need to speak to someone in production. Anyway, someone somehow figured out that Vertigo wants to take out the three main crime bosses in Starling, who are different races and nationalities because it's a PC world and mob bosses have to be all inclusive. All three are at the big fight – you know, the big fight? – so Ollie orders Roy to suit up as Captain Doofus and get down to the arena. Digg wants to know where Ollie wants him, and Ollie wants him barefoot and in the kitchen. No more field work for you, soon-to-be Daddy-O. Ollie and Digg exchange harsh words and end up nose to nose, but Ollie stands firm. Digg storms off. I think that went well.
Arena. Roy had mentioned that killing the crime bosses in attendance would also kill the 20,000 people in the arena. Roy clearly can't do math, because if there are more than 2,000 people there, I'll eat my hat. And also, Roy can't do math. Vertigo sets a huge motherfucking bomb in a maintenance tunnel with a five-minute timer. Could you be a little more cliché? Roy tells Arrow to go get Vertigo and he'll take care of the bomb. Oh, I don't like this plan one bit.
Outside the arena. Arrow finds Vertigo – who, I hate to bring this up,
got an arrow in the back
not too long ago – and gets dosed with one of his Vertigo darts and sees his own face again. But then he closes his eyes and, I don't know, shrugs off the effects? What kinda shitty drug is this anyway? He and Vertigo start duking it out, and when his nameless henchman tries to escape, he runs into ... what the fuck? Cleavage Canary? The fuck is she doing here? What was the point of all that drama at the end of last season if they were just going to bring her back? What, did she get bored with the League of Assassins? Now don't get me wrong, I'm thrilled to see her because, a) no one on the show can compete with that cleavage, and b) it means that Laurel won't be the Black Canary II. So, carry on, CC. Kick some ass. Glad you're back.
Bomb. Felicity tells Roy to cut the yellow wire. There is no yellow wire. New plan. She tells Roy to break off the Freon pipe from the building's AC system and freeze the thing. That's the new plan? Are we positive there's no yellow wire? It's Roy, after all. Speaking of Roy, he swings like a monkey up to the pipe, which is perfectly flexible and bends exactly in the direction he needs it to, which is exactly what pipes do. Roy freezes the thing. Boom averted. Huzzah! Meanwhile outside, Ollie catches Vertigo with a trick arrow. That's it. A trick arrow. We gave up Deathstroke for this?
Ollie and Sara have a nice chat and Ollie asks if she's back for good. She says "We'll see." That means no. She gives him some advice: that they are not their masks, and they need people in their lives who don't wear them. So ... get rid of Roy? Done!
Hospital. Superman uses <technobabble> to find Felicity there, and wonders aloud who replaced all his computer files with farting porcupines. Awesome. Felicity indirectly takes credit for that, and would do it again because he screwed her friend Ollie out of his company. She takes her leave of him, saying that her friend just had a baby, so there's another slimy human who needs her attention. Zing!
And there's the slimy human now! Lil' Digg! Oliver shows up too and they all
ooh
and
ahh
over the baby, and Digg thanks Ollie for keeping him out of the field when his real place was by his baby mama's side. Digg says his whole universe has changed. Must have been the Infinite Crisis storyline. Ollie and Digg hug it out like super hero bros do.
Flashback. Ollie intends to leave the Phooey household, but Hong Kong Phooey tells him to stop. Amanda Waller has threatened to kill Phooey's family if Ollie escapes again. Well, shit.
Hospital hallway. Oh damn, it's
the talk
. Ollie tells Felicity that he can't be with her because he's gotta be the Arrow. Oh, not this again! She wants Ollie to tell her that it can never be between them and that he never loved her. And then ... smoooooooch! Ooh yeah. Ollie won't say that he doesn't love Felicity. Heartfelt double negative! Felicity says she knew as soon as they talked, it would be over. And now it's over. Felicity's so smart. And right here, at the worst possible moment, Barry Allen/Flash calls and says he needs some advice. Ollie says he'll be right there. Right where? If you're curious how that conversation turned out, check out our
Flash recap
.
Rooftop. The Lance sisters have a reunion and exchange sisterly pleasantries, and then Laurel gets a call that she has to interrogate Vertigo. Wow, that was fast. They hug and take their leave of each other. As Canary is walking away, we hear Ollie's voice changer thing – or possibly Brother Blood, they're pretty similar – say something like "Hold on, Sara." It's pretty garbled, but that's what it sounded like. Canary asks "What are you doing here?" And then gets an arrow in the gut! And another! And another! She falls off the side of the building to the alley below! Noooooooooooo!!! Fuck fuck fuck! Laurel finds the body and starts to wail, which is just the motivation she'll need to become the Black Canary. Fuck!
Next week: After mourning Sara's untimely demise, the search is on for her killer. It looks like it could be the Dark Archer. Or not.
​