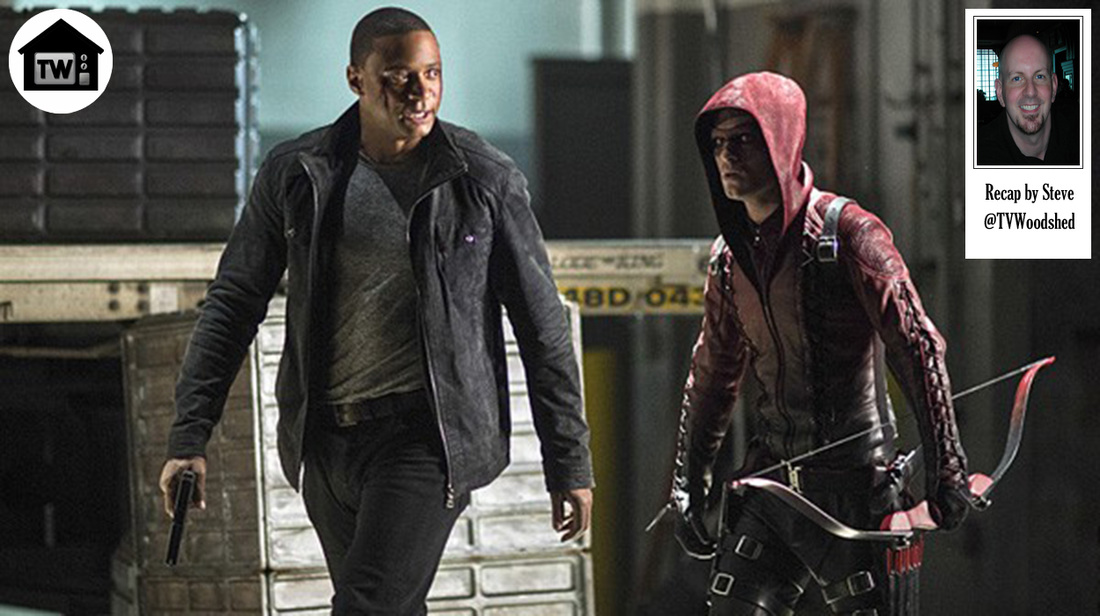 Ever wonder what Arrow would be like without Arrow? This week we get a glimpse, and friends and neighbors, it is not a pretty sight. Diggle gives up, Felicity falls apart, Roy's more useless than ever, and Laurel raids a bondage shop to get her super hero gear. Get well soon, Ollie!
Previouslies. A bunch of stuff happened, but really, all that matters is that Ollie got skewered with a motherfucking sword and kicked off a motherfucking mountain. All other information is moot, baby.
Streets of Starling. It's a police chase! Hot damn, we're hitting the ground running! Starling's finest are in a high-speed pursuit of a van with its rear doors open. That doesn't seem safe. What's even less safe is the thug in the back of the van spraying bullets everywhere with his machine gun.
The Starling PD does their best, which isn't nearly good enough by half, so an ArrowCycle joins the chase. One of the van thugs says "It's him!" and the other says, "I thought he was green!" He is green, nameless thug. He is. What you've got here is a red pleather embarrassment named Roy. Sorry, that's the best we could do. Feel free to shoot him.
The runaway van approaches an overpass and we see … Arrow? The hell? Oh, it's Diggle in the Arrow gear! It's Black Arrow! Wait, is that racist? Maybe Jive Arrow? Chocolate Arrow? Anyway, Jackson Arrow 5 fires some explodey arrows at the van and manages to delay it enough for Arsenal – ergh – to arrow-rope the one guy out of the back while the other gets away. Bye, other nameless thug!
Arsenal approaches the detained thug, who asks him who the hell he is. Rather than reveal such an embarrassing code name, Arsenal punches the guy's lights out. Dark Arrow zip-lines down to the street to join Arsenal and states his preference for guns over bows. Yeah, well, we all preferred Sara as the Canary, and look how that turned out.
Fortress of Arrowtude. The remnants of Team Arrow discuss the loss of the one thug and the capture of the other, and Felicity (Smokin') Smoak tells the boys that she's got every satellite she can hack out looking for Ollie. Um. He's not that hard to find. He's out in the open. Oh, and he's dead. Just FYI. Felicity heads out to go to her day job and we are dragged, kicking and screaming, into a …
Flashback. Silly-wigged Ollie, Hong Kong Phooey, and Amanda Waller are walking through a building that's missing walls, windows, and all the other things that make a building a building. Love what you've done with the place! There's a lot of exposition, but it boils down to the fact that China White has that Omega thing that was such a big deal in the last episode, but to make it kill people like it should, she needs its counterpart, the Alpha. Really? Alpha and Omega? For realz, that's what you're going with? Did a three-year-old come up with this idea? Suit yourselves.
The Alpha is being kept at a Hong Kong military base, so Ollie and Hong Kong Phooey will need to break in and steal it. Ooh, it's a caper! Hong Kong Phooey is only interested in his missing wife, the lovely Yukio, but Amanda wants him to focus on the A plot, not the B plot. Oh wait, this is in flashback, so it would be the C plot, not the D plot. Whatever. Let's go back to Starling.
Palmer Tower. The Man Who Would Be Atom is totally stealing Tony Stark's gimmick, trying to make his repulsor gauntlet work. And it doesn't. Yeah, see that? You're no Tony Stark. Felicity comes in and dances around the subject of Ray not pursuing the crime fighter lifestyle. Sweetheart, he can't even get the armored
hand
working. By the time he's got the whole suit up and running, he'll be retired.
Starling courthouse. We get to see Laurel in action as she prevents Roy's nameless thug – who is now named Fisher – from posting bail. Oh, if only this were Laurel's sole action this week. We all know it's coming, but man, none of us have to like it. The courtroom scene had a certain "fillery" feel to it. Did the show's runtime come up a little short this week, boys?
Fortress of Arrowtude. Digg tells Roy that Lyla used all of ARGUS's fancy equipment but found no trace of Oliver. I guess we'll just take his word for it then? Felicity finds the other nameless thug – who is now named Anton – and digs up that they're both working for a crime boss named Brick. Man, if you're gonna be a crime boss,
that
is the name to have. Brick's up to something, and Roy leaves to go find out what it is. Yes, go, Roy. Do something useful.
Digg tries to get Felicity to accept that Ollie might be dead, but Felicity points out that Ollie survived Malcom Merlyn, Slade Wilson, the island, and Hong Kong. I'm not sure I'm going to survive Hong Kong, but it's not about me. Well, it's not
all
about me. Digg leaves and Felicity asks the empty room where Oliver is. Yes, where is that Oliver anyway?
Mountaintop. We see Ra's al Ghul's sword still stuck in the rock where he left it. You know, I didn't really think about it, but how strong do you have to be to drive a sword into a
rock
? I know you have to be the One True King to get it out, but seriously, that pudgy old man has some muscles!
We go over the cliff and down about 200 feet to find Oliver lying on the outcropping where he fell after the duel. Yeah, Ollie's dead. Like, even if the stab wound hadn't killed him (and it had to), and even if the fall somehow didn't kill him (and it had to), the exposure alone would have done the job. So yeah, Ollie's dead. But ho! There's a mystery person dressed in black who wants to see for themselves. Or root around in Ollie's pockets for loose change.
Starling city warehouse. Man, there is just no shortage of warehouses in Starling, is there? Thug Anton is getting the shit kicked out of him by a bunch of thugs, and he tells them "Y'all best step off." So street! He claims that Brick is a friend of his. And oh boy, here comes Brick. Brick, tell these guys they best step off, a'ight? Hey, Brick is Vinny Jones! No shit! We know him! Everyone say it with me now: "I'm the Juggernaut, bitch!"
Brick strips down to his wifebeater and gives Anton the gun he used to pop his first cap in his first ass. He offers Anton one shot, but he'd better make it count, otherwise it's clobberin' time. Apparently Anton gets a shot off, although I didn't see it happen, and then Brick beats the poor guy to an orange juice pulp. Nice knowing you, Anton.
Starling City Police Department. Fisher asks Laurel if she thinks he's more scared of her than of Brick. I'd say that's rhetorical.
Thea's palatial apartment. Thea and Malcom Merlyn are dueling with swords, like you do, and I guess this explains why she needs so much space. Thea's not doing it right, and Malcom tells her that if your opponent is the sea, you must be the mountain, and if your opponent is the mountain, you must be the sea. What if your opponent's an estuary?
Thea gets better, which earns her a text break. She tells Malcom that she's worried because she hasn't heard a word from Ollie. Oh, sweetie, that's because I blackmailed him into dueling with Ra's al Ghul and he got stabbed through the chest and kicked off a mountain. I mean – what? Malcom offers to find out what he can. I bet you will, Malcom. I bet you will.
Fortress of Arrowtude. Felicity traces Brick's cell phone to a warehouse. Well shit, that could be
anywhere
!
Flashback. HKP, Ollie, and a few operatives are on a rooftop. HKP unpacks a sniper rifle. Oh boy, are they going to try to
assassinate Tommy again
? Ollie fires an arrow with a zip line across the street and then zips after it. Just before he hits his target window, HKP fires a shot – but the glass doesn't break! Ollie slams into it like a dope! Hah! What a maroon! Was this an outtake?
Warehouse. Digg and Arsenal infiltrate one of myriad warehouses, but nobody's home. There are two barrels, and it looks like they burned up Anton in one – eww, seriously? – and burned some important paperwork in another. Luckily for everyone involved, the burning only singed the edges of said paperwork, and some super-important number are still intact. A clue!
Verdant. Digg gives Felicity the random numbers and she's going to do her thing with them, but they discover the door to the Fortress of Arrowtude is open. Okay, who was the last to leave? I say we blame Roy. Felicity is hopeful that Ollie's back, but they discover Malcom Merlyn waiting in their super-secret hideout. Not so super-secret anymore, is it?
Malcom wants to know if Ollie's still alive. Of course he's alive! He wants to know if they've heard from him since the duel. He's … probably alive! Malcom tips them off that Ra's al Ghul never takes prisoners. He … could be alive? Malcom leaves to let them think it over. God, what a downer this guy is, huh?
Laurel shows up with the medical examiner's report. Were we waiting for one of those? Oh, to identify the crispy guy in the barrel, right. It's Anton. I think we all knew that, didn't we? Laurel senses the tension, so Team Arrow gets her caught up. Laurel jumps right onto Felicity's denial bandwagon, and everyone nods and does tight-lipped smiles.
Snowy mountainy area. Malcom, dressed in his Dark Archer gear and carrying an antique lantern, examines the area where Ollie and Ra's had their duel. Couldn't Malcom have waited for daylight? Wouldn't this be a lot easier in the daytime? And this has been bugging me for a while – where
is
this place? The way people from Starling come and go from here, you'd think it was a ski resort just north of town. According to the interwebs, it's Nanda Parbat, in the DC equivalent of Tibet. Tibet. Everybody just commutes to Tibet whenever they need to. Not even gonna.
Flashback. Ollie is still hanging there like a monkey on a rope. Oh, hey, yeah, don't fire another bullet to break the glass or anything. I'll be fine. Ollie gives the window a few good kicks and it finally smashes in. He and his team make their way to a lab and get the Alpha, but a bunch of Triads with machine guns show up to spoil the party. Not these guys again!
Fortress of Arrowtude. Team Arrow is puzzling over the numbers when Malcom Merlyn pops in again. Don't you ever
knock
? Merlyn produces the sword that saw both sides of Ollie's torso and tells them that Oliver is an ex-Arrow. Well, that's that solved, then! What's for dinner? Felicity blames Malcom and Malcom blames himself. Huh. Well, at least we agree on that.
Snowy mountainy area. Someone's dragging Ollie's body somewhere. Ooh, is it the taxidermist's? We could have him stuffed and then put him in that case where we keep his costume! Sweet!
Fortress of Arrowtude. Everyone's sitting around and it's very quiet. Hi guys. Bad time? A computer's beep tells us that the analysis is done and it's a 99% match to Oliver's blood on the sword. Anyone want to proffer that laughable theory about Ollie's blood and Thea's blood being close enough because they're siblings? No? Good. Felicity tearfully heads off to her other gig and we're thrown like yesterday's garbage into a …
Flashback. Pow! Ka-blam! The gunfight is still going on in the lab. Hey, those beakers cost money you know! Who's gonna pay my beaker bill? HKP tells Ollie to run and he does, but in the hallway outside he runs into a Triad guy. As luck would have it, the Triad guy's gun runs right outta bullet and Ollie's able to bitch-slap him down. Instead of skewering the guy, he lets him go. Oh, Ollie! Always the soft touch!
Verdant. Roy is chasing his blues away with sweet, sweet liquor. He drinks alone. With nobody else. Except Thea, who shows up and asks Roy what's wrong. What's
wrong
? Ollie's
dead
, that's what's wrong! I mean – what? Thea confirms that Roy's the guy she's been seeing on the news in the red hood. Oh, she can tell that Roy is Arsenal but not that Oliver is Arrow? Bitch, please. She asks Roy to ask Arrow about Ollie. Will do! Wait, what?
Fortress of Arrowtude. Roy and Digg snipe at each other for a while about all this dead Ollie business, but Digg sets his mind to the task of unraveling their random number conundrum. And then it hits him! Watson, they're the case numbers of a bunch of criminals awaiting trial! The game's afoot!
Palmer Tower. Felicity is tearfully trying to work while ignoring Digg's phone calls. Felicity, pick up! We need milk and bread! Atom comes in his usual jovial self, and Felicity hits him with a whole lot of tears and guilt about trying to be a hero, and then hits him right in the feels by saying that saving the city won't bring his dead fiancée back. Ouch. Ray tells her, gently and in a CW-approved way, to fuck off. Felicity goes to leave and finally answers her damn phone. Digg's figured it out – Brick's trying to steal police evidence to get his thugs' trials thrown out. That's … actually not such a bad idea. I like this Brick guy!
Police warehouse. Brick and his goons break in to steal said evidence, but they didn't count on running into Arsenal and the Big Black Booty Daddy! There's all kinds of crazy gunfire and arrows are a-flyin'! Pew pew pew! Thwip! Ker-boom! Arsenal's stunt double parkours all over the place, kicking and punching and arrowing! In the chaos, Brick finds Digg and gives him the same offer Anton got. One shot with Brick's gun, but make it count. I'm Brick, bitch!
The gun gag goes as we knew it would, and Digg's gotta throw down with Brick. C'mon, Digg! Give him the left! The left! Brick throws a few good punches, but Arsenal chases him off with a well-placed arrow. Seriously, arrows? Well that's handy information for next time! The truck with the evidence rolls out into the night and a garage door slams down, keeping Digg and Arsenal from pursuit. Dammit!
Fortress of Arrowtude. As Felicity treats Digg's wounds, she admits that she was the one who closed the garage door.
Et tu
, Felicity? There's a lot of squabbling about trust and friendship and saving lives, and Felicity decides that without Ollie, there ain't nothin' left to do. She announces she's done and leaves Digg and Roy behind, and then turns out the lights in the Fortress of Arrowtude. Hey! We're still in here! What the fuck!
Cabin in the woods. Whoever is dragging Ollie's heart around arrives at their destination. Special delivery! Huh. Turns out it's Hong Kong Phooey. He's sorry he had to bring Ollie to … whoever he brought him to, but Ollie needs help. Well I should say so!
Palmer Tower. Felicity apologizes for kicking Atom in the emotional nuts. She says that she can't stop him from going out into the streets and getting his fool self killed, but she doesn't have to help him either. Is this a resignation? You're really supposed to give two weeks' notice.
Fortress of Arrowtude. Turns out all those criminals that Team Arrow helped put away have skated because the evidence against them disappeared. Okay, I don't know a whole lot about the justice system, but even I know that Starling City has the worst courts in the known universe. What about witnesses? What about plea bargains? What about priors? None of that factors into this? It's just, "Whelp, that gun you done used fer killin' them folks just plum disappeareded, so I s'pose y'all are free ter go." And they were
all
let go in 8 minutes. The system may be hopelessly fractured, but at least it's fast.
Digg tells Laurel that Ollie's not coming back, and he's not sure if he's going to stay on as the Caramel Arrow. They hug, and Digg leaves, giving Laurel time to stare at Sara's Canary gear, which just happens to be splayed out on a lighted table. No, don't you do it. Don't you do it! Fuck! Digg, get back here! Stop her!
Thea's place. Malcom shows up to tell Thea that they're in danger and they both have to leave Starling and never return. Do you ever show up with any
good
news?
Rainy tunnel. Brick is holding a meeting with all the recently released thugs and hoodlums, telling them that they work for him now. If they don't like it, just remember that he's got the evidence on all of them, and he can send them back to the slammer on a whim. It's difficult to wrap one's head around, but it looks like Starling has its first intelligent criminal. I'm intelligent, bitch!
Train yard. Two of the thugs who just heard Brick's speech are walking back to their car when they're downed by a sonic scream. Stupid Laurel in her stupid outfit approaches one and he asks who the hell she is. She says, "I'm the justice you can't run from." Oy vey. It's not enough that you give me a Cleavage Canary with no cleavage, but you give her dialogue like
that
? Christ on a Creamsicle.
Flashback. Amanda Waller is complimenting Ollie on getting the Alpha, but is disappointed he let that one dude get away. Meh, one dude, give or take. Who's counting? Waller leaves, and Ollie tells HKP that he put the tracking device from the Alpha in that dude's pocket, and he'll lead them straight to Yukio. Um, I watched that scene pretty closely. You didn't put anything in anyone's pocket, you big fat liar. Either way, HKP says he'll forever be in Ollie's debt. Which explains why he retrieved Ollie's body in the present, but not why he didn't help Ollie not get killed in the first place.
Cabin in the woods. So Ollie's alive. Wait, Ollie's alive? What the hell, man? Turns out HKP asked Yukio to come there to save his life. Well mission accomplished! And thankfully, we won't be subjected to the
Black Canary and Arsenal
show.
Next week! More Brick, more Arsenal, and unfortunately, more Black Canary. Yeesh.
​