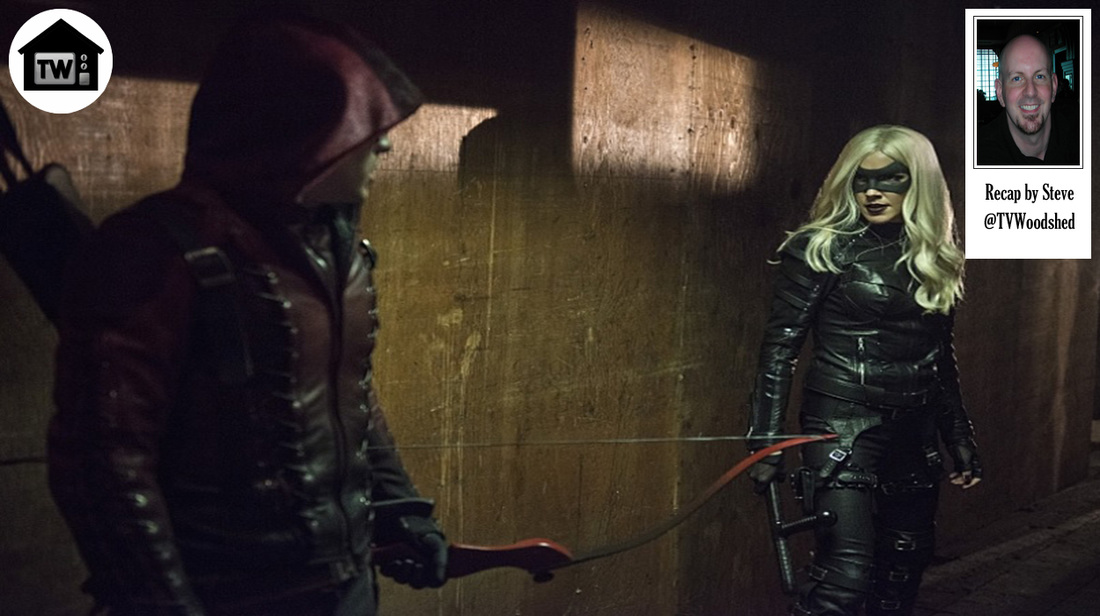 Since I never wanted Laurel to be the Canary in the first place, it was oh-so-satisfying to see her fumbling around this week like a cosplayer at her first convention. Still, Roy and Laurel protecting Starling City? Laughable. So come back to us, won't you Ollie?
Previouslies. Felicity's not gonna help with the A.T.O.M. project, Black Canary's not gonna have any good dialogue, Brick's not gonna stop until he takes over The Glades, and Ollie's not gonna stay dead!

Fortress of Arrowtude. Ollie and Felicity (Smokin') Smoak are discussing Ollie's pending duel with Ra's al Ghul. Wait, is this more previouslies? The previouslies music got louder and the screen faded to black. What the heck? Felicity begs Ollie not to go and Ollie says OK, he won't go. Aroo? What is this, Earth-2's Oliver and Felicity? Ollie tells Felicity he loves her and gives her a smooch, and then starts spewing Strawberry Quik all over the place. Oh, it's blood. I see. Ollie looks down and sees Ra's al Ghul's bloody sword in his chest as Felicity screams us right into …

Panda Bar. Or Naboo Pandango. I forget what the fuck this place is called. Ollie wakes up from that scary dream – which honestly, seemed more like Felicity's dream, but whatever – and looks around his cozy lil' cabin. It's nice. A man could be happy here. It's hard for Ollie to maneuver because some bandages are holding his guts in, but he hobbles out to find Yukio working with a mortar and pestle. Hey, Digg and Felicity don't have code names yet – maybe they could be Mortar and Pestle.

Yukio gives Ollie a drink. He assumes it's herbs but it's penicillin, for the infection. You can make penicillin with a mortar and pestle? By the way, this is the most I've ever typed "pestle" in my entire life. Ollie thanks Yukio for saving his life. Didn't Hong Kong Phooey say she brought him back to life? Eh, we quibble over terms. Yukio says that the snow, the cold, and Ollie's will to live helped with the ol' Lazarus routine. Oh, and a healthy suspension of disbelief.

Ollie says that he wasn't aware that Yukio and HKP were still in contact. She says they aren't. Then dinner's going to be awkward! HKP comes in with firewood and tells Ollie he shouldn't be up and around. But I'm bored! There's nothing to do in this cabin! I hate this place!

HKP tells Ollie that as soon as the storm passes, he's going back to Nanda Parbat. Nanda Parbat, that's what it's called! Wait, they're not in Nanda Parbat right now? Then where the fuck are they? Ollie's worried about what Ra's al Ghul's going to do to HKP when he finds out what happened. HKP tells him to worry more about what's happened to Starling since he's been gone. Well let's have a look, shall we?

Starling City alleyway. A sweet young lass is running screaming away from a creepy-looking street thug. Hey, is that DJ Douchebag from Verdant? Eh, no, I guess it's not. All douchebags look the same to me. The thug tells the frightened young girl that if she'd scurried down the next alley over, she would have been free and clear to Rimer Avenue, but this alley doesn't connect over to Carlisle. Google maps! Thug says they can do this the hard way or the harder way. Wait, what's the harder way? I don't wish for anything bad to happen to this girl, but I'm really curious what the harder way is.

But we won't find out tonight, because here comes Black Canary to save the day! Black Canary, everyone! Black Canary. Anyone? No? Nothing? Very well. The would-be victim runs away and Black Canary starts swinging her staff all willy-nilly and not hitting anything, and the thug pins her down with his knife at the ready. Thankfully, Arsenal jumps in and beats the crap out of the guy. Jeez, when you need Arsenal to save your bacon, you're just the worst hero that ever lived.

Fortress of Arrowtude. Roy patches up Laurel's owwie and asks what the hell she's doing out there. She says, "Same as you." Well, same as you, only a million times worse. Roy gives Laurel a load of grief about being hopelessly inept and then Digg comes in to pile on. Woo-hoo, there's all kinds of Laurel-bashing going on up in here! Laurel says the troublemakers out there fear the Canary, but Digg corrects her and tells her they feared her sister. Who was, y'know, a bad-ass who could fight and stuff. Laurel storms out to go watch reruns of The Super Friends to figure out what she's doing wrong.

Palmer Tower. Felicity's at her desk with her glasses off. Rowr. And here I thought she couldn't be any more smokin'. I see now I was wrong. I apologize. Here comes The Atom for some witty banter. These two, I tell ya. They're apparently going to attend a city council meeting because Atom wants to write checks to fix all of Starling's problems. Money fixes everything! He'd rather use his super suit, but Felicity reminds him that she's not gonna help him build that, so he's on his own. So, in essence, he's screwed.

Verdant. Thea shows up for work and runs into DJ Douchebag. Hey, DJ! They have an awkward moment discussing their previous awkward moment, and DJ heads off to … I don't know, what do douchebag DJs do during the day? Smoke weed? Eat Spaghetti-Os? Either way, Thea doesn't even make it indoors because Malcom's limo arrives. Oh geez, this can't be good.

Malcom's mad because Thea hasn't packed a thing and they need to get the hell out of Dodge. Thea says she ain't goin' anywhere, not until Malcom tells her the truth. Hah! Good luck with that, sister! Malcom's limo pulls away and Roy appears out of nowhere, taking the opportunity to pose for a cologne ad. Pout, baby, pout!

Mayor's office. Captain Lance is waiting for all the political squabbling to die down when Laurel arrives. He asks if she's heard from her sister. The dead one? Of course not. I mean – what? Lance says Sara's back in town because a girl came to the station and said a blonde in a mask and a black leather jacket saved her life. Okay, first, Laurel didn't save anyone's life. And second, that could have been any blonde in a mask and a black leather jacket!

The Mayor – whoever she is – calls the meeting to order and complains about all this Brick trouble they've been having lately. Some guy on the council wants to know why Brick hasn't been arrested. You know, if you're so keen on Brick being arrested, why don't you go do it? Lance says they sent a bunch of cops after Brick and they're all in the hospital. There, see that, nondescript council member? Not so easy, is it? Lance says to send in more cops to get Brick, they need more money. You can buy cops? Atom comes in and says he made a donation to the SCPD, but it'll take time to do any good, so they should call in the National Guard. Lookit Atom, giving all the orders!

The windows to the conference room are suddenly blasted in. Hi, it's the National Guard! Did someone call for us? Oh, no, it's Brick and his goons. Do you gentlemen have an appointment? Brick tells his boys to grab the Mayor and the older man, and then kill everyone else. Who's the older man? Oh, no, he means the alderman. Or the aldermen? Brick, sweetie, you've got to learn to enunciate. And while we're on the subject, what's an alderman? The interweb says an alderman is "an elected member of a municipal council." That's … that's just the lamest job description I've ever heard. Yeah, go ahead and take the alderman or aldermen. We'll make more.

There's all kinds of gunfire and fisticuffs, and it's kind of hard to tell what's happening. It looks like Laurel somehow disarms a huge dude with her high-heeled shoe before punching his lights out, but that's completely absurd. Ultimately, Atom, Felicity, Captain Lance, and Laurel survive, so Brick's order to "kill everyone else" seems to have fallen a little bit short.

Laurel asks about the fate of the alderman or aldermen. Everyone is so fucking concerned about the alderman/men! They (or he) is (or are) no more important than the Chief of Sanitation! Relax! Anyway, in response to Laurel's question, Lance says "Brick's got him." Okay, so it's just the one alderman. Or wait, maybe he says "Brick's got 'em." Fuck! I've typed alderman more than I've typed pestle!

Cabin in the woods. Hong Kong Phooey's making tea. He's so considerate. He takes his own tea outside in the whipping wind and snow. Was it something we said? Ollie tells Yukio she can't let HKP go back to the League of Assassins. Yukio says she could probably convince Hong Kong Phooey, but not Syrah. Mmm, that's a sweet wine. Yukio says that HKP blames himself for what happened. We don't find out what she means, so place your bets. Did he let HKP Junior die? Did he give Yukio crabs? Did he forget the laundry overnight in the washing machine and let it get skunked? Whatever it is, Yukio says that sometimes death is preferable to the agony of life. Yikes. I'm going with the laundry theory.

Flashback. Which is subtitled "Hong Kong, 5 Years Ago." What are we, stupid all of a sudden? We know when the flashbacks are set! Oh, I guess they're doing it because HKP and Yukio are also in the present in this episode and we're all easily confused. Feh. Silly Wig Ollie and HKP are hanging out in a nightclub. I can only imagine what goes on at a Hong Kong nightclub. Ollie has tracked Yukio to a heavily guarded VIP section, and while Ollie and HKP are discussing how they're going to get in, they find themselves at gunpoint. I suppose that's one way.

They're dragged into the VIP section, where China White is waiting. Hey, did you know that's the actress who played Lady Deathstrike in X2? I didn't. That's two X-Men alums we've got running around. HKP tells China White that she can have the Alpha he brought, but he wants to see his wife first. Wait, who brought the what now?

Mayor's office. Lance finds Felicity and asks why no one in a green hood showed up to save the day. Felicity tells him that the Arrow is gone, but Lance tells her that Sara's back. No, that can't be right. Sara's dead. I mean Oliver's dead. No, I mean the Arrow. I don't know what I mean. Roy's fine! I mean Arsenal. Fuck!

Police headquarters. They've got Lil' Wayne in custody. Is that a person? Maybe it's Ice Cube. I don't know, it's the big dude that Laurel took down with her shoe. Laurel interrogates him and he uses typical street-level black dude slang like, "I'm not tellin' you anything!" and "I had nothin' to do with him gettin' popped!" These urban youths today, honestly. Laurel threatens to fictionalize some charges against the guy unless he gives up Brick's location. Ethics! Oh, and she goes out of her way to refer to herself as Dinah "Laurel" Lance to shoehorn her character into the comic book's continuity. Ergh.

Thea's palatial apartment. Malcom stops by to see Thea but finds Roy instead. You know, when they show Roy coming down the stairs in his skinny jeans, you really can't tell which of them it is. Roy gets all up in Malcom's face and they have a tense little chat about what's best for Thea. Malcom ends it with, "This is a family matter, Mister Harper, and you're not family." Ouch. I mean, he's not, but ouch all the same.

Palmer Tower. Felicity's fixing a little cut on Atom's face and she brings up how all the chaos and gunfire must have reminded him of the night his fiancée died. Well duh, of course it did. Way to be sensitive. Atom says that he no longer wants to use his super suit to avenge his Anna, he wants to use it to protect those he cares about. Felicity asks if he means the city. Turns out he means Feli-city. See what I did there?

Fortress of Arrowtude. Digg is annoyed because he thought they were done watching Laurel make a stumbling, bumbling fool of herself, but Roy tells him that she knows the location of the three alderMEN – finally, an amount! – and there's time to save them. Digg thinks it's going to be he and Roy in the field with Laurel talking them in, but Laurel's gonna go out there and get her ass kicked if it's the last thing she does! Fine, Digg will stay home with the kids.

Alleyway. Brick's motorcade is zipping along when they suddenly encounter explodey arrows! Boom! Canary tries to jump down on the van's roof and falls in a heap. Seriously? Cue the Benny Hill music! Brick chases Arsenal with a machine gun, and it's possible that he's cursing, but we can't hear what he's saying over the gunfire. Canary busts open the van and finds it chock full of aldermen, but before she can rescue them, Brick grabs her and knocks her down. Sigh. Had enough, Laurel? Can we stop this now? Brick and his gang take off, but as they're leaving, Brick shoots one of the aldermen in the head and throws him to the pavement! Nooo! Not a secondary character we've never met! Oh the humanity!

Mayor's office. Everyone's gathered around watching a news report about Brick and his aldermen caper. They identify the vigilantes as the Red Hood and the Woman in Black. So the Joker and the creepy chick from that Daniel Radcliffe movie? Lance takes Laurel aside and tells her that Sara did her best tonight. Ouch. The Mayor gets a call from Brick. He quotes some Shakespeare (!) and then tells her he wants to meet her in one hour at Brockton Point. Wear something you don't mind getting blood and brains on, kay?

Thea's place. Malcom shows up and decides to come clean about Ra's al Ghul. Not, y'know, about Ollie being dead or using Thea to kill Sara, but hey, baby steps.

Laurel's office. Laurel is watching a news report about the dead alderman and she's crying. Oh geez, come on! It's not like he was the President or anything. He was an alderman, for Christ's sake! It's like getting upset because the city dog catcher died. Felicity arrives to comfort-slash-convince Laurel to never be the Canary again, but Laurel's already decided to give up the super hero business. Hooray! Uncork the Champagne! No more Laurel Canary! Yay!

Brockton Point. Oh, it's so lovely this time of year. Brick shows up to the meeting and asks why Atom is there. Good question – Captain Lance, the Mayor, and a bunch of cops are there, which makes sense. Who invited this guy? Brick thinks Star City is more like Brick City. Well, to be honest, it's neither. It's Starling City, last time I checked.

Brick wants every single cop out of The Glades by midnight tomorrow or he'll kill the remaining aldermen. Oh for fuck's sake, kill the aldermen already! It's enough of an embarrassment having them alive! Lance says the cops won't abandon an entire district, and Brick says that they did in LA in '92. Wait, what? There's an LA in this universe? I thought it was all Gothams and Metropolises and Bludhavens. Too real, man. Too real. Brick leaves and Captain Lance calls Felicity and says they're gonna need some help. Felicity says she knows where to find the Canary. The cemetery?

Cabin in the woods. HKP says the storm has passed, even though the weather looks exactly the same as it has every time that we've seen it. He says he's going to leave, and Yukio tells him that she still loves him. No matter what he did to the laundry. We look out the window and see figures approaching. Shit! Flush the stash!

Turns out it's League of Assassin guys. Hi fellas! I'm not hiding my estranged wife or Oliver Queen! I mean – what? HKP convinces them that he was about to leave and that they should too when they hear a noise. One of them investigates and finds Yukio. Oh, that? That's, um … that's just the cat. Hey, you guys mind if I stab you? Cool.

Flashback. Ollie and HKP are still in da club. HKP offers up the vial of Alpha he promised, and China White wants to check it to make sure it's not a fake. So we'll just plug it into the ol' Portable Alpha Analyzer that's all the rage with the kids these days … and it's fake. China White orders them all killed. There's a crazy brawl, and HKP uses a serving tray to block three bullets at point blank range. What the fuck is that thing made of? Adamantium? Oh no, that's Marvel. Anyway, all the bad guys get their asses kicked and Ollie, HKP, and Yukio escape. And they never even paid the cover. Sike!

Fortress of Arrowtude. Roy's beating himself up about the dead alderman. Will you people shut the fuck up about aldermen already? Digg busts out Ollie's vodka and he and Roy drink a toast to Ollie. To Ollie! Felicity shows up with Laurel, who tells them the Mayor's going to cave and give up The Glades, so it's up to them to do something. Them, unfortunately, meaning Arsenal and Canary. Ollie, keep drinking that penicillin, okay?

Mayor's office. The Mayor tells Captain Lance to pull his men out of The Glades, but the Captain ain't doing it. He tells the Mayor to give the order her own damn self. Stupid Mayor! Then he gets a call from … Sara? The hell? Oh, it's Felicity with one of her techno-thingamabobs that's changing Laurel's voice to sound like Sara's. Well that's not cruel or anything. Laurel/Sara apologizes for not calling sooner and says that she's fine and is here to help. She asks what Lance knows. All he knows is that one of the aldermen has a pacemaker, and if it doesn't get charged soon, he's gonna bite the big one.

Wait wait wait wait wait wait … charging a pacemaker? Okay, I'm no medical professional, but even I know that you don't charge a pacemaker! When the battery in a pacemaker is dying, they replace the pacemaker! All you writers had to do was Google "charging a pacemaker" and you would have known that. You lazy fuckers. Anyway, Felicity is going to locate the pacemaker with its built-in GPS. Do you … ? Have you people … ? Do you assholes even know what a pacemaker is? GPS?! What. The. Fuck.

Palmer Tower. Atom is meeting with a bunch of suits when Felicity interrupts and asks to borrow his helicopter. No, not in the dirty sense. Sure, no sweat, helicopter's on the roof. Just bring it back with a full tank. Team Arrow takes the helicopter out for a spin and head off to rescue the aldermen. Fucking aldermen.

One of Starling City's myriad warehouses. Arsenal and Canary show up to rescue the aldermen and beat the crap out of a bunch of bad guys. I don't know what Canary's swinging around, but whatever it is, it's taking out bad guys. I think it's a lead pipe. Canary in the library with a lead pipe! Felicity guides them to the aldermen, and Arsenal gets them out of the building while Canary plays a little cat-and-mouse with Brick. He eventually gets a hold of her, but she gives him a quick kick in the yam bags and jumps out a window. Ah, it would seem Brick isn't brick everywhere, is he?

Cabin in the woods. HKP tells Ollie and Yukio that the bodies of those League guys are good and buried. Must have been hard digging in that frozen ground, but whatever. I guess he had time. Ollie tells HKP that Ra's will kill him when he finds out he helped Ollie, so of course, HKP slashes the side of his own throat. He says he'll blame Ollie for that. Smart. Yukio is sad to see HKP go, and HKP might be sad too. He's hard to read. But he knows just how to segue into a …

Flashback. The Phooey family is home safe and reunited. Ollie gives HKP grief about handing over the vial of Alpha – which HKP thought was the real deal – just to get his wife back, but HKP says he'd do anything for her. Even laundry. No matter how it turns out. Yukio thanks Ollie for saving her life. Yeah, yeah, and she saves his in the present. We get it.

Police headquarters alleyway. Laurel shows up with her Sara voice changer to talk to her dad. She keeps her distance, but seriously? Honey, where's your rack? How come you're a foot taller than you used to be? You're also a beanpole now. You used to be jacked. If I didn't know any better, I'd swear you were Laurel. But you've got Sara's voice, so case closed, I guess.

Thea's place. Malcom's on the balcony, waiting for a chat. Thea very adroitly points out that Malcom's obsessed with leaving Starling City, but if Ra's has a hard-on for killing him, it doesn't matter where they go. They'll die either way. Malcom sees reason and agrees to stay and fight. That's an excellent plan. Ra's won't think to look where they live, will he?

Palmer Tower. Felicity tells Atom that his helicopter's back in one piece, and she gives him the doohickey for his super suit that he couldn't get to work. I guess we assume it's working now? Maybe we should plug it into the Portable Alpha Analyzer to be sure.

Verdant. Thea's hanging about when DJ Douchebag shows up. Oh God, what now? Do you want to be paid in singles so it's easier to peel them off at the strip club? DJ says he stopped by because he left his music files there. How do you leave your music files somewhere? There's this thing now called iTunes? Have you heard about it? And there's a cloud too. You should look into this stuff.

DJ says he heard Thea was leaving town, and Thea corrects him. She leaves, and then DJ calls Hong Kong Phooey, of all people, and tells him, in a foreign tongue, that Merlyn's not leaving Starling after all. DJ Douchebag works for the League of Assassins? Shut the fuck up! HKP says he'll let Ra's know. Well this can't be good!

Next week! Finally Arrow comes back to Starling! Oh, we have so much to get you caught up on! Let me 'splain. No, there is too much, let me sum up.
​