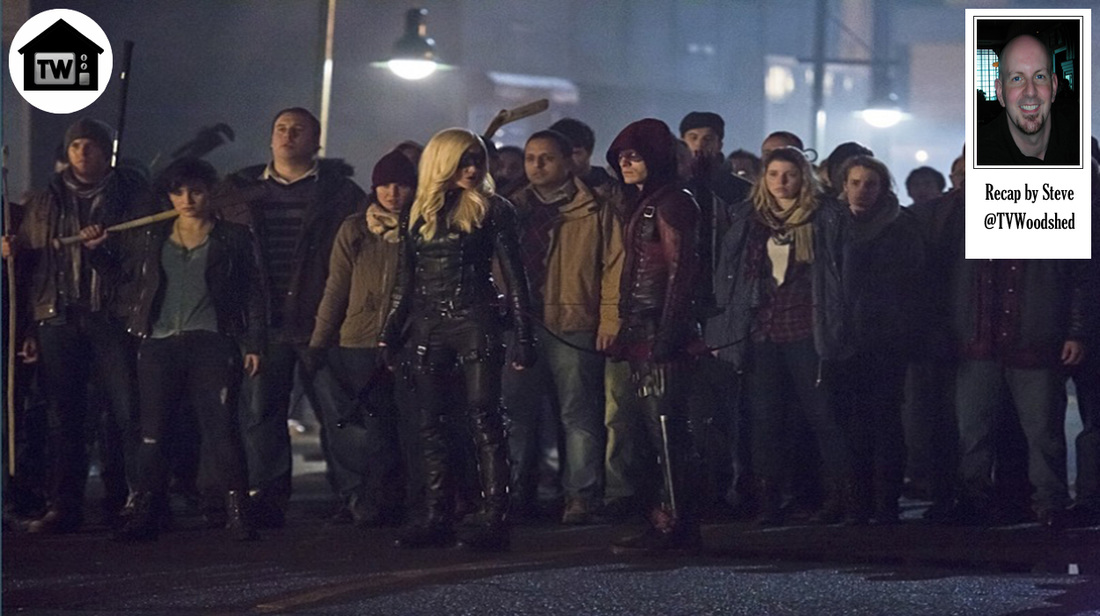 Oliver makes a thoroughly underwhelming return to Starling City and gets rid of the only interesting B-level villain we've had in a good long while. And in the flashbacks, Malcom Merlyn gives Ollie a run for his money in the silliest wig category.
Previouslies. Brick takes over The Glades and no one wants to go after him. Except Team Arrow. Which is really a misnomer, since there are no Arrows left, but I suppose old habits die hard.

Cabin in the Woods. Hey look, Ollie's up and around and dressed to travel. Where we off to, Ollie? Yukio tries to talk Oliver out of leaving because he's still, y'know, punctured, but Ollie says he's got to return to his sister and his city. Don't forget your fern! That thing is probably bone-dry by now.

He asks Yukio to come with him. Where's she going to stay? Ollie seems to forget that he lives in a bunker under a bar and not in the Queen family mansion. Yukio's not interested, so Ollie heads out into the snow. Bye, Ollie! Don't die! Again.

Glades Diner. There's a debate on about all this Brick nonsense when suddenly a baseball bat smashes the bejeezus out of the TV. Hey, I was watching that! The bat-wielding thug and his buddy demand some Brick protection money from the owner. Boys, boys, please! There are less violent ways to get money! Have you heard about reverse mortgages?

Arsenal shows up to settle things down and bat-man – yeah, I did it, and I regret nothing – mistakes him for The Flash. Oh boy, are you WAY off. Of course, Arsenal screws everything up and finds himself with a gun to his head and Black Canary has to save his ass. Man, when you need Laurel to save your bacon, you may as well hang up your domino mask and go back to doing Abercrombie & Fitch ads.

Arsenal and Canary leave the diner and cross paths with Sin. Hey Sin! Haven't seen you since Sara died. I mean – what? Sin calls out to Canary, thinking she's Sara, but there's more crime to fight, so the ArsenalCycle is away! What is it with people not able to see that this Canary is two feet taller and three cup sizes smaller than the old Canary? And Sin especially, since she and Sara … well, you know. Tribbed.

Police headquarters. Captain Lance is hearing all sorts of sad people in The Glades calling for help and he can't do anything about it. Maybe send a basket of muffins? He calls Felicity (Smokin') Smoak and says he wants to help the Hood Squad. That's awesome! Hood Squad!

Lance says he has lots of pictures and papers on Brick, and Felicity says she'll send Arsenal over to pick them up. Upon hearing "Arsenal," Lance asks if they're just picking names out of a hat. Well, no, see there was this vigilante guy? And he had a sidekick, and the sidekick got into a fight with Roy back when Roy didn't really have a name, and said that Ollie would just use Roy as a weapon in his arsenal. And Ollie liked the word arsenal and saddled poor Roy with it. Which doesn't make a whole lot of sense if Roy is the weapon and the arsenal is Ollie's. Should we call Roy "Weapon"? Ugh, that's even worse. Never mind. End sidebar.

Thea's palatial loft apartment. Thea and Malcom are attacking each other with swords. Uh-gain. Don't you two ever just sit on the couch and watch The Big Bang Theory? The swordfight is certainly more exciting than the exposition that follows. League of Assassins, kill or be killed, do or die, you're the best around, nothin's gonna ever keep you down. It ends with Malcom saying he wasn't always a killer and that he became one when he killed the man who killed his wife. Yup, that'll make you a killer all right.

Flashback! It's a character who doesn't look any younger in the past wearing a ridiculous wig. That's our Ollie! Oh, no, wait – it's Malcom. Malcom's got the flashbacks this week? I guess they'll just give the flashbacks to anyone, huh? Anyway, Malcom is in his mansion and he hears Tommy having a nightmare. It's lil' Tommy! Malcom comforts him and does the ol' coin-behind-the-ear trick to cheer him up. Malcom's got all this money and he only pulls out a quarter? Cheap bastard. The doorbell rings and it's two very stoic-looking cops. They take off their hats, which is the international symbol for "Your wife's dead." Or "This hat is really hot." Don't mix up the two!

Alleyway. Arsenal arrives to meet up with Captain Lance. Lance tells him not to bother with the theatrics, he knows it's Roy. WHAT. THE. FUCK. Okay, so you're telling me that Lance has been nose-to-nose with Arrow a kajillion times – including before he even had a FUCKING MASK – and he could NEVER TELL it was Oliver, yet SOMEHOW he was able to figure out that Arsenal is Roy?! THIS IS THE GUY WHO CAN'T EVEN TELL IT'S A DIFFERENT CANARY! Oh my God, seriously, this is bullshit. BULLSHIT! Anyway, Lance gives him the stuff on Brick and tells him to watch Canary's back. Oh, you mean LAUREL'S BACK? Gah!

Hood Squad HQ. Oh, I like that a lot! The Hood Squad is lamenting the fact that all the stuff Captain Lance gave them on Brick is junk. We can't have nice things! Felicity gets a beep on her computer, which magically cross-references the gun that killed the alderman (let's not start that shit again) last episode with the murder of Malcom Merlyn's wife. So Brick killed Rebecca Merlyn. We have the episode's raison d'être! Malcom, who apparently shops at the same micro-mini camera store that Slade Wilson did, sees Team Hood's revelation in the same camera shot we do. Oh, maybe he's just watching the episode, then. Swell the music!

Woods. Ollie is slowly making his way home, and for some reason he's wearing a winter cap and a bathrobe. Well, wherever he is now, there's no snow or wind, so I guess he's okay. He calls out Yukio for following him, and they decide to build a nice little campfire and tell ghost stories. I hope Yukio brought s'mores! They talk about Ra's al Ghul, and Yukio says "Only the student has hope of defeating the master." So I'm guessing she works for a fortune cookie company now?

Malcom's place. Merlyn is sharpening up a sword when Thea comes home from her prostitutes' convention. Seriously, where does she get these clothes? Malcom tells Thea that he killed the wrong guy, but it's cool, he's going to go kill the right guy now. Don't wait up! Thea says she doesn't understand, and Malcom says that's because she's not a killer. I dunno, she killed Sara pretty good, didn't she?

Flashback! It's Rebecca's funeral and Malcom is sad. So are lil' Tommy and lil' Oliver. I think. It's hard to tell, their acting is so bad. Some bald dude who looks a lot like me shows up and gives Malcom a photo of the guy they think killed Rebecca. I think it's a photo of Ben Affleck. Is this the Batman crossover we've been waiting for?

Hood Squad HQ. The team entertains the notion of letting Malcom loose on Brick and solving their problems for them, but that notion is tabled when they realize Brick's men have been using walkie-talkies. Cutting-edge '70s technology! Felicity uses the radio signals to find Brick. He's at the Glades police headquarters. Oh, well, we're all set then. Who wants sushi?

Glades police headquarters. God, it looks like Animal House in here. Hey, use some coasters, why don't you? Brick is meeting with the two guys from the diner and he's not happy that they got their asses kicked. Brick shoots the one guy and is about to shoot the other when the power goes out. Oh, I can't shoot a guy in the dark! Arsenal and Canary sneak in and start taking out henchmen, who apparently forget they're holding automatic weapons.

Brick takes over the shit show with a gun that shoots explodey bullets, and he's just about to rid us all of the blight that is Black Canary when Dark Archer shows up. He's got some explodey weapons of his own, and the ceiling caves in on Brick. Ow! The ceiling hurts! Malcom tells Arsenal and Canary that they need to talk. No, it's fine! Welcome to Team Hood! Here's your temporary membership ID card. Don't lose that!

Hood Squad HQ. Malcom asks if he can join Team Hood as a permanent member. The idea doesn't go over well, but he leaves the gang to consider it. It's not the worst idea, really. This guy is minted. We could move out of the basement and onto an orbiting asteroid!

Verdant. Roy and Thea mope about their respective problems – which happen to be the same problems – while a trio of Brick's goons help themselves to whatever booze they want down at the bar. Um, Arsenal? There's a trio of goons helping themselves to whatever booze they want down at the bar. Are you gonna … ? No? Just gonna mope? Okay, then. Thea reveals that Malcom saved her life during Deathstroke Day. Roy says, "I didn't know." That should be Roy's go-to response for everything.

Hood Squad HQ. The gang is squabbling over Malcom's application. Says here you're a murdering psychopath. Could you tell us a little more about that, please? Roy comes down and tells them about Malcom's heroics on Deathstroke Day, and it ends up in a vote. Which we don't hear. Suspense!

Verdant alleyway. Digg hangs around until Malcom shows up. Ooh, sorry, bad news, Malcom. We're not really hiring right now. But thanks so much for your interest, and if anything opens up in the future, we have your information.

Flashback! In another alleyway, Malcom and his awful wig confront the guy he thinks killed his wife. Yeah, that's not Ben Affleck. Shame. Malcom somehow manages to get his ass kicked despite having a gun, and he bleeds copiously from some blows to the face. That's odd. People get punched in the face on this show all the time and have nary a scratch to show for it. Maybe Malcom's on Coumadin. He gets the gun back and before we can see if he uses it or not, we're back in the present.

Some road somewhere. I really wish it was clearer where the hell Ollie is. I thought the cabin in the woods was in Barba Papa, or whatever that fucking place is called, but Hong Kong Phooey said he was going to Barba Papa when he left the cabin. Whatever. Ollie arranges passage on the back of a truck. Guess he's looking for some day labor. A ride on a bouncy road exposed to the elements has to be good for what ails you, right? Yukio gives him some more fortune cookie advice and sends him on his way. Bye, Ollie! Remember to hold your guts in!

Malcom's place. Thea shows up in yet another hooker getup and she and Merlyn chat for a bit, but really it's just a setup for a flashback. Or maybe the episode ran short. Either way, we move to the …

Flashback! Malcom is washing the blood from his hands. Out, damned spot! Out! I guess this means he ended up shooting the guy, but then why would he have blood on his hands? God, young Malcom really had no idea what he was doing, did he? He packs up his stuff and heads off to skip town, leaving lil' Tommy behind. Meh, Tommy's 10 years old, he'll be fine.

Hood Squad HQ. Nobody really has any idea what they're supposed to do about Brick now that Malcom's not part of the team, but Laurel comes up with the brilliant idea of recruiting Starling citizens to march on the Glades and take it back. Laurel, you're a veritable fount of bad ideas. But that's all they've got, so Laurel goes to recruit Ted, her boxer/trainer/one-time love interest. Roy goes to recruit Sin, who once again calls him "Abercrombie." I love Sin. But wait, that's all we've got? Ted and Sin? Oh, this is gonna be a slaughter.

Glades police headquarters. Brick and his boys are headed out when they bump into Arsenal and Black Canary. Brick is amused. He tells our heroes that they're outnumbered, which is somehow a cue for legions of Brick's gang to come pouring out. Were they all just standing there, waiting for something to do? Sin wins the award for worst line of the series when she appears and says, "Think again, Brick-head." Then legions of Arsenal and Canary's newly formed gang come pouring out. This has all the choreography of West Side Story.

The Sharks and the Jets clash, and Brick's men somehow forget that they're armed. With guns. Hey, fellas? You're armed. With guns. This fracas could be over in, like, 30 seconds. No? You'd rather rumble? So be it. Just don't damage your walkie-talkies.

There's punching and kicking and shouting galore, and Brick pairs off with Ted, who's wearing a ghetto costume and mask and calling himself "Wildcat." Sorry, Ted, but I really hope you get your ass handed to you. And he does! Brick beats the snot out of him! Canary leaves the fray to tend to the fallen Ted. Hey, Canary? We could use you right now! Hello? We're getting killed out here!

Brick retreats down an alleyway and runs into Dark Archer, who gives him a beatdown and then threatens to shoot him in the face. Turns out Rebecca was Brick's very first kill, his initiation into the Orchid Bay Butchers. Is that a gay club? Oh, it's a gang. Really? It's a gang? Is it a gay gang?

Malcom's about to pop Brick when Arrow shows up. Hi, Arrow! Is your tunic holding your guts in place? Arrow tells Malcom not to do it. But I wanna do it! No, you don't. Do too! Do not! And on and on like that with no real resolution.

Police headquarters. Captain Lance is on the phone when he gets a notification on his cell, and he tells whoever he's talking to that there's something he's got to go see. Is it the Blue Man Group?

The Glades. Lance arrives to find the Starling City Gang (I guess?) gathered around a van. On top of the van is Ollie, making such an embarrassing speech I'm going to gloss right over it, and a loopy Brick is being held up by the cops. Just an aside, Brick in the comics is invulnerable. I wish this Brick was invulnerable. He's awesome, and now he's just finished like some lame-ass villain of the week. Boo!

Captain Lance starts cleaning up, and Sin finds him and thanks him for bringing the cops back. Lance recognizes her as a friend of Sara's – yeah, a grinding, scissoring friend, baby! – and Sin drops the bombshell that whoever that blonde in black leather was, it wasn't Sara. Didn't notice that when you were figuring out who Roy was, Captain?

Thea's megaloft. Malcom stops by to tuck Thea in and assure her that he didn't do the bad thing. Yay, my dad's a hero! Ollie pops in and Thea demands to know where he's been all this time. Ollie says he was in jail in Bludhaven. Maybe we should get a Bludhaven spinoff instead of the Atom one. It sounds like a happening little town!

To Thea's surprise – and ours, frankly – Malcom and Ollie make nice, and Ollie takes Malcom aside and asks for some training. Hey, maybe you and Thea can sign up together! Get the family discount. Ollie wants to learn how to kill Ra's al Ghul, and Malcom tells him "Only the student has hope of defeating the master." You read that in a fortune cookie!

Flashback! Malcom arrives at the house of Ra's. Lil' Nyssa is fighting some dude and wants to know why she shouldn't kill Malcom. He does the quarter-out-of-the-ear trick again. Is that enough of a reason? I guess it must be, Malcom's still alive. Nyssa gives him the nickname "The Magician." Oh that's original.

Hood Squad HQ. Ollie comes back and says hi to the gang. Hi, gang! I'm back from the dead! Everything is very sweet until Ollie tells them that he's working with Merlyn. But we told him he couldn't be in the club! Mixed messages, Ollie! Felicity is particularly wounded by this turn of events and decides she needs some air.

Alleyway. Ollie catches up to Felicity, and she clues him in that a gal saying she wants some air means to leave her the fuck alone. They bicker about the whole Merlyn thing, and then Felicity reminds Ollie that he told her he loved her. Her take now: "I don't want to be a woman that you love." Oh, wow. Oof. Harsh. Pass Ollie the aloe vera, because he just got BURNED.

Next week! The bad news is that we're recycling Vertigo, a bad guy of the week who wasn't the least bit compelling the first few times around. The good news is that his drug makes Laurel trip and she sees Sara. Yay! Sara's back!
​