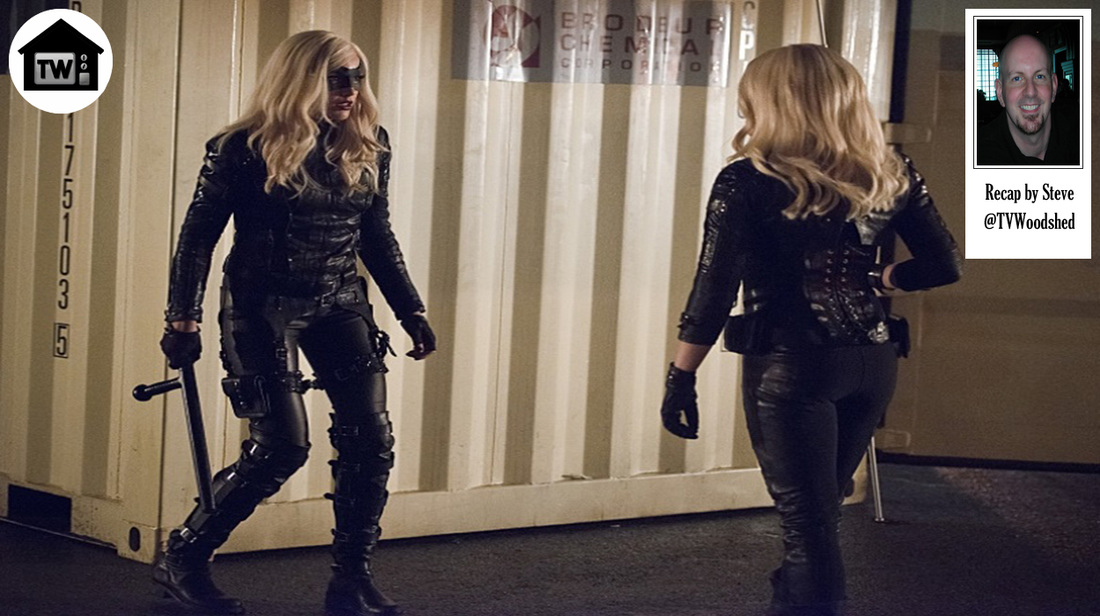 Count Vertigo returns to Starling City, to the delight of no one, and Laurel trips out and has a drug-induced vision that brings Sara back. So at least Laurel's good for something this week. Also, everyone knows that Ollie's the Arrow now, so that whole secret identity thing was an epic fail. Batman is shaking his head in disgust.
Previouslies. Captain Lance is being baby-stepped toward the realization that Sara's not the Canary anymore, Ra's al Ghul is gonna come for the Queen family unless Malcom Merlyn trains Ollie, and DJ Douchebag turns out to be an operative for the League of Assassins. This town, I tell ya.

Well, with a title like "Canaries," there's no way around it – it's going to be hot and cold running Laurel this week. Rrrrgh, I hate Laurel! She's a selfish bitch! She's not a hero! She's a liar and a fraud and an addict! Why is she trying to take Sara's place? Oh man, I just – I wish someone would smash her across her stupid face with some kind of bo staff, y'know? Anyway, let's recap.

Docks. Or someplace with shipping containers, anyway. That's gotta be docks, right? Hey look, the Black Canary's getting her ass kicked! By the Cleavage Canary? Well that's unexpected. Cleavage Canary smacks Black Canary around a bit and then tells her she's a selfish bitch. Yeah! And she's not a hero. Right on, sister! And she's a liar and a fraud and an addict. Testify! She asks why Black Canary's trying to take her place, and then smashes her in the face with her bo staff. Wow! It's like they read my mind!

Forty-eight hours earlier. Aw, man! I wanted to see more of Laurel getting her face pounded in! Anyway, Arrow and Arsenal are chasing some scumbag across a rooftop. The guy's really fast. If only we had some sort of – I don't know, long-range weapon we could use to take him down. Roy, make a note: need long-range weapons of some sort.

The chase leads them to an alleyway, where Black Canary pops out and thrashes the poor lad. It's your fault I'm so poorly written! Take that! And that! And that! Arrow takes her aside and tells her he doesn't want her out on his beat. Fine, catch your own running scumbags from now on! Black Canary says that saving the city is something a hero would do, and Arrow tells her she's no hero. That's what I've been saying!

Hood Squad HQ. Oliver grouses to his team about Laurel being underfoot, and then Malcom Merlyn pops in to say hello. Does this guy have a Hopper Pass or something? Can't we change the locks? Malcom says that to protect Thea and defeat Ra's al Ghul, it's time for Oliver to tell her his secret. Well, shit, everyone else knows at this point, right? Malcom doesn't want Thea to keep on thinking her brother is nothing more than a reformed playboy and failed businessman. Hey! Ollie may be a reformed playboy and a failed businessman, but … erhm … well … at least he's not Roy!

Flashback! God, this Hong Kong storyline really is an albatross around the neck, isn't it? Hong Kong Phooey tells Oliver that they're leaving and to pack his shit. Road trip! He says that Amanda Waller's not going to be happy about all the bad stuff they did, so he tells Ollie to get the word out that he's still alive. Call your mom! Issue a press release! Arrange a comeback tour! The Phooeys are hopping on a slow boat to Shanghai. Is that still a place? I thought it had been renamed, like Persia. I suppose I should do research every now and then.

Starling City courthouse. The cops are transporting Mr. Tzeitel, aka Count Vertigo, aka Vertigo back to the prison van amid a sea of reporters. Is his name really Tzeitel? Maybe he's upset because Tevye is forcing him to marry Lazar Wolf the Butcher instead of Motel the Tailor. Maybe I went too far afield for that one.

One of the guards transporting Tzeitel starts seeing scary faces all around him and starts shooting the press. Haven't we all wanted to, though? Someone in the crowd shouts for an alderman to stay back. Do not start that alderman shit again, I'm serious. Laurel knocks the guard on his ass, but in the confusion, Vertigo escapes. He's in an orange jumpsuit in the middle of the city in handcuffs. How hard could it be to find him? Too hard, apparently.

Verdant. DJ Douchebag shows up and asks Thea what she thought of his set last night. Oy, this guy. You know what I'd like to see happen to this guy? I'd like him to pop open a vial of cyanide and drink the whole thing, that's what! Thea tells him he needs to work on his game. Exeunt Douchebag, enter Ollie. He tells Thea he needs to show her something. Rowr. What? They're not that related!

Ollie says he needs to show Thea the basement, and Thea says Ollie told her it was flooded. That's what's kept Thea out of the basement all this time? There's a responsible club owner for you. In the basement, Ollie hits the lights and Thea looks around in wonder as he apologizes for lying to her. We (and Ollie) brace for the backlash, but Thea's all proud of Ollie for saving so many lives. She cries and hugs him. Hey. Hey, knock it off, Arrow. What are you doing? Stop making me feel something, dammit! Stop connecting me emotionally to these characters! Don't!

Thea's colossal loft. Colossaloft? That'll work! Thea and Ollie get all up to speed on this whole Ollie being the Arrow thing. If I'm not mistaken, Captain Lance is the only one left who doesn't know. But hey, I'm sure Felicity (Smokin') Smoak, Digg, Roy, Laurel, Thea, Deathstroke, Malcom, Amanda Waller, Lyla, Barry, Caitlin, Cisco, Dr. Wells, and Joe can all keep a secret, right?

Malcom shows up, and Thea reads him the riot act for driving a wedge between her and Ollie. And manipulating her. And being a general douchebag. Then she storms out. That went well. I'd say we're overdue for a …

Flashback! Ollie is on a pay phone leaving Moira a message that he's alive. Mom, I'm alive! I'm in Hong Kong! Can you come and pick me and my friends up? He's just finishing his message when an ARGUS goon hangs up the phone on him. Hey! Rude much? There's a short chase that ends with Ollie getting a Taser to the back of the skull. Jesus, that's gotta hurt. Luckily, Ollie doesn't have much up there to damage.

Hood Squad HQ. The Hood Squad determines that one of the reporters trying to interview Tzeitel was the one who dosed him. A drive-by dosing! Ollie wants the reporter's name, and while Felicity digs for it, he takes Laurel out to the alleyway for a little one-on-one. Oh God, here comes the speech.

Ollie tells Laurel that she's an addict. Yeah, we know, tell her how stupid she looks in the costume and how clumsy and useless she is. Go on, tell her. Apparently Laurel is addicted to the absence of pain over losing Sara. So she's addicted to nothing? Laurel tells Oliver to go to hell. Or Bludhaven, whichever's worse. Hey, how's my idea for a Bludhaven spinoff coming along? Do we have a Nightwing yet?

Laurel storms off and Roy pops out to give himself a line this week. Felicity found the reporter. His name is Anthony Walker. Oh man, that's a reporter-sounding name, all right. Let's go get 'im!

Office. Arrow and Arsenal bust down the door and demand to know where Tzeitel is. Pleading with the matchmaker, maybe? Walker is sweaty and upset because Tzeitel threatened his wife, and now he's given him the assignment of strapping a bomb to his chest and blowing up the Arrow boys. Well sure, that would be difficult for anybody, but surely – wait, what? Arrow and Arsenal don't flinch when they see the bomb. See, I'd flinch if I were you, gentlemen. Arrow tries to talk Walker down, but he presses the kerboom button and KERBOOM! The Arrow boys jump out the windows with flames all around them and land on a couple of car windshields, so they're fine.

Colossaloft™. Ollie arrives to find Thea still awake. So how was your day? Oh, y'know, went looking for Count Vertigo and got blown out of a building by a wad of C4. You? Ollie says that for now, they need to work with Malcom. He's got a great idea for a startup. Thea says she won't trust him. Fair enough, but just look over this business plan. It's solid!

Flashback! Ollie's being waterboarded! I hope his wig stays on. Amanda Waller is running this cozy little torture session and demands to know where the Yamashiros are. The first time I watched this, I would swear on a stack of Bibles that she was asking where the Amish heroes are. Pennsylvania? Waller tells Ollie that they erased the message he left his mother. ARGUS can do that? Jesus, their technology is seriously advanced. Waller dangles the idea of them hurting Thea in front of Ollie's dumb face, and he folds like a cheap suit. Nice one, Ollie.

Laurel's office. Captain Lance stops by with some cargo manifests for Laurel, like you do, and they chat about Sara. Lance wants to know if Laurel's heard from her. Of course not, dad, she's dead. I mean – what? Lance keeps dancing around the BIG REVEAL but won't commit to it, leaving Laurel with that weepy guilty face we've all gotten so used to. Dad, wait! Oh, never mind.

Verdant. Roy shows up in his red hoodie. God, don't you ever switch off? He and Thea talk about the whole vigilante life and the Malcom thing, and then Ollie pops up to "borrow" Roy. It's the love that dares not speak its name! In the Hood Squad HQ, Felicity tracks Vertigo to the docks. Y'know, the docks? Only she's not tracking Vertigo, she's tracking Laurel, who apparently went down to the docks to get her fool self killed. Ollie says to suit up. No no no no no, let Laurel get her fool self killed! It'll solve so many problems.

Docks. Black Canary is recreating that scene from Batman Begins, watching Vertigo and his hired goons fussing around with shipping containers. One goon approaches her – instead of shooting her with his machine gun – and she takes him out. The commotion puts everyone on alert. Nice one, Laurel.

Vertigo gets the drop on her, because she sucks, and is able to inject her with a drug dart. Because, again, she sucks. The drug makes Laurel think that Vertigo is Cleavage Canary. And then all the selfish bitch, not a hero, liar, fraud, addict, and bo staff with which we started the episode. Nice, we're all caught up. Vertigo looks like he's going to finish Black Canary off, but the Arrow boys show up. Ah, nuts. Arrow and Arsenal beat up the goon squad while Vertigo escapes in a truck. And of course they can't chase him, because Black Canary's all "Help me, please!" What a fucking liability she is, seriously.

Hood Squad HQ. Ollie runs in carrying a still-tripping Laurel and asks for an IV. While Laurel's on the table, she looks up at Felicity and sees Sara, who asks, "Why did I have to die?" A question we've all been asking for months, sweetie. They get Laurel sedated and Thea picks the worst possible moment to pop in for a chat. Get outta my room, Speedy! Now! Or I'll tell dad! Um. I'll tell mom! Yeesh. Just get out! Thea gets out, and Ollie wonders if giving her the entry code was such a good idea.

Verdant alleyway. Thea, apparently now a cat in heat, bumps into DJ Douchebag. She says her life is complicated so she just needs something simple. Well shit, if you need simple, you came to the right guy! They leave, and creepy Roy watches them go.

Verdant. Ollie's at the bar having a drink and Digg joins him. Good ol' Digg. Ollie gets a pep talk about his crusade becoming other people's crusade, and Digg asks if he can live with what his dream has become. Ollie, if it includes Laurel, say no.

Flashback! Ollie is chained up in a room somewhere. There's some commotion, and Hong Kong Phooey is unceremoniously dumped in. Ollie feels bad because he NARCed on the Phooeys, but HKP anticipated Ollie being a spineless, worthless stool pigeon and fed him false info. They were never on the ferry to Shanghai! There is no ferry to Shanghai! And there is no Shanghai! HKP sent his family off to be safe and then came back to help Ollie. What a dolt. You'll regret it, I promise you.

Hood Squad HQ. Laurel's awake. Inform the media! Felicity gives her a sympathetic ear, some coffee, and a shoulder to cry on. And tells her to stop wearing Sara's mask and to wear her own. Oh, Felicity. What will we do without you when they spin you off to the A.T.O.M. show?

Colossaloft™. Thea and DJ Douchebag did it! Eeeeewwwww! She's gonna smell like weed for weeks! They have a little post-coital chat, and DJ gallantly offers to pour her a drink. Smooth, I gotta remember that. He pours the wine and they're about to drink, but all that Malcom training has made Thea's nose sensitive to cyanide. Bastard! She grabs a knife and there's a scuffle, but she ends up with the blade to her throat. I wish we could be just a little more consistent with how well-trained Thea is in hand-to-hand combat.

But no need, here's Arsenal to save the day! Was he hanging out in the hallway, listening? Even when DJ and Thea were doing the old in-out in-out? Nice. Roy throws down with DJ and ends up on the floor. God, everyone is so USELESS around here! It's DJ Douchebag, Roy! And you're losing to him! Thankfully, Dark Archer shows up and plugs DJ in the shoulder with an arrow. Was he hanging out in the hallway too? He offers DJ a quick arrow-related death, but DJ pops open a vial of cyanide and drinks the whole thing. Called it.

Hood Squad HQ. Vertigo has found a place to make Vertigo. There's a semantically null sentence for you. It's a pharmaceutical warehouse, and Felicity can somehow tell that Vertigo's got hostages. Is she using the Marauder's Map? Ollie wants Roy, but Digg can't reach him. Oh, Roy's useless anyway. Ollie looks around and sees the only thing left is Laurel. Ugh. Okay, dummy. C'mon, let's go.

Warehouse. Vertigo has a bunch of pharmacists chained up and they're making Vertigo. Bad pharmacists! Arrow and Black Canary arrive to bust up the joint, and instead of wrapping up Vertigo in a fancy arrow, they give him enough time to set the fucking place on fire. Luckily, all the pharmacists are chained to the same spot. Kinda like CVS. Arrow rescues everyone, like a good little hero should.

Black Canary chases Vertigo down and gets stuck with ANOTHER DART. God in heaven, is there anything you're GOOD AT? She starts tripping again, and fights with Vertigo Sara, and then Vertigo Sara turns into Vertigo Captain Lance, who screams at her for not telling him about Sara being dead. Yikes. Black Canary shakes it off, and then pounds the snot out of Vertigo. She looks over and sees Sara smiling at her. No, don't do that! You'll only encourage her! Felicity calls Arrow and tells him he's got to go home because of Thea. Oh, Thea. What is it now? Oh yeah, right.

Police station. There's some guy taking Captain Lance's blood pressure when Laurel shows up. Um, blood pressure guy? You might want to stick around. Laurel's got something to tell her dad. Oh geez. Lance says he already knows – that Sara's off somewhere doing her thing and that the new Canary is Laurel. Well … you're half right. Lance figures out what Laurel's trying to tell him and collapses in his chair, sobbing. Laurel holds him and they cry together. Stop it, Arrow! Don't you dare hit me in the feels twice in one episode! I AM STONE!

Colossaloft™. Roy is sitting with Thea when Ollie pops in. Where were you when we needed a real hero? Ollie asks Roy for a minute alone with Thea. And Malcom, apparently. Malcom tells Ollie and Thea that Ra's al Ghul preys on the fear of his enemies, and there's only one place on earth that the two of them can conquer their fears. Quick jump to Hood Squad HQ, where Ollie tells the gang he'll only be gone a few days, and to Verdant, where Thea thanks Roy for everything he did. Oh, you mean fall down and not stop DJ Douchebag? Sure, what are sidekicks for?

The Island. Yes, that island. Thea grouses about the accommodations, but Ollie tells her to give it time. Okay, hang on. First of all, I might buy the notion that Ollie could conquer some fears being back on the island, but how is it supposed to help Thea? And second, they're only going to be there a few days. How many fears can they possibly conquer? This has all the earmarks of a writers' meeting where the head writer said, "Look, we just want to see Deathstroke again. So I don't care how you do it, just get them to the island." Lame.

Flashback! Ollie wakes up in Amanda Waller's limo with Hong Kong Phooey next to him. Waller says that Ollie is uniquely qualified to track down China White, who is "here." "Here" winds up being Starling City. So let me get this straight – modern-day Ollie is back on the island and flashback Ollie is in Starling City? Has the whole world gone topsy-turvy?

Next week! Unleash the Deathstroke! And bring back Tommy in the flashback!
​