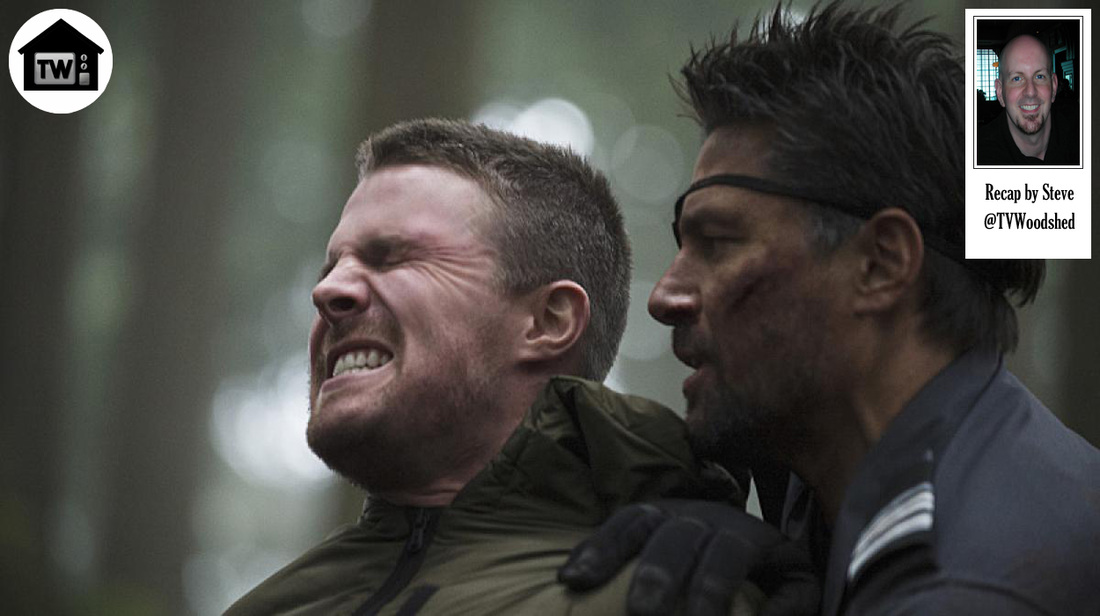 If I'd given a box of Crayons to a blind, half-retarded bonobo and asked him to write me an Arrow script, I would have gotten a better one than this week's utter schmoz of an episode. All I can think is that they couldn't afford the regular writing team this week because they blew the budget on silly wigs.
Previouslies. Thea killed Sara, the Alpha and Omega, Ollie's dad's book (!), Season 1 Ollie and Digg, and so forth. Let's get this turd-fest rolling!

The island. Yes, that island. I know, right? Ollie and Thea are using bamboo sticks to re-create the Obi-Wan/Anakin duel on Mustafar. "I loved you! You were the chosen one!" Ollie is impressed by Thea's skills. Eh, they kinda come and go, depending on the week. Later, Ollie and Thea hunker down for a meal of some unidentified meat. Rabbit? Osprey? Blind, half-retarded bonobo?

They chat about how weird it is for them to be on the island together, and Thea's happy that there are no more secrets between them. You killed Sara! I mean – what? Thea asks Ollie if, when he was on the island before, he ever thought he'd see his family again. Well, my lil' Sara killer, to answer that we're going to have to go to a …

Flashback! Amanda Waller is holding a meeting with Hong Kong Phooey, a bunch of gun-toting guys who have no lines, and Ollie, with possibly the silliest wig of the season. Congratulations, Ollie! Waller informs them that China White is in Starling to auction off the Omega. HKP says it's useless without the Alpha, but Waller says that whoever buys it can make their own Alpha. It's Make Your Own Alpha Day!

There's a guy named Peter Kang – or it might be Peter Kodos, I forget – who works at Queen Consolidated and is somehow involved in the Omega sale. Is he a fence? A stooge? A lackey? I don't think it's ever clear exactly what Peter Kang's role is in all this, but either way, Amanda warns Ollie that if he tips off anyone that he's in Starling, she'll eliminate him, Hong Kong Phooey, and whomever he tries to contact. Harsh!

Streets of Starling. HKP fumbles some paperwork next to a car so that he can plant a tracker on it. Thankfully, everyone in Starling is a dick and no one offer to help him gather up his papers, so the plan goes off without a hitch. HKP meets up with Ollie, who is trying to cover his dumb wig with an equally dumb cap, which may or may not bear the logo of the local Starling City sports team. Anyone? Comic book nerds? Help a recapper out here. The tracker is on Peter Kang's car, which is on the move, so Ollie and HKP follow like some low-rent Crockett and Tubbs.

Bar. Hey, it's Captain Lance! Oh wait, he's got hair, which means we're still in flashback, which means he's still Detective Lance. Officer Lance? I don't know what season we're in. Enter Laurel, looking exactly the same. See, Laurel sucks no matter what time period we're talking. Lance is drinking to Sara's memory. Wait, what? Oh, I see. From when Sara died the first time, on the Queen's Gambit. Right. Honestly, Lance, if you watch the pilot, it's a different actress playing Sara altogether, so there's no need to be sad. Laurel and her dad bicker back and forth until Laurel convinces him to leave. Laurel, ruining everyone's good time since 2010.

Queen Consolidated. Ollie and HKP watch Mr. Kang go into the building and discuss plans to hack into his computer. Ollie's going to have to sneak in at night and do things the hard way. So be it! Stick me into the ventilation ducts and let's Mission Impossible this bitch! Ollie looks over and spots a young lady in a schoolgirl uniform. Rowr. Ollie says "Oh my God." Right there with you, buddy, that schoolgirl look is hot. Oh. It's Thea. Never mind.

The island. Ollie is moaning about Sara in his sleep. And we can't see where his hands are. Not judging, just saying. Thea wakes him up and wants to know why Ollie didn't tell her that Sara died. Because you're the one who filled her up with arrows! I mean – what? Thea keeps pressing the issue and Ollie keeps dodging until finally he announces he's going to take a walk and clear his head. I know, right? Imagine being stuck on an island with Thea? I'd have put an arrow in my own head by now.

Island prison. Ollie pops in to say hello to Slade Wilson, and possibly Digger Harkness. Who we probably can't afford, with all the wigs and whatnot. The cage door is busted open and while Ollie makes the discovery of a dead guard on the cot instead of a live Slade, we hear Slade's threatening voice. Is that in Ollie's head, or is Slade still nearby? Ollie makes a mad dash out to find Thea, but she's probably dead already. So no rush.

Campsite. Ollie comes running back in a panic. Oh relax, Ollie, it's only Thea, for Cliff's sake. Ollie finds her and confesses that he was keeping Slade prisoner, but before he can explain, Malcom Merlyn calls. Yeah, hi Malcom, not really a good time. Merlyn more or less owns up to releasing Slade, and then tells Ollie his cell phone will stop working after their call. Ollie must have T-Mobile. Ha! Burn! Thea and Ollie skedaddle.

Flashback! Ollie watches IN BROAD DAYLIGHT as Thea goes to visit his and his father's graves. Maybe he assumes with the stupid wig and the stupid hat, there's no way she'll recognize him. Turns out Thea's really there to buy Vertigo from a scumbag drug dealer who looks a bit like Jason Mewes' stunt double. What is it with this show and scumbags who look vaguely like Jason Mewes? If you want Jason Mewes, just hire him! How much could it possibly cost at this point?

The drug deal is clouded by the arrival of Tommy – hey Tommy! – who doesn't have a stupid wig, but does have kind of a dorky haircut. He chases the dealer off and then gives young Thea no end of grief for being a … what would you call it? Vertigo head? Vertigan? He also tells her she can't come to his birthday party and that she shouldn't try to grow up too fast. She says, "You're not my brother." Well. Erm. Moving on. They both have some rather unkind things to say about Ollie, who can hear them perfectly even though he must be A HUNDRED FEET AWAY for them not to spot him and his stupid hat.

Island. Ollie digs a gun out from one of the island's graves and gives it to Thea. I don't know much about guns, but is that gun going to work? After being exposed to the harsh elements on an island for months on end? I guess we'll see. Ollie determines that Slade's been there. Not only has he been there, here he is now! Hi Slade! He knocks both Ollie and Thea out with ease. Should have practiced more with the bamboo, I guess.

Prison. Ollie and Thea are in Slade's old cell, and Slade's on the other side of the bars. Well this is a fine how-do-you-do. Slade says he's not going to kill them, but he's going to send a couple of charred corpses to Starling to make it look like Ollie and Thea are dead. That seems awfully complicated. How about just a suicide note? Slade's going to leave them just like Ollie left him. I shall leave you as you left me, as you left her; marooned for all eternity in the center of a dead planet ... buried alive! Buried … alive ...! KHAAAAAAAAANNNN!

Slade brings up Shado. Oh, not this again. Look, Shado was a lovely gal, but GET OVER IT! Slade says Shado is the reason all this is happening. Eh, not exactly, but I see where you're coming from. Slade leaves Thea and Ollie and locks the outer door behind him. Slade? I need to go to the bathroom, Slade. Slade?

Flashback! Ollie breaks into his dad's office at Queen Consolidated. His thumbprint somehow gains him access to the system, which is not only absurd, it raises myriad questions. Don't they have an IT department that will see a dead guy's thumbprint was used to gain access? Isn't Felicity (Smokin') Smoak in IT at this point? She's a pretty smart cookie. Ah, whatever. Ollie's able to hack in and get what he needs, along with a conveniently placed "For_Oliver" file, which he downloads onto a separate flash drive.

In the first pointless cameo of the episode, Felicity swings by the office to drop off some papers and Ollie has to hide while she moons over the photo of him on Robert's desk. Wait, hang on – both Ollie and Robert have been declared dead. Why does Robert still have an office with a working computer? And why would Felicity be dropping off paperwork to a dead man? See? See what I mean about the retarded bonobo?

Hotel room. HKP and Amanda Waller are sorting through the data Ollie downloaded when Waller notices that Ollie's gone. He just stepped out to switch wigs, he'll be right back.

Tommy's house. A big ol' party is in full swing, with that shitty cover of Dead or Alive's "You Spin Me Right Round" blaring. In the second pointless cameo of the episode, Digg is working security for the bash. We do get a chance to meet Digg's kid brother, which I don't believe we ever have before, so that's something. Not something necessary, but something.

Ollie weaves his way through the party hiding his face under a hoodie, which is in no way conspicuous. Tommy and Laurel chat for a bit, and I suppose we're meant to believe that Ollie is once again eavesdropping from a hundred feet away with the music blaring, but I gave up on this episode a while ago, so sure, Ollie can hear everything. Tommy sours when he spots "Queen," but he means Thea, not Ollie. Swerve! Tommy tries to kick Thea out, but she's wearing her brand-new hooker outfit and isn't going anywhere.

Ollie tracks Jason Mewes upstairs and roughs him up, telling him to stay away from Thea. Jason Mewes recognizes him – though NO ONE ELSE at the party did – and pulls a knife so Ollie is forced to break the guy's neck and throw him over the balcony. None of which is the least bit conspicuous. Way to stay low, Ollie.

Prison. Ollie and Thea brainstorm about how they're going to escape. Ollie tells her there's another prisoner, but he won't be of any help. Unless you need to throw an exploding boomerang at something. Which … nah, forget it, we're overbudget as it is.

Thea keeps nagging Ollie to tell his secret, but hush child! Ollie's formulated a plan! He says that the prison cell was built specifically for fully grown men. Okay, seriously? You seriously think that the prison cell designers sat down and said, "Okay, let's move forward on the assumption that we'll never, ever have to hold any women – specifically small women – in these cells." Sigh.

Ollie moves forward with this ridiculous notion by having Thea try to reach the door release switch, but she can't. So Ollie separates her shoulder, and then she's able to do it. Oh my God, we're just … we're just throwing all logic out the window then? The amount of pain Thea would be in, reaching through bars with a SEPARATED FUCKING SHOULDER? The fact that all other considerations aside, Ollie would have longer arms anyway? Ugh. Fine. Escape the prison, then. I'm done with you.

Tommy's mansion. Things have grown somber as all of the partygoers mill around outside while the police figure out what happened. Those police include a drunken Detective Lance, who chooses this moment to have a very public spat with Laurel. Professional! Ollie skulks in the background, and naturally no one notices him. Nor do they notice when Hong Kong Phooey arrives to lead Ollie away at gunpoint. Observant!

HKP yells at Ollie for putting himself in such an obvious spot to get caught. I know, right? Ollie insists that he kept the hood over his face, and HKP – in the only really good moment of the whole episode – tells Ollie that wouldn't work even if he smeared grease paint all over his face. Ha! <Snort> Nice one, HKP. You're growing on me. Ollie says he's done with this whole caper. Much like I'm done with this whole premise. But we both have 18 minutes left, so we'll have to make the best of it. Ollie offers to shake HKP's hand, but HKP leaves him hanging and drives off. Snap!

Island. Ollie and Thea are running through very evenly spaced trees when Thea calls out that she thinks she's found a path. There are a MILLION FUCKING PATHS through this goddamned – mmmm, nope, not gonna do it. Fine, Thea. Run on the path. Thea trips a wire and a big spiky thing swings down. Ollie pushes Thea out of the way but gets winged himself. Nice one, Thea. Still proud of that path you spotted?

Thea insists that they rest, and while they do, starts pressuring Ollie to spill his guts. Oh for fuck's sake, YOU KILLED SARA! Jesus Christ! Satisfied? Thea whimpers and puts her hands on her head in disbelief. Why do people on TV put their hands on their heads in disbelief? I've never put my hands on my head in disbelief. Until this episode. Anyway, at least that's out in the open so we can focus on, oh, I don't know, surviving being stuck on an island with a murderous psychopath? For a minute? Please?

Speaking of Slade, here he is to stir some shit up. He gets a gun to Thea's head, because she's helpless, but then she's not helpless because she disarms him and Ollie knocks him down a hill. Punches fly, and Thea winds up with the gun to Slade's face. Yeah, howya like me know, you mad ol' Cyclops?

Queen/Luthor/Xavier mansion. God, how long has it been since I typed that? Ollie, staying deep undercover, GOES HOME. In a tremendous stroke of luck, no one is there. So either they leave the mansion's door wide open when nobody's home or Ollie somehow still has his front door key. I call bullshit either way.

Ollie finds a tablet of some sort. Oh, it's got a USB port, it's gotta be Microsoft. He plugs in his ill-gotten flash drive and sees a video of his dad, pretty much telling him to go be a hero and save the city. Nothing really groundbreaking here. I was sort of hoping for clues leading to One-Eyed Willie's treasure. Ollie ponders his dad's words, and wonders if he could have used Windows Movie Maker to add some cool transitions.

Queen warehouse. China White arrives with Peter Kang to start the Omega auction. Do I hear two bits? I have a dolla! Do I have a dolla and a half? While this is going on, HKP and his small army are creeping around the rafters. Security! Someone finally notices them and kills everyone except Hong Kong Phooey. Because why would they, right? China White wants to kill HKP, but suddenly Ollie shows up. And why the arrival of a single guy with a single gun means that everyone bolts, I have no idea. I keep forgetting I gave up on this one long ago. Sorry.

China White and Peter Kang try to escape, but Ollie shoots their getaway car, and even though neither is killed, the car crashes. China White and Peter Kang are apprehended. Huzzah!

Island. Thea's still got the gun on Slade. Slade goads her into shooting him but Ollie tries to talk her down. Oh, we all know you're not going to shoot him, sweetheart. Can we move this along, please? We fade to black with a gunshot. Whatever, we all know she didn't kill him. We love Slade!

Prison. Slade's still alive, with only a flesh wound. See? Told you. Slade kindly recaps everything Ollie's lost – his mother, his father, and now his sister. You know, to the darkness of Malcom Merlyn. Or something. As Ollie leaves, Slade asks how Felicity is. Hey. Hey! You leave Felicity out of this, you hear me? We need her for the Atom spinoff! Do not touch her!

Flashback! Ollie, HKP, and Amanda Waller are in a hotel room. Aw, yeah. Now we're cookin'! Ollie thinks he's done his bit for king and country, but Waller says it's not that simple. Enter General Matthew Shrieve. The guy who runs the Creature Commandos? Oh boy, now we're really out in left field.

Hey, I know this guy. It's the Beastmaster! Goddamn, he looks old. Well, I suppose Beastmaster was 1982 or so. Still, same ol' Beastmaster. Shrieve tells Ollie that he's got to fly back to Hong Kong to be debriefed, and then he can go on his merry way. Sounds legit. Ollie, the dope, agrees right away. Nice one, Ollie.

Streets of Starling. Laurel runs into Tommy and they decide to go for dinner. Yep, that's it. Dinner!

Cemetery. At night. What is it with these people and going – ?! Nope. Nope, not gonna. Thea brings roses instead of drugs to Ollie and Robert's graves. And … yep, that's it again. Only this slams us right into the cemetery of the present, which I believe was a Dickens character.

Captain Lance is at Sara's grave when Laurel shows up. Lance is none too pleased about … well, anything, really. I suppose I'd be all torn up if I knew that the only daughter I had left was Laurel. Lance wants a drink – who can blame him, really? – and Laurel suggests they go to an AA meeting. He agrees, but says they should go to separate ones. That's gotta sting. He gives his bottle of hooch to Laurel, who dumps it out. One for my homies!

Colossaloft. Thea and Oliver arrive home and recap their adventure, and Malcom, lurking in the kitchen, offers his two cents. Jesus, don't you ever knock? Ollie tears Malcom a new one for unleashing Slade on them, and then Thea tears him a new one for – well, being Malcom, really. So now Malcom has three. That could be handy, I'm not sure. Thea says she'll be Malcom's puppet, his pauper, his pirate, his poet, his pawn or his king, but she'll never be his daughter. I don't know if that's up to you, sweetie. Genetics and all.

Next week! Evidently we revisit Panda Manbot or whatever that place is called. And I don't wanna fanboy just yet because it could be a fakeout, but … is that the A.T.O.M. suit I see??
​