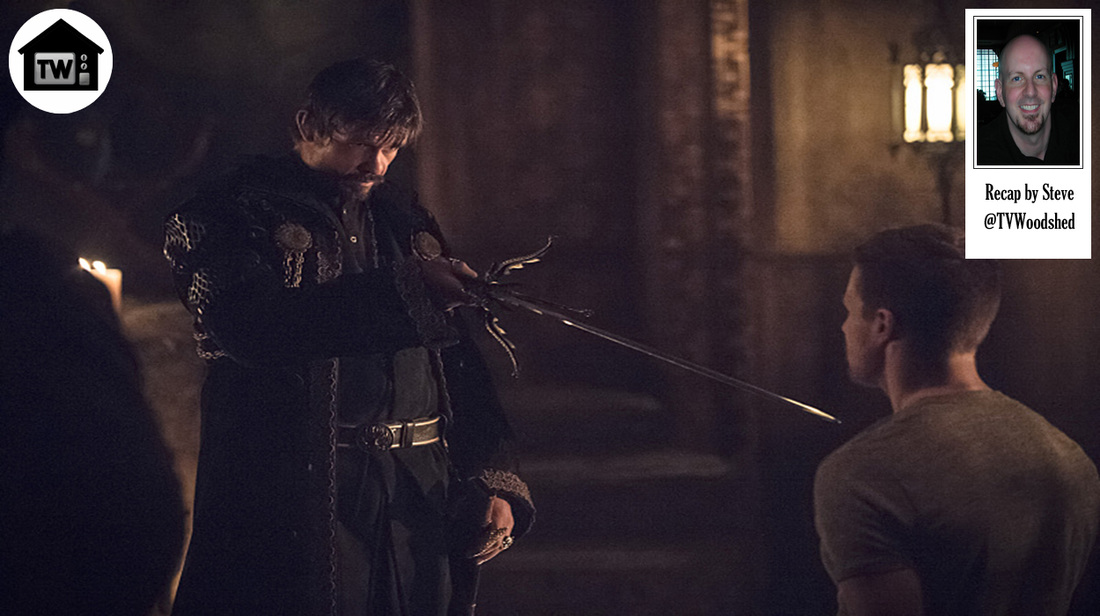 You know, for an episode called "Nanda Parbat," there's surprisingly little Nanda Parbat in it. What there's plenty of is long, thoughtful discussions about Thea's soul, and revelations about pretty much everything to pretty much everybody. Oh, and an Iron Man suit that it looks like it was made by a first-time cosplayer. Another stinker episode, Arrow. Let's pull it together, shall we?
Previouslies. Thea's not a fan of Malcom Merlyn. And she promises to not tell Laurel that she killed Sara. Short and sweet, just the way I like 'em.
Panda Narbot. Ra's al Ghul is either taking a very green bath or is tightening up his sagging old man nuts in a Lazarus Pit. Your call. Nyssa comes storming in with the news that Oliver Queen is still alive. First of all, no duh. Don't you watch
Arrow
? And second, I'm kind of naked here, can you give me a minute?
Nyssa wants to know if Ra's kept this tidbit to himself because he doesn't think Ollie killed Sara, or because he didn't approve of Nyssa and Sara, y'know, eating at the Y. Turns out Ra's was fine with his daughter eating box lunches, but he knew their relationship would end in heartbreak. And arrows to the gut. Nyssa says either way, Oliver must die. How about if he just does some chores around Pander Manbot? I bet that Lazarus Pit could use a good scrubbing!
Hood Squad HQ. Okay, I still dig that, but it turns out that in the comics, they call it The Quiver. See? 'Cause there's an Arrow in it? I'm going to run it up the flagpole and see who salutes it. Anyhow, Ollie, Thea, and Malcom are all swinging pretend swords at each other and grunting and sweating. Are they LARPing? Malcom tells both Queens that they stink and they need a lot of work. The show opens in two days, people, and we are
not ready
!
Digg tells everyone that he's secured all the entrances to the club with ARGUS tech so they're safe. Just one of the advantages of banging a high-ranking ARGUS chick. They also get free cable. Malcom suggests that Ollie and Thea relocate to the now-secure club, but Thea wants to remain in the Colossaloft™. There is
zero
explanation why, other than the notion that Thea is stubborn. Sounds good then!
Laurel compliments Thea on her skills. Oh yeah, I can do it all – karate, kung fu, muay thai, killing sisters … you name it! I mean – what? Thea's evasive and heads for the showers. Meanwhile, Digg wants to ask Ollie for a favor, but puts that on the back burner and asks how Ollie's doing. Oh, Ollie's fine. Not Superman fine or Batman fine, of course. Or even Green Lantern fine. But fine. Digg thinks Ollie should get some sleep, and Ollie says he'll sleep when this is all over. So sleep when you're dead, you mean. Got it.
Flashback! Silly-wig Oliver is being deposed by an ARGUS guy. And I think he kinda likes it. Yow. General Beastmaster comes in with good news – the whole Alpha Omega kerfuffle has been taken over by the U.S. Army. So what's the good news? Zing! I kid, I kid. We're cool, Army, we're cool. Amanda Waller's out of the picture, and Ollie and the Hong Kong Phooeys are going home. Hooray! Everything's coming up roses! Nothing can possibly go wrong now!
Verdant. Roy and Thea have a nice chat, and Thea drops the bombshell that she was the one who killed Sara! And Roy's all like, "Oh, that." Thea's mad that everyone knew and no one told her, but Roy deflects that by telling the tale of killing a cop when he was a Mirakuru rage monster. Oh, I miss Mirakuru rage monster Roy. Good times. Roy says that living with the guilt gets easier, and Thea doubts it. Just so you know, Thea? None of us will ever forgive you for denying us that weekly cleavage.
Palmer Tower. I think. It's Ray's place, but I think he lives in Palmer Tower. Now that's a commute I could live with! Overtired, unshaven Ray is working with his Erector Set when Felicity (Smokin') Smoak swings by. Now he's got an Erector Set in his pants. Ray tries to go back to work, but goes to use a tool that could blow up the building, so Felicity grabs his tool. There might be some subtle innuendo here, I'm not sure. Ray won't quit, so Felicity storms out. Storms out sexually? Nah, it's broken down.
Laurel's office. Laurel calls her dad to apologize, and apparently he's been ducking her for a week now. Oh, what a glorious week that must have been! Laurel hangs up and Thea arrives with something to tell her. I KILLED YOUR SISTER! There, now does everyone know every secret on the show? Laurel, can you call your dad back and tell him Oliver is the Arrow? That should wrap it up nicely. Laurel's not upset with Thea, but she's not cool with the alliance with Malcom. Oh shut up, Laurel.
The Quiver. Ollie's practicing with his Toys R Us sword when Laurel stops by and says she can't remember Sara's smile or her laugh. Um, okay, great. SECURITY! She wants assurance from Ollie that they'll someday find Sara's killer, and Ollie promises they will. Laurel says she knows about Thea. BUSTED! Oooh, sorry Ollie! That chicken came home to roost, didn't it? Laurel demands to know why Ollie didn't tell her, and he says after what she wanted to do to Lacroix and Merlyn, she can't blame him. Who the fuck is Lacroix? Oliver says that working with Merlyn is how it's gotta be, and Laurel says she can't believe there was a time when she was in love with Ollie. Coming from anyone else that might sting, but it's Laurel, so meh.
Colossaloft™. Thea is meditating when Ollie comes in to confront her about blabbing to Laurel. I don't mean to nag here, but we're already 12 minutes in and so far it's all been boring talky touchy-feely crap. This is a superhero show! Where are the explosions? Where's the POW! and the WHAM! and the KRAKA-BOOM!? Anyway, Thea tells Ollie they're no longer in danger and that Malcom's going to face justice. Oh Thea. What have you done?
Warehouse. Malcom's out for a midnight stroll when he's confronted by Black Canary. Oh,
this
is the justice he's going to face? Pardon me while I chuckle heartily to myself. Black Canary tries to beat Malcom up, but as usual makes a stumbling, bumbling fool of herself. Oh that Laurel! What a card! By the way, Malcom's stunt double during the fight sequences is almost as embarrassingly apparent as Shatner's used to be on the original
Star Trek
. Malcom takes Black Canary's billy club and asks if she really thought she could defeat him with a stick. Laurel produces a gun. Uh, that'd be a no, then.
Before she has a chance to shoot him, the place fills up with League of Assassins assassins. Oh shit, son! You in trouble now! Nyssa steps in and shows Black Canary how a real woman beats the crap out of someone, and an unconscious Malcom is dragged off. Now go home and peddle your papers, Laurel. You're of no use to anyone.
The Quiver. Yeah, that works. Ollie comes in and yells at Laurel for being stupid and worthless and a one-dimensional character. More or less. Everyone compares notes about Thea and Malcom, and Ollie concludes that they have to go rescue Malcom from the League. Sigh. Is there really
no one else in the world
that can train Ollie to defeat Ra's al Ghul? No one? What about Batman? Everyone thinks this is a terrible idea – and it is – but Ollie's worried about Thea's soul being eaten away because she essentially condemned her own father to die. Whatever. I'm dizzy trying to keep track of who's doing what and why, so fine, go get Malcom.
Flashback! Ollie and the Hong Kong Phooeys are at the dock – y'know, the dock? – and they're all happy and cool with their new leases on life. So you just know that's going to end and end ugly. They make their way to the boat when suddenly a dock worker pulls out a gun! HKP gets the drop on him, but they're all under fire. Yep, that went south really fast, didn't it?
Airport. Nyssa and her boys have a helicopter ready to go. Is that the League's helicopter? It's nice. But again, I put it to you, if Xander Fuckbucket is supposed to be the DC equivalent of Tibet, you can't get there by helicopter! Anyway, Nyssa's telling Malcom all the glorious torture that's in his future when an ArrowCycle arrives on the scene. Nyssa tells her boys to get Malcom on board while she deals with Arrow. I got this!
While Nyssa and Arrow duel, a handcuffed Malcom actually makes a decent bid for escape by roughing up some of his assassin escorts. You know, for guys who are in the LEAGUE OF ASSASSINS, they're really not that good at what they do. They're like Imperial stormtroopers. Arrow ties Nyssa up with a lasso arrow, and then fires another one at the helicopter as it takes off. How many lasso arrows does he carry? The assassins cut the cord and the helicopter escapes. But, as I pointed out, it'll never reach Zekzok Slizbisket, so no worries.
The Quiver. They've got Nyssa locked up in a cage, and Ollie requests that everyone leave so he can be alone with her. I think Ollie might have just noticed her cleavage. Yes, everyone leave. Now! Everyone thinks Ollie's going to torture Nyssa, but he only wants to know where Donner Pugbutter is. Yeah, because it's not like he visited the place HALF A DOZEN TIMES in "
The Climb
" or anything. Anyway, no torture necessary, Nyssa's happy to tell him where it is. Well that was easy. Because Ollie's going to die there! D'oh!
Verdant. Everyone is waiting for the results of the torture session. Ollie comes up and tells them that Bomba Bombad is located under the Hindu's tush. The what? Oh, the Hindu Kush. Which is a 500-mile-long mountain range between Afghanistan and Pakistan. Well that narrows it down. Roy offers up some philosophical advice about Ollie getting killed trying to save Malcom. Shut up, Roy.
Digg wants to talk to Oliver alone for a minute. So everyone gets herded back down to The Quiver. God, Ollie needs time alone with Nyssa, Digg needs time alone with Ollie – what about the rest of us! Digg wants to know if Thea's the only reason Ollie's doing all of this, and Ollie insists that it is. Suuuure it is. If we end up chained to a floor in a dungeon somewhere, maybe you'll change your tune.
Palmer Tower. Tired Ray can't seem to log into his computer. Did Windows force you to change your password? Gets you every time. Try
felicityspanties
, no spaces. No? Hm. Ah, here's Felicity to tell us that she locked Ray out and he can't log back in until he eats, showers, and sleeps. All at the same time. Ray gives in because, c'mon, it's Felicity.
Digg's pad. After playing with baby Sara, Digg and Lyla talk about Ollie's suicide mission. Digg thinks his responsibility is to his lil' family, but Lyla thinks he should go with Ollie. ARGUS has a
huge
insurance policy on him. Lyla will be set for life! Digg asks if they can borrow the ARGUS jet. Sure, just be sure to bring it back with a full tank.
Verdant. Ollie's headed out, but Thea wants to lay some guilt on him before he goes. Ollie promises he's not gonna die, and that Thea's a good person and he's doing this for her soul. Thea's a little white girl, she has no soul. Just watch her dance sometime.
Digg meets Ollie in the alley and says their ARGUS jet is waiting. The tray tables are up, and the seat backs are in the full upright position. Ollie says he can't ask Digg to come with him. Then how exactly was Ollie planning to get there? Hitch?
Padme Longbot. Malcom is brought before Ra's al Ghul, who for some reason tells us the plot of
The Illusionist
. Is that Malcom's torture, no spoiler alerts? Malcom begs to be one of the gang again, but fuck you, Malcom. You're gonna die like people fall in love – slowly, and then all at once!
Palmer Tower. Felicity is admiring a Van Gogh where a gentleman is fondling a woman's boobie. Foreshadowing! Enter Ray, who is showered, shorn, and bright-eyed. And shirtless in a towel, which is just fine by Felicity. And probably most of the female demographic. Felicity presents Ray with the password he needs, and then they make out a little. And then a little more. And then a lot. Rowr. What are the fans going to call this? FeliciRay? If they do, I want credit!
Ganja Woodbat. Ollie and Digg manage to find the one spot they needed in this massive mountain range. We should have had
them
hunting for bin Laden. As they formulate a plan for getting into the fortress, they're suddenly surrounded by flaming arrows. But not
hit
with flaming arrows. See, these assassins, they're just not that good. Ollie and Digg charge forward with gun and bow, and take out every guard but one, who runs back to the fortress to tattle.
Flashback! Ollie and the Hong Kong Phooeys are still pinned down by gunfire. Ollie grabs a gun and takes out a couple of snipers while the family moves steadily toward a delivery truck. Tension!
The Quiver. Laurel and Nyssa reminisce about Sara and how great she was. She was such a great sister. Yeah, and she was really good in bed. Like when we would wrap our legs around each other, she would really grind on me, y'know? Like
really
grind. Okay, good talk.
Fortress. Ollie and Digg make their way through hallways, taking out elite assassins one by one. Hey Ra's, where did you get these goons? Digg wonders how they'll find Merlyn, and Ollie says the nanotrackers he hit Merlyn with FOUR MONTHS AGO will lead them to him. First, horseshit they will. And second, all those times everyone wondered where Malcom was and what he was doing, they could have just tracked him? Can someone come fill this plot hole?
Hey, there's Malcom! His wrists are strung up by chains and he's dangling over coals. Hey Malcom, hot enough for ya? Heh. You know, strung up like that, he kinda looks like the background of Goro's dungeon in the original Mortal Kombat. Malcom's mumbling something. Oh, I'm good at these! Um … clap. You want us to clap for you? No, that can't be right. Crap? Yes, this whole episode has been crap. Snap? Like, oh snap, I'm being tortured in a dungeon? No. Wait, is it trap? Trap! It's trap! I got it! Oh shit. A door clangs shut behind them, and there's Ra's al Ghul himself to welcome them. Well this is just great!
Dungeon. Ollie and Digg are chained to the floor. Called it! Digg says that sometimes he knows Oliver better than he knows himself. I really don't think that's even possible, but whatever, continue. Digg figures out that Ollie went on this crusade to help Thea, but also because he couldn't live with being defeated by Ra's. That's awfully shallow. Just sayin'. Ollie brings up the favor Digg wanted to ask. Digg wants Ollie to be the best man at his wedding. Aw. Hug it out, boys! Y'know, once they take those big honkin' chains off you. Hong Kong Phooey – in the present, I know, it's confusing – comes to get Oliver. Mr. Queen? Mr. Queen! Fifteen seconds to curtain, Mr. Queen!
Flashback! Still with the gunfire. Everyone tries to make it to the truck, but Hong Kong Phooey and Yukio get separated from Ollie and HKP Junior. HKP tells Ollie to take Junior and run, much to Yukio's chagrin. Ollie and Junior run right out in the open and nary a bullet finds them. How's that for luck?
Roy's car. How does Roy afford such a nice car? He and Thea are stalking a family somewhere, and Roy says that it's the family of the cop he killed. Morbid! Roy helps them out anonymously, and tells Thea that it helps with the guilt. So Thea should support Sara's family then? Like Laurel and Captain Lance? You make no sense at all, Roy. No sense at all.
Palmer Tower. Or should I call it the Love Nest? Oh yeah, Ray and Felicity totally did it! In the afterglow, Ray is inspired to write down a complex formula, just like all men are. Whatever it is, it gets the ATOM suit to work, and after a MASSIVE buildup toward this episode and the BIG REVEAL, we finally get to see the thing for about 6 seconds. Oh, and? He's Iron Man. Dude, weak.
The Quiver. As if Thea hasn't has enough screen time already, she visits Nyssa's cage to confess that she's the one who filled Sara full of arrows. Then she opens the cage door and hands Nyssa a sword. Do it, Nyssa! Do it! And then kill Laurel!
Fortress. Ollie is brought before Ra's al Ghul. Hi Ra's! Hey, no hard feelings about you stabbing me through the chest and kicking me off the mountain. We cool, bra, we cool. It looks like Ra's is going to skewer Ollie again, and Ollie's fine with it, as long as they let Diggle go. But ho, there's a BIG SWERVE in the offing! Instead, Ra's compliments Ollie on all his strength and fortitude and whatnot, and then tells him he wants Ollie to be the new Ra's al Ghul! Hey, just like the offer he made to Batman in the comics! I mean – what?
Next week! There is no next week! I mean, obviously there's a next week, just not for
Arrow
. They're taking a short break, so we can all ponder whether or not our old pal is going to become Ollie al Ghul. Stay tuned!
​