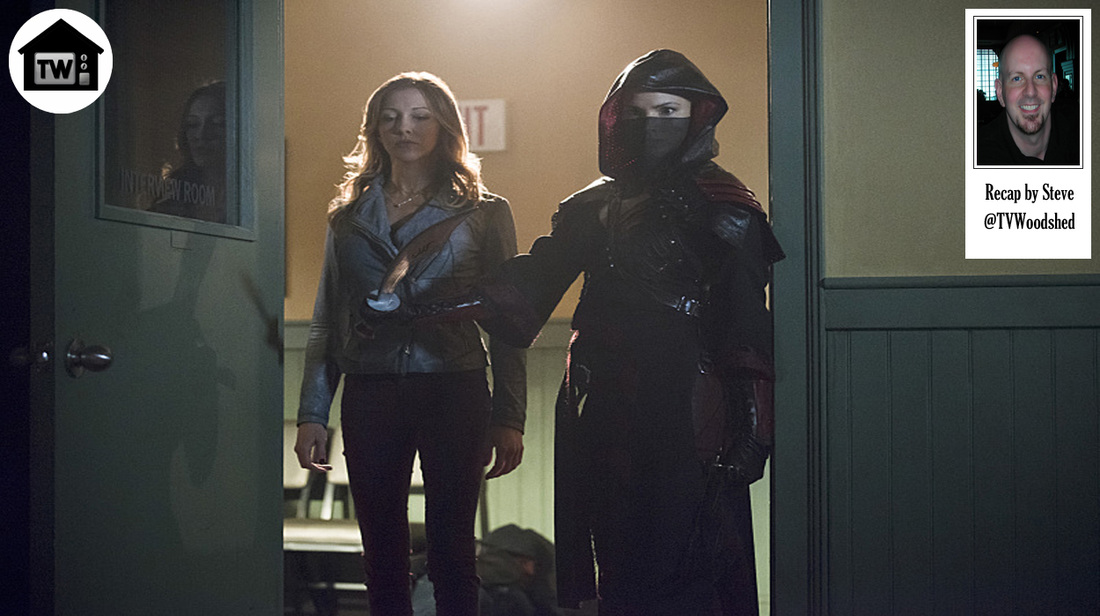 Oliver has plenty to think about this week, what with Ra's al Ghul's offer burning a hole in his pocket, Murmur running around as a stone cold cop killa, and Captain Lance hating his stinking guts. Almost sounds like a good episode, doesn't it? It's not.
Previouslies. Thea killed Sara and wants Nyssa to kill her in exchange. Sounds fair. Ollie and Digg go to Bamba Bambot to rescue Malcom but get captured by Ra's al Ghul, who wants Ollie to become the next Ra's al Ghul. You'll get a sash and everything!

Lambda Barbot. The previouslies sort of blend right into the opening, so we're right at the moment when Ra's al Ghul makes Ollie the offer. By the way, I'll just point it out early – Ra's al Ghul himself pronounces his first name as "Raysh," like Sean Connery saying "race." Ollie pronounces it "Rahs." Thea pronounces it "Roz." I pronounce it "Throat Warbler Mangrove."

Anyway, Ra's al Ghul tells Ollie "Wing ta lao wo chey," which is a #4 special at my favorite Chinese place. Ollie doesn't speak the lingo, so Ra's translates that it means "A tale to be told begins thus." Isn't that how The Hobbit starts? It was a line spoken from the old Ra's to the current Ra's, and now I guess to the future Ra's. Tradition!

Ra's takes Oliver on a tour of Panda Wombat. It's got a lot of upgrades, and square footage that you don't normally see in this price range. Now I understand the location isn't ideal, but it's in a great school district, and the seller is really motivated. Oliver digs it, but he's really looking for more of a Fortress of Solitude or a Batcave, or even a Paradise Island.

The tour ends in the dining room. Ra's tries to convince Oliver to take him up on his offer by telling him how much his life as Oliver Queen/The Arrow sucks. He actually makes a pretty good case. He tells Ollie that Starling City will turn on him, and he will be scorned, hunted, and killed. In that order. Fuck, if I'm Oliver, count me in. I'll be Ra's al Ghul. Can I get business cards?

The Quiver. Thea reminds Nyssa that she killed Sara and then hands her a sword. This should end well. Nyssa doesn't believe that Thea really did it, but Thea insists that she was the one who put three arrows in Sara's chest. I really hate to keep harping on this, but Sara took three arrows to the stomach. Shit, if she'd been hit in the chest, she'd still be alive. Amiright, fellas? Nyssa's like whatever, the blood debt is paid, I'm not killing you.

Then Roy and Laurel show up and get their asses handed to them – like all good super heroes should – before Roy shoots Nyssa with a knockout dart. From a gun. Here's hoping Roy knew exactly which gun he grabbed. Roy asks how Nyssa escaped, and Thea shrugs it off. Look, if I want to release deadly assassins and beg them to kill me, that's my business, okay?

Kinda Farbot. Ra's al Ghul finally confirms that his green hot tub is actually a Lazarus Pit. I knew it! Ollie's not particularly impressed. Oh, is your Lazarus Pit nicer than this one, Ollie? Does yours have soothing jets? Ra's says the Lazarus Pits are losing their effect on him. His erections aren't even lasting four hours anymore.

Ollie still doesn't want to be the new Ra's because he'd be commanding an army of killers. Ra's tells him all he has to do is tell them not to kill and they won't. Fuck, take the deal Ollie. Ollie scoffs and says it's called the League of Assassins for a reason. Jesus Christ, then rename it the fucking League of Rainbows and take the deal, Ollie! Ollie asks what happens if he says no, and Ra's tells him he can take Diggle and Malcom and go home, all debts forgiven, all blood oaths wiped away, all parking validated. Ollie leaves. What a chump.

Colossaloft™. Oliver and Thea are reunited, and Thea's happy Ollie's not dead. Did you bring me back anything from Yolanda Scarfot? As a matter of fact, I did! Ta-da! It's Malcom! What's wrong, don't you like it? Thea does not like it, not one bit. She wanted "Roz" to kill him. Oh well. He's your roomie now, so make the best of it.

Verdant. Ollie meets up with Digg and Digg wants to know why Ra's just let them go. He says that Ra's kicked Ollie off a mountain and put a sword through him. Not in that order. That would be really hard. Ollie doesn't want to talk about it. Instead, he'd rather transition into a …

Flashback! Ollie and Hong Kong Phooey Junior are walking the streets of Hong Kong. Junior is really annoying and a terrible actor, but then so is Laurel. Zing! Junior runs off because he thinks he sees his dad, and Ollie freaks out. When Junior returns, he tells Ollie they need to go to the botanical gardens, because that's where Hong Kong Phooey told him to go if they ever got separated. What if they get separated, like, a thousand miles from the botanical gardens? Just a terrible, terrible plan.

The Quiver. Ollie is reunited with the gang and the first thing he does is release Nyssa. Hey! We just got her back in there! Nyssa leaves and Ollie is hot for some street action, so he asks Felicity (Smokin') Smoak to find him some crime to fight. Fortunately, there's a robbery in progress. That'll do! He tells everyone to suit up. Digg and Felicity too?

Warehouse. In Starling City? No! A couple of armored truck guys get their fool asses killed by a pair of masked gunmen. I tell ya, no wonder it's so hard to get good help in Starling. The masked guys unmask, and one of them is Murmur, the guy whose mouth is stitched shut. First, ew. Second, how does the guy eat? And third, what kind of stupid name is Murmur for a guy who can't even murmur?

Anyway, out heroes arrive on the scene, and as usual, Black Canary and Arsenal just trip over their own feet while Arrow takes care of business. Imagine how much more crime Arrow could fight if he didn't have these two albatrosses around his neck? A couple of the bad guys escape, and it turns out they're stealing diamonds. Huh. Pretty straightforward, really. It's about time we had bad guys who are just stealing valuable stuff.

Police station alley. Captain Lance comes out and finds a bunch of the bad guys all trussed up and ready for processing. Arrow appears on the fire escape and tells Lance he needs the gang leader's name from one of them, and Lance tells him to go fuck himself. Oh dear. Here comes the tabasco. Things get worse when Arrow calls him "detective" and not "captain." See, I've been harping on that for months, I knew it would bite Oliver in the ass. Lance says he trusted Arrow but Arrow never told him about Sara being dead. So fuck Arrow, fuck Arsenal, fuck Black Canary, and fuck you. And by the way, it's clear as fucking day that you're Oliver Queen, so fuck him too. Well that went well.

Palmer Tower. Felicity and Ray are using their hi-tech computers to work on Ray's stupid Iron Man ripoff armor. Ray is impressed that Felicity was able to connect the flux capacitor with the warp core, and they get all flirty and close. Oh, you know who it would kill to see these two so happy together? Oliver. Oh, hi Oliver! What are you doing here? Ollie wants a moment alone with Felicity. I bet he does. I just bet he does.

Ollie asks Felicity to find his mouth-sewn-shut guy, and she does. It's Murmur. Which is still dumb. Ollie talks about the awkward exchange with Detective/Captain Lance, and Felicity wants to know if there's something else bothering him. Besides Lance telling him to fuck off and Felicity boning Ray. That's not enough? Ollie says he's fine. Ollie always says he's fine.

Colossaloft™. Laurel stops by to check on Thea. She gets a look at a sleeping Malcom, and when he starts to stir, Thea tells Laurel she should go. Bye, Laurel! Thea and Malcom snipe at each other for a while, and this may be the first time I've noticed that Malcom doesn't use contractions. It's kind of annoying, really. Malcom knows that Thea has a knife in her hand and tells her to use it. She doesn't. Well, that scene killed some runtime anyway.

Fonda Bonbons. Nyssa arrives all fired up and wants to know why Ra's let Malcom live. Because I'm Ra's al Ghul, bitch! I do whatever the fuck I want! Speaking of which, I'm going to make Oliver my heir and not you. Nyssa falls back on the notion that Ra's never approved of she and Sara being scissor sisters. Eh, sorta. It was mostly about Sara making Nyssa weak. In the knees. Nyssa goes to cut Ra's' head off, but he catches her sword and tells her to beat her feet. Then he dips his wounded hand in the Lazarus Pit and it comes out healed. Oh man, I so totally need one of those. My shoulder is sore.

The Quiver. Ollie, Digg, and Roy talk about Murmur and what he's up to. Um, stealing diamonds, right? Turns out there were other high-end jewels he didn't take in the heist. Well, yeah, but he got crates of diamonds, right? Roy wants to know why Murmur would steal worthless diamonds. Is a diamond a different thing in Starling City than it is in the rest of the world? He stole diamonds! What's the issue here? Roy says he'll go talk to some folks on the street to see why a criminal would steal diamonds. You go do that, Roy.

Ollie finally confides in Digg all the things that are bothering him, including the offer from Ra's al Ghul. Digg, of course, tries to talk him down from the idea, but Ollie points out that they've really done squat for Starling City as the Hood Squad, and they could do so much more if he were leading the League of Assassins. I'm sure they have a kick-ass dental plan.

Colossaloft™. Ollie swings by to see Malcom, but first he has to listen to Thea's drunken ramblings about forgetting who she used to be. Oh, go sleep it off. Instead, she leaves to go get Malcom some soup. Is Thea drinking and driving? We can only hope! Ollie and Malcom have a chat about Ra's al Ghul's offer, and Malcom says he doesn't put much stock in augury. Malcom, please, keep the vocabulary at a sixth-grade level. We've got viewers in Alabama. Malcom tells Ollie that Ra's al Ghul's offer wasn't an offer. It was a special offer, so order now! Malcom seems to think that Ollie has no choice in the matter. Well, we'll see about that after a …

Flashback! Ollie and Junior are in the botanical garden and Junior is being as whiny and annoying as ever. God, I hope someone kills this kid. Ollie spots some Reservoir Dogs watching them and tells Junior they need to run. And they do. Boy, these flashbacks are exciting.

The Quiver. Ollie and Felicity discuss the Ra's al Ghul offer, and in essence it's the same conversation Ollie had with Digg, except Felicity gets a little weepy and tells Oliver that he has to look deep inside and figure out why he's doing what he's doing. Well, it's obviously not for the money or the chicks, because he doesn't have either, so we'll have to keep thinking. Roy and Digg interrupt and tell Ollie what Murmur's really up to – he's using the diamonds to make armor-piercing bullets so he can kill the cops who put him away. I don't mean to criticize Murmur here, but couldn't he use the diamonds as, I don't know, diamonds?

Police station. Captain Lance is typing on the loudest keyboard in the history of computers when he sees an incoming call from Felicity. He ignores it. Lesson one: never ignore a call from Felicity, whether she's trying to warn you about an impending slaughter or not. It's Felicity, for cryin' out loud! And oh God, here comes Laurel. She wants to make nice with her dad but fuck you, Laurel. You're not forgiven and you never will be. Not for keeping Sara's death a secret, not for being a one-dimensional character, and not for being a shitty super hero.

Bang! Here come Murmur and the cop killers! That's a good name for a band, Gary, you should write that down. The action is fast and furious as the bad guys gun down cops until Team Hood makes the scene. And look who else is here! Nyssa! Nice to see you again, sweetie. Sure, just go ahead and kill whomever you like. Plenty to go around. Arrow saves Lance from Murmur, which should help their relationship a bit, and chases Murmur into the alley, where he takes him out. Nice meeting you, Murmur. Thanks for coming. After a dig from Captain Lance, Arrow fires a zip line arrow into the gap between two buildings and zips away. What did he hook onto? A passing zeppelin?

The Quiver. The team comes home and Ollie gives Felicity a "Thank you" and "You were right." And "I'd like to wear your ass as a hat." Ollie says that he figures out why he does what he does – so that cops can go home safe at night. Well. That's. Okay, as long as there's a reason, I guess. There were quite a few cops who didn't go home safe tonight, but whatever. We've got a raison d'être, let's not dig too deep. Felicity tells Oliver that as long as he's in her life, she's happy. And then her phone rings with a call from Ray. Oh, you couldn't … you just … your timing just could not have been worse, Ray. Could not have been worse.

Flashback! Ollie is leading annoying Junior through the streets when they bump into Shado. Thefuck?

Police station alley. Laurel is leaving when she bumps into Nyssa. No, not that way. They each share a little of how things are not great with their respective fathers, although one father is a police captain and the other could have his daughter killed on a moment's notice. But, semantics. Laurel agrees to have dinner with Nyssa, who criticizes Laurel's fighting ability but subtly offers to train her. So it would seem that Nyssa's sticking around. On the show, I mean. Hooray! Regular paycheck, here I come!

Truck stop? Ollie meets up with Hong Kong Phooey and tells him he's not taking Ra's al Ghul's offer. Can I just have a second to rant here? This is the single stupidest thing Oliver's ever done, and that's saying something. He kept Malcom Merlyn, a sworn enemy, alive just so that Merlyn could train Ollie how to defeat Ra's al Ghul. And right here is the EASIEST POSSIBLE WAY to defeat Ra's al Ghul – by becoming him – and yet Ollie says no. If I may quote Spaceballs? "Now you see that evil will always triumph because good is dumb."

Roy's shitty apartment. Thea stops by in a red leather jacket – whomp! – and tells Roy she's all confused and doesn't know what to do. Well, she knows enough to start making out with Roy, so I guess she can't be too far gone. So. Roy and Thea again. Just reset to Season 2 then? Gotcha.

Criminal hideout. A bunch of thugs are playing pool, and one of them – I think he was Murmur's second in command – laughs about the fact that they still have plenty of diamond-tipped bullets. Ha! You know what else is really funny? This arrow sticking out of my throat! Wait, when did I get that?

We see Arrow up in the rafters and he fires off a bunch more arrows, killing all of the gang except one. He tells the lone survivor to tell everyone who'll listen what he saw. And the big reveal is that Arrow isn't Arrow – it's Ra's al Ghul! Who looks nice in green!

Next week! It looks like Digg is finally gettin' hitched! But unless he's invited The Suicide Squad to the reception, there's more to it than just a wedding!

​