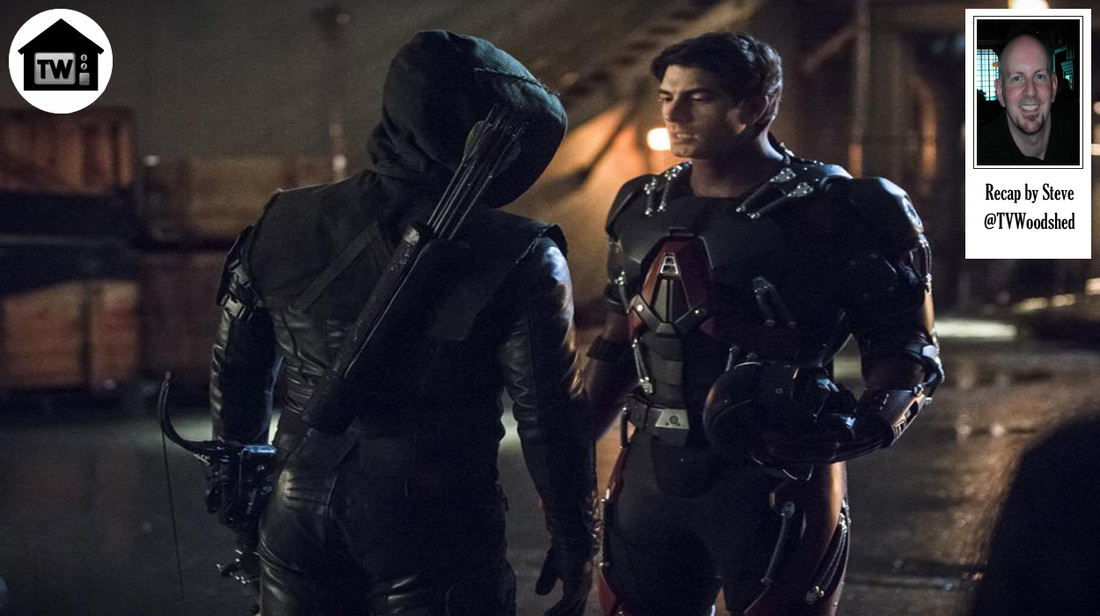 Digg and Lyla don't even have five minutes for consummation before they're whisked off to God knows where to run with the Suicidals. Meanwhile, Ray is having fun playing Iron Man, there are Arrows all over Starling City, and Felicity's a blubbering mess. This is still a superhero show, right?
Previouslies: We get a quick glimpse of what the Suicide Squad looked like in its glory days, Ollie takes a pass on Ra's al Ghul's offer, and the whole Ray/Felicity thing that so enrages the Olicity fans out there.
And it's a wedding! How sweet! We get a look at the cake, and the shadows make it hard to tell if the bride and groom figures on top are white and black, respectively, but I'm sure they must be. Digg gives Oliver grief for arriving early for the ceremony but late for the photos. Trust me, Ollie, you dodged a major bullet by not being there for the photos. They go on for-
ever
. Digg says they'll Photoshop Ollie in. I hope they pick really goofy Ollie pics. That'll be good for a laugh.
And here is Felicity (Smokin') Smoak, who looks more beautiful than words can say. They should've sent a poet! Oh, and here's Ray. She came with Ray. In more ways than one. Zing! Digg is happy to meet Ray, and quietly offers him a death threat if he ever mistreats Felicity. I think Digg speaks for all of us. Ollie and Ray try to play nice, but the awkwardness is as heavy as a shitty knockoff Iron Man suit.
Digg gets a call from Lyla that their officiant was just deployed to the Sudan. Wait,
just
deployed? Like he was there and got the call and couldn't wait 15 minutes to perform the ceremony? Or he got deployed yesterday but no one bothered to check and see if he was still in for the wedding? This all sounds like some sort of convoluted plot point to get someone ridiculous – like Ray – to perform the ceremony.
Felicity offers to get an online ministry certificate and perform the ceremony, but guess what? Turns out Ray's a minister. We're two minutes into the episode and there's already an awful lot of shoehorning going on. It's like someone shoehorning themselves into a shitty knockoff Iron Man suit. Anyway, Ray presides over the ceremony and makes a couple of quips, which everyone finds absolutely hysterical. Either they encouraged raucous laughter on the set or they dubbed it in later, but it's really over the top. Ray's not that funny.
After Digg and – well, Digg, technically – exchange vows and rings and promise to always have each other's backs, it's time for some recepting! Champagne flows and Roy drags Thea out on the dance floor. Look quickly, everyone! That's the extent of Thea in this episode! Meanwhile, Ollie and Laurel make awkward conversation. Not surprising, every conversation with Laurel is awkward. She does look hot, though. Felicity joins them and Laurel compliments her on a bouquet, which Felicity says she caught. Laurel didn't participate in the bouquet throw? Maybe she was afraid she'd twist an ankle and wouldn't be able to stumble around, fighting crime.
Suddenly everyone's phone chirps and they all have the same headline: ARROW RETURNS TO KILLING. Huh. Slow news day. Is this a Google Alert they all set up? Roy, Digg, Ollie, and Felicity all exchange meaningful glances, and suddenly we're in …
The Quiver. Watching a press conference with Captain Lance, Laurel – who evidently had time to go home and change in this moment of crisis – the mayor, and Ray. Who keeps inviting Ray to these things? He's just a businessman. He has no authority whatsoever. Shoehorns, people. Shoehorns. Captain Lance says the Arrow killed a bunch of people and Laurel says no he didn't, and then the mayor skips on saying anything and defers to Ray. Again, I ask you!
Why is Ray there
?
Ray takes the podium and says he's going to devote all his resources to apprehending the Arrow. Maybe you should have devoted all your resources to building a suit that didn't make you look like a shitty knockoff Iron Man. The Hood Squad splits up to do their thing – Roy's going to work the streets, Felicity's going to work the computers, and Digg and Lyla are going to go on their honeymoon and
work it
. Digg balks, but Ollie insists. Oh, all right, if we have to go to beautiful Fiji instead of staying in shithole Starling City, so be it.
The Diggs head off to their sweet limo and make a big show of not looking straight ahead so they can be surprised when Deadshot says howdy. Deadshot! Drinking our expensive Champagne! What a dick!
ARGUS headquarters. Amanda Waller apologizes for interrupting the Diggs' honeymoon and tells them that there's been a terrorist incident in Kasnia. Which is right on the border between Jasnia and Lasnia. Seems a Senator Joseph Cray got caught up in the kerfuffle and now he's a prisoner, and Waller wants the Suicide Squad to go in and get him. Really? There's
no one else
that can go get the senator besides the unstable, unpredictable, criminally insane Suicide Squad? What about the Coast Guard?
All right, fine then. Let's see some old friends! Shrapnel! Oh, that's right, they blew his head off in Season 2. Bronze Tiger! Oh right, our friends over at
Gotham
have claimed the rights to him. Harley Quinn! Hm. Ditto. Do we … do we have anyone? At all? Ah, okay, so we've got Lyla, who if memory serves is Harbinger; Digg, whom they called Freelancer (which is awesome); our old pal Deadshot; and Cupid. Oh boy. This Suicide Squad should just commit suicide. More like the Skeleton Squad.
The Quiver. Ollie is shirtlessly swinging around a sword, like you do, while Felicity digs for intel. Roy shows up to tell them that the street gang Los Alcones are shipping in some drugs tonight. Can I have some? This recap is giving me a headache. FYI, Los Alcones is Spanish for "the plot devices." Everyone theorizes that the drug shipment is exactly what Evil Arrow/Fake Arrow/we need a better name for him will show up for. Does he need cheap Valium? Ollie tells Roy to stay put because he's useless. Roy agrees. So say we all.
Kasnia. The Sad Squad make their way to their target. Cupid talks all crazy, as usual, and Deadshot takes every opportunity to remind everyone that love, marriage, and children just completely fuck up your life and you shouldn't have any of them. Fair point. Lyla informs Digg that despite the fact that there are a shit-ton of hostages, they're only there for Senator Cray. And maybe the nice looking chicks. Deadshot suddenly gets a bit sentimental and suddenly we're in a …
Flashback! But it's Deadshot's flashback. This is so weird. Anyway, a young Deadshot – then still just Floyd – surprises his wife by coming home from the Army unexpectedly. I love those videos! Floyd's little girl Zoey is afraid of him, but the wife says she needs some time. Y'know, to adjust to the crazed look in Floyd's eyes.
Streets of Starling. Arrow rushes to the warehouse where the drugs are being unloaded. Save me some Tuinal! At the warehouse, Fake Arrow shows up and starts with the arrows and the killing. I'm a little lost here – why is this giving the real Arrow a bad name? I mean, Fake Arrow is killing gang members and drug dealers. That's good, right? Anyway, Arrow shows up and subdues Fake Arrow, only to discover that it's not Ra's al Ghul! It's some actor who cost a lot less to hire.
Suddenly Arrow is surrounded by a bunch of Fake Arrows and there's grunting and punching and whatnot, and then Hong Kong Phooey arrives to break it up. He tells Ollie that he can't kill them all; when one falls, two will rise to take his place. Hail Hydra? HKP tells Arrow not to let his recalcitrance take any more lives. I know
someone
who got a word-a-day calendar for Christmas! Then HKP throws a smoke bomb and everyone disappears. Ta-daaaaah! Outside, Shitty Iron Man looks in on the warehouse and uses facial recognition software to figure out that Ollie is the Arrow. You could have just looked at his face to figure that out, Ray. Seriously.
Palmer Tower. Felicity shows up all bright and cheery, but Ray's all like, Lucy, you got some 'splainin' to do. Ray says he knows that Oliver Queen is the Arrow. Well, duh. Look who just caught up. Ray doesn't want to hear that Ollie's not a killer. Or that Felicity did or does have feelings for Ollie. He promises to bring the Arrow to justice and walks out. That went well.
Kasnia. The Sad Lil' Squad make their way into the building where the hostages are. But before anything of note happens, we're into our next …
Flashback! A drunk Floyd is making a sammich for Zoey and she doesn't want it. To be fair, it looks like he made her a mustard sandwich with mustard, so who can blame her? He screams at Zoey, which brings his wife into the kitchen for more screaming. She begs him to get help, but it looks like he'd rather choke her and put a gun to her head. Chris Brown, no! She calls 911 and tells them her husband has a gun. Well of course he has a gun. He's Deadshot, stupid. By the way, credit to little Zoey for not making a fuss while her daddy threatened to kill her mommy. Well-behaved children!
The Quiver. Felicity arrives and blubbers to Ollie and Roy that Ray has a shitty knockoff Iron Man suit and that he knows Ollie is the Arrow. Roy is impressed that Ray has a super-suit, but that's only because he hasn't seen it yet. Felicity says that Ray's probably on his way to the precinct to tell the cops everything and wonders what they're going to do. I don't suppose one of those Fake Arrows would be willing to put a bolt in Ray, would they? Couldn't hurt to ask.
Police station. Ray is in an interrogation room, telling Laurel everything he knows. Why is he talking to Laurel? Why couldn't he have just gone to the front desk and said, "Hey, Oliver Queen's the Arrow. Pass it around." Laurel plays dumb, which is not really a stretch, and Ray figures out that she's really the Black Canary and she's protecting Oliver. Just curious – is anyone monitoring the interrogation room? Because they surely just got an earful. Ray sees that he's getting nowhere fast, so he declares that he's going to take the law into his own hands. You mean like a … vigilante?
Kasnia. The Silly Squad storms the building and starts gunning down bad guys. Pew! Pew! Pew! Harbinger tells Senator Cray that they'll discuss everything once their tray tables are up and their seatbacks are in the full upright position, but Cray suddenly gets all sinister – well, more sinister than a senator normally is – and pulls out a gun of his own. I'm beginning to sense that there's more to this than meets the eye. Let's see if I'm right.
Cray goes to shoot Cupid but Deadshot pushes her out of the way. Oh, even I know you're just asking for it when you do something nice for a chick who's that crazy. The Squad falls back into a convenient medical facility so that Diggle can tend to a bullet wound Deadshot picked up. Ah, so he's not Dodgeshot, then. Seems like that would be a more useful skill, really. Digg goes to patch him up and sees his own brother's name tattooed on Deadshot's chest. I've been pondering what to get as a tattoo, so I guess I'll follow this example and use victims' names. I'll need some victims, though. I've killed a lot of bugs in my time. That might work.
While Cupid fawns over her new beau Deadshot, Harbinger tries to call Mockingbird – which I believe is a Marvel character – for extraction, but can't get through. We can't have nice things! Instead, she gets Senator Cray on the line, who confesses to setting up the whole kidnapping scheme so that he could come out the hero and parlay that into a bid for the White House. Didn't work for John McCain, but then we all know the real reason
that
particular experiment crashed and burned. Cray says now that his hostages know his secret, he's going to have to have them whacked. Thanks, Obama.
Palmer Tower. Ollie shows up to have a one-on-one with Ray. Ray calls Ollie "Arrow." Ollie calls Ray "Super Suit." It's not that super, Ollie. Wait till you see it. I think Brandon Routh seriously has pink eye in this scene. Or he smoked some herb at lunch and only had enough Visine for one eyeball. Either way, Ray and Ollie can't seem to agree on anything, including Felicity, so Ollie leaves and Ray vows to stop the Arrow. Just wait till I get in my suit, Ollie! I'll show you!
Kasnia. Harbinger and Digg take a moment to assess the situation. There are charges rigged on the building so they're going to get all blowed up. Not the worst honeymoon I've heard of, but it's up there. Harbinger says they're bad parents, which is true, and she doesn't want them to die. Deadshot comes in and says they're not gonna. Are too! Are
not
! Diggle comes around to Deadshot's positive attitude and gives him a "Let's do this!" thump on the shoulder. The shoulder that just had a bullet pass through it. Either Deadshot's got one hell of a poker face or they just forgot about it. Continuity!
Flashback! Floyd is in prison, where he belongs, when some chick comes to visit him and offers him a case full of cash to come work for the Suicide Squad. Who carries around a case full of cash, anyway? The chick says that Floyd will never see his family again, but it's just as well, because for people like him, love is a bullet in the brain. Worst. Hallmark. Card. Ever. Floyd wants to know who his target is, and the chick tells him it's Digg's kid brother, Andrew. Oh noes!
The Quiver. Ollie tells Felicity that Ray is a jerk and he's going to get himself killed. In that shitty knockoff Iron Man suit? Yes. Yes, he is. Felicity gets all weepy again. Jesus, what are you people doing to this great character? All she does is cry anymore! You're killing me! Ollie says that neither Ray nor Ollie can be with Felicity
and
save the city. Pssshh, women, right? Always keeping you from saving the city. Their uncomfortable chat gets cut short when they track a 911 call of gang activity at the power plant. What's a gang doing at the power plant? Let's go see!
Power plant. Arrow meets up with Arsenal, but there ain't no gangs here. But you know what is here? Someone in a shitty knockoff Iron Man suit. Hi, Ray! Arrow fires an arrow that bounces off Ray's armor, and then stands there, looking completely confounded. He looks to Arsenal, who shrugs. So … no trick arrows, then? No explodey arrows, no shocky arrows, just one and done? Okay. Ray hits Arsenal with some Emperor Palpatine lightning, which surely kills him, and ONLY THEN does Arrow remember the trick arrows. He fires an explodey arrow, but Ray flies away from it. Oh.
Arrow spots something flashing on Ray's hip, so he throws … something at it and breaks it, and the suit powers down.
Now
do you see how much of a shitty knockoff Iron Man suit this thing is? Ray put the battery on the
outside
? And completely unprotected? What a noob. Arrow and Ray inexplicably make nice with one another, and then Arrow stalks off. For real?
For real
? I hate to interrupt your dramatic exit, Ollie, but
Arsenal is lying dead over there
! Hello? Anyone? Is this thing on? Well, I guess Arsenal's dead. No big loss, but still.
Kasnia. Still with this? Okay. Senator Cray is sorry that all the hostages are going to die, but … oh, hang on, the Squad is here to shoot us all to hell. More pew! pew! pew! and then Cray threatens to blow them all up, so everything calms the fuck down. Then Cray remembers how to count and realizes there's a Squad member missing. It's Deadshot! He picks off some bad guys and then shoots the detonator out of Cray's hand. Hah! What are you gonna do now, tough guy?
Everybody escapes to safety, but Deadshot has to stay on the roof of the building to cover everyone's escape. Which he does. And then he gets himself blowed up. Cupid is naturally saddened by this turn of events, but she'll find love again in a few minutes, don't worry. Can they rightfully be called a squad anymore?
Palmer Tower. Felicity swings by to see Ray, and I swear to God, it sounds like Felicity is drugged. She speaks verrrrry sloooowwwwly and her voice is very deep. And she's slurring her words. What the fuck? Did she dip into Los Alcones' stash? Anyway, she and pink eye Ray make all nice. Aw.
Digg's place. Digg and Lyla are decompressing after their adventure, and Digg says he's quitting the Hood Squad. Oy. What does that make? Six times that Digg has quit the Hood Squad? Seven? And it never sticks? Lyla says that Digg's making a difference and should keep with it, and then tells him that she quit ARGUS. Um, how exactly are they planning to pay the bills?
The Quiver. Felicity is back to her happy self again, apparently because she's got a man in her life, which is, of course, the only thing that can make a woman happy. If you're going to keep writing Felicity this way, I'd prefer you killed her off. Please. Felicity exits and Digg enters, and he and Ollie drink some of that special vodka and toast their respective plotlines. Does … does anyone realize that Roy is nowhere to be found? That the last we saw of him was getting electrocuted and left to die? Nothing? Anyone? Okay. RIP, Roy. Ollie says they need to catch Evil Arrow before he starts killing innocents. And if that's not foreshadowing, I'll eat Cupid's gusset.
Mayor's office. Laurel, Captain Lance, Ray, and Felicity are all in the mayor's office. Everyone's bickering about the Arrow when the mayor puts a stop to it. By taking an arrow to the chest! Ow! Everyone looks on wide-eyed as the mayor dies. Across the street, we see Hong Kong Phooey in an Arrow costume nock an arrow and point it at Felicity. Wait! I was kidding about killing her off! WAIT!
Next week! The whole town is after the Arrow, and the Arrow doesn't like it. Not one bit.
​