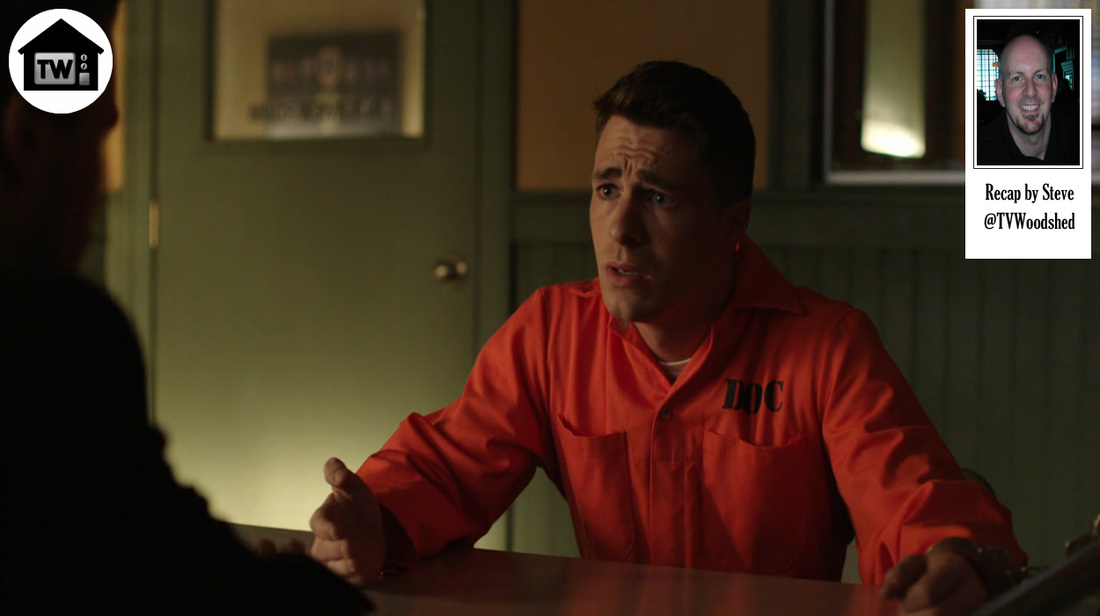 There have been rumors swirling for weeks that Arrow was going to lose one of the main cast members. Is it true? It certainly looks that way! And then it doesn't. But then it does again! So many swerves!
Previouslies: Everybody finds out that Ollie's the Arrow and he surrenders himself to the cops, but then Roy's all like, "Hey! Over here! I'm the Arrow! Look at me!" Like Roy could be the Arrow. Sometimes I wish he'd just wind up in prison and get shanked by a sadistic guard, y'know?
Starling National Bank. Two guards are in the lobby watching the news, which is painting a highly unflattering picture of Roy. His nose is all wrong. Suddenly the lights in the bank start flickering, and Guard #1 tells Guard #2 to go check it out. Haven't either of you seen any of the
Friday the 13th
movies? Or even
Scream
? Guard #2 is so totally going to die, and I'm not just saying that because I've seen the episode and know that he dies.
Guard #2 searches the break room with his flashlight, and then tries a bit of acting by getting frustrated with his flashlight for going out. And I'm guessing that was improv, because the flashlight never actually goes out. Seriously, it doesn't. It's a little uncomfortable to watch, actually.
Anyway, Guard #2 happens across a dude in a black trench coat with glowy red eyes, and before I can say "Told you so," ol' Glowy Eyes fires a red eye beam at Guard #2, killing him. Wow. I don't want to say that they ripped off Marvel's Cyclops, but man did they rip off Marvel's Cyclops.
Guard #1 comes running over to investigate and gets more of the same, which leaves a dramatic blood splash across the TV the guards were watching only moments before. Aw, now Rent-A-Center will NEVER take it back!
Starling Police Department. The van transporting Roy arrives, and is swarmed by reporters and people holding dozens of signs. When did these people have time to make signs? Roy got arrested, like, five minutes ago. Inside the building, Ollie is handcuffed to a desk and watches as they bring a handcuffed Roy, dressed in the apparently-one-size-fits-all Arrow costume, past him.
Captain Lance starts making Ollie feel all bad about himself when Laurel comes in and tells Ollie to shut his yap and hands Lance a
habeas writ
. Which is Latin for "move this plot along." Laurel throws around a bunch more legalese and Lance is forced to release Ollie, but assures him, "This isn't over." Aren't there, I don't know, crimes that the SCPD should be out preventing?
Palmer Tower. Felicity (Smokin') Smoak is tapping away on her computer as only she can. As an aside, I need to thank my fellow Woodshedder
Jacob
for introducing me to the term "Second Hand Smoakers" to describe Felicity fans. Where do I get my membership card? So Ray walks in and fumbles around in that Hugh Grant way he has about him, and sorta kinda apologizes for telling Felicity that he loves her. Dude. No one anywhere at any time for ANY REASON should apologize for loving Felicity. Ever. Get it together, man.
Police station. In one of those interview rooms that is conveniently never monitored by anyone, Roy is handcuffed to that bar on the table. Remember that bar? Think of all the luminaries who have been chained to that very bar throughout the series. Deathstroke, Huntress, Ollie, Thea, Malcom, Moira … the list goes on and on. Oh, if only that bar could talk. Roy is dressed in an orange jumpsuit, and you know what? I think orange might be Roy's color. Maybe think about that when it's time to upgrade his Arsenal outfit again.
Ollie pops in to see Roy, and they have a conversation that would be REALLY INCRIMINATING if anyone were, y'know, monitoring the situation. And of course, the idea that the cops would just let Ollie and Roy chat unsupervised is laughable anyway, but that's the least of this episode's problems. Roy tells Ollie that he's doing this so that he can do some time in prison for killing that cop in his Mirakuru-fueled rampage. What about all those people he grievously injured? How about some jail time on their behalf too?
Flashback! You know, the flashbacks this week are so short and so tedious that I'll just recap them all here. Ollie and the Hong Kong Phooeys are on the run from ARGUS. HKP gives Ollie his keycard to break into ARGUS, where he finds a wounded Amanda Waller. She says the Army's going to release that Alpha/Omega thing to wipe out China. Ambitious! The Army's got an inoculant so they won't die, which Ollie and the Hong Kong Phooeys manage to steal. And he and the Hong Kong Phooeys are going to vaccinate themselves and then stop the Army from doing the bad thing. And that's it. That's your flashback. I miss the island.
Verdant. As if Ollie didn't have enough bullshit to deal with, here's Malcom Merlyn. Malcom tells Ollie that the mayhem and madness will continue until Ollie's wearing the Demon's Head ring on his finger. That's all you have to do to become Ra's al Ghul? Huh. And hey, you get a ring too. Sweet. Ollie says he's busy and tells Malcom to beat his feet.
Inside the club, Ollie regroups with Thea, Diggle, and Felicity and tells them they need to break Roy out of prison, but before they can start working on that, the news reporter on the TV – who's getting a lot of work this week – shows some footage of Cyclops breaking into the bank. Ollie tells Felicity to call
The Flash
and see if they're missing any meta-humans. And also call Stan Lee, see if he's okay with us using his character.
But before any of that happens, Captain Lance shows up with a bunch of cops and a warrant to search Verdant's basement. What the hell? How
in the world
could it have occurred to Lance that The Quiver was under Verdant? Make sense, you stupid show! Lance has his men bash the door down and finds The Quiver, with all of the Hood Squad's cool stuff. Dammit, now he's going to want to play with it. We can't have cool stuff! One of the cops dusts for fingerprints, and they only find Roy's. Hm. Now I'm starting to wonder if Roy really
is
The Arrow and not some laughable sidekick.
Outside, Felicity confesses to wiping down all of the equipment and leaving only Roy's prints. And … how does one do that, exactly? Ollie wants to go get some more cool stuff from the secondary lair – the Quiver II? – but Digg reminds him that the cops will be watching. Oh yes, they'll be watching. Rowr.
Ollie once again tells Felicity to call The Flash to take care of Cyclops, but Felicity says Barry's got enough to deal with, what with Dr. Wells and The Reverse Flash and all. (See our
Flash
recaps if you're lost.) Then Felicity gets an idea! An awful idea! Felicity gets a WONDERFUL, AWFUL IDEA!
Palmer Tower. Yes, this is the idea. Have Super-Ironman (again, kudos to
Jacob
) go after Cyclops. It's hard to imagine a worse idea. Except maybe sending Aquaman. Not Jason Momoa Aquaman, that would be awesome. The original fruity Aquaman. Where were we? Oh yes, Ray being very excited to help. Oy. If I were a betting man right now, I'd say we're losing Ray. But let's see how it all plays out.
Iron Heights Prison. Roy's being led past cells where degenerates are yelling things about him being in danger because he's The Arrow. Is nobody noticing how beautiful Roy is? Man, things have really changed since I was in prison. Anyway, Roy's led to a visitor alcove, where Thea is waiting on one of those phones. You know the phones I mean.
Thea wants to know what's going on, but Roy refuses to tell her. Um … since Thea knows everyone's secret identity, wouldn't it be clear to her exactly what's going on? Roy taking the fall so Ollie can go free? Roy can't bear to not tell Thea what she should already know, so he hangs up and walks away. Hey! I brought a cake with a file in it! Don't you want it?
Palmer Tower. Ollie's on the phone with Thea, and assures her that Roy won't be in the stir much longer. He's working on a plan. Except that he doesn't have access to any of his cool stuff, and the only other available super-hero is working on hunting down Cyclops and returning him to the Marvel Universe where he belongs. But he's still working on a plan. Just not a good one.
Ray delivers some excited technobabble about how he was able to get a good photo of Cyclops' face, and they find out that he's Jake Simmons, a serial bank robber. Now there's a job title! Ollie is all ready to go hunt this guy down, but Ray's all, "Don't worry, I got this!" Oh boy. Yup, Ray's gonna die.
Abandoned warehouse. Super-Ironman flies in, and I fall in love with him briefly when he wonders aloud just how many abandoned warehouses there are in Starling. See, that's what
I've
been saying! Ray wanders around a bit, and then suddenly the lights go out. Get outta there, Ray! Cyclops shows up and blasts him, and then Ray blasts him right back, but Cyclops absorbs the energy. Ah, so a bit of Sebastian Shaw too, eh? Ripping off the whole X-Men line, are we?
Ray does his best, but with the absorbed energy, Cyclops/Sebastian Shaw suddenly has super speed, like Quicksilver, and punches Ray all over the place. Then Cyclops/Sebastian Shaw/Quicksilver wraps a chain around Ray's throat to choke him out. Nice suit, Ray. No neck protector built into that thing? Ray flies away and crashes in an alley. Good job, Super-Ironman. The city is a lot safer with you around.
Palmer Tower. Ray, all beat up and humbled, is doing a post-mortem with Ollie. Ollie tells him he's a bad hero and he should feel bad, and that if he trusts in the suit and not himself, he's going to wind up dead. It's true. It's just an awful, awful suit.
Iron Heights. Roy's being led back to his cell in handcuffs. Are those really necessary? Just asking. Because all of a sudden a bunch of prisoners attack Roy and the handcuffs are really a bit of a hindrance. Roy manages to kick all their asses but gets a nasty stab wound down the shoulder. Still, for being cuffed, not bad at all.
Colossaloft™. Cops are tearing Thea's place apart while she sits there looking miserable. What exactly is it they're looking for? A framed photo of The Arrow that says "So proud to be your brother! Love, Ollie"?
That police lieutenant we haven't seen since Season 2 – you know, the one who gave Lance back his shield – shows up and wants to know why Lance is still pursuing Ollie when they've got Roy in custody. Yeah, really. He warns Lance not to throw his career away on a witch hunt. Oh, and also? Crime is up 1,000% since you've got every cop in the city going through Thea's underwear drawer. And they all seem to be taking their sweet time about it, too.
Thea tells Lance he's not going to find anything in her Colossaloft™. I wonder where she hides the weapons that Malcom used to train her when he came to visit? Lance gets a call that Roy's been attacked, and Lance tells Thea that Roy's gonna end up dead and it'll be Ollie's fault. Sensitivity!
Palmer Tower. Thea arrives to tell Ollie about the attack on Roy. Ollie's ready to go break him out, but Digg tries to talk him down by telling him he could lose everything. Ollie says he's already lost everything. What about Digg and Thea and Felicity and Laurel? He hasn't lost them. Has he? Was that foreshadowing? Ollie leaves anyway and then it's up to Felicity to talk him down. Which she's able to because, hey, she's Felicity.
Prison. Captain Lance comes to visit Roy. Lance keeps hammering away about Ollie – oh give it a rest, already, will you? – and Roy says that he's right where he belongs because he killed that cop. And … that's about it. Okay, well, thanks for coming! Next time can you bring a comic book or something?
Processing plant. Felicity is out in the field, which is a really brilliant idea with a killer meta-human on the loose. She's setting up some tech doodad and then bumps right into the killer meta-human himself. And Felicity, despite her absolute brilliance and the fact that she's
seen the guy's face
, doesn't recognize him because he's wearing sunglasses. Really,
Arrow
? Really? So now Felicity is the damsel in distress and she's gotta be rescued. You writers could learn a thing or two from
Buffy
about strong female characters.
Palmer Tower. Ray, Ollie, and Digg are waiting for Felicity's doodad to come online, but instead they see a power drain right where she's supposed to be. How could you morons let Felicity go out into the field?! Ray gets a call from Felicity, but it's actually Cyclops/Sebastian Shaw/Quicksilver calling to taunt Ray while he chokes out Felicity instead of vaporizing her with his eye beams as he's done to everyone else. Felicity manages to … steam him? I think? And she gets away while Ray and Ollie cook up a plan to rescue her.
Processing plant. Some really shitty CGI shows Super-Ironman arriving, and shortly after he does, Ollie uses some kind of headset to take over the suit's movements. Let's see … ripping off
Iron Man 3
,
Pacific Rim
, and mostly,
Real Steel
. This episode is impressive just for the sheer number of ripoffs it's employing.
Cyclops catches Felicity and, once again, chokes her instead of zapping her, giving the Ollie/Super-Ironman hybrid time to rush in and save her. Then the fight begins! And it's … mostly punches. Okay, so what we've seen of this suit: flight, compressed light beams, and punching. Nice suit, Ray. The link to Ollie gets severed and it's up to Ray to stop Cyclops/Sebastian Shaw/Quicksilver on his own. Then they rip off
Rocky
, with Ray as Balboa and Ollie as Mickey. Sigh. The bad guy's defeated, but only because he didn't really use his powers right.
Iron Heights. Roy's being marched along with a bunch of other prisoners when a guard grabs him out of line to yell at him for not keeping his eyes front. Roy's sorry, but sorry's not good enough and the guard stabs him in the gut! Oh noes! Roy! It's Roy! Call Vegas and tell them it's Roy!
Colossaloft™. Ollie arrives and finds Captain Lance with Thea. Thea tells Ollie that Roy's dead, and Captain Lance blames Ollie as he leaves. Well you don't have to be a dick about it. Cue sad Ollie!
The Quiver. Or what's left of it. Shouldn't the cops have locked it down? Ollie's being all sad and tells an arriving Digg and Felicity that he never should have listened to them. Um, listening to them has been the only smart thing you've done for three seasons now, Ollie. They tell Ollie he may never forgive them for this, and then step aside to produce … Roy! Roy's alive! But how? Let's find out!
Turns out this was all an elaborate ruse to make everyone think The Arrow was dead and, therefore, Oliver Queen was innocent. Wait, what? Surely Captain Lance still thinks Ollie's guilty. And he's really the problem, isn't he? Anyway, the guard who stabbed Roy was an ARGUS guy who knows how to stab you without killing you while simultaneously dosing you with something to make it look like you're dead. Those are some awfully specific talents he's got there. So anyway, Ollie asks the all-important question: If everyone thinks Roy's dead, what does Roy do now? Let's find out!
Streets of Starling. Ollie, Digg, and Felicity are gathered to give Roy a sendoff. He says his sweet goodbyes, and no one touches on what happens if a cop catches him for driving a car registered to Roy Harper, or the fact that his ID probably still identifies him as Roy Harper, or that Roy Harper's face was all over the news recently so he's probably quite recognizable. Meh. That'll all work itself out. Felicity reminds Ollie that there are people who love him, and Ray watches in the background, all hangdog, like, "Hey, people love me too. Right?"
STAR Labs. Wait, what? What are we doing in
The Flash
? Oh, right. Cyclops/Sebastian Shaw/Quicksilver is a meta-human so they need to lock him in the STAR Labs basement. Ray and Cisco get the guy in his cell and Ray comes up with the name Deathbolt. Well, it's certainly easier to type than Cyclops/Sebastian Shaw/Quicksilver. I still think Marvel should sue.
Ray asks Cisco how the prisoners eat and poop, but Cisco has more important things on his mind. Like the fact that on Particle Accelerator Day in Central City, Deathbolt was in jail in Opal City. That's where Starman lives! So if he was nowhere near the particle accelerator, how did he get his meta-powers? Watson! The game's afoot!
Colossaloft™. Thea's drinking red wine and looking at old pictures of her and Roy. That's a good combination that never leads to suicide. Wait, does Thea know Roy's alive? It doesn't look that way. Anyhow, she takes a big gulp of vino, and then drops her glass when Ra's al Ghul drops by! By the way, that has to be the shatteriest glass ever invented. And even though there's wine in it when she drops it, there's none when it hits the floor. Good thing, too. Red wine and hardwood floors? Murder.
Ra's asks if she knows who he is. Thea says he's The Demon, and he corrects her that he's The Demon's Head. Stupid. She says that Ollie will never bow to Ra's' will. Yu-huh! Then Thea shows how much of an idiot she really is by engaging in fisticuffs with Ra's. Sure, Ollie couldn't defeat him and Malcom couldn't defeat him, but
Thea
will. Bitch, please. She gets smashed through a glass table and then Ra's runs her through with his sword! Fucking hell! On a positive note, that means Moira, Ollie, and Thea have all been shish-kebabed by swords. Family togetherness!
Next week! It looks like Ollie brings Thea's rotting corpse to Kinda Farbat to dunk her in a Lazarus Pit, and that she comes back … wrong. Don't bury people in the
Pet Sematary
!
​