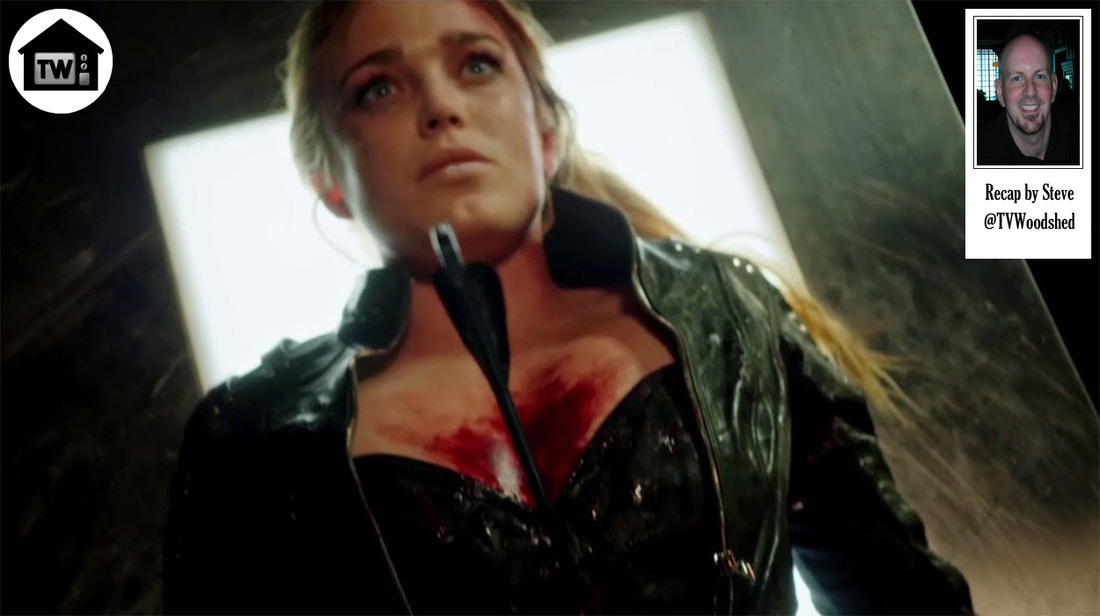 You'd think an episode with arrows flying left and right while the gang begins the search for Sara's killer would be exciting, but you'd be wrong. If you're looking for plenty of moping and touchy-feely stuff, though, are you ever in luck.
Previouslies. Hong Kong, Superman, and the death of the Cleavage Canary. I'm tempted to make that the title of my autobiography.

Starling City, looking suspiciously like Chicago. Felicity (Smokin') Smoak, Ollie, and Roy arrive at Verdant, which is shut down and covered with dust. Who owns Verdant now, anyway? Last we knew it was Summer Glau when she owned Queen Consolidated, but she's dead. Does Superman get the deed along with Ollie's old company? Anyway, Roy and Felicity are arguing about upgrading the phone systems as they make their way to the ArrowCave.

ArrowCave. Laurel is there, and look! She's made a life-sized cake shaped like Sara, and it has three enormous candles sticking out of it. One, two, three … haaaaapy biiiiirthdaaay toooo youuuuu. Oh wait. That's not a cake. It's Sara's arrow-riddled body. (Not Arrow-riddled body, that was last season. Brown chicken brown cow.) Everyone gets all weepy and freaked out as Laurel tries to explain why she didn't bring Sara to a hospital. Because no one ever brings anyone to the fucking hospital on this show. As Roy comforts Felicity, Ollie comforts Laurel and closes Sara's eyes. So she doesn't have to watch this scene? Lucky duck.

Flashback! A little early in the show, but okay. So far the flashbacks have been, like, dullsville, daddy-o. Let's see where we are. It's a rooftop in Hong Kong and Hong Kong Phooey and Ollie, dressed like a commercial fisherman, are on a rooftop. They chat about what a ballbuster Amanda Waller is, and then Ollie ends up with a sniper rifle in his hands and is told to whack a guy on a nearby building's balcony. Not whack him off, just whack him. Hey, look at that! Ollie's target is none other than TOMMY MOTHERFUCKING MERLYN! Hey Tommy! See, I just KNEW he wasn't dead! Don't you people dare remind me that this happened five years ago, you'll harsh my buzz.

Verdant. Laurel's waxing nostalgic about a stuffed shark that Sara used to play with. God, are you still on about Sara? She is so ten minutes ago! Move on! Laurel's shirt is very loose and I'm not optimistic about the cleavage she's going to bring to Black Canary II. She and Ollie chat, and she decides she's going to help hunt down Sara's killer – oh, just what we needed, Laurel along for the ride – and that she's not going to tell her dad that Sara's dead. She takes her leave of Ollie, saying that a bar is the last place she needs to be right now. It's … not so much a bar as an abandoned warehouse. But whatever gets her gone, I'm in favor of it. Ollie calls Thea and gets her voice mail. Take the hint, buddy. Felicity says there's nothing off the cameras where the murder happened, so Ollie heads off to where the murder happened.

Where the murder happened. Ollie pantomimes the killer's movements to try and figure out what went down. Um, she got shot with arrows and fell off the building. Easy peasey. Digg shows up to offer his condolences. He and Ollie chat for a bit and then Felicity calls Ollie to tell him that Detective Lance called – even though it's been made abundantly clear that he's Captain Lance – and he needs to see the Arrow. So the Arrow he shall have.

Alleyway. Captain Lance is pacing back and forth. The Arrow arrives and asks, "What is it, detective?" Like you do, because he's a captain now. Getting tired of saying it. Lance tells Arrow that he looks like someone peed in his corn flakes, which means he can see Arrow's face as clear as day. Clear as day! Not. Going. To. Rant. About. This. He gives Arrow information about a guy who took an arrow to the chest. Hey, just like Sara! I mean – what?

Warehouse. Some generic guy is running and stops to catch his breath. He turns and sees an archer dressed all in black fire a bolt that blasts through four panes of glass and lodges in the guy's chest. Impressive! Do it again!

ArrowCave. Roy and Felicity are bagging up bits and pieces of Sara's blood-stained gear. Dibs on the bustier! And Sara's still laying there on the table. Isn't she starting to, y'know, get ripe? Felicity gets sniffly as she tells Roy how she was always jealous of Sara, and thought of her as an Amazonian warrior. Yep, all 4'11" of her. Digg and Ollie arrive, talking about the archers that might have done this dastardly deed. Ollie says there aren't many of them. Well thank goodness for that! Felicity gets intel on the latest guy to be skewered and Ollie wants to go talk to a junkie who may have witnessed something. He tells Digg to talk to his baby mama and get her to use ARGUS to put together a list of mercenaries and assassins. Planning a holiday party, are we?

Flashback. Ollie pusses out and tells Hong Kong Phooey he's not shooting Tommy. HKP tells Ollie that Tommy's in Hong Kong looking for him, because when Ollie logged into his e-mail, it set off an alert. Huh? Must be a new Google thing. And as I pointed out in last week's recap, Ollie did NOT log into his e-mail because he didn't have time. Unless the Internet café/opium den had a computer that saved his login for him. You're only supposed to do that in a trusted location, Ollie!

ArrowCave. Felicity busts Roy looking up Thea's file on the FBI database. And no she doesn't because, for the kabillionth time, Roy's not that smart. Either way, Roy shares the note that Thea left him before she skipped town. Does anyone remember what it said? I don't. But it prompts Felicity to tell Roy that he has to give the note to Ollie. Roy doesn't wanna, but I get the sense that he will. Felicity gets a call or a text or something and heads out. When Roy asks where she's going, she says "There's someone I need to kill." Hey! Sensitive much? We just had a death in the Arrow family. Choose your words with more care.

Queen Tower. Superman is refurbishing the office space and getting ready for a fundraiser when Felicity arrives and gives him an earful. Apparently he's been all up in her grill, trying to get her to come work for him, and even spent over a billion dollars to buy the Radio Shack knockoff where she works so that technically he'd be her boss. Why didn't I ever think of that? She tells him to leave her the fuck alone and quits on the spot, so he uses some sort of Kryptonian empathy power to figure out that something's bothering her. He speaks tender words as she storms off into the elevator. Well that went well.

Warehouse. Arrow shows up to interview the junkie. Said junkie tries to parkour up to the floor above and Arrow slams him right in the nuts! Oh, my ovaries! Arrow punches some information out of the guy and passes it on to Digg, who uses an ARGUS computer to identify the Black Archer as Simon Lacroix, who goes by the name Komodo. Like the dragon? Or no, is it those traditional Japanese dresses? Either way, they pass the info on to Felicity who, naturally, finds the guy out and about.

Streets of Starling. Komodo is chasing down some dude in an SUV on his motorbike. Hey, that's Arrow's gimmick! Get your own! Komodo tries to kill the SUV dude but Arrow stops him, and that's where things get really fucking-ass confusing. Basically, Arrow and Komodo have an impromptu jousting match with their bikes and bows, but it's too dark to tell who's who. Are we winning? Someone takes an arrow to the shoulder and the other one rides off. Oh, OK, it's Arrow with the arrow in the shoulder. Nice work, Ollie.

ArrowCave. Felicity, Ollie, and Digg kill a little time recapping the first half of the show before we find ourselves in another …

Flashback. Ollie is telling HKP about his brilliant plan to get a body from a local morgue and try to pass it off as Tommy. HKP saves us all the trouble and points out to Ollie that it would be a HONG KONG MORGUE filled with Hong Kong-type people. What a dumbass. HKP tells Ollie that someone's gotta kill Tommy. But since we know that Tommy's there when Ollie returns to Starling, we know that no one does. Not a lot of suspense there. Speaking of Tommy, he's on the phone with his dad in the middle of an argument about him taking the Merlyn private jet to Hong Kong. He tells Malcom to go back to banging his pilates instructor and hangs up, and then someone jabs a syringe in his neck and covers his mouth. I … think you're supposed to do that the other way 'round. Not trying to tell you how to knock people out. Just sayin'.

Hospital. Laurel shows up to visit SUV guy and the cops guarding him give her a hard time. She uses the daddy card to get past the guards and into the room. The poor shmoe on the bed is Kelso, apparently, and he's none too interested in talking to Laurel. Who is, really?

ArrowCave. Felicity is running some sort of program none of us understand and Ollie is getting antsy. They snipe at each other for a bit and Felicity cries about Sara being in a freezer upstairs – CanarySicles! – and then Ollie makes a speech about how everyone is looking to him to lead, and if he takes time to grieve then … I don't know, it's all tragic and soul-searching and fills up the episode's run time. It ends with Felicity telling Ollie that life is precious and she wants so much more for hers than this. Then she leaves. Off to The Flash, presumably.

Hospital. Laurel's interrogating Kelso, who is being less than cooperative, so she slams his injured arm on the side rail and twists it. They're both screaming, which apparently the cops right outside the door are choosing to ignore. He admits that he and the other two arrow-in-the-chest guys were in on a deal together to build an oil pipeline for something called Ameritech and … hold on, I've just got to take this. Hello? Oh wait, that's not my phone, that's an arrow in my chest. Ow. Laurel runs to the window that the arrow just came through because that's how smart she is, and she sees Komodo on the opposite rooftop. Hey, you! You with the arrows! Um … stop!

ArrowCave. Ollie's still not able to get a hold of Thea. Dude, take the hint. Roy finally comes clean about the letter Thea left him, and Ollie takes the news pretty well. Of course, it's possible he's thinking Next time we're in a fevered battle, you're gonna catch a friendly fire arrow in the chest, Roy. Or maybe he's just fine with it. Hard to say since I don't remember the contents of the letter.

Hospital. Laurel's trying to get Felicity on the phone when Captain – yes, for the love of God, Captain – Lance shows up to make sure his baby girl is all right. He gives her grief for putting herself in harm's way, and tells her that Sara is taking on enough risk for the both of them. Well, yeah, Dad, but Sara's in the meat locker at Verdant until we can figure out how to get rid of her body – I mean, what?

ArrowCave. Armed with just one word from Laurel – Ameritech – the team is able to figure out that the three arrow-in-the-chest guys were in on the oil deal together and someone hired Komodo to stop it. Isn't that a little excessive? Couldn't someone have said, "Yeah, guys, that oil deal thing isn't gonna work, so we're scrapping it." I don't even really understand what the deal was or how these guys were involved, but I'm sure someone does. There's one more guy involved in the deal and he's going to be at Superman's benefit tonight. So he'll be fine. Also, Felicity is back in the ArrowCave, typing away like nothing ever happened. I thought she left. Did they edit these scenes together wrong? Laurel grabs a gun and says she's gonna go kill Komodo. Ha! As if! Ollie tells her to keep her scrawny ass out of harm's way. Since when did telling Laurel to do something ever work?

Queen Tower. Or Fortress of Solitude. Superman is glad-handing the nice rich folks at his party, and then makes a speech about how he's going to give half his fortune to the people of Star City. I really … I don't think you can just change a city's name like that. I think there are procedures in place. You'd at least have to have something notarized. Anyway, Superman says that his entire salary for the year will be a dollar. Ooh, you should buy a box of Little Debbie snack cakes. They're 99 cents this week. He challenges the rich and powerful in the room to invest in the city and help save it. He seems like he really wants to do well by Star(ling) City, but then, so did Brother Blood. And look how that turned out.

Smash! That's a window shattering in as Komodo – wait for it – crashes the party! Ha! Oh! My sides! No? Nothing? Too soon? So Komodo, who has proven he can put an arrow in a man's chest from across the street, inexplicably snags this guy's ankle with a rope and starts reeling him in. But not so fast! Here are Arrow and Lil' Arrow (Roy really needs an official name) to stop the shenanigans! There are fisticuffs aplenty while Superman, huddled in a corner, watches and thinks, "Whoa, I wish I were a super hero."

Komodo dives out the window and grabs his rope. Arrow follows close behind, while Roy stops at the window and thinks, "No way, man. It's all you." Arrow has .00002 seconds to notice that there's another busted window below, adjust his descent accordingly, and land on the new floor with his arrow at the ready. The floor's under construction and Arrow and Komodo play a little cat-and-mouse. Wait, is this Die Hard? Yippie-ki-yay, motherfucker!

They eventually square off and Komodo says he thought Arrow would be taller. We all did. They fire arrows at the same time that bounce off one another (!) and then Arrow catches an arrow and fires it back into Komodo's shoulder. He pulls off the guy's mask and it's a black dude. Named Komodo? Arrow wants to know who hired him, but Laurel shows up and wants to plug this guy full of lead. Yeah, see? Rub 'im out, see? Arrow tries to talk her down, and when she accuses Komodo of putting an arrow in Sara's chest – it was three arrows in Sara's stomach, actually, but we quibble over minutiae – he claims that on the night in question he was drinking in Bludhaven. Oh, now THAT sounds like a good story! Can we cut to that instead of this? Laurel pulls the trigger several times and gets unsatisfying clicks. She turns to Arrow: "You took the bullets out of the gun!" Boy, nothing gets by Laurel, does it? And thanks for the exposition. Bullets. Gun. Got it.

Verdant. Ollie tells Laurel that Komodo wasn't responsible for the skewering of Sara, and that the trail's gone cold. Wow, really? That's it? You find one suspect, it's not him, and you're all out of ideas? Damn, Ollie, you wouldn't make it a day on CSI. Ollie says Laurel's dad deserves to know about Sara.

Police station. Laurel shows up and we get to see Lance's new digs, including a nice door that says CAPT Q LANCE. See there? It's officially in writing, even if it's lacking punctuation. So knock it off with all the other titles, already! Laurel tells her dad that Sara took three arrows in the gut and fell on a dumpster. Well, she tries to, but his phone reminds him he's got to take his pills. She tells him Sara got poked in the midsection and did a triple lindy onto the pavement. Well, she tries to, but he knocks over a picture of she and Sara. She tells him that Sara ordered the Three Arrows and a Fall special at the Rooftop Café, but just can't bring herself to do it, so she doesn't tell him anything. That went well.

Graveyard. Oh, Lord have mercy. If you've gotten this far, you might want to strap yourself in, it's about the get bumpy. Ollie, Digg, Laurel, Felicity, and Roy are gathered around Sara's freshly dug grave at night. "Do you dig graves?" "Yeah. Yeah, they're all right, yeah." Sorry. Where do I begin with this? First of all, you can't just DIG YOUR OWN GRAVE at a cemetery. You're likely to find long-forgotten bones, or maybe pirate treasure. Second, even if you could dig your own grave, you certainly can't do it AT NIGHT. Where did they get the coffin that Sara's in? The all-night coffin store? And does anyone on the team have any experience, I don't know, EMBALMING SOMEONE? Is the plan to just bury her and let her thaw out down there? There's a headstone that reads SARA LANCE, Loving Daughter and Sister. Where did they have THAT made? Did they pay off a guy to make the headstone and then forget he ever heard the name that happens to be the same name as a Starling City D.A. and the police captain? And finally, what was the plan going to be if they happened to get busted by the cops digging a grave at night, which you clearly can't do? What if Captain Lance had showed up? What then? Okay, deep breath.

There's a lot of sniffing and sniveling, and then Laurel says it's not right, that it's downright perverse that Sara doesn't get a fresh grave. What does that mean? It looks pretty fresh to me. Laurel says that it's not fair that no one will ever know who she really was. Well first off, that's the whole point of a costume and a mask, dummy. Do you want the headstone to read SARA LANCE (BLACK CANARY)? Digg points out that they know who she was, and he and Lyla are naming the baby Sara. And if it's not too racist, Black Canary. Sara Black Canary Diggle. Nice ring.

Flashback. Tommy's in a room somewhere and Ollie's dressed in black, pretending to be some sort of kidnapper who wants a ransom. He tells Tommy that Ollie's dead and rotting at the bottom of the ocean. Despite the proliferation of the phrase "best friends" to describe these two, Tommy doesn't recognize Ollie's voice. We hear sirens and Ollie hides while Hong Kong Phooey, dressed as a cop, rescues Tommy.

ArrowCave. Ollie tells Digg that he's going to find Sara's killer. You know, eventually, when he gets around to it. Digg says that until Ollie does, he's back on the team. Digg's gonna be on the team for a while, then. Hooray! Digg leaves and it's a cue for sad emo music over a montage. Ollie's sad. Laurel's holding Sara's stuffed shark and looks thoughtfully at the leather Canary jacket. Put that down! Right now! Digg is standing over the crib with baby Sara, who has a "Sara" jumper on, in case you forgot. Roy's got Thea's number on his iPhone screen and looks like he wants to call. Felicity – looking SO fine, she should really wear her hair down more often – shows up at Queen Tower and tells Superman that she's decided she wants more out of life. Well, stepping up from Green Arrow to Superman should do the trick.

Someplace called Corto Maltese. My geography stinks, is that in New Jersey? On the Texas panhandle? On Mars? Eh, either way, in a really nice and spacious house, a bunch of hooded folks are whacking each other with wooden sticks in the tiny hallway. The one in the middle defeats the other two, which earns praise from our old pal, Malcom Merlyn. The one in the middle, surprise surprise, is Thea, and her new short haircut makes her look even younger, if that's possible. It would appear that she's ready to kick some ass. Wonder who she'll start with?

Next week: The search for Thea is on! Looks like we'll be doing a little globetrotting, and hijinks will ensue!
​