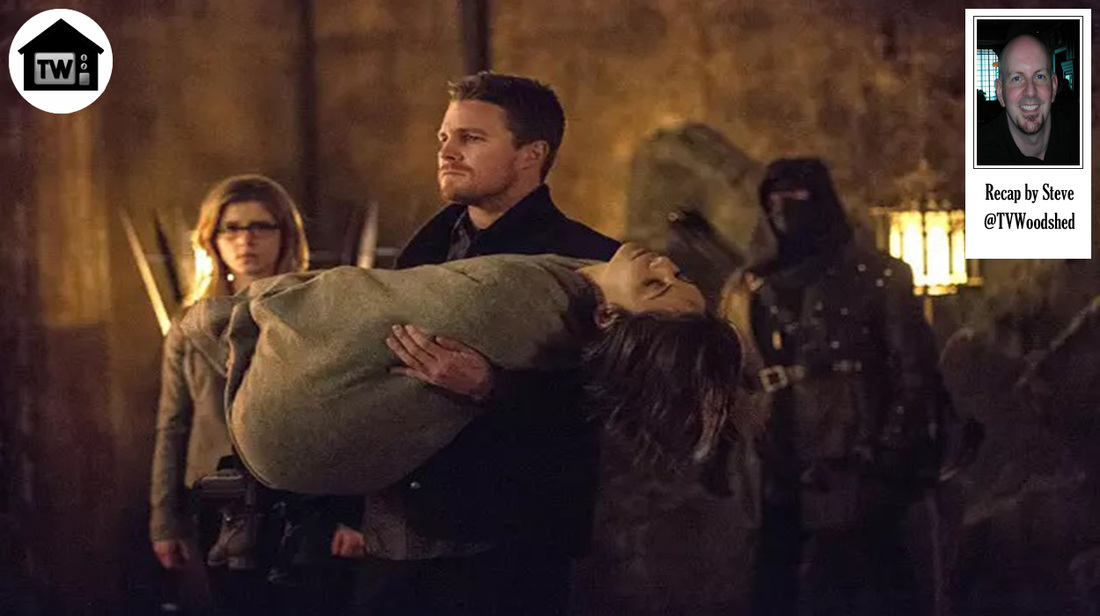 Well, we finally get some solid Olicity action, we have a chance to see a Lazarus Pit do its thing, and the Arrow writers prove beyond a shadow of a doubt that when it comes to anatomy and physiology, they don't know their assholes from their elbows.
Previouslies: Oh, you know. Little of this, little of that. Thea getting smashed through a glass coffee table and then stabbed through the chest with Ra's' sword. Same ol', same ol'.
Colossaloft™. We pick up right where we left off from last week, except that Thea has extricated herself from the wreckage of the coffee table and is choking on blood as she drags herself across the room toward the phone. Now I had originally planned on easing into this, but I think I'll jump right into the deep end. Thea is dead. Okay? Thea is dead.
She's 80 pounds soaking wet and her body has the consistency of a box kite. A big strong man smashed her little sparrow body through a glass table that was built not to smash. So she's dead there. If SOMEHOW she survived the smashy smashy, she got a MOTHERFUCKING SWORD THROUGH THE CHEST, which, assuming it somehow missed her heart and her spine, definitely went through at least her lung, so if she didn't bleed out from the wound, she would have suffocated.
But all of that is gleefully pitched over the side as she heroically crawls toward the phone. Luckily, Ollie arrives on the scene and finds her. He frantically calls 911 and then grabs a blanket to put pressure on her wound, ignoring the fact that the wound goes ALL THE WAY THROUGH so she's still bleeding out her back. And then instead of keeping her still so he doesn't injure her even worse, he PICKS HER UP to … I don't know, meet the EMTs out front? And if they're halfway decent EMTs, they'll give Ollie no end of shit for moving such a grievously wounded patient. So far, off to a great start.
Hospital. Thea – somehow still alive – is on a gurney as Ollie and a team of medical professionals race her to an operating room. Quick, before anyone has time to think about how inaccurately we're portraying her injuries! The doctor kicks Ollie out and he watches as they transfer her to a surgical bed. Thea flatlines, which is the first accurate thing to happen so far, albeit an hour or so late, and they grab the paddles.
Now I realize this is network television so they're not allowed to show Thea's boobies unless they're covered in a bra, but no medical professional ANYWHERE under ANY CIRCUMSTANCES would use shock paddles when there's even the most remote possibility of an underwire. You could kill someone. But then, we're seeing here that Thea is unkillable, so I guess the point is moot. Also, when they rip Thea's shirt open, there's no indication of a massive stab wound anywhere. And also, you would never use the paddles on someone with a massive stab wound. We're only five minutes into this thing and I'm already exhausted.
They manage to get Thea's heart beating again, weakly, and Ollie collapses against a wall, so relieved that every law governing life and death has been repealed for the sake of Thea's storyline. At this moment, Ollie is just grateful that the writers have no knowledge of how the body works, how blood flows, how injuries affect human physiology, and so forth. Thank you, writers. I'll never be able to repay you.
Hospital hallway. Ollie paces back and forth, waiting for some news about Thea. Hey, we were able to save her and she's fine! In fact, she's walking around and she'll be fine to go home in a couple of hours. I mean, why not, right? Anyway, the doctor comes out and dances around the fact that Thea's essentially brain dead and Ollie should consider pulling the plug. Do it, Ollie! End this before it gets any sillier! Ollie wants to see her. And maybe, you know, trip over an extension cord or something. Whoops!
Hospital room. Thea is intubated and hooked up to a dozen different machines that are, in essence, keeping her alive. And I'm happy to say that the tradition of not raising the bedrails in Starling City hospitals is alive and well! Ollie comes in and is very sad, and then Malcom Merlyn comes in and he's very sad too. This very emotional moment is interrupted by a very dull and pointless …
Flashback! Silly Wig Ollie and the Hong Kong Phooeys are spying on some Army guys from a distance. He's a Peeping Tom! General Beastmaster is there, and he plugs the Alpha thingie and the Omega thingie into another thingie and now that it's all mixed together, it's active and lethal. It's nice that he's doing all of this out in the open so everyone can see. Ollie steals a car so they can follow the truck that's carrying the … Alphega? And get it back before it kills millions of people. No pressure.
Hospital hallway. Sad Ollie is sitting around wondering how Thea could possibly have survived at all when Felicity (Smokin') Smoak and Digg show up to get some early screen time. Ollie glances out the window and sees purple smoke rising, which can only mean one thing! Wait, what does purple smoke rising mean again? Oh right, that the League of Assassins wants to talk. Sure is fortunate that Ollie was on that side of the hospital and close to a window, wasn't it? Ollie tells Digg and Felicity to stay with Thea while he goes to answer the purple smoke.
Rooftop. Present-day Hong Kong Phooey is waiting for Ollie. Hi Ollie! Hardly recognize you without the silly wig! Ollie, believing HKP might have been responsible for giving his sister the poke (but not in
that
way), gives him a sock in the snooker. HKP tells Ollie he can still save Thea if he'll just take Ra's' offer, for fuck's sake. Ra's will bring Thea back, just as he brought sexy back.
Colossaloft™. Ollie is packing up his shit. I don't blame him, that place probably smells like sheared pennies. Digg and Felicity arrive, despite being told to stay with Thea, to try and talk some sense into Ollie. Then Malcom shows up and there's the whole Lazarus Pit can bring Thea back/no it can't/well yes, it can, but she'll be all fucked up/Ollie don't do this/I have to do this routine. Seen it! It ends with Ollie agreeing to let everyone come and see a production of
Thea and the Lazarus Pit
, but they need a way to get to Kinda Farbat. Hmmm.
Palmer Tower. Ray is designing a suit that's more of a ripoff of War Machine than Iron Man when Felicity stops by. Oh, hi Felicity! Yeah, so, um, you love Ollie and not me, right? Okay, good. Let's zip this right along because I don't really belong in this storyline except to break it off with you so you and Ollie can bone later. Sure, take my jet to Kinda Farbat. By the way, I think my spinoff is called
Legends
or something. I'll see you there!
Airplane hangar. Okay, strap in, because virtually all logic is out the window at this point. EMTs are wheeling Thea toward Ray's jet. It doesn't look like Thea's hooked up to any of that machinery that was keeping her alive, so we can only assume she's dead. Malcom and Ollie are talking, and Malcom says that Thea's doctor thinks she's being moved to Central City. MOVED TO CENTRAL CITY. Sure, it's not like her condition is critical or anything. Who is this doctor? And who are these EMTs? Don't they find
any
of this odd?
Jet. Yep, here we are on a 12-, maybe 14-hour flight to Kinda Farbat, during which Thea – assuming that she is still SOMEHOW NOT DEAD – will no doubt suffer cardiac arrest a dozen times over. Did the EMTs come along in case there are problems? Felicity and Oliver share some quality time. Ollie talks about his quickie trip to Starling City during one of the flashbacks, and how he killed Thea's drug dealer to protect her. Oh yeah, that was awesome! Now he's failed her. And this city. You suck, Ollie. I hope Thea comes out of the Lazarus Pit with purple skin and a vestigial tail.
Flashback! Oh, if you thought the Thea storyline was silly, wait till you get a load of this! Ollie and the Hong Kong Phooeys are chasing the Army truck that's carrying the Alphega. Four highly trained Army soldiers with M16s start shooting the shit out of the car, but the car is fine. Ollie pops out the sunroof while the highly trained Army soldiers with M16s are shooting at him, and he's fine. Do these guys moonlight as Imperial Stormtroopers?
Ollie falls backward but manages to hold onto the back of the car, probably doing 80 miles an hour, with sheer force of will while his Chuck Taylors drag on the pavement. I say that he holds on to the back of the car, but really he's just sort of hugging it. I love you, car! Ollie then leaps into the truck filled with highly trained Army soldiers with M16s and dispatches them. But not without Yukio, who is holding onto the OUTSIDE OF THE TRUCK WITH A SWORD and stabs one of the soldiers. Long story short, the Alphega case is there but not the Alphega itself. Shit! All of that preposterous action for nothing!
Kinda Farbat. Ollie, Felicity, Digg, and Malcom approach the temple. Ollie is carrying Thea. He's CARRYING HER and she's not hooked up to any life-saving gear
whatsoever
. Please, FOR THE LOVE OF GOD, can we all agree that Thea is FUCKING DEAD? Anyway, the entire League of Assassins is there to greet them. Oh, and they have flags! I didn't know they had flags. I guess they're more like banners, really, but they're still cool. Ra's al Ghul, Hong Kong Phooey, and some chick we're never introduced to – I'll call her Lady al Ghul for simplicity's sake – come out to greet them. Hi Ra's! Here's that dead girl you ordered. Where should I put her?
Temple. Hong Kong Phooey offers to take Thea off Ollie's hands, promising to treat her as his own family. Do you mean estranged like your wife or dead like HKP Jr.? Probably dead. He dumps her off somewhere and then shows Diggle to his room. It's pretty sweet! You know, maybe this whole Ollie becoming the Demon's Head isn't such a bad plan after all!
Digg gives HKP shit about being part of the League of Assassins, and says that if he cared at all about Oliver, he wouldn't be working for the man who practically killed his sister. PRACTICALLY? Oh, for fuck's sake. You know, the writers could have made their lives so much simpler by having Thea die right away and having Ollie just bring her body to Kinda Farbat. Simplify, man! Anyway, HKP makes Digg feel like an asshole by telling him that he's hiding from the pain of losing his son. Ah, so HKP Jr.
does
die. Called it.
Lazarus Pit. Lady al Ghul is chanting some crazy shit while Ollie, Digg, HKP, and Malcom use ropes to lower Thea's body … beg pardon,
Thea
into the Lazarus Pit. Wasn't this in
Indiana Jones and the Temple of Doom
? The pit is frothy and looks refreshing, actually. Then the waters calm and the lowering ropes whip away. Ow, rope burn! Then Thea leaps out of the Lazarus Pit and jumps onto Ollie, looking all crazy, and says "Rar." Honest to God, like a kitten. "Rar." Acting!
Thea does some freaking out until they get some kind of sedative into her, and then she wakes up in one of Kinda Farbat's comfy, comfy beds. She's confused and disoriented and seems to think it's Season 1. Easy, Thea. Easy. Everything's cool. Go back to sleep and stop with the overacting. Malcom and Ollie argue for a bit about whether or not you should waste a Lazarus Pit on someone like Thea, and Felicity gets mad and storms out of the room. There, are you two happy? You've upset Felicity. The punishment is death!
Lazarus Pit room. HKP and Ra's are having a quiet little chat when Felicity storms in and starts giving Ra's a piece of her mind. You tell 'im, Felicity! Ra's dismisses HKP and tells the sad story about having to choose between leaving the family he loved or watching them die. Yeah, yeah, we all have problems. One of the stereo speakers in my car doesn't work, and you don't hear me bitching about it. Ra's says life is more often cruel than fair, and rarely gives us the opportunity to find closure. This guy's fun! He tells Felicity to go to Oliver and tell him how much she loves him before it's too late. Well, okay then.
Ollie's suite. Felicity pops in to, we assume, follow Ra's' advice. They have a nice little chat about life and choices and identity and whatnot, but none of us are paying the slightest bit of attention, because we've all seen the previews and we know what's about to happen. Ollie takes Felicity's glasses off and IT. IS. ON.
Brown chicken brown cow
. Now I know a lot of people felt like the sex was a bit of a letdown, but let's keep two things in mind: one, it was CW-approved sex, and two, sex is always a bit of a letdown. As if to prove that point, just when it's getting nice and squelchy we go into …
Flashback! Ollie and the Hong Kong Phooeys search the Army truck for the Alphega but no dice. They've got a captured soldier and Yukio points her sword at his dick to get him to confess that the Alphega is at the food cart. So it's not a bio-weapon, then? It's a cheap substitute for ketchup? Ollie and the Hong Kong Phooeys begin the search for said food cart.
Ollie's suite. Aw yeah, basking in the afterglow! Felicity finds them a bottle of post-coitus wine and pours them each a glass, but oho! She's drugged Ollie's glass! She's gonna sneak him out under her skirt! Brilliant!
The gang gathers around Ollie's drugged body and formulates a plan. Malcom knows of some catacombs they can use to escape. Yeah, I'll just call it now – that plan's not gonna work. But go ahead and try it if it makes you happy.
Catacombs. Digg, Felicity, Malcom, Thea, and Ollie – over Digg's shoulder – make their way through this plan that can't possibly work. A bunch of assassins get in their way and they dispatch of them rather easily, which doesn't say much for their ability as assassins. They pop out in the Lazarus Pit room and find more assassins, but HKP helps to fight them off. A swerve! They move on to a series of tunnels with Malcom carrying a torch. Wasn't this in
Indiana Jones and the Last Crusade
?
They find themselves surrounded by assassins with bows and arrows, which is never good, but Ollie regains consciousness and uses his station as Heir to the Demon to get everyone to stand down. Huh. I wonder if Prince Charles does the same thing. By the way, if I'm hearing this correctly, Ollie's title is going to be Watery al Ghul. That's just terrible.
Kinda Farbat. Ollie escorts everyone to the edge of the canyon and says his super-sad goodbyes. Last week it was Roy with all the super-sad goodbyes, this week it's Ollie with all the super-sad goodbyes. As Charlie Brown once said, "I have too many goodbyes in my life. I need more hellos." Ollie gives Felicity a big ol' smooch and then he's all by himself. Then he remembers he left the stove on at Thea's, but it's too late to tell anyone now.
Colossaloft™. Thea wakes up and is all disoriented to find herself in a pointless scene with Malcom. Thea's fine, Malcom's fine, and together, they'll buy a new coffee table.
Laurel's office. Oh right, Laurel! Looks like she had her time cut this week because she appeared on
The Flash
. You made the right choice, Laurel. Felicity stops by and is all disoriented to find herself in a pointless scene with Laurel. Then they hug and cry.
Temple. Ra's is pissed because he knows someone had to have helped Ollie and crew escape. Hong Kong Phooey's all like, "It was me. Go ahead, cut my head off." But Ra's is like, "Nah, that's fine. Just fetch me a latte." Then he tells Ollie that they need to strip the last bits of Ollie from Ollie. Sounds painful. Speaking of painful …
Flashback! Ollie and the Hong Kong Phooeys find the food cart they we seeking and a gunfight ensues. Then Ollie and the guy holding the Alphega engage in fisticuffs, and Ollie, ever the dope, manages to drop the container and it shatters, releasing Alphega everywhere. And that stuff stains cotton! Nice work, Ollie. Hope you can hold your breath a while.
Temple. It's time for shirtless Ollie to get branded, and I'm sure there are fetishists everywhere whose cups runneth over. In a nice bit of continuity, Ollie gets branded in the back with a symbol that looks just like the arrowhead in the show's title card. Is this considered signing a contract extension?
There's a quick montage of Ollie suiting up in new gear, and Ra's introduces Ollie as Al Sah-Him, Heir to the Demon. Then we get a look at Ollie's new gear, and it's really not that impressive. He kinda looks like every nameless assassin running around the temple. But I will say this – with the new face mask, no one will know who he really is. Finally!
Next week! Ollie's got a new haircut and Ra's is leading him around town to show it off. Oh, and it looks like he wants Ollie to kill all his old friends. Done and done!

​