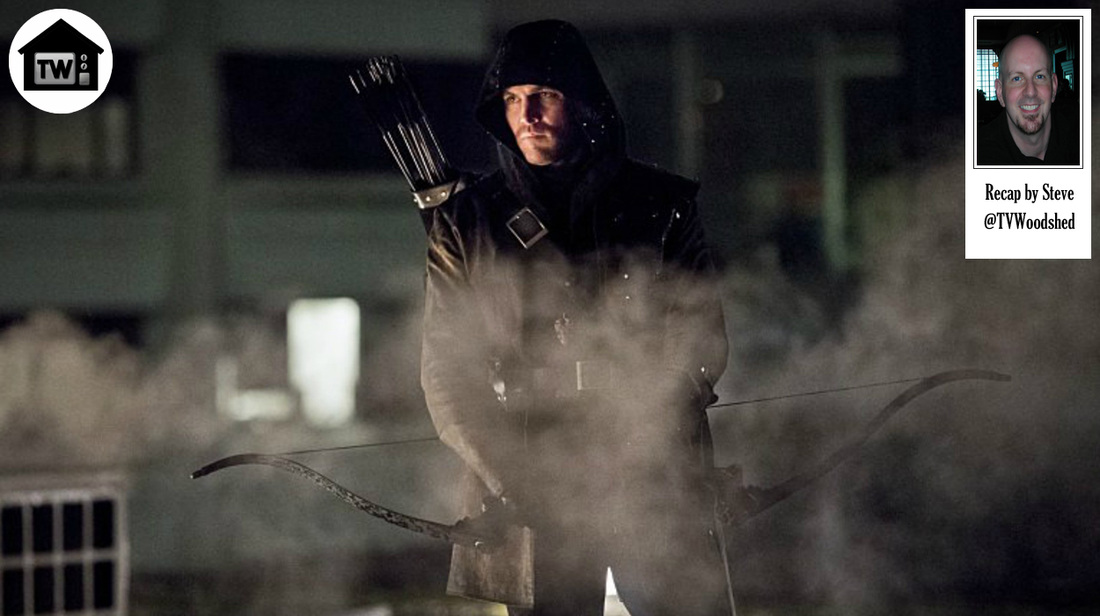 So instead of being happy for their old pal Ollie and his awesome new gig (seriously, how many people ever get chosen to be Heir to the Demon?), Team Hood just whinges and complains about how awful their lives are without him. Well change your diapers, kiddos, 'cause there ain't no Ollie no more!
Hey, they changed the opening narration! Now Ollie's got to become something else to save his sister. I'm guessing this voiceover doesn't last long.

Previouslies: Ra's al Ghul forced Oliver to take him up on his offer to become Heir to the Demon, and Team Hood left Ollie behind in Kinda Farbat to start his training. In six short weeks, he'll be selling Amway! Oh, and Ollie and Felicity had sex. And Ollie got a new outfit. I got some new running shoes, if anyone's interested.

Kinda Farbat. We start off this week with … a teaser trailer for the new Star Wars movie! Sick! There are two people in a darkened room and they're dueling with lightsabers! Bzzzzap! Bzzzzzap! I can't wait! Is it December yet?

Oh. Sorry, no. It's not lightsabers. It's just Oliver and Ra's al Ghul swordfighting. No, not that way. I guess Ollie's started his training then? Or maybe he wants to see Star Wars as badly as I do.

Anyway, we see Ollie in a training montage. It's the … eye of the tiger, it's the thrill of the fight, rising up to the challenge of our rival … and the last known survivor stalks his prey in the night, and he's watching us allll with the eyyyyyyyye … of the tiger! We get a helpful narration from our old pal Ra's al Ghul that Oliver is dead and only Al Sah-Him remains. Ra's, we've been training for three weeks now. You can call me Al.

As Al and Ra's finish up, Hong Kong Phooey pops in and says they captured an intruder. Off with his head! Oh but wait, he's not just any intruder. It's Diggle! Digg tries some Total Recall shit to pull Oliver back into the real world, but if Digg had watched the first few minutes, he'd know there ain't no Oliver no more. Al tells HKP to give Digg a sword, because he won't kill an unarmed man. Um, I think we've got a loophole here. If Digg doesn't take the sword, Al won't kill him. So how about not taking the sword, Digg?

Ah, who are we kidding? Digg takes the sword and duels with Al, but Digg's really more of a gun guy. Al gets Digg on his knees and jams a sword into his heart! Fuck! Oh, turns out it's not Diggle after all. Ra's explains that Al's been taking in a rare herb that makes him see funky shit. Is it oregano? Before we find out, Ra's wants to take Al someplace special, but before we can, we're dragged howling in agony into another …

Flashback! Okay, once again the flashbacks are really short and largely uneventful, so I'll recap them all here. The Alphega virus is spreading around Hong Kong and killing everyone, but Ollie and the Hong Kong Phooeys are immune. They want to get Hong Kong Phooey Junior and get the hell out of Dodge, but then spot a truck that's offering Alphega inoculations, but in reality they're just giving out Alphega injections. Bastards! Thanks to some wonderfully inept soldiers, Ollie and the HKPs are able to blow up the truck (thereby releasing more Alphega?), collect Junior, and steal a car. But oh noes! Junior's bleeding from the mouth so he's got the virus! Or he had a tooth pulled. Either way, there's your flashbacks. Now can we PLEASE get back to the main story?

Oh, one more thing about the flashbacks – Yukio kills a lot of folks with her sword, which is probably worth mentioning since we see her in her Katana outfit in next week's previews. So, there you go. Sword.

Barren wasteland. Ra's and Al take a tour of … well, nothing, really. It's sort of a blown-out smoky Stonehenge. Ra's waxes nostalgic about an old friend named Damien Darhk. Really? You really needed to add the "h"? Anyway, there's some blather about Damien and HIVE and stuff, setting up Season 4 nicely, and it seems that Damien is responsible for a bunch of unresolved plot points throughout the series. Well isn't that convenient?

Ra's tells Al that there's a threat to his reign as Heir to the Demon, and he must eliminate that threat with extreme prejudice! Is it Nightwing? We'll find out when we get back from commercials!

Streets of Starling. Ugh, it's Black Canary. This early? Pass the wine, will you? Canary's beating up on some dude and makes the mistake of not realizing the dude has a knife. Oh, I wish she'd make that mistake more often and with more dire consequences than the scratch on the arm she gets. Anyway, Nyssa's got her back and wraps the dude up with some … er, wrapping arrows? And then gives Canary shit for not knowing the dude actually had two knives. You suck, Canary.

Diner. Nyssa and Laurel, in street clothes, have a nice deep-fried meal together and Laurel teaches Nyssa the joy of dipping French fries into a milkshake. Is this Gilmore Girls? Just when everything is going nice and smooth and friendly, Laurel tells Nyssa about Ollie taking up Ra's on his offer. Nyssa never heard anything about this? For realz? She sucks too. Nyssa gets mad and walks out on the check, leaving Laurel to once again wonder if she can ever do anything right.

The Diggle pad. It's a relaxed dinner with Thea, Felicity (Smokin') Smoak, Lyla, Digg, and lil' Sara. How sweet! And the nicest thing about it is that it won't get bogged down in depressing discussions of Oliver and the choices he's made recently. Oh. Well. Yeah. So everyone's mopey and dinner is ruined. Nice going, everybody.

Half-finished building. Laurel finds Nyssa sharpening her sword and apologizes for not telling her about Oliver. Maybe come back when she's not sharpening her sword? Nyssa has better things to do than deal with Laurel, like the fact that the League of Assassins will be coming soon to kill her, and not just kill her, but kill her dead. Speaking of said assassins, a bunch of them, including Al and Hong Kong Phooey, zip-line onto a roof somewhere and Al announces that Nyssa will pay for her betrayal. Which betrayal are we talking about, exactly? I should pay closer attention to the show.

Palmer Tower. Which I guess they're using as the new Quiver? So, then, New Quiver? Everyone okay with that? Laurel and Nyssa get Digg and Felicity up to speed on the whole "assassins are coming to town" thing, and then Nyssa tells them that Ollie's been reprogrammed. I hope it's with a new personality, his old one was terrible. Nyssa heads out to face her destiny, telling Laurel that she won't cower in the shadows and wait for death. What will you cower in the shadows for, then?

Digg and Felicity aren't on board with helping Nyssa – since her dad took Oliver away and is brainwashing him and all – but Laurel defends her, saying she's a good person who saved Sara's life. Mmm, and she smells like mango. Digg accepts that Nyssa could lead them to the League and Oliver. Which is a good thing? That can't be a good thing. Either way, Laurel has put a tracker on Nyssa. I do not accept this, since Laurel is terrible at everything, but there you go.

Streets of Starling. Digg and Laurel hang out in the Black Mystery Machine, debating the whole trust Nyssa/save Oliver/kill Nyssa/kill Oliver thing, with no real resolution. Speaking of no resolution, back at the New Quiver, Thea shows up and tells Felicity that she wants to help. Felicity reminds Thea that she's useless and annoying, and sends her packing. Well, I'm sure that's settled then, isn't it?

Rooftop. Al finds Nyssa, and instead of killing her immediately, lets her monologue for a bit. Al's going to have to get the hang of this supervillain thing. And now Al is saying that he's here to bring Nyssa back to Kinda Farbat instead of killing her. I thought Ra's told Al to eliminate the threat? Eh, whatever. There are arrows and swords and fisticuffs, and even a smoke bomb, and Al manages to get a sword to Nyssa's throat.

But before Al can decide what exactly it is he came here for, we hear a piercing noise. It sounds just like my tinnitus. Ah, it's Black Canary's new Canary Cry. Wonder why she didn't use that on the street punk with the knives earlier on? Anyway, she shatters a bunch of windows and causes Al and Nyssa pain, but then Al stands up and glares at Black Canary. So … that's the Canary Cry then? It doesn't incapacitate people? It just annoys them? Once again, I give you Laurel, who can do nothing right.

Digg has his gun drawn on Al and says they won't let him hurt Nyssa. Al, still annoyed by the Canary Cry, just jumps calmly off the edge of the roof. Um … is there an air bag down there? Did Ra's give you a jet pack? And oh yeah, you left Nyssa behind. You remember? Your whole reason for being here? I don't think this guy's really Demon material, to be honest.

Half-finished building. Nyssa tells Laurel that having a little girl time together was lots of fun, but since she's the Demon's daughter, it's just not gonna work out, no matter how many mani/pedis they get. Laurel says she didn't recognize Oliver earlier, and Nyssa reminds her that Oliver's been changed. Laurel asks if Oliver can change, why can't Nyssa? But before the question even has a chance to breathe, we smash cut back to the New Quiver. Easy there, mister editor man. Believe me, there are PLENTY of places to trim down for time if you need it.

New Quiver. Digg and Felicity discuss the whole Oliver situation, and naturally Felicity turns into a blubbering mess, because that's all this once-great character is capable of doing these days. Goddamn you, writers! Digg gives her a hug, because Felicity's not strong enough without a man to lean on. Deep, fetching sigh.

Parking garage? With torches? And a circle of assassins? Do NOT park here, no matter what the weekly rate is. Hong Kong Phooey welcomes Al back, and Al says Nyssa's got friends protecting her now. HKP asks if those friends of hers are also friends of his. Al doesn't answer. Oh HO! Al says they need to draw her out. Maybe set up a trap with French fries and milkshakes.

Colossaloft™. Thea lets Malcom Merlyn in. No, not that way. She needs his help to … um … stop Al? I think. She's not really explicit in what kind of help she needs. Either way, it seems like she's hell-bent on … y'know, doing something. Malcom seems willing to help. These people need more definite plans.

Diggle residence. Digg and Felicity come home and can't find Lyla. Maybe she's at Wegmans? Digg's phone rings and it's Al, telling Digg that he's got Lyla and to bring Nyssa to a warehouse – you know, a warehouse? – and Lyla won't be harmed. Okay then! See you there!

Half-finished building. Digg and Felicity arrive and Digg lets Nyssa have it with both barrels. Yeah! Stupid Nyssa! With her shake fries! Digg wants Nyssa to hand herself over to the League, but of course Laurel doesn't think that's a good plan. Does she think letting Lyla die is a better one?

Assassin parking garage. Al is wandering around and Lyla is tied to a chair. Ah, the classics. Lyla needles Al about his transformation, and Al yells at her to be quiet. Clearly he doesn't remember Lyla at all, because she's not inclined to shut up in any measurable way. It doesn't matter, though. Time for a prisoner exchange!

Warehouse. Felicity, Black Canary, Diggle, and Nyssa arrive and stand in an orderly line. Al tells HKP to search them all, but Felicity doesn't want to be felt up, not tonight. Al nods to show that's fine. That won't come back to haunt him, I'm sure of it. Some assassins tie up Nyssa and she's exchanged for Layla, who hugs Felicity and digs a pair of pistols out of Felicity's ass. Ka-blam! Layla guns down a couple of assassins and the fight is on!

Lots of punching and swordplay and whatnot, and once again Laurel proves to be a liability when her impending death distracts Nyssa. Nyssa's disarmed and dragged off. Nice one, Laurel. Meanwhile, Ollie is trying hard to slice up Diggle, and just as he's about to deliver the killing blow, he gets an arrow in the forearm. Ow! My carpal tunnel! The arrow came from Thea, dressed in what's sure to become her Speedy costume. Oh Lord, this is all we need. Al is tired of getting shot through the forearm so he leaves in a huff. That went well!

New Quiver. The whole gang is sitting around moping. Don't you people have crimes to stop? Blah blah blah, Oliver is gone and he's never coming back. Jesus, people, get over it and move on with your lives!

Kinda Farbat. Ra's is hanging out, waiting to see what comes through the door. Why it's Al and Nyssa and HKP and the whole assassin's club! Hi, everybody! Ra's wants to know if they searched Nyssa, and HKP says she doesn't have it on her. Ooh, what could "it" be? A batarang? A lavender-scented sachet? A French fry dipped in milkshake? Ra's checks her weapons and finds "it" stashed in her sword's hilt. It's … a vibrator? Ew! HKP takes it away. Yes, please clean that up.

Ra's tells Al to do his thing, so he draws his sword and is about to make Nyssa kebab when Ra's pulls the old God/Abraham routine, and tells Al that his willingness to do the deed is enough. He doesn't want Nyssa dead after all. He orders her to marry Al! She's going to become Bride of the Demon! Oh please tell me we're going to have a themed wedding! That would RULE!

By the by, if Nyssa had remained Heir to the Demon, would she have been Al Sah-Her? Y'see? Y'see what I did there?

Colossaloft™. Thea's all sad and Felicity tries to cheer her up, but Thea's being all, y'know, Thea. So Felicity tells her that Roy is alive and gives her a piece of paper that has … Roy's contact info on it? I guess? Wasn't the point of Roy leaving to start a new life somewhere else? He's gonna be hanging out with all his cool new friends in Bludhaven and his untraceable cell phone is gonna ring and he's gonna roll his eyes and be like, "Oh Lord. It's my ex."

Kinda Farbat. Ra's shows Al the vibrator and tells him that it's a vial of Alphega. Aha! Finally the flashbacks have a modicum of use! We all know what that is and what it does! Ra's tells Al that to pass his Demon's Head finals, he'll need to release the Alphega in Starling City. You got it, boss! I'll be home in time for dinner!

Next week! There's lots of stuff going on since we're closing in tight on the season finale, but really all that matters is that we get to see motherfucking KATANA! And if you don't know who that is, prepare to be amazed.