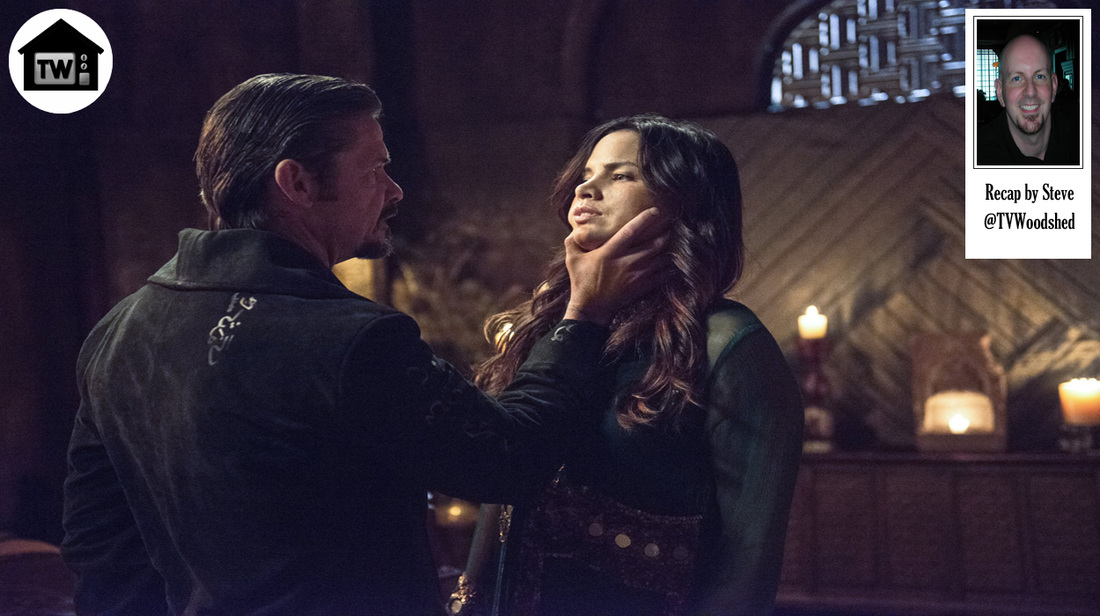 Oliver has become an agent of evil and destruction. Wait, no he hasn't. Oh, sorry, yes he has. Well, either way, all of his friends decide to go see for themselves and they all end up dead. Wait, no they don't. Well, one thing's for sure – Roy and Thea are back together! Wait …
I think they changed the opening narration again. I don't even remember what it used to be, so yeah, I'm gonna say new opening narration.

Previouslies: Thea finds out Roy's still alive and doing Abercrombie & Fitch ads in Metropolis. Ollie continues to do bad things, and Ra's al Ghul wants him to take the Alphega to Starling and kill errrybody. And pick him up a Big Belly Burger. And fries. No, onion rings!

Flashback! Oh fucking hell, we're starting off in flashback? Hang on to your knickers, folks, it's gonna be a long and tedious ride. Anyway, in the streets of Hong Kong, things are burning and people are dying while helicopters drop flyers that say "EVACUATE." Thank you, that's much more helpful than, say, dropping an antidote. Or even a map. You helicopter assholes.

Silly Wig Oliver and the Hong Kong Phooeys are moving through the streets, carrying the still-very-sick Honk Kong Phooey Junior. They spot a pharmacy called "Best Pharmacy," which I guess is a huge stroke of good fortune. Certainly better than stumbling across "Half-Assed Pharmacy."

Kinda Farbat. Ra's is going on and on about the Alphega. Yes, fine, all right old man, I'll take your stupid bioweapon to Starling. Just shut up already! Ra's reveals that it was present-day Hong Kong Phooey who brought him the gift of the Alphega. How thoughtful! Al Sah-Him's like "Thefuck?" and so are we. Ra's tells Al that he's going to fly to Starling the next day to deliver the Alphega, and Al hopes that Ra's got him an upgrade to an Even More® Space seat.

Streets of Starling. Digg is chasing a gang member on foot as Felicity (Smokin') Smoak monitors the situation from the New Quiver. Run, Digg, run! They round a corner and Digg runs right into the gang member's gang, who are all equipped with Uzis. Not only do they not shoot him, as any halfway-decent gang would, they let him reach into his pocket and grab his earplugs. This gang sucks.

Speaking of things that suck, here's Black Canary! She does her Canary Cry, which mildly annoys the gang members enough that she and Digg are able to kick their asses. What, um … what happened to the Uzis? Does the Canary Cry make you drop your Uzi and then render you incapable of picking it back up? I guess it's not so bad, then.

Digg starts pounding on a gang member's face, and he keeps pounding and pounding and pounding! Stupid! Gang! Member! Making! Me! Work! With! Laurel! Felicity manages to call Digg off, but Digg's got bloody knuckles. Ooh, that's what I'm going to name the band – The Bloody Knuckles. Thanks, Digg!

Digg's pad. Laurel, Felicity, and Digg regroup, and they all start whinging about Oliver. Oh, for Christ's sake, people! Move on, already! Oliver has! And I never in a million years dreamed that I would be a "Ray guy," but in case you bunch of weepy kindergarteners haven't noticed, Ray's got a super-suit and is on a mission to save Starling City. You could go rally behind Ray! And Ray's got a much sunnier disposition than Oliver ever had!

Colossaloft™. Malcom Merlyn shows up as Thea's packing to go and find Roy. See that? Roy's moved on too. Everyone's moving on. Take the hint, people. Malcom tries to talk Thea out of leaving, and brings up how she might be a little out of sorts after almost dying. Almost? No, no, I'm not going to let them get me fired up again this week. Let's just agree to disagree, but Thea was most assuredly dead. Malcom turns around on the notion of Thea leaving and decides it might be for the best. Thea leaving the show would definitely be the best for us, I'll say that.

Kinda Farbat. Ra's, Nyssa, and Al all sit down to a lovely meal in the dining room. Oh, I hope Al doesn't panic with all those forks and knives and spoons. Start from the outside! Things are tense, and get more so when Ra's tells Nyssa that not only will she marry Al, she'll have his baby too. Um … Ra's knowns Nyssa's gay, right? Because this is going to be one awkward wedding night. Ra's tells Nyssa that she has no more say in getting knocked up than her mother did. Yikes. On that note, Al decides to go for a nice walk while Nyssa steals a knife from the table, which I'm sure she just needs to trim some loose threads on her wedding dress and nothing else.

Outside. Al is taking a stroll when he encounters an assassin, who gets thrown to the ground for his trouble. Hi-ya! Take that, random assassin! Oh, the assassin is Malcom Merlyn. Take that, Malcom Merlyn! It appears that Al is actually still Oliver and he and Malcom are in cahoots. Cahoots, I tell you!

Over a lovely campfire, Ollie and Malcom discuss their plans for Ollie to dismantle the League of Assassins from the inside. Which are all fucked up now because Ollie's got to go to Starling TOMORROW and start with the death and destruction and higher property taxes. Ollie says they need help, and Malcom says that Team Hood isn't about to listen to him. Ollie says he knows someone they'll trust. Is it Superman? He's pretty trustworthy.

Hong Kong Phooey happens by, and in a stroke of serendipity, Malcom is gone. Or maybe he can turn invisible? Either way, HKP sits down for yet another chat. Isn't this a super hero show? Where's all the KA-POW! and KER-BLAM! and stuff? Why always with the talking? Oliver tells HKP that he's just been sitting there thinking, and the camera pans into the campfire, which you just know drags us into another …

Flashback! In the Best Pharmacy, Yukio says they need to find Ibuprofen. That's all you need if you've been exposed to the Alphega? Then maybe in the present, Malcom should be telling everyone in Starling City to have their Advil ready. They give a pill to HKP Jr., who coughs up blood, which is never a good sign. Yukio starts to sing him a Chinese lullaby, which would hold so much more emotional weight if any of us cared whether Junior lives or dies. Sorry, kid, but you're just a terrible, terrible actor. HKP comes up with a laughable notion that maybe General Beastmaster made a cure for the Alphega, and they should go find him and see. Yeah, you go do that. We got Ibuprofen, the kid'll be fine.

Monument Point. The fuck is Monument Point? Better fire up the old Erwise and do some detective work. Let's see here:

"Founded in 1803, Monument Point is a large metropolis within easy commuting distance of Washington, DC. It has a higher-than-average rate of crime, but it is a moderately pleasant place to live."

Huh. Moderately pleasant, you say? Never heard of it. But apparently that's where Roy's living now, because that's where Thea gets dropped off. She goes into a garage and asks the creepiest mechanic who ever lived where "Jason" is. Oh, I thought she was going to be with Roy. My bad, she's looking for Jason Todd, the second Robin. Good, all caught up now. One of the grease monkeys rolls out from under a car and it's Roy. Hi Roy, have you seen Jason? Oh, I get it. Roy is Jason. Mum's the word!

Roy and Thea pretend not to know each other, and Thea says she's got a '67 Mustang that needs a little work. I bet you do, baby. I bet you do. Thea asks if there's someplace they can go talk, and Roy says there's his place. Thea loves that idea. Thea is wearing her ovaries on the outside. Oh, and apparently "Jason" can just leave work anytime he feels like it. I wanna be a mechanic in Monument Point!

Palmer Tower. Which I thought was the New Quiver. Maybe it's on a different floor or something. Felicity comes to see Ray, who's working on his suit to make it a little less Iron Man-y and a little more Judge Dredd-y. Things are awkward and weird, but Ray says they're still friends. Friends who SAW EACH OTHER NAKED! Aw, yeah!

Ray asks Felicity to sign some paperwork and calls her "Ms. Vice President." Does that mean she's already Vice President, or did she just sign the paperwork to become Vice President? Either way, Felicity gets a text from Malcom and we see that the paperwork says "Transfer of Ownership." Um. Did Ray just give Felicity his company? If so, she's gonna need a better title than Vice President. And also, what the fuck?

Kinda Farbat. Ollie and HKP sit around the fire and discuss the Alphega. HKP says he took the Alphega off the truck just before they blew it up, and before HKP Jr. died. Hey! Spoiler alert! Fuck! I thought the Ibuprofen was really going to do the trick. Oliver says that when he's Ra's, he can free HKP from the League and he can go find Yukio and they can make another kid who can barely act. HKP says there's no escape from the prison he's in. Ah. Alcatraz.

Warehouse. Hey look, there's an abandoned warehouse in Starling City! Digg, Felicity, and Laurel are waiting for Malcom. Come on, Malcom, we don't have all day! Malcom shows up and tries in vain to convince them that Oliver is still Oliver, and when that fails, he brings out Yukio. This is who Oliver thinks the gang will trust? Someone they've never met and can barely understand? Great plan, Ollie. The League of Assassins is doomed.

Malcom hands over all the info he has on the Alphega, and tells Team Hood to be at some airfield in the morning if they're going to Kinda Farbat. Well of course they are. Some random Asian woman just told them a sob story that vaguely included Oliver in it. What more do they need?

Roy's place. And it's an upgrade! Better than that shithole he had in Starling. Roy, keep doing what you're doing. Things are looking up! Thea digs in her carpet bag and pulls out Roy's old gear. You know, just in case he wants to play Arsenal and the Schoolgirl. Speaking of which, a little more small talk and then it's TIME TO GET BIZ-ZAY! Brown chicken brown cow. Oooh, yeah. Gonna do this sidekick-style!

The New Quiver. Digg, Laurel, and Felicity watch grainy video of what the Alphega did in Hong Kong. Digg's like, "Yeah, why don't we go to Kinda Farbat and make sure this doesn't happen in Starling? Mmmkay?" Laurel's up for the trip too, but Felicity turns on the waterworks – it was only a matter of time – and says she can't go because of what they did to Oliver. I really … I don't know how many different ways I can tell these people to move on, already. Maybe caps? MOVE ON, ALREADY!

Kinda Farbat. Ra's meets with Nyssa and tells her a charming tale of falling in love with a beautiful, strong woman who became his mistress and bore him a child. Is the child Nyssa? If so, ew. Actually, ew anyway. Ra's tries to give Nyssa a necklace that he gave to his mistress when Nyssa was born, but Nyssa gets all mad and throws the stupid thing away. A pox on you and your necklace! Ra's gets annoyed and tells Nyssa that if she doesn't marry Al, she'll suffer the agony of a thousand deaths. He'll throw her in the Sarlacc Pit?

The New Quiver. Yukio shows up to tell Felicity that Oliver still loves her and she loves him and she should fight to get him back. Felicity's like, "Meh." Yukio ties the flashbacks in by telling her own sad story of losing HKP, and warns Felicity not to make the same mistake she did. You mean giving the kid Ibuprofen? No, Felicity would never be that stupid. As an aside here, I know that Rila Fukushima has a killer bod, but the pants she got from wardrobe make her look like she's wearing a saggy diaper. Objectify, people!

Flashback! Ollie and HKP arrive on an Army base to get General Beastmaster. There are two guards, and one has the chance to say, "Sir, this is a restricted area!" before he and his partner go down. But it's my only line!

Airport. Yukio unwraps a seriously badass sword. Malcom asks her if it's a blerpdeblerp blade. I don't know what he said, go back and watch it yourself. She tells him no, it's a katana. Hey, you know something? If we got you a mask that looked like a Japanese fan with the Japanese flag design on it, Katana would be an AWESOME name for your new character. We could go to Comic-Con! Team Hood shows up, including Felicity, who probably saw more opportunities to be all weepy in Kinda Farbat than there were in Starling. To the plane!

Kinda Farbat. Digg, Malcom, Laurel, Felicity, and MOTHERFUCKING KATANA make their way down a canyon, looking for Ra's' Death Plane. They find it, and Felicity says she needs to get close to hack into the doohickey and override the thingamabob. But no time for tech talk now! Here come the League of Assassins assassins. Actually, considering how poorly they all fight and how easily they're defeated, I wonder if these are the League of Assassins bookkeepers. Maybe Ra's keeps the actual assassins close.

Anyway, in the midst of the battle, Katana encounters … Scorpion? From Mortal Kombat? Oh, it's Hong Kong Phooey in a horrible Scorpion-esque mask. Dude. Spend the money. HKP and Katana start to duel.

Meanwhile, Felicity can't stop the plane because someone shoots her iPad – sorry, her Microsoft Surface (cut the check!) – with an arrow. So the plane takes off, but surprise! Atom is here! So up and Atom! Sorry, sorry. They reuse footage of Iron Man playing chicken with the fighter jets from the first Iron Man, and Atom manages to smash the plane but good. Hooray!

Meanwhile, HKP and Katana continue dueling. Just as it looks like HKP's got it in the bag, Katana runs him through the midsection! Oooooh! Flawless victory! Fatality! HKP falls to his knees and rests his head on Katana's boobie. How many takes of this scene will we do? As many as we have to! He thanks Katana for releasing him from his prison, as she weepily sings the same lullaby to him that she sang to Junior in the flashback. Hey. Stop it! Stop it right now, Arrow! Don't you dare make me feel anything! You fuckers. Right in the feels.

Ra's shows up with Al Sah-Him – or is he Oliver again? Hm. I'll just call him Al-iver. Ra's brings the real assassins to surround Team Hood and informs them that they may have destroyed the plane, but the Alphega wasn't on it. Ha! Syke! What a bunch of n00bs.

Palace. Al-iver leads Team Hood to Ra's' throne room, and Ra's demands to know who tipped them off about the Alphega being on the plane. Katana blames Hong Kong Phooey. Then I shall throw Hong Kong Phooey in the deepest, darkest dungeon and torture him for the rest of his days! Oh. Shit. Well.

Afterglow. I know that's not really a place, but when you're basking in it like Roy and Thea are, it doesn't matter. Rowr. Thea gets Roy all caught up on everything that's happened with Oliver, which has to be the worst pillow talk ever, and then they smooch again. Round two? Yes please!

Dungeon. Everyone's understandably a little bummed out. An assassin comes to get Digg and tells him that Watery al Ghul demands his presence. Who? Oh, right. Al-iver's official title.

Al-iver's room. Al-iver has a quick chat with Diggle, which doesn't go so well since Diggle is still all pissed off and unreasonable. Just when the sexual tension is starting to get really good, an assassin interrupts and says that Ra's demands Digg be returned to the dungeon. First of all, Digg's been out of the dungeon for MAYBE 30 seconds. Relax, baby! And second, how did Ra's even know he was missing? Maybe Digg's his favorite.

Flashback! Ollie and HKP fight through the Army base and find General Beastmaster. They demand the cure for the Alphega, but Beastmaster would rather make clever quips. How about if we shoot you in the shoulder? Not so funny now, are you General Funnyman? The General tells them that the cure is in the safe, and they grab it along with the General. Let's go! You can tell us jokes to entertain us on the way!

Throne room. Malcom has a private audience with Ra's, who seems inclined to serve Malcom on a Stick at the wedding feast. Malcom does some fast talking and tells Ra's that Al has been faking it all along. He's still Oliver inside! Where it counts! In his creamy nougat center!

Al-iver walks in while Ra's still has a sword to Malcom's throat. Awk-ward! Al-iver does some fast talking of his own, but Ra's remains skeptical.

Roy's place. Thea wakes up and Roy is gone. What a dick! She visits the garage and Super-Creepy Mechanic tells her that "Jason" quit an hour ago and got the hell out of town. Wow, sleeping with Thea must really mess with your head. Roy left a Dear Thea note along with his Arsenal gear, which will no doubt be recycled as Speedy's new gear. That way every time she fights crime, she'll still smell Roy's crotch rot. Romance!

Dungeon. Ra's returns Malcom to the cell with the others and then tosses a container of Alphega onto the floor. Um, do you have more for Starling City? We've only really seen the one vial. Meh, we can make a new batch. Ra's and Al-iver leave the cell and seal the door behind them. Oh noes! Everybody's gonna die!

Flashback! Ollie and HKP arrive with the General and the cure, but it's too late. The shitty little actor is dead. And General Beastmaster admits that it wasn't a cure, it was insulin for his diabetes. Ha! This guy is pretty funny! Our heroes find themselves surrounded by Army guns. Oh noes! Everybody's gonna die!

Throne room. Al-iver arrives in a Scottish-looking outfit – eh, makes sense – and Ra's tells him that he's been Watery al Ghul, but after tonight he'll be I Been al Ghul. Whatever. Nyssa walks the aisle and it looks like they're going to be married by the still-unnamed woman who's been hanging around Kinda Farbat. I once called her Lady al Ghul, so that will work. She tells them that they will forever be held prisoner by their love for one another. Before they can exchange vows, Nyssa tries to stab Al-iver in the face. Wow, does this ever remind me of my own wedding.

So Al-iver and Nyssa are married, and all of Team Hood are dead in the dungeon. Just another fun-filled day on Arrow!

Next week! You know, if you really want to build up the suspense and make us believe that PERHAPS Oliver really did murder all of his friends, then MAYBE YOU SHOULDN'T SHOW THEM ALL ALIVE AND WELL IN THE PREVIEWS FOR NEXT WEEK. Whatever. Season finale. School's almost over.

​