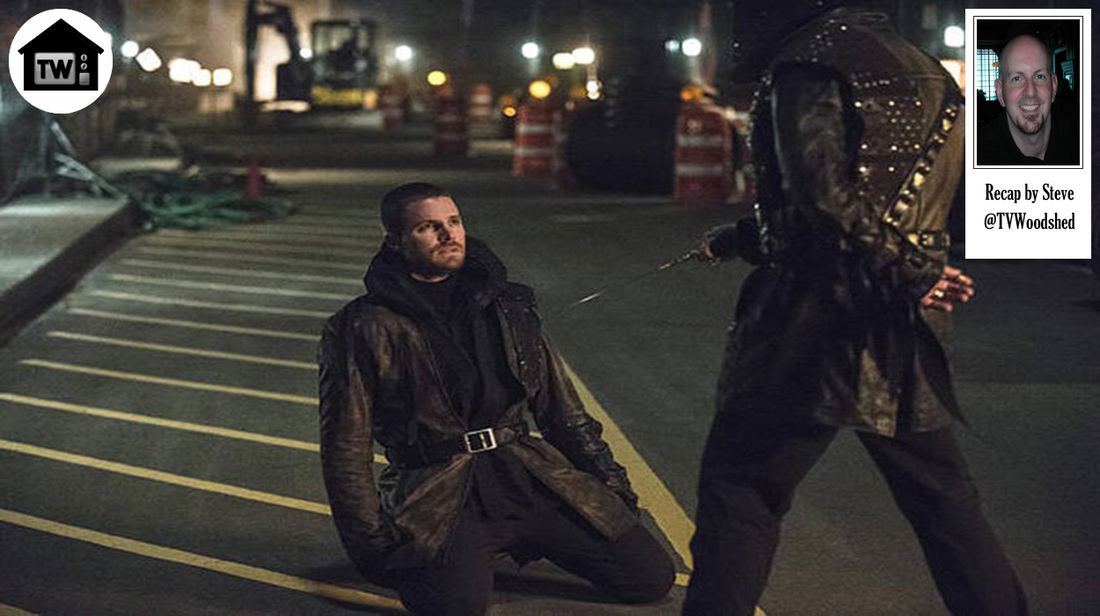 Well, Season 3 of Arrow limps to the finish line with a finale so final that they had to add a post-show tag from one of the producers, assuring us that there will, in fact, be a Season 4. If it's going to be anything like Season 3, I think we're good, thanks.
Previouslies: Um … pretty much all of Season 3, really. Good time to get caught up if you haven't been watching!

The sky. A CGI plane flies through some stormy CGI clouds. On board said plane are Ra's al Ghul, Nyssa, Al Sah-Him, and assorted assassins, all trying to keep from using the air sick bags. Oliver wakes up from a wonderful dream where it's the end of Season 2 and cool, interesting things are happening. Oliver sucks up to Ra's for a bit, and Ra's tells Al "Soon you will wear this," and shows his left hand. Um, there's a bunch of stuff on there. What exactly will I be wearing? The plane rocks and the lights flicker, and Ra's says "Something's wrong." What would we do without his keen insight?

Kinda Farbat dungeon. Laurel, Malcom, Felicity (Smokin') Smoak, Ray, and Digg are all lying dead on the floor from Alphega exposure. Except we know that they're not dead because we saw the previews. Nice work, CW. Everyone starts coughing and they're all surprised to find themselves alive. I guess they didn't see the previews. Malcom gives a convoluted and embarrassingly silly explanation for how they all wound up inoculated. It has something to do with a layer of glue he has on his hand. Or something. Hey, here's a question – why did everyone pass out? So far everyone we've seen who's inoculated can just stand in a cloud of Alphega and be fine. Maybe the Alphega coincided with nap time.

Felicity points out that they're still chained up in a dungeon, and Malcom tells them they just have to wait. Cue the thing for which we are waiting! A lightning streak zips into the palace and unchains Yukio and knocks out her guards. Zip! Then a bunch more guards get tied up, and we see that it's The Flash!

​Flash gets off a few good quips before doing his vibratey hand trick and setting our heroes (and one villain) free. They load up in a convenient armory and ask Flash to stick around and help, but he's got to get back to his own franchise. Just an observation here – this entire season of death and loss and heartbreak and forced marriages and stuff could have been avoided if they'd called Flash in to help months ago. Or maybe Supergirl. But she hasn't debuted yet. Laurel bumps into Yukio and tells them that they're heading out, but Yukio would rather return to a life of grim solitude. Well, so long as she doesn't want to return to a …

Flashback! Aw, fucking hell. All right, last episode of the season, let's just get this over with. The Hong Kong Phooeys are still in the Best Pharmacy, which really isn't because their dead son is there. Stupid pharmacy! You were supposed to be better than all the rest! Ollie is still standing with General Beastmaster and has a bunch of sniper sights on his chest. But these are the same Army guys we've seen in every flashback, so Ollie doesn't hesitate to attack the General. And he's fine! See? Hong Kong Phooey and Ollie fight off the horribly inept Army guys, and Ollie finds a bow and arrow behind the counter. Welcome to Plot Convenience Theater! The brawl ends and Ollie puts an arrow into the General's leg. Ow! My quad!

Plane. Engines are flaming out left and right. We can't have nice things! Ra's suspects sabotage and accuses Nyssa, but Al owns up to it. Ra's is all like, "No, you're Watery al Ghul!" and Al is all like, "Nuh-uh!" And then all hell breaks loose. Everybody's throwing fists and swinging swords, and in the chaos, someone bumps a lever that opens the plane's cargo ramp. We should really put that lever someplace else. Ra's grabs the Alphega and the ONLY PARACHUTE and jumps out with it. Now I'm no expert, but I've gotta think that putting on a parachute in mid-jump is challenging, especially when you're holding Alphega and you're only about 1,000 feet off the ground. Eh, I'm sure he'll be fine.

The pilot and co-pilot are both dead, so Ollie and Nyssa take the wheel. We're all gonna die! Ollie tells Nyssa to grab a lever, turn it clockwise, and push it back down. Has that line ever worked? She does the thing and the plane lands so hard that we're jarred right into a …

Flashback! Going down swinging with this Hong Kong bullshit, aren't you Arrow? The HKPs and Ollie are in the street among all the death and destruction. So, typical Hong Kong. Some guy brings them Junior's ashes. What is there, a 24-hour crematorium in the marketplace? Yukio asks the gods to watch over Junior, and then gives Ollie some ashes. Ew! Ollie goes back to the Best Pharmacy, where General Beastmaster is tied to a chair with an arrow still in his leg. Ollie fires another arrow. Ow! My uvula!

Palmer Tower. The gang regroups and Malcom starts barking out orders. Who do you think you are, the new Ra's al Ghul? Seriously. Before anyone can do anything, a proximity alarm goes off. Hey, no worries! It's the happy couple, Ollie and Nyssa! Since he's once again Oliver Queen, is she Nyssa Queen? It's got a nice ring. Diggle is less than thrilled to see Ollie and demonstrates with his fist. Ow! My bridgework!

Everyone leaves to give Ollie, Digg, and Felicity time to hash this out. Hmmm … it's really just Ollie summing up the last few episodes for them. Oh, but then Felicity wants to know how Ollie was gonna fix everything that he fucked up, and Ollie says his plan was to bring the plane down with he and Ra's in it and die a horrible flaming death. Do all of Oliver's plans suck ass? They sure seem to. Was he going to let Nyssa die too? Dude, that's your wife! You dick!

Ollie tells Digg and Felicity that he's sorry, but Digg says sorry won't cut it. But … but I love you, man! Digg puts his hurt man-feelings aside to deal with the bigger issue at hand. Declining ratings? Oh, right. The Ra's Alphega thing, right. But before we deal with that, let's have YET ANOTHER …

Flashback! Oliver is sitting in a chair, covered in blood and swinging a bloody hammer. Dexter, no! Yukio comes in and tells Ollie that killing General Beastmaster was not nice. Ollie says the General failed this city. Wow, lots of people failing lots of cities, am I right? Turns out the General's still alive. See Yukio? I was just playin'! Oh, but Hong Kong Phooey puts a bullet in the General's head. Oh. Well. Hm.

Palmer Tower. The gang is all back together and trying to figure out how to find Ra's. Send him a text with a funny emoji? Like a crashed plane, LOL? Digg suggests looking for something out of the ordinary, and Felicity finds that the top floor of the Essex Hotel is closed. Aha! That must be it! Felicity says that the entire floor is reserved for Damien Darhk, which is still one of the stupidest names in a comic book universe that includes Captain Boomerang. Oliver deduces that Ra's wanted to destroy Starling to kill Damien, who is most assuredly not Ra's' BFF. Let's go get him and trade him for Alphega! Brilliant!

Essex Hotel. Ollie is on a rooftop across from Damien's room. He's a Peeping Tom! Digg, Malcom, and Nyssa deal with Darhk's men so that Ollie can rappel over and have a private chat with the man himself. Only the man himself is not the man. That is to say, the man in Damien's room is not Damien but his … butler? Maybe? Damien skipped town a while ago. D'oh! Now don't we all look stupid?

The butler goes to answer his phone, but as he's doing so, he gets an arrow in the chest. Ow! My aorticopulmonary ganglia! Ra's comes through on speakerphone and super-conveniently informs Ollie that the Alphega will be delivered by four vessels of death. So cabs?

Police station. Hey, it's Captain Lance! Haven't seen you in a bit, buddy! Howya been? However his day is going, it certainly takes a turn for the worse when Laurel shows up. She tells her dad that the city's in danger, and he replies "Must be May." <Snort> Okay, Arrow. You get one gold star for that line. Just the one, though. Don't get greedy. Laurel and her dad snipe at each other a bit, and then she somehow divines that he's back on the hooch. Was it the smell of Wild Turkey and Clorets on his breath? Laurel gives him a choice – keep drinking and hating her or throw away the bottle and save the city. Bottoms up!

Palmer Tower. Felicity is working on finding the four locations of the virus and Ray is working on a containment system and an inoculant. Hm, not much going on here, then. Howsabout another …

Flashback! Wow, are they milking this or what? Hong Kong Phooey wanders off because he's a monster and has no soul. I can see that. Yukio wants him to stay, but he's got to go and dwell on what a shitty actor their son was. Exeunt HKP. That's it? Huh. That wasn't so bad.

Palmer Tower. Oh Lord, here comes some Olicity. Grab your rubbers, boys, there's bound to be waterworks! Ollie tells Felicity about having the same dream every night – the one about the mule and the cocaine and the noodles. Oh, no, sorry – that's mine. Ollie dreams about Felicity begging him not to face Ra's and then Ollie getting the ol' sword through the chest. But he says sometimes the dream has a happy ending and Ollie and Felicity just drive off and leave shitty ol' Starling behind. Nice. I hope we revisit that notion in about 20 minutes. Ollie says that he can't beat Ra's, and Felicity says that Oliver Queen can't and The Arrow can't, but he's become someone else, he's become something else. Stealing from the opening narration now, are we? Weak. She says that his heart is the key to beating Ra's. Yeah, don't get stabbed in it. Check.

Police station. Captain Lance is large and in charge! He shouts out orders to everyone to go to the Four Locations of the Apocalypse and help save the city. Yeah! Cops to the rescue!

Streets of Starling. Ollie, Dark Archer, Black Canary, and Digg are all on-site at their locations. A random assassin – possibly a contest winner – shows up and tells Ollie that Ra's is waiting for him at the Starling City Dam. Is that a God Dam? The assassin sounds like he's straight outta Brooklyn, but makes a pretty compelling case for Ollie to go to the dam and battle Ra's. It would wrap up the season nicely, Ollie.

Digg spots a twitchy dude carrying a briefcase and gives chase. Get 'im, Digg! Oh noes! The guy knocks Digg down and is about to ventilate his skull when the guy is hit from behind by three arrows! Who fired those? Oh. It's Thea in her Speedy costume. Hooray. Yeah, you're really good at firing three arrows at people, aren't you Thea? Ooooooooh! Pass the aloe, you just got BURNED.

Thea tells the guy not to move. Move? He's got three arrows in his back, this guy is dead. Oh, he's not dead? All right then. Digg checks the briefcase and finds it empty. Where's the thing, dammit? Is what he asks the guy. Then Digg somehow divines that the guy is the weapon, and the guy breaks off an arrowhead to slit his own throat. Okay, first, if the arrow went through the guy, the guy would already be as dead as disco. And second, how was he planning to slit his throat if he hadn't been hit with arrows? A hangnail?

Dam. Ollie arrives and Ra's speechifies for a while, like you do, and then he and Ollie draw swords. So let's just take a step back, here. At mid-season, Ollie and Ra's had a swordfight (no, not that kind) and Ra's killed Ollie like it was nothing. Now we're supposed to believe that Ollie can defeat Ra's just because he's got heart? What is he, the Tin Woodsman?

So they battle, and it's really hard to tell who's winning because they're dressed exactly the same. While that's going on, Dark Archer and Black Canary take out their Alphega targets. So with Digg's guy, that's … three, right? Weren't there four? Eh. As if all that weren't enough, the Starling sharpshooters are at the dam with orders to take out Ollie and Ra's. Felicity wants Ray to suit up and go help, but Ray's got to figure out the inoculation problem. Ray points out that Oliver is one life versus thousands, and asks what Oliver would do. Oh, probably something stupid, like stick Felicity in the ATOM suit, even though she has zero idea how it works.

So after some swordplay (no, not that kind) Ollie manages to stab Ra's through the chest, and then recites the same Pig Latin that Ra's did on the mountaintop. Ra's gives him the Ra's ring and dies. It's a lovely, peaceful moment until BLAM! BLAM! BLAM! Ollie gets shot off the dam! But hey, what's this? It's Felicity in the ATOM suit, even though she has zero idea how it works, flying in to save the day. Wasn't this in Iron Man 3?

Palmer Tower. Everyone's gathered together – yes, even Ollie, who survived the bullets thanks to League armor – and it's speech time! Speech! Speech! Ollie tells everyone that they were able to save the city because they all worked together, and since there are so many masked lunatics running around, he's stepping down. He's gotta go make the Teenage Mutant Ninja Turtles movie, so, y'know. Good luck everyone!

Ollie tells Felicity that he's choosing her over saving the city, and asks her to run away with him. Oh, and right in front of Ray! Dick move, Ollie. Seriously dick move. Digg grabs his jacket and leaves, and Ollie catches up with him at the elevators. Digg's not ready to love Ollie again, but he'll try. Or he'll try to try. He'll think about trying to try. Ollie tells Digg that he should get some kind of disguise if he's gonna be a crimefighter. Don't you worry, Ollie. They're working on that as we speak.

Flashback. What can there POSSIBLY be left to flash back to? Oh, Ollie and Yukio saying goodbye. All right, get it over with. Yukio's going to a monastery somewhere. Do they allow chicks in monasteries? Oliver's going to wander aimlessly with a black cloud over him. Good. And hug it out, and smell ya later.

Colossaloft™. Ah, wouldn't be a season finale without one last visit to the single biggest apartment in Starling City, would it? Thea throws out the idea of calling herself the Red Arrow – which makes no sense, since there was never a Green Arrow – but Ollie says she's stuck with Speedy. Ah, fuck. Malcom swings by to say farewell to Ollie, and to pick up his special decoder ring. Now he can decipher Captain Video's secret message! Oh, no, it's the Ra's ring. Meh. It clashed with Ollie's skin tone anyhow.

Palmer Tower. Ray is fiddling around with his shitty Iron Man knockoff suit, trying to see if he can get it to shrink. Like it was supposed to in the first place. Now it can be a shitty Ant-Man knockoff! Ray pushes a button on the suit and KA-BLAM! Blows up the entire floor of the building! Did not see that coming.

Kinda Farbat. Hey, look who's the new Ra's! Nice threads, Malcom. Nyssa informs her new … dad? That she'll never forgive him for Sara's death. Why not? Laurel seems to have forgiven Thea. Anyway, the gathered assassins all kneel before the new Ra's, and then Nyssa does as well. Hey, while you're down there …

The Old Quiver. Ollie does the opening credits voiceover while he packs up all of his old broken and useless shit. Why not just toss it? He puts everything in evidence boxes and … drops them off at the police station? It's not really clear. Whatever, we're almost there.

The open road. Ollie and Felicity are driving in a really nice car with the top down. And Ollie can afford this car how? Stop it! Focus! We're almost there! Ollie asks if he can say something strange. Oh, don't say you're gay, not after all this! Oh, Ollie is gay. The original meaning of the word. Well that's sweet. We all know it won't last, but that's sweet.

The car zips off down the highway, and that's Season 3!

Next week! The show will be a repeat because that was the season finale, you bunch of Captain Boomerangs. Enjoy your summers, my friends. I will see you in Season 4!