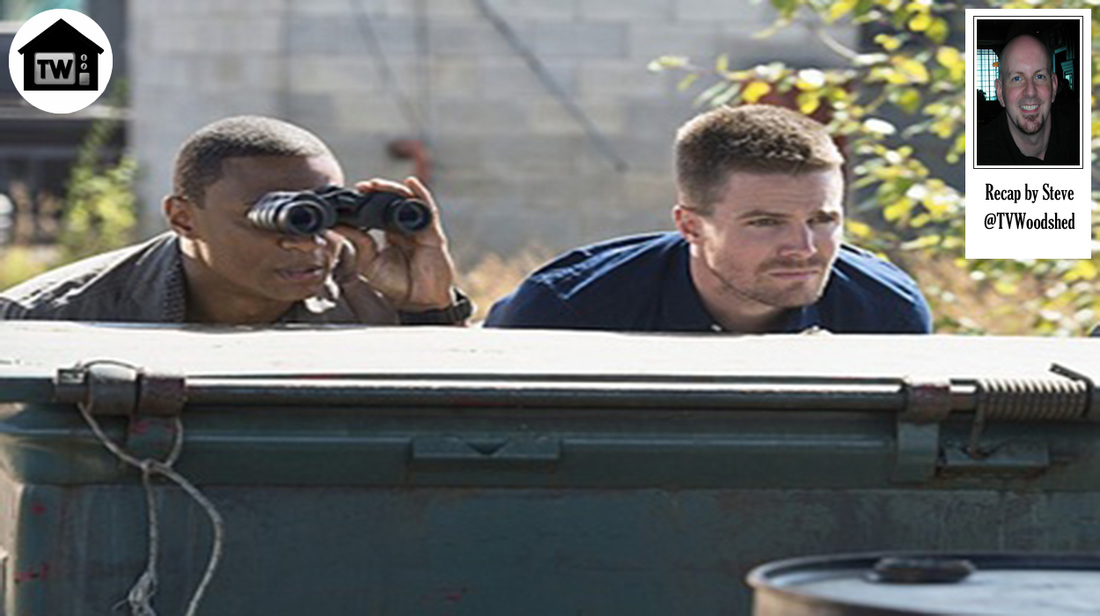 Team Arrow takes a vacation to Corto Maltese to find Thea and bring her back to Star(ling) City. But unfortunately that's not enough of a plot to support an entire episode, so they tack on a silly B story about an ARGUS operative who just happens to be in Corto Maltese and needs help. Welcome to Plot Convenience Theater!
Previouslies. Sara gets skewered, Moira gets skewered, and Thea cops a walk. It is not easy being a woman on Arrow.

Flashback! Right out of the gate! Yeah, didn't see that coming, did ya? A distraught Thea gets into Malcom Merlyn's limo shortly after Moira's death. She asks where they're going and he says it's up to her. Then we are going to Disney World! I can train on Space Mountain! Thea points out that Malcom's gotta skip town because a lot of people would be very unhappy to find him so, y'know, not dead. Malcom lays on the flattery, and then Thea says she doesn't want to inflict pain or feel it any more. All right, then, a coma it is!

Streets of Star(ling) City. Are we still in flashback? Anyone? No, I guess we're in the present. Title cards, people, title cards. Arrow is chasing a nondescript scumbag through the busy streets, totally disrupting the evening commute. Family dinners everywhere will be ruined! Arrow fires a lasso around the guy's neck, which in any other circumstance would kill him, or render him unable to speak for a very long time. But he's fine, just a little winded from the run. Arrow doesn't even bother with the voice modulator. He wants information about Sara's murder. Apparently this guy was "drinking a fifth" on the rooftop that night and Canary came by and chased them off, so he didn't see jack. Goddammit. A perfectly good lasso arrow wasted.

ArrowCave. Ollie's annoyed because of yet another dead end. Felicity (Smokin') Smoak tries to lighten the moment with a technobabble joke, but it falls flat. I liked it, Felicity! Ollie tells Digg that the trail's gone cold. That's exactly what he told Laurel last week. First of all, give up much? And second, do you get paid every time you say "Trail's gone cold"? And if so, can I get some of that action? Trail's gone cold, trail's gone cold, trail's gone cold, trail's gone cold.

Felicity says she needs to leave for work, but ducks on fully disclosing that she's now working for Superman. Felicity hasn't learned by now that secrets and lies don't end well on this show. Ollie wants to know exactly where in Italy Thea is. Felicity says she's not in Italy. Or Europe. Or on a space station orbiting Earth. She's in Corto Maltese. Didn't the Love Boat used to visit there? Digg helpfully informs us that Corto Maltese is an island off South America. Because here in the States, we're all completely ignorant of anything else in the world. (That's not snark, I'm actually saying that outright. So thank you, Digg.)

Roy reminds Ollie that Thea's letter said to leave her the fuck alone, but Ollie says that was a message for Roy, not him. It's time for Thea to come home. It's way past her curfew. Roy grabs his bow and Ollie tells him he won't be able to bring it on the plane. Roy admits he's never been on a plane. Oh, Roy, will you ever win?

Digg's crib. Diggle is spending quality time with the baby and the baby mama. Lyla wants to know why Digg has time off from Team Arrow, and Digg tells her it's because the boys are going to Corto Maltese and, I guess, don't need him? Lyla asks Digg if he can go on the vacation anyway because ARGUS has a field agent down there who's "gone dark." Well, I imagine there's plenty of time for tanning. The agent's name is Mark Shaw, who I guess is a DC character called Manhunter. Is he originally from Mars? Because if he is, I've got a great new name for him. You'll notice me skimming over how ridiculously convenient it is that of ALL THE PLACES an operative could have gone dark, it just happens to be in this place that none of us would ever have heard of if not for Thea's presence there. Yep. Skimming right over that. Digg agrees to go and see what's what. Yay, the team's talking a trip together!

Boxing ring. The heck? Did not expect that. A couple of sweaty guys are sparring in the ring. One of them goes down hard and the other leaves the ring, only to be stopped by Laurel, who is sporting some serious roots this week. Hair department! The boxer assumes that since Laurel's got her badge out – Laurel has a badge? – she doesn't want any self-defense lessons, and Laurel declines, saying she's had her fair share. Keep that information in mind, folks. She's had her fair share of self-defense classes. Laurel and the boxer chat about some guy who was involved in a break-in, and we discover the only point to the scene was for boxer guy to give Laurel a pamphlet on self-defense classes. Which she doesn't need, because as we all now know, she's had her fair share.

Corto Maltese! Finally! We have a title! Digg, Ollie, and Roy – who are all seriously sweaty – arrive at their hotel. Ollie says he's going to go talk to Thea alone first and heads off to do so. Okay, so we'll just take your bags in then, Ollie? Oh no, don't worry. We got this. You just go do your thing.

Malcom Merlyn's palatial Corto Maltese estate. Ollie shows up and knocks on the door, unaware that Malcom is on the other side with his bow and arrow aimed right at him. Note to self – do not trick-or-treat at this house. A gardener asks what Ollie's doing there, and Ollie says he's looking for his sister. The gardener says he must be Mia's brother. No, sorry, it's Thea. Thea. Oh wait. Yes, right. Mia. Mia works at the café, and the gardener offers to show Ollie where it is. Gardener saved your life, Ollie. Just sayin'.

Flashback! Malcom and Thea are having a tea ceremony. Kinda like the one in Karate Kid II, except without the amazing view or sexual tension. Well, without the view anyway. The conversation is all very zen and cool and mystical until Malcom grabs a spoonful of boiling hot tea and pours it on his bare fucking hand! Thea's horrified, but Malcom explains that pain is inevitable but suffering is optional. Huh. Never thought of it that way. My life changes today!

Café. Which, by the way, looks like nothing more than an outdoor Rainforest Café. I love their barstools that look like animal legs! Thea's actually happy to see Ollie, which is a relief, and they have a nice chat until Ollie drops the bomb that he wants her to move back to Star(ling). Thea says she's never going back, and who could blame her? Would you leave Aruba for Detroit?

Flashback, which appears to pick up right where the last flashback left off. Malcom's pouring hot tea on Thea's hand and she's doing her best, but she dunks it in some water and says she can't do it. Malcom hugs her and says it's not her fault, it's his. And ... that's it? Huh.

Queen Consolidated. Felicity arrives at work to find a super-hyped Superman babbling about caffeine, lattes, and whether or not it's morning. He must have found some weird Kryptonite. After a few goofy misunderstandings, Felicity finds out that not only does she have her own executive assistant, but she's inherited Ollie's old office as well. Movin' on up! Her first assignment is to recover the Queen Consolidated Applied Sciences files from a fried server. Piece. Of. Cake.

Corto Maltese. Let's get this B plot rolling, shall we? Digg finds Manhunter – who was hiding right in the open, a few yards away – and tells him who he is and what he's doing there to prevent Manhunter from stabbing him. Diggle uses some security whatchacallit to prove his identity and Manhunter tells him that someone stole the ARGUS NOC list and is looking to sell it. Huh. Just like Mission Impossible.

Star(ling) City. Laurel's at her AA meeting. Hi, Laurel! She hints around at Sara's death and how it made her want to drink but she didn't. Well then what are you doing here? This is a group for people who drink. Laurel's problem is anger that she doesn't know what to do with, but before she can dig deep into that notion, Captain Lance arrives and Laurel dummies up. A woman named Erica wants to tell her story. Hi, Erica! She says "My boyfriend and me got into another fight last night," and she shows the nasty bruises as proof. Well maybe he smacks you around for your poor grammar. Ever think of that?

The meeting ends and Laurel tells her dad that Erica's boyfriend is a real scumbag who beats her up regularly and has outstanding warrants, but Lance says he can't flash a badge at an AA meeting because then the drunks stop coming. Star(ling) City's police sensitivity training, ladies and gentlemen.

Corto Maltese. At an abandoned ... something ... Ollie takes position to observe Manhunter and Diggle. Ollie is unarmed. Ollie is going to be a lot of help if things go south. Manhunter and Digg arrive for the sale of the NOC list, and Manhunter gives Diggle a gun. Digg, with his instincts, realizes this whole thing is a setup and there's no sale going down. He throws the gun aside in disgust. This is a chocolate gun! Manhunter hits Digg with a taser and tells him that the sale is going down tomorrow and then steals Digg's security whatchacallit, which he's going to use to decode the NOC list. Manhunter fires a few shots at Ollie for good measure and takes off, leaving Ollie looking like a dope for not at least bringing a slingshot.

Café. Roy shows up and chats with Thea for a bit, and it's not really the shmoopy meetup everyone was hoping for. Roy uses his big, thick eyebrows to emote, and tells Thea that all he ever wanted was for her to be happy. If she's happy then he's happy. He turns to leave, and when she calls out "Roy?" he turns back and has a great expression where it looks like he's wondering, "Is that me? Am I Roy?" Yes, Roy. You're the most Roy person we've ever met. Malcom shows up to give the whole scene a disapproving glare, which rolls right into ...

Flashback. Which, again, picks up right where the last flashback left off. Couldn't we have combined all of these into one big flashback? Malcom says he's got to train Thea as his student, not his daughter, which apparently means smacking her around but good. Thea only takes a couple of shots before grabbing a sword and telling the sick son of a bitch to get away from her. This makes Malcom happy. He is a sick son of a bitch.

Hotel. Digg Skypes with Lyla and she tells him that ARGUS has a wet team inbound. Ew. I bet they smell funky. She also tells him to keep his powder dry. Dirty! Ollie asks Digg if they're actually going to keep their powder dry and Digg says oh hell no. Dirtier!

Queen Tower. Felicity is reading Iris' blog about The Streak. You know, The Streak? From Central City? Okay, if you don't know, I won't spoil it. Superman wants to know how the data recovery is going. It's not going well. Digg calls and wants Felicity's help finding Manhunter and Laurel calls and wants information on Erica's heavy-handed boyfriend. Felicity gives us all a lesson in multitasking.

Hotel. Ollie, Digg, and Roy are in the lobby talking about Thea. Ollie wants to tell her the entire truth, but Digg points out that he'll have to reveal just how much lying and obscuring he did along the way. Ooh, Digg's got you there Ollie. Whatcha gonna do now? Eh, Ollie's gonna do it anyway.

Star(ling) City. In a charming alleyway, Laurel waits for Erica's ham-fisted boyfriend to come staggering out of a bar. As he approaches his ride, she pulls on her ski mask, asks if he likes to beat up women and if he likes the ones who hit back, and starts to whallop him with a baseball bat. Instead of going to the ground with multiple broken bones and internal injuries, the guy is fine, and introduces his fist to her face. He admits yeah, he likes smacking women around, and he does like the ones who fight back. Ya gotta admire the honesty. He leaves Laurel – who you will remember had her fair share of self-defense classes – laying broken on the pavement. Well that went well. This is the new Canary?

Hospital. Captain Lance shows up to check on Laurel, and is both relieved that she's okay and angry that she's out looking for trouble. Laurel tells him that she needed to beat the crap out of someone, and Lance tells her to leave that to guys like Arrow and gals like her sister. Oh, yeah, about that ... oh, never mind, it'll keep. Laurel promises not to try to beat the crap out of bad guys and get her ass handed to her. Seems like an easy promise to keep. I could keep that one. Laurel stares at the leather Canary jacket as the show hits us all over the head with a comically oversized mallet. Whomp.

Café. Ollie sits Thea down, and instead of telling her everything, he tells her that he kept everything from her and that telling her would just screw everything all up. Wait, what? She drags out that whole thing about Ollie lying to her about who her father was, and I maintain that was Moira's lie and Ollie was only complicit in it. Splitting hairs, maybe, but cut Ollie some slack. Ollie relates the story about how Robert saved Ollie in the life raft by killing himself. That's a token secret that's supposed to convince Thea how important family is. So Thea should kill herself in a life raft?

Abandoned whatever it is. Team Arrow hides and waits for the NOC list deal to go down. All hell breaks loose and there are soldiers shooting every which way, some of whom may or may not be ARGUS. Ollie grabs a bow and arrows and hands a bow and arrows to Roy, who asks where the gear came from. We see a quick montage of Ollie using bits and pieces from the hotel room to MacGyver them. Well, so much for the room deposit. And just an aside, if Ollie was fully capable of making a bow and arrows from junk in the room, why didn't he do so for Digg's first meeting with the Manhunter instead of just standing there like a boob? Amid all the fighting, Manhunter makes a break for it, but Digg chases him down and shows him the back of his hand. He asks for sweet, sweet death, but Digg doesn't give it to him. Just knocks him out. Ollie rescues the NOC list. Go team!

Malcom Merlyn's palatial Corto Maltese estate. Thea tells Malcom that she wants to go back to Star(ling) with Ollie. Turns out she has to duel with dear ol' dad to earn her freedom, and she defeats him in swordplay. But he may have let her win. Eh, call it a draw. Malcom promises she'll see him soon. Ominous!

Corto Maltese airport. Aw, the vacation's over already? Team Arrow is drinking coffee and waiting in what looks like a bus depot for their flight, and they're all a little down that Thea's not coming. Hey wait, Thea is coming! Hi Thea! She joins them, and then some clumsy oaf spills boiling hot coffee on her hand, but she has no reaction whatsoever. Ollie, meet your new sister.

Verdant. Ollie arrives to find Laurel with her face all busted up. She asks him to train her, but he's like, nuh-uh, not gonna happen. But you trained Roy, and he's a grade-A dope! Also, Laurel needs training, despite having had her fair share of self-defense classes. Laurel shows him the leather Canary jacket and says that when she wears it, it makes her want to stalk abusive boyfriends with a baseball bat. Ollie reminds her of her father, and what would happen to him if he lost her. Especially since he already lost a daughter and doesn't even know it. Sorry, Laurel, not gonna happen.

Digg crib. Digg is home and happy to see his ladies, but Lyla's been called in to ARGUS so she's gotta go. I'm sure that won't turn into a future plot point.

Star(ling) City police headquarters. Erica's grammar-first boyfriend is under arrest after an anonymous tip told the cops he was in town. See, Laurel, you don't have to be a crime fighter. You can be a snitch!

Gym. Laurel shows up and finds the sweaty fighter from earlier. She wants him to teach her to fight. This, despite the fact that she had her fair share of self-defense classes.

Queen Consolidated. Felicity has recovered the files that Superman wanted and he's impressed beyond belief. She requests some time off to go see her friend who was struck by lightning and was in a coma. Who is she talking about? Superman sends her on her way and then looks at the files she recovered. It's all some serious wartime killing machine stuff. It's hard to tell if he's excited or concerned about that.

ArrowCave. Ollie and Roy talk about Thea and try to figure out what's different about her. Before they get too far, NYSSA MOTHERFUCKING AL GHUL shows up with an arrow drawn and wants to know where Sara is! So, yeah, about that ...

Next week: With Nyssa, Thea, and Malcom back in Star(ling) City, there should be all sorts of chaos and shenanigans! I certainly hope so.
​