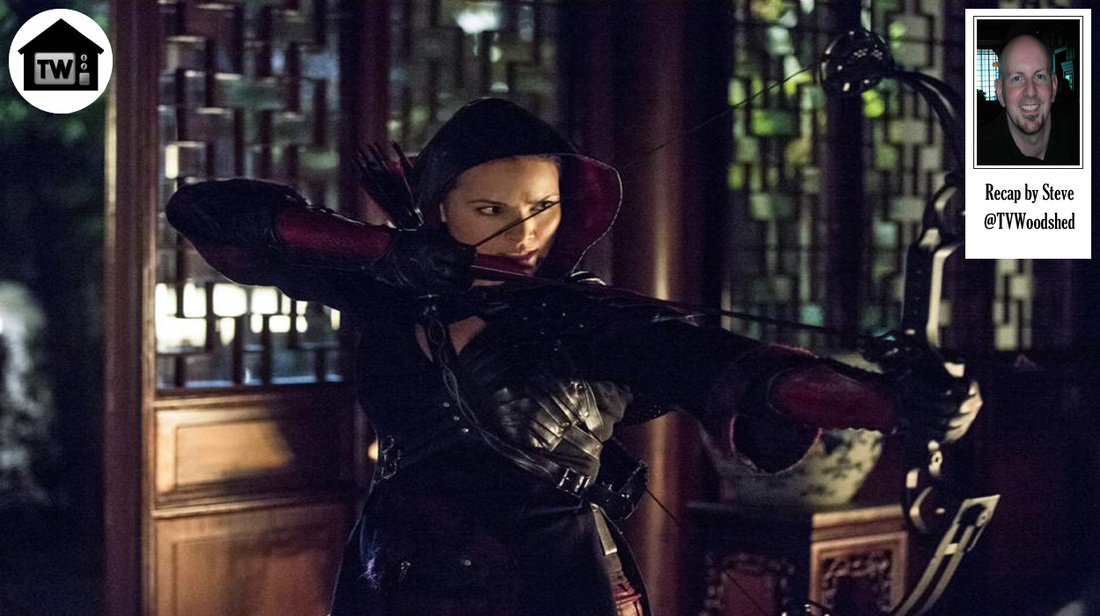 Everybody in Star(ling) City is either hunting Sara's killer or being accused of killing Sara. Meanwhile, you need a scorecard to keep track of who knows which secrets, and the Hong Kong subplot continues to have us pining for the island.
Previouslies. Sara gets three arrows in the guts, Moira was just about to tell us something really important about Malcom Merlyn, the whole Thea thing, and Nyssa al Ghul shows up in the ArrowCave, demanding to know where her scissor sister is.
And that's right where we pick up! Nyssa's all business with her bow and arrow and wants some answers. Ollie's all like,
She's a stone-cold killer and she's got the drop on me, I'd better handle this delicately
, while Roy is all,
I should pick up some bronzer on the way home
. What would we do without you, Roy? Nyssa figures out on her own that Sara's dead and lowers her weapon. Kill her! She seems to know who killed Sara and demands to know where the body is. Ollie says they buried her in her grave from seven years ago. Ohhhh ... I just had a revelation. More on that shortly. Nyssa leaves, and Ollie tells Roy to tail her while he meets Thea.
Swanky restaurant. Ollie joins Thea for dinner. He says that dinner's on him, but Thea asks with what money? Hey, good point, Thea. Maybe you guys should go back to that greasy spoon from Season 1. Ollie says Thea's broke too, but she tells him she's got new investors for Verdant. Who
in the world
is going to invest in Verdant? Oh, maybe it's Malcom. That would explain a lot, actually. Ollie observes that Thea's different and stronger, and asks if she's seeing someone. What's the implication, Ollie? She's stronger because she's got a new beau? You dick. Thea deflects on the issue of being different and stronger, but assures Ollie that it's not some guy. Dick.
Hong Kong. Oh, still with this? Can we drop Ollie somewhere a little more interesting? Ollie and his hip '70s wig are following some old guy through the crowd. If you've ever played a tracking mission in Assassin's Creed, it's just like that, only with more Asians. The guy stops for ice cream – like you do – and Ollie tells Hong Kong Phooey that the man doesn't look like a terrorist. HKP tells him to just kill the guy and get this plot moving, already.
Cemetery. Laurel's standing over Sara's grave when Nyssa shows up. Okay, a couple of things. First, once again, it's a nighttime visit in a graveyard. You just really can't do that. Second, I went on a total rant about them burying Sara in the last episode without realizing they were putting Sara's body in the empty grave from the last time they thought she was dead. The 2007 year of death is a dead giveaway, dope. So I apologize for most of what I said. I still don't know what they would have done if Captain Lance had busted them there, but he didn't, so whatever.
Nyssa kneels down to recite some Pig Latin.
Ara-say, I iss-may your ussy-pay
, or something like that. She goes to leave, but Laurel, being Laurel, takes the chance to blame Nyssa for Sara's death. Laurel says she died with arrows in her chest and that's Nyssa's fault. You know, for as much as the writers love to talk about Sara getting arrows in the chest, you'd think they would have filmed it that way, and not with the arrows in the gut. Laurel says that Nyssa showed Sara the darkness inside, but Nyssa claims it was there all along. Once you hear "I Believe in a Thing Called Love," it never ever leaves you. Nyssa says she took Sara into her heart and protected her. And she loved her. And she ground their genitals together as often as possible. She gave Sara the Canary jacket as a gift, and says Laurel isn't fit to wear it. Finally, someone making some sense around here!
Restaurant. Ollie gets a call from Roy that Nyssa's in a dumpy safehouse somewhere and asks Roy to text him the address. Instead of, y'know, telling him while they're on the phone.
Dumpy safehouse. Nyssa breaks down crying until Ollie shows up, and he almost gets a machete in the neck. The lesson is to never sneak up on a crying deadly assassin. Ollie once again says the trail has gone cold, pretty much confirming my theory that he gets paid to say that, and if Nyssa has info, she should cough it up. Ollie says they're gathering evidence and working leads while Nyssa's hiding in her safehouse. Wait, gathering evidence and working leads doesn't sound like the trail's gone cold, does it? Nyssa says it was Sara's safehouse and Ollie goes through a bag and finds a camera and something of Sara's that was her favorite. It looks like a can of dog food, but I'm not here to judge. Ollie says that if Sara was in Star(ling) City following a lead, that the lead might also be her killer. Nyssa says Sara was chasing down rumors of Malcom Merlyn being in Starling and being alive instead of dead. And Ollie's all, "Wait, what?"
ArrowCave. Nyssa talks about the League releasing Merlyn on the understanding that he'd abide by their code, but the Undertaking violated the code. Season 1 references! And yes, mass killing violated the killers' code. Go figure. When Ollie supposedly killed Merlyn, Nyssa says the matter was settled, but apparently Moira tipped the League off that Merlyn was still alive. Moira the narc! Roy disses Moira, which earns him a glare from Ollie, and Ollie says it was hard to believe Merlyn was alive, but they found photos of him on Sara's camera from two weeks prior. Plus a few selfies that ended up in the Fappening.
Roy says that they found a blank piece of paper in Sara's boot. And you saved it? What the hell for? Nyssa knows enough to put it to a flame. It reveals ghost ink, but Casper the Friendly Ghost ink, so no worries. The note has a bunch of stuff on it – pick up dry cleaning, buy cat food, that sort of thing – but the name Jansen has an asterisk, and the phrase "Dad help?" seems important too. The gang decides that Captain Lance might know something.
Police station. Lance is buying off cops with drink money. The hell? Laurel shows up and says Sara called and wanted to know about Jansen. Oh, and also, Sara's dead. Lance says Jansen is Ken Zhi Jansen, but we don't know who that is. Lance wants to make sure that Laurel's not getting mixed up in Sara's bidness, and Laurel says that Sara was, err,
is
in a dangerous line of work. Yes, covered that up nicely. Swish. Nyssa shows up and Lance tells her he doesn't recognize her without her Halloween costume. Zing! It looks like Nyssa's about to drop the dime about Sara being dead, but then says that her message from Sara is that she misses him very much. Aw. Messages from beyond the grave. Sweet. Lance hands over Jansen's address. Lance doesn't want any assassinating, and Nyssa assures him that it's all about justice. And assassinating.
Serene Buddhist temple. So it turns out Jansen's a monk. Well sure, with a name like Jansen, what else would he be? He was going to be deported to China but Merlyn bankrolled his defense, so in turn Merlyn gets asylum at the monastery. That's got to be some seriously dull asylum. The team splits up to go and find Jansen, Nyssa in her costume completely unsuited for an assassin and Roy looking so dumb in that mask. Why does Ollie look cool in his and Roy look so dumb? I can't figure it out. Unless it's just Roy.
Nyssa manages to get the drop on Jansen meditating, but Digg and Roy find Jansen's memorial plaque that says Ken Zhi Jensen died in 2012. Well then who the hell ... ? Nyssa demands that not-Jensen tell her where Malcom is and hey, there he is. She fires an arrow at point blank range and he leans just a little to the side to avoid it. This is an assassin? There's fisticuffs, and then Merlyn throws a smoke bomb to escape. Poof! I'm invisible! Arrow sees him jumping out a window so he fires an arrow at Malcom and rips his sleeve. Once again, Arrow with the "Wait, what?"
ArrowCave. Laurel wants to know what's going on. None of your beeswax, Laurel! Ollie catches her up to speed, then announces that he hit Merlyn with an arrow tipped with particulate nanotechnology. Who shot who in the what now? Oh, it's a tracer arrow. Just say so, Ollie! Laurel is all mad that Ollie didn't kill Merlyn, and Ollie has to remind her he's not a killer. Or very good with an arrow. Laurel storms off and Nyssa says she'll talk to her. Ollie tells Roy that Merlyn might try to contact Thea, and Roy says he's on it. On what, exactly? Digg channels his inner Felicity (Smokin') Smoak, who unfortunately is on loan to
The Flash
this week, to use GPS to find the tracer arrow. Ollie heads out and tells Digg to let him know when he finds Merlyn.
Flashback. Ollie's still stalking the old man with the ice cream. This is more and more like one of those Assassin's Creed missions. They go on and on and on. Ollie corners him in an alleyway and stabs him in broad daylight. Ow, my insides! He calls HKP and tells him it's done.
Verdant alleyway. Laurel and Nyssa have a chat where Nyssa pretty much admits she was Sara's lover. Yow. And if one Lance girl was good ...
Laurel tells Nyssa that Ollie will let Merlyn live or let him go. Or let him be. Or let him into his heart. So many choices! Nyssa promises that if she gets her shot, she'll take it. You're dead, Malcom! Dead!
Verdant. Thea's working on restoring the club when Roy comes in. He offers to help her as a friend and she asks which shade of green he likes. Wow. That was riveting.
Streets of Star(ling). Digg contacts Ollie and tells him Merlyn's at an air conditioner factory. Well of course he is.
Air conditioner factory. Man, the air conditioner trade in Star(ling) City has really died off, hasn't it just? Despite the warehouse being a mile long with shadows and catwalks galore, Arrow has a quick glance and declares that Merlyn's not there. See now, this is why Batman is the World's Greatest Detective and not you. As it happens, Merlyn's not there, but he hijacks Arrow and Digg's conversation to say that they need to talk. He arranges to meet Ollie in a very public plaza – hopefully not Dealey Plaza, because nothing good ever happens there – and if he sees any Team Arrow members, Ollie will not see him.
Said public plaza. Merlyn meets Ollie and has a very LOUD CONVERSATION with him, which is BRILLIANT for a very famous man who is SUPPOSED TO BE DEAD and killed more than 500 residents of Star(ling) City. Maybe Malcom's got another smoke bomb in case he's recognized. Anyway, Malcom denies killing Sara. He said the only reason he came back was Thea, and then swears on Thea's life he didn't kill Sara. And off he goes. Hey, isn't that Malcom Merlyn? I thought he was dead!
The Grind and Jolt Café. Honest to God, that's what it's called. You writers slay me. Ollie meets up with Thea and talks about the night in the train station. Season 2 references! Boy, if you haven't PURCHASED ARROW ON BLU-RAY then you have no idea what's going on. Better head over to Amazon right now and take care of things. Thea deftly sidesteps the issue of Malcom saving her. She says it was a cop or something. Or maybe a bird. Or a caveman. It was really nuts that night. Ollie tells Thea it was Malcom Merlyn who saved her. She's all like, "Oh. Okay." She takes a quick phone call from "an investor" and ducks out of the conversation. Smooth.
ArrowCave. Ollie catches Nyssa up to speed with everything that's happened, including that Thea is Malcom's daughter. Ollie and Nyssa disagree about how to handle this Merlyn business and she heads off. Ollie wants to give chase, but Digg suggests that maybe they should let things happen as they will and that they'd be better off with Merlyn dead.
Flashback. Yeesh. Still Hong Kong, eh? Ollie and Hong Kong Phooey have a conversation about following orders and doing things for the greater good and all that shit. Ollie sees Hong Kong Phooey Junior playing a game on his computer and Ollie wants to try. It's Angry Birds! I'm awesome at this! Ollie bribes the kid with promises of candy and then uses the computer to look at files on a USB drive from the dead man's keychain. Instead of, you know, e-mailing home. After perusing the files for a whole second and a half, he tells HKP he wants a meeting with Amanda Waller about Flight 637. Not Flight 637! Wait, what's Flight 637?
Verdant. Thea thanks Roy for his help, and Roy says he enjoys painting because it helps him turn his brain off. Oh, that's too easy, Roy. I'm not gonna swing just because you lob softballs right over the plate! Nyssa spirals in on ... I don't know, a web? And Roy's stunt double does a flip right into a knockout dart. Even Roy's stunt double is an idiot. Thea tells Nyssa to stay away from him, and then Thea – whom you will recall received extensive training in weapons and hand-to-hand combat in Corto Maltese – just lets herself be taken away.
Malcom's office. He calls for Thea and then looks out the window and spots purple smoke. No, not the purple smoke!
ArrowCave. Laurel shows the boys video of the purple smoke and they deduce that it's League of Assassins smoke signals. Because what else could it be? Ollie and Digg are going to take care of business while Roy sits it out with tranquilizer in his system. And we keep Roy around because why? Laurel reminds Ollie that Merlyn's a killer. Yeah, yeah, we know your opinion on the subject, Laurel. Now shut your yap.
Industrial location somewhere. Thea's hanging upside down and her hair is spread out in a cool fan shape. I'll bet that's how Beverly Hills hair salons do it. They string you up by your ankles and cut your hair upside down. Ollie shoots Thea down, thankfully catches her before she falls, and then tells her to run. She does. Because why would someone with extensive fighting training stay to fight?
Speaking of fights, one ensues between Arrow and Nyssa and then Dark Archer shows up and joins in. It's really hard to tell who is pummeling whom since they're all dressed in similar dark outfits, but eventually Dark Archer pins Nyssa down with a triple arrow combo. It's a cool trick and all, but are the arrows just pinning her clothes down? I think she'd be desperate enough to rip some material to get at Merlyn, but maybe she paid a lot of money for her outfit.
Arrow has the drop on Merlyn. Nyssa urges him on, but Malcom maintains that he didn't do anything to Sara.
Again
with the Sara. Merlyn starts to leave, but Ollie tells him he's still a murderer. Yeah, and? Arrow says he could have the cops there in three minutes, but Malcom says he could escape from prison in half that time. In a minute and a half? I'd say it's worth arresting him just to see him do that. It sounds amazing! Malcom says Ollie's only got one option – kill your sister's father. Wait, who? My brother's mother is my mother too, and my other brother's mother is my mother too. Oh hell, too confusing. Arrow lets him go.
ArrowCave. Ollie says Thea's fine and Nyssa gives him a right hook. Bam! Right in the mush! Ollie maintains that Merlyn didn't do it and that he'll find out who did. Unless (sing it with me now)
the trail goes cold
. In the meantime, he tells Nyssa that Malcom is under his protection while he's in Star(ling) City and the League should fuck off. Nyssa tells him he's made an enemy tonight. Could we upgrade that to frenemy? Felicity returns and asks what she missed. Hi Felicity! How's Flash? So, what did you miss? Let me 'splain. No, there is too much. Let me sum up.
Flashback. Amanda Waller meets with Ollie to talk about something that has to do with the island. Season 1 and Season 2 references! It's all a little complicated, but I guess Waller orchestrated everything that happened on the island and was watching? Or something? She told Fyres shoot down a plane to take out China White, but Ollie fucked that all up and now she's in Hong Kong. Waller wants to know why. Who
are
these people?
Gym. Nyssa stops by to say farewell to Laurel, who's punching a bag. She punches like a girl. They talk for a bit about Sara and Merlyn, and Nyssa seems to give Laurel her stamp of approval. Evs. She gives her punching tips and then leaves.
Police station. Captain Lance calls Sara's voice mail to tell her that he loves her. Um ... oh boy, yeah, about that. Um. Hrm.
Verdant. Ollie tells Thea that he spoke to DETECTIVE LANCE (seriously, what the fuck?) and that "that woman" won't bother Thea again. You know, the crazy lesbian assassin woman? Roy swings by and he and Thea talk about him trying to save her and she compliments his "nice moves." That bit where you jumped over the hood of the car and took a dart in the neck and passed out? Nice. She offers him the assistant manager job at Verdant. He takes it. So, what, we've hit the reset button here? She says she's got a call from her designer but it's Malcom checking in. He promises to never let anyone hurt her. Because she clearly can't take care of herself.
Canyon of the Crescent Moon. For real, it's that ornate entrance carved into the canyon wall at the end of
Indiana Jones and the Last Crusade
. Only the penitent man shall pass! Nyssa enters a chamber and drops to a knee. She tells some dude talking a bath that Malcom Merlyn is still alive, and that Sara is dead, shot through the heart with an arrow. Sara's heart was in her stomach? Gross! The dude gets dressed in some fine robes and jewelry, and swears that Malcom will answer to the League. He asks about Ollie, and she tells him Ollie is protecting Merlyn. We see Ra's al Ghul's face – I don't know the actor, but trust me, he's no Liam Neeson – and he says that Ollie courts war with them. Well you know what war's good for, right? Absolutely nothin'! Huh!
Next week: There's some kind of computer hacker in Star(ling) City and Felicity doesn't know how to stop him. Oh noes! My World of Warcraft account!
​