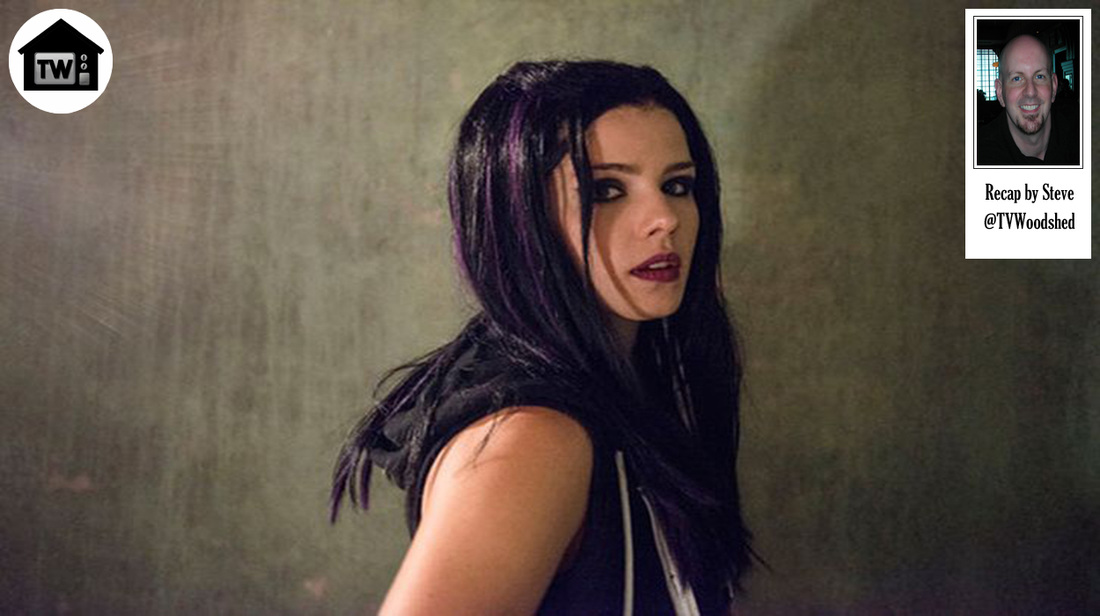 We finally get the Felicity-centric episode we've been clamoring for, but don't get to see nearly as much goth Felicity as the episode previews promised we would. Also, Felicity's mom shows up to fill the cleavage void we were left with when Sara died. And fill it she does.
Previouslies. Hey, no footage of Sara getting the arrow-gutting! Progress! Let's see, Laurel's getting lectured about rage from a sweaty boxer, Roy's not getting much sleep, and Felicity could have ended up a cocktail waitress like her mom. It's Secondary Character Day in Star(ling) City!

We start off with a montage. Ollie and Roy are trying to smack each other with giant Pixie Stix. Laurel and the sweaty boxer are boxing. Malcom and Thea are trying to cut each other up with swords. Ollie tells Roy he's doing badly and Roy offers up his lame "not sleeping well" excuse. Wet dreams, Roy? Nothing to be embarrassed about. You're becoming a man! Sweaty boxer gives Laurel grief for not boxing right. Malcom and Thea come to a draw and Thea wonders how normal people spend their mornings.

Normal person's apartment, aka Felicity (Smokin') Smoak's pad. Squeeee! It's so adorable! Just like Felicity! She's doing some morning exercises. Pilates? Thirty-minute abs? What do I know from exercise? She finishes up and goes to brush her teeth when there's a knock at the door. It's Superman! He comes right on in and starts talking about some crazy plan he has to use Queen Tower's excess electrical heat to power the city for free. The hell? How hot does Queen Tower get? Also, he's got to have some serious fuck-you money if he wants to give that away. As an aside, Felicity has a Robin Hood poster on her wall. Round of applause for the set director!

As Superman and Felicity are chatting there's a knock on the door. Avon calling! No, it's a hooker. No, a porn star. Call girl? Oh, it's Felicity's mom. Yow. Za. Felicity wants to know why she had no warning that such a tight dress would be showing up on her doorstep. Mom evidently doesn't understand the final step in sending a text. There are really only two steps – write and send. Oh well, she was halfway there. Mom assumes that Superman is an overnight guest of Felicity's, but that doesn't stop her from giving him the bedroom eyes and telling him to call her Donna. She recognizes him as the smart watch guy and he's sufficiently flattered to give her the prototype he's wearing. There's a small camera in it, don't worry. When you shower, just put it on the sink and face it toward the tub. Superman excuses himself and Felicity ponders her funeral when she dies of embarrassment.

Flashback! Hey, this is neither the island nor Hong Kong. What gives? Oh, Felicity owns the flashbacks this week. Sweet. The less Hong Kong, the better. A totally goth Felicity is in a dorm room with two boys and all three are hacking. Wow, none of you know what college is supposed to be about, do you? Felicity finishes coding a Zork emulator, which absolutely has to be a shout-out to The Big Bang Theory. Seriously, raise your hand if you heard of Zork before Sheldon brought it up. Just as I thought. One of the boys is impressed and starts smooching on her – now we're getting somewhere – while the other boy wonders why they don't have normal college sex. Wow, that escalated quickly.

Felicity's boy toy has hacked into something and Felicity launches a super-virus to finish the job. And just like that, they're into the Department of Education files. There's really nothing else worth hacking? Boyfriend – whose name is Cooper, evidently – tries to wipe out all the student debt and Felicity yanks something out of the wall to stop him. Felicity, are you out of your fucking mind? Do you know how awesome that would have been? Cooper asks Felicity if she'd rather be a hacker when she grows up or a hero. Whomp! Thanks for hitting us over the head, Arrow. Yes, we get it. Hero. Thank you.

A ridiculously huge apartment loft. Ollie comes by to see Thea's new digs, which are the aforementioned truly colossal loft. How much space does she need? She's four foot five and weighs 60 pounds. Also, there's a fireplace at each end. Is that a symbol of affluence? How many fireplaces do you have? Oh, just the one? Well, I'll leave you to your food stamps and collection agency phone calls, then. Ollie and Thea argue over the Malcom Money that she used to snag such a sweet pad. Ollie says it's blood money but Thea insists it's her life and she'll do what she wants. She tells Ollie he can come by with popcorn when the furniture arrives or he can go piss up a flagpole. Get pissing, Ollie!

Thea storms off and Ollie notices out the window that the city's power is going out. It's the night that the lights went out in Starling! Cut to reaction shots of all the major characters as the lights go off around them. There's already a car smashed into a fire hydrant. What the hell, man? The power's off for twenty seconds and you completely lose the ability to drive? A woman gets pushed out into traffic by some sparks and Ollie runs in to take a sick hit to the back to save her. He's fine, though. No worries. It's just a C4, C5, C6, and possibly a C7 fracture.

Ollie passes an electronics store when suddenly all the TVs come on and Sauron is gazing out at the citizens of Star(ling). A digitized voice – not unlike the Arrow's – announces that he is Brother Eye. Or they are, it's hard to be certain. He says they're in control and the blackout is just the beginning. And then the power comes back on. So, no harm done? Everyone okay? Good. Let's see some more of that hot Goth Felicity, if you don't mind.

Verdant. Felicity and her mom arrive and Felicity wants the MILF to stay put so she can sneak off and do Arrow stuff. Before she can, Ollie arrives, and Donna's ovaries are suddenly on the outside. Then Digg arrives with Baby Digg, whom they pawn off on Donna so they can get some damn work done. The team starts puzzling out the whole Brother Eye thing.

Police station. Laurel gets the news from Captain Lance that she's the acting DA since the regular DA is out of town. How are we supposed to handle two massive crises at the same time? And if you ask me, the Brother Eye thing pales in significance to Laurel as DA. Captain Lance calls Felicity, who addresses him as Detective but then catches herself and calls him Captain. Huzzah! Finally! Captain Lance is happy that she's on the Brother Eye thing, because there's no one else as good at computers as she is. He's just starting to master Microsoft Paint.

Flashback. Goth Felicity (Gothicity?) is walking outside with Cooper and they're discussing his reckless and no doubt universally hailed by college students attempt to erase the debt files. He claims he managed to get to 3,000 files before she, y'know, yanked his cord, and they disagree on whether or not anyone is going to bust him. A black van settles that argument quickly as FBI guys swarm the scene and arrest poor Coop. Oh, they're gonna love him in prison. He sure is purty.

ArrowCave. Brother Eye has a new message that he's going to go after bank accounts next and reset everyone's balance to zero. Social equality! Thanks, Obama. Felicity technobabbles about a way to trace the Brother Eye signal.

Police station. Some nerdy cop is wondering where the Captain is because there's a situation at Starling National. Someone came in with wire cutters and took all the pens! Laurel orders the guy to send an ESU squad to the scene. ESU? We don't have SWAT teams any more? The cop is all like, "Yeah, that'll be the day I take orders from some dizzy broad!" But Laurel says she's the acting DA and what she says goes. Well then you better say "nerdy cop," 'cause I'm goin'.

ArrowCave. The team gets an alert that the riot squad it headed to Starling National. Ollie tells Roy to suit up. And don't forget the doofus mask.

Starling National. A group of rioters are trying to smash their way into the building. Why, exactly? What's the plan here? Are you going to withdraw all your money from the ATM? And if you have an ATM card, why are you smashing down the front door? Rioters, I tell ya. Cops arrive on the scene and tap their shields menacingly. Arrow arrives on his motorcycle and Roy on his scooter and they scope out the situation. They fire simultaneous arrows that defy the laws of physics and release tear gas, not only on the angry mob but on the cops too. Nice work, fellas. Arrow calls Felicity and tells her to get a move on fixing the virus, and Felicity comes to the conclusion that it's a virus she wrote five years ago. Well, shit.

ArrowCave. Felicity is very upset and explains to the Arrow brothers that she was in a group in college called "Hacktivists." I wonder if the writer who came up with that got a gold star. She says they tried to do good things in questionable ways. Like creating super-viruses. Ollie wants to know who else was in on the deal. There was Coop, who Felicity says is "out of the picture," and Myron, who was the roommate. Nice name, Myron. Get beat up much? Ollie wants an address on Myron. It's 69 Guy Fawkes Way! Long live the revolution!

Flashback. Felicity visits Coop in prison. Orange is the new black! Looks like they're already breaking him in. Felicity is very upset and wants to tell confess that she wrote the virus, but Coop already said he did it. He loves her. She loves him. But not as much as Bubba's going to love him at shower time.

Police station. Captain Lance reads Laurel the riot act for sending in the ESU, whatever it is. She apologizes, but she's not off the hook yet. Captain Lance calls her out for being secretive and in pain. Well yeah, Dad, my sister died! I mean – what? She won't talk to him, so he asks her to find someone she can talk to so she can get her shit together. How about Batman? He had family members murdered too. Just a thought.

Verdant. Thea is trying really hard to open the door to the ArrowCave, and Ollie offers up a shit-ton of lame excuses why it's locked and why she shouldn't go down there anyway. Like a water main break that caused a flood. Killer Croc is waiting! Thea tries to make nice with Ollie, but he's still hung up on the Merlyn Money. Oh, Ollie. After Thea leaves, Ollie gets a text that Felicity has found Myron.

Myron's office. He's working off of three monitors that have the virus showing, and the Arrow brothers show up to inform him he's failed the city. Then they shoot out the left and right monitors. Hey! Those cost money! And FYI, I can't shut down shit without all three monitors, so nice job, boys. Felicity tells Arrow what to say but it's really complicated and Ollie's not that smart. Myron claims he drives a blue hybrid so he couldn't possibly be behind the cyber attacks. Fair enough, then. Sorry to bother you.

ArrowCave. Felicity tells the boys that she hacked Myron's emails and came up with jack. When Ollie presses the issue of Cooper having something to do with it, Felicity confesses that Coop strung himself up in prison before his sentencing. Wait, what? I'm no law student, but don't they keep you in jail and then sentence you to prison? Either way, Felicity is distraught and leaves to be alone. Nice one, Ollie.

Queen Tower. Felicity is crying when Superman comes in and tells her he lost his bid to change Starling City to Star City. Hooray! No more parentheses for me! He slowly cottons on to the fact that Felicity is sad – was it the tears? Or her holding her face in her hands? Share your deductive method with us, Sherlock. Just as it seems like Felicity and Superman might have a meaningful chat, Donna shows up and she is not happy. Mo-om! I'm atwork! The battle is well and truly joined as Felicity shouts at her mom and apologizes for not being the daughter she wanted. Mom was hoping for more of a Kate Upton type. Donna talks about what a smart yet completely shitty husband she had, and how all she sees in Felicity is the smarts her dad gave her, and none of the tits and ass her mom gave her. She says she always worried that Felicity would leave her too, and she realizes she already has. Yeowch.

ArrowCave. The boys are all staring blankly at the computer screens, wishing they could hit somebody. Felicity returns in quite a state and tries to get back to work, but she's all over the place. Roy gives Digg the ol' "Let's make ourselves scarce" nod and they leave so that Ollie can try and put the pieces of Felicity together again. Ollie wants her to take an hour to go talk to her mom, and mentions his half-assed interaction with Thea earlier as an example of the importance of family. Yeah, if you're looking for healthy family dynamics, I wouldn't start with the Queens.

Felicity's place. Donna is packing up to head out and Felicity tries to smooth things over, but everything is still tense and weird. Things get more tense and weird when Donna mentions that she won the trip to Starling City through some online contest. That was the prize? Felicity smells a rat, and no sooner does she then a couple of masked goons smash their way into the place! We get gratuitous upskirt shots of Felicity and mom, to which I say thank you and ew, respectively. They put black hoods on both gals, which clashes with Donna's outfit but looks adorable on Felicity.

Warehouse. Felicity and Donna are tied to chairs and their hoods are removed. Welcome to This Is Your Life! No? Dang. There are Brother Eye monitors everywhere, and a shadowy dude with a voice changer makes a grand entrance. Brother Blood is Brother Eye? Or are they brothers? He steps into the light, and fucking hell, it's Cooper! He looks exactly the same age as in the flashbacks. That's moisturizer, people! Learn from this man!

Cooper says the NSA wanted him for some hacking work and so they faked his death. The NSA can do that? Neat. There's some more supervillain exposition, and what it boils down to is there are some armored car GPSs that he wants Felicity to hack so all the cash will come right to him. Do we split the money 50/50? Felicity is all "nuh-uh" on Coop's plan, but reconsiders when he points a gun right at her mom's funbags. Those are expensive! Save the funbags!

ArrowCave. Ollie knows something's wrong when Felicity doesn't answer her phone. Dude, maybe she's, you know, getting' busy somewhere. Turns out she is, but not in any fun way. She's hacks the GPSs, and Cooper orders his generic goons outside to greet them. Then he tethers Felicity to the table. When everyone is gone, Felicity hears her mom's hi-tech watch beeping and realizes she can use it to contact the good guys. Cooper comes back and threatens Felicity, and her mom says that without the gun, Coop wouldn't last 10 seconds against Felicity. I'm guessing that scenario involves Coop being kicked in the nards? The point becomes moot as Arrow hits the scene and tells Coop to put the gun down.

Coop then activates the worst motion sensor machine guns ever invented. Seriously, there are four of them and Arrow has no cover whatsoever, and they still can't hit the broad side of a barn. While he's dealing with that, the goon squad outside opens fire on the armored trucks, but Red Arrow and Digg in a black ski mask – Black Arrow? Is that racist? – take care of the goons. Coop needs to hire a better class of goon. Inside, Arrow outmaneuvers the machine guns and gets the drop on Cooper, but no need – Felicity grabs his gun and knocks him the fuck out. Hey, Donna was right! He didn't last 10 seconds. Felicity and her mom have a weepy reunion.

ArrowCave. Ollie and Felicity have a sweet little wrap up, and Ollie says that whatever Felicity went through, he's glad, because it made her who she is today. Does that include being kidnapped with her mom? She tells Ollie he was right – we have to love our families, no matter what. Even if your dad shoots himself in the head, your mom gets stabbed through the heart with a sword, and your sister is a tiny little duplicitous killing machine.

Flashback. Back in the Hacktivist dorm room, Myron comes in looking for Felicity. He finds a bag with all her goth shit and she comes out of the bathroom looking just like we've known her all along. Yay, Felicity Classic!

Gym. In the least interesting storyline – Hong Kong excluded, of course – Laurel confesses to her sweaty boxing trainer that her sister was murdered. He's pleased because now he knows how to train her. There's a specific training method if a family member was killed? He gives her a choice of a red training hoodie or a black one and she chooses black. Whomp! Thanks again, Arrow. Yes, Black Canary. We've all been paying attention.

Thea's sickeningly huge loft. Ollie shows up with popcorn and makes nice with Thea, who promises to donate the Malcom Money to charity once Verdant starts turning a profit. So never, then. Thea also asks Ollie to move in with her. You don't mind if I come and go at all hours of the day and night, or that I cosplay as the Arrow do you? Ollie and Thea sit down to watch the world's largest TV as Malcom Merlyn looks on disapprovingly from the building next door. Guess he was hoping to catch Thea alone and getting changed for bed.

Queen Tower. Donna arrives in a slightly less slutty outfit to say goodbye to Felicity. They have a chat, and Felicity thanks mom for all the toughness she inherited. So her dad wasn't tough. Hm. He was super-smart, walked out on his family, and wasn't tough. That's a start. Superman walks in and Felicity says she's sick so she can't work, and heads out with her mom, who is still drooling over The Man of Steel. Well, hell, who isn't?

Roy's bedroom. Roy's having a nightmare where he sees the scene with Sara being shot with the arrows, but he's the one doing the deed! Not only that, he's throwing the arrows instead of firing them! Fucking hell! Roy killed Sara, everyone! It was Roy!

Next week: Roy confesses his dream about being a murderer and there are all sorts of vague questions about your dreams becoming reality. I guess the message here is that anyone can murder Sara if they truly believe they can.
​