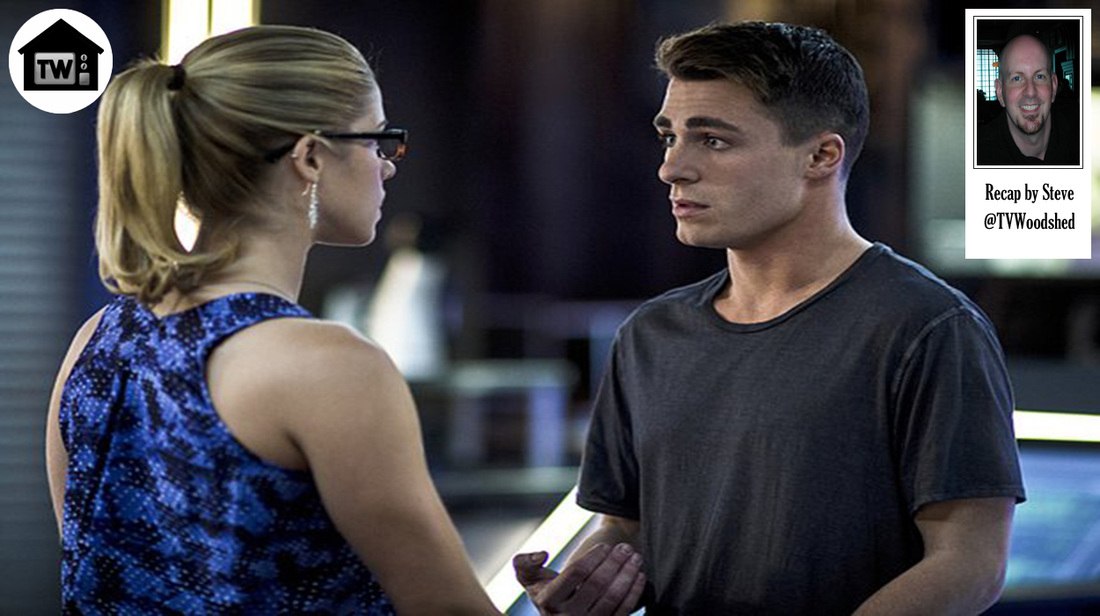 Filler, anyone? This week's stinker of an episode was a whole lot of nothin' that didn't advance the plot, didn't mark any real character development, and stumbled over the finish line with no hope of anyone ever saying, "Hey, remember 'Guilty'? Let's watch that again! That was a great episode!"
Previouslies. Sara. Roy. Et cetera. Nothing to see here.
Starling City. The Arrow boys are out on the town, but Roy's mind is a thousand miles away. Heh. Roy's mind. As if. Felicity (Smokin') Smoak tells them that some gang is in the area and they have a bunch of drugs or something. I don't know. Roy thinks he's supposed to cover the east, but Arrow scolds him with "The roof!" The roof! The roof is on fire! We don't need no water let this fuckin' episode burn! Anyway, Digg, Arrow, and Roy seem to think all is clear, but Felicity says that can't be right. Look harder!
Arrow comes across a bunch of gang members hanging upside down. It's the Predator! Run! There's one live dude, and I think he says "Paco." Or he might want a taco, but that seems racist. Whoever strung them up left the drugs behind, and Ollie says that must mean that this is a message. But what could the message be? Roy sees it from up above – X marks the spot! The word GUILTY looks like it's been written in blood. But it could be the Heinz warehouse. Might be ketchup.
ArrowCave. Felicity, Roy, Digg, and Ollie discuss rival gangs in Starling, and they speculate about who this Paco might be. Turns out there are 86,000 Pacos, and not nearly as many tacos. There's ... apparently a plan formulated, but I'm not quite sure what it is. Either way, Ollie tells Roy to fuck off and get some sleep because he's worthless when he's a sleepy boy. Ollie and Digg head out and that leads us right into the first ...
Flashback. Oh, for the luvva Pete,
still
with Hong Kong? Goddamn this is one seriously dull storyline. Wigged Ollie is standing with Hong Kong Phooey and they're discussing some dude they're supposed to find who will lead them to China White. You know what's really compelling in a super hero show? Standing around and talking. Especially when the hero isn't even the hero yet.
They spot the guy and Ollie gives chase through the crowded streets, and then BAM! Dude gets hit by a car. Ow, my spine! HKP checks the guy for some paperwork but all he finds is pocket lint, a yo-yo, and a packet of Big League Chew. HKP says the dude must have stashed the paperwork during the chase, and Ollie's all like, I didn't see shit, Jackie Chan.
Gym. Laurel and her boxing buddy are sparring. Oh, that Laurel – she couldn't wrestle worth a damn, but you should have seen her box! Bazinga! Boxer lets her swing away for a while and then hooks her and throws her down to the mat. Welcome to
Monday Night Raw
! The lesson is to be surprised during a fight but to not get rattled. Laurel doesn't learn that one so good, so Boxer's next lesson is that it's not about getting knocked to the mat, it's about getting up. Wow, Confucius, how do you come up with this stuff? Laurel wants to go again, but Boxer wants to close up shop and take Laurel out for tacos. Or maybe Pacos. People really need to start enunciating this shit.
ArrowCave. Roy is pestering Felicity about testing his blood for Mirakuru. Felicity tells him that Mirakuru doesn't interrupt your sleep, it just makes you a murderous rage monster. It's basically a cure. For not being a murderous rage monster. Felicity agrees to do the blood test. And maybe while you're at it, pluck Roy's eyebrows?
A bar. Or a club. Someplace with a neon beer sign, anyway. There are a bunch of dudes with arrows in them, and Arrow is strong-arming one of them to tell him about Paco. Or possibly tacos. The guy says that Paco is the street name for Emilio Otega. Paco is his street name? Intimidating. Felicity is able to find Otega and tells Arrow where to go.
Darkened room. Arrow finds yet another dude strung up and another GUILTY written in blood. Whoever's doing this should mix up the verdicts a little bit. NO CONTEST written in bile. NOLO CONTENDERE written in ear wax. Okay, I've gone too far. The lights come on and Boxer comes in and we see it's his gym. Oh shit! Doesn't look good for Boxer! He's a minority!
Arrow has an arrow trained on Boxer and wants to know the dilly-yo. Laurel comes in and vouches for Ted, saying that Ted was with her the whole time and therefore couldn't have killed the upside-down guy. Who is Ted now? Oh, Ted is Boxer's name. Huh. Well, if he's got a first name now, I guess he's sticking around for a while. Hi Ted! Arrow lowers his arrow. Oh, and FYI, the gym is flooded in the brightest possible light and you can see Ollie's face perfectly under the hood. Clear as day. Just saying.
ArrowCave. Felicity powers down her rock tumbler and her computer screen reads MIRAKURU NEGATIVE. I saw them once, opened for Type O Negative. Great show. Roy almost shows some emotion but keeps it under wraps with his default expression. Acting! Felicity wants to know what's up, and Roy says it's stupid. Well duh, it has to do with Roy, of course it's stupid. Roy talks about his Mirakuru dream memories, and says he dreams/remembers killing Sara. He asks Felicity if that's crazy. She's like, "Yeah. Crazy." Security!
Gym. Starling's Finest are on the scene and Captain Lance is talking dead strung-up guys with Laurel. Captain Lance doesn't like Ted one bit – obviously, he's a minority – and says that if the coroner's report is consistent with Ted's story then they'll cut him loose. Seems fair. Here's hoping the coroner likes minorities.
Laurel leaves the gym and walks past a comely redhead, whom I didn't notice on first viewing, and shame on me because I have a real thing for redheads. Arrow is standing right out in the open without his Lone Ranger mask. Well shit, it's not like it fools anyone anyway. Ollie's suspicious of Ted, but Laurel defends him. He's also annoyed that he refused to train her but now she's got a trainer. To train her. Ollie wants to talk to him, and warns Laurel to keep her eyes open with Ted. Otherwise he'll, y'know, catch you with a roundhouse to the temple.
Flashback. Oh Christ, really? More of this? Rrrrrrrrgh! Hong Kong Phooey Junior is playing a memory game and invites Ollie to join him. Ollie's not bad at it. In the other room, Hong Kong Phooey is asking Mrs. Hong Kong Phooey to help Ollie remember where that dude stashed the paperwork. Honestly, it was a pretty short chase. Couldn't they just retrace their steps and keep an eye out for, y'know, paper? Mrs. HKP kicks her son out of the room and tells Ollie to leave the kid alone, and then lights a candle to start Ollie down the path of enlightenment. Or something.
ArrowCave. There's a lot of discussion about Ted – his pay-per-view fights, him being the Starling Southpaw ... oh, and a beating murder with brass knuckles six years ago perpetrated by a lefty. Hmmmmmm. Ollie apparently put a tracer on Ted – I guess we'll take his word for it – and Felicity says he's on the move. Ollie heads out to find him.
Ted's storage locker. Arrow just waltzes in uninvited and finds an awful lot of incriminating shit – newspaper clippings about a vigilante, a collection of knives and brass knuckles, another strung-up body, a mask ... wait, what was that third thing? Ted sneak-attacks him and there are fisticuffs aplenty! Arrow finds a random boxing glove, and in the silliest moment of this entire series or any other, he fires the boxing glove arrow and knocks Ted down. Oh, Lord have mercy. Ted claims he's being set up and Arrow asks why he should believe him. Ted says he used to be a vigilante. He used to be Arrow. Well, not exactly. You'll see.
Arrow says he never knew about any vigilantes before himself. Oh yes, the whole world just sat around and waited for you to come home, Ollie. Sheesh, what an ego. So it turns out that the body hanging in the gym had a key around its neck, and the key was to the storage locker. I bet the killer was that awful Dave Hester from
Storage Wars
. Yuuuuup! Arrow brings up the guy who was beaten to death six years ago, and Ted says that's what caused him to stop the vigilante life and lock everything up. Well, sure. Can't blame a guy for that, can ya? Ted suggests that he and Arrow work together to figure out who's doing all this bad stuff.
Streets of Starling. It's an awkward three-way conversation as Laurel tries to bring some useful evidence to light, Arrow is still a Ted hater, and Ted feels like a third wheel. Ted makes the connection to a club called Zanzibar and thinks that someone's trying to draw him there. For tacos? Arrow busts Laurel's balls a little more about training with Ted, and then Ted and Arrow head out, leaving dumb ol' Laurel there to scowl. Sorry, princess. You're sitting this one out until you're more Canary-ish.
ArrowCave. Digg tells Roy to suit up, but Felicity requests some alone time with Roy to give him some really shitty news. She brings up Sara's virtual autopsy and tells Roy that yeah, he probably killed Sara with just a lil' bit of Mirakuru left in his system. Oh, Roy. You done done it now, din' you?
Outside Zanzibar. That sweet redhead is lurking again. Hey there, strawberry. What's your hurry? See you in the last act. Rowr. Anyway, Digg's got the outside covered while Arrow and Ted go inside. They're discussing who could be behind all this when a spotlight hits them.
Hello my baby, hello my honey, hello my ragtime gaaaal
! A dude in a black mask starts taking shots at our heroes, who duck and run for cover. You want to know my theory? The guy in the black mask with the gun is behind all this. Mask guy and Ted seem to know one another. While they're shouting back and forth, Arrow gets a shot at mask guy and runs up to the balcony, but he's gone. Meanwhile, Starling's Finest come to arrest Ted. Oh noes!
Verdant. Laurel yells at Ollie for having Ted arrested, but Ollie says it wasn't his fault, and besides, it was the other guy who's responsible for all the upside-down murders. You know, the mask guy.
ArrowCave. Everyone is gathered together so Roy thinks it's the best time to get something off his chest. Guys – I'm gay. Oh shit, no, sorry. Nerves. I killed Sara. Everyone takes it really well. Oh wait, no they don't. Felicity tries to soften the blow by saying that Roy didn't know what he was doing, but it doesn't help much. Roy takes a walk. To go kill Wonder Woman, I'm guessing. Ollie brings up the DNA that was on the Sara-killing arrows, and trying to match it to Roy's brought about that old bugbear, inconclusive. Ollie tasks Laurel with finding out from Ted who mask guy is so she doesn't dwell on Roy, the sister-murdering fuckhead.
Flashback. Oy. Mrs. HKP teaches Ollie to calm his mind so he can remember where the running man ditched his paperwork. Ollie does. So we know where the paperwork is, can we leave Hong Kong now? Please?
Police station. Laurel interrupts Captain Lance's interrogation of Ted so she can get some info on her own. Ted finally comes clean and identifies mask guy as Isaac Stanzler. Six years ago, Isaac was Robin to Ted's Batman. So there was serious homosexual tension between them? Turns out it was Isaac, not Ted, who beat the guy to death six years ago. Ted, rightly so, blames himself.
ArrowCave. Felicity hacks into the police database and learns they're dropping the charges against Ted. The fuck? Why would they do that? He's the only suspect they have! Digg suggests they go corral Roy before he kills Catwoman, and Ollie wants to know what they should do with him once they get him. Digg suggests cutting him loose. Not the worst suggestion. We'd certainly save money on eye makeup.
Police station alley. Laurel and Ted are leaving when Isaac gets the drop on them. Isaac takes the mask off and says something that sounds important, but he's so mush-mouthed that I have no idea what it is. The upshot is that he's going to kill Ted. And probably Laurel too. So Isaac's not all bad.
Streets of Starling. Isaac has Ted and Laurel kidnapped in a car and Ted lectures Isaac on proper superhero etiquette. Isaac tells Ted that when he really needed him, Ted wasn't there. While all this is going on, Laurel surreptitiously calls Felicity and Team Arrow figures out what's going on.
Digg's van tries to run their car off the road, but that doesn't work. Arrow arrives on the scene on the ArrowBike and tries to stop the car with arrows, but that doesn't work either and Arrow goes down hard. Finally, Roy arrives on the scene on his lil' red scooter and Laurel's able to crash the car. Hey look, Arrow finally has his walking-away-from-an-explosion hero moment as he carries Laurel to safety. Took three seasons, but we got there.
Roy and Isaac have a well-choreographed fight in the streets, and Isaac tells Roy that Ollie is just using him, that he's just a weapon in Ollie's ARSENAL. Get it? ARSENAL. Did everyone in the back row hear? ARSENAL. Roy kicks his ass. Arrow arrives on the scene, and in the Gayest Moment of the Season (so far), Roy tells Arrow, "Don't abandon me," and Arrow says, "Never." Get a room!
Gym. Ted is mopping up blood, like you do, when Arrow comes in. He tells Ted to stay away from Laurel. Like a broken record, this guy. They discuss their respective sidekicks, and Arrow tells Ted that his mistake wasn't cutting Isaac loose, it was losing faith in him. Oh, and not giving him elocution lessons. That could have spared us a lot of pain right there.
Hospital. Ollie checks on Laurel. She's fine. She asks about Roy.
ArrowCave. Roy's lamenting the end of his superhero career, and tells Ollie about the ARSENAL line from earlier. Ollie says then maybe that's what they should call him. ARSENAL. Ugh. Ollie does the same candle trick to Roy that Mrs. Hong Kong Phooey did to him, and Roy's able to recall that he didn't kill Sara, but he did kill a cop. Well that's got to be at least a little better, right? Roy runs off. He's really good at that.
Flashback. Ollie and Hong Kong Phooey find the paperwork, and it's some artwork with a hidden message. Ooh, just like those Magic Eye posters! The message comes up as CONTACT LI KUAN HUI. The guy from Mortal Kombat? Mrs. HKP punctuates the scene by requesting that Ollie get out of their lives as soon as possible. Yes! For the love of God, go back to the island!
Gym. Laurel comes by to see Ted and tell him all the charges against him have been dropped. Um. What about all the strung-up dead bodies? Did we ... ? Oh, never mind. Laurel asks Ted to train her to, in not so many words, be the Black Canary. Don't do it, Ted!
Police station alley. Two cops are escorting Isaac out in cuffs and an orange jumpsuit. Oh, okay, they're charging Isaac. I see. Suddenly each cop takes an arrow to the knee and we see the mysterious redhead in costume and with another arrow pointed right at Isaac. He asks who she is, and she says, "I'm Cupid. Stupid." Oh, so I guess Isaac asked who and what she is. Great, just what we needed. Another bow and arrow character.
Next week: Cupid is running around town trying to get Ollie's attention. She's got mine.
​