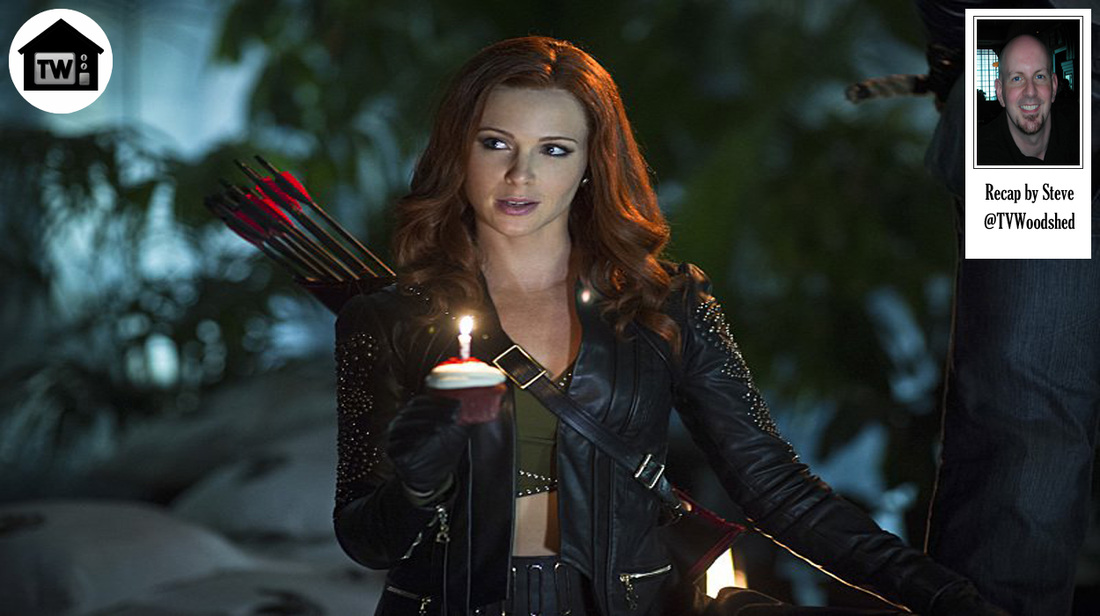 Ollie can't love but wants to, Felicity can love (and does), Cupid's got a little too much love to give, Roy can't find any self-love, Thea's getting random love from strangers, and Digg is loving having the Arrow boys for dinner. And it's not even Valentine's Day in Starling City.
Previouslies. Roy killed a cop. Ollie loved Felicity. Superman took over Queen Consolidated. And Cupid arrived on the scene.

Ah, nothing like a brand-new Arrow, is there? We start off hot in the streets of Starling … in a black van … and the city is burning … and there are Deathstrokes everywhere. What the hey? This is from last season! All right, Arrow, if you want to play it that way, I'll just copy and paste my recap from that episode. Howya like that, huh? Howya like that?!

Oh, wait. This is new stuff shot to look like the old stuff. Right. I knew that. The Black Mystery Machine van rolls up on a couple of Deathstrokes, one of whom is choking out the creepy redhead that's been floating around the past couple of episodes (and revealed herself as Cupid last week). Arrow gets that Deathstroke in the arm with a regular old boring arrow, but when both Deathstrokes start closing in, he gives 'em the ol' explodey arrow trick. Gets 'em every time! The black van takes off, and She Who Would Be Cupid picks up the bloody arrow in awe. Well she seems nice.

Present day. Arrow's laying in a parking lot somewhere and he's dead! And he's black! Oh, wait. It's Isaac from last episode, dressed up to look like Arrow. But he's still dead. Man, there are a lot of swerves so far and we're only two minutes in. Captain Lance and Arrow discuss this untimely death. Lance points out that someone went to a lot of trouble to get Arrow's attention. Yeah, really. Dressing up a dead body in an Arrow costume? Think about how much time that would take. Arrow asks if there are any leads and Lance hands over the arrow that killed Isaac. He says the arrowhead is shaped like a spade. Um, I don't play a lot of cards, but since when are spades red? It's a heart, you dummies. Turn the damn thing upside down. Arrow says he'll look into it and walks right into a …

Flashback. Hong Kong. I can't believe we're still in Hong Kong. Ollie and his terrible wig are reading a "Learn Cantonese" book when Mrs. Hong Kong Phooey comes in with a basket of laundry. Mrs. Hong Kong Phooey, by the by, is the same actress who played the red-haired badass Yukio in The Wolverine, so she shall henceforth be known as Yukio. Which is awesome, because Mrs. Hong Kong Phooey is a pain to write every time. Yukio wants Ollie to do his own damn laundry because, seriously, having a Chinese woman do it just smacks of racism. Ollie doesn't know how. How long you been helpless for, Ollie?

Hong Kong Phooey is in his Reservoir Dogs outfit and tells Ollie that Waller called about that Liu Kang person from last episode and that he's headed out to the docks for a meeting. He actually gives Ollie a ton of information, which is kind of odd, but maybe he's just feeling chatty. He'll be back in an hour. Suuuuure he will.

Queen Tower. Felicity (Smokin') Smoak needs a word with her boss, but he's shirtlessly working a salmon ladder in his office. Because, y'know, everyone's got an office salmon ladder these days. And also, if Felicity could walk in on him, couldn't anybody? After some embarrassment and fumbling, Superman asks if Felicity is free for dinner. He's got to shmooze some Nevada mine owner and his wife, who are apparently so boring that they can drive you to slit your wrists with very dull silverware. She's hesitant, but he sweetens the deal with a super ultra mega expensive dress he bought her, and she caves. Apparently Felicity can be had with pretty things. Who knew? Superman says the dinner will be platonic, and Felicity points out there's nothing platonic about the dress. No, there most certainly is not.

ArrowCave. Digg is impressed by the spade arrow that Ollie shows him. For real? It's red! It's heart-shaped! See, this is what happens when you don't have a full-time girl on the team. Speaking of girls on the team, Ollie wants Felicity to do a workup on the arrow ASAP, but the Unbelievably Convenient Network (UCN) just happens to be showing Superman's press conference with Felicity standing front and center. Well, front and a little to the right. Ollie watches and is not pleased. Is this the first official confirmation for him that Felicity's working for Supes? If so, ouch.

Superman talks about saving the city, and how Queen Consolidated must become something else. This sounds familiar. He draws back a curtain and debuts the Palmer Technologies logo. It's got a little spinny thing around the "P" that's either Superman flying around the Earth or an atom. Either way, whomp! Right on our collective heads. Whether in response to the press conference or because of sudden inspiration we may never know, but Ollie decides to smash the arrowhead with a hammer. So … the plan to have Felicity examine it is off the table I take it? Inside he finds an address on a fortune cookie slip. The lesson here is that if you're stuck on a problem, just start smashing stuff.

The address. Arrow and Digg bust their way in and find a sweet little psycho love nest, complete with candles, tons of newspaper clippings on the walls about the Arrow, and a big heart-shaped mirror rimmed with arrows. I bet Vegas hotel rooms looked like this in the '60s. Arrow takes down one of the arrows and shows Digg that the arrowhead is not a spade, it's a heart. Well look who finally caught up! A cell phone rings and it's Cupid, thrilled to finally be talking to the legendary Arrow. She can see him from an adjacent building, but it never occurs to him to, y'know, look around. Cupid says she wants to do everything for Arrow, including killing for him. She texts a photo of an old guy with a bomb strapped to him and says she thought they could finish the guy off together. This chick reminds me of an ex-girlfriend of mine. She blows Arrow a kiss and heads out. Rowr!

The Arrow title card has replaced the regular arrowhead with Cupid's "red spade" one. They should have changed the title card to read CUPID. That would have been awesome.

ArrowCave. Roy's online, reading up on the cop he murdered when Ollie comes in. I wasn't watching porn! Ollie tries to convince Roy that he wasn't himself when he killed the guy, but Roy says every time he puts on the uniform, he feels like a fraud. You don't look like a fraud, Roy. You look like a complete ass clown. Roy doesn't want to talk about it and says he's fine. Okay. Just don't kill any more cops, kay? Roy excuses himself to go help Thea with the Verdant grand opening and Felicity arrives to tell Ollie about the guy with the bomb strapped to him. He's a mob guy involved in very bad things. Mob things. They bring up the picture of him and there's a bag in the background that reads NPP. You down with NPP? (Yeah you know me.) Felicity promises to figure out what NPP (yeah you know me) means and to find the crazy redhead, but she needs the night off for her date with Superman. She asks Ollie if that's okay. He says "Do what you want." Ouch. So not okay.

Flashback. Yukio is upset because HKP's hour-long trip to the docks has expanded to nine hours, and he's not answering his phone. Ollie and Yukio bicker over who's going to go look for him, and in the end decide to both go. Whoa, hang on here. Something interesting might happen in the Hong Kong storyline? No way!

Verdant. Thea is auditioning DJs for the club. How does one audition DJs? Either they play music or they don't. It's not like trying out a band or something. The current DJ is playing something that vaguely resembles music, and he gets the ol' "don't call us, we'll call you" routine. Then a douchebag who looks like Jason Mewes' stunt double tries to send everyone else away and get the gig without an audition, but Thea sends him packing. I'm sure that's the last we'll see of him.

ArrowCave. Felicity gets the 411 on Cupid. Her real name is Carrie Cutter. Well, that doesn't sound psycho at all! She's former SCPD and Felicity's got pictures of her conveniently appearing at crime scenes all over town. Well heck, everyone's gotta have a hobby, right? Felicity, God bless her, also figures out that NPP (yeah you know me) is a component in fertilizer, so Ollie guesses Bomb Guy might be at a greenhouse somewhere. And he is! Sherwood Florist. Oh, I'm not sure I could possibly groan loudly enough. Ollie tells Felicity to have Roy meet him there.

Sherwood Florist. Eh, it's kind of growing on me. See what I did there? The Arrow boys arrive and split up to find Bomb Guy and Psycho Chick, respectively. Roy, the dope that he is, gets caught by Cupid and when Arrow calls for Arsenal – oh, so that's official now? – he hears back from Cupid instead. She calls him "lover" and rambles on about love equaling insanity and how it's meant to be Arrow and Cupid 4-eva. Actually, Arrow and Cupid works better than Arrow and Arsenal. Arrow finds Cupid with Arsenal unconscious at her feet, Bomb Guy in a hangman's noose balanced on a chair, and a cupcake with a single candle. She tells Arrow to make a wish. Oh yeah, this is so totally my ex-girlfriend.

Arrow tells Cupid there will never be anything between them. Except, you know, sex sweat. She gets mad and kicks Bomb Guy off his chair. Arrow cuts him down with one arrow, then throws the bomb in the air and fires another arrow at it that … makes it blow up. The hell? What just happened here? Arrow knocks Bomb Guy the fuck out. Nice work, Arsenal. Glad you were along for the caper.

ArrowCave. Roy is flipping out on a fighting dummy. Stupid! Dummy! Make me get beat by a girl! Oliver tells Roy it's been a long night and Roy wasn't at his best. Sensitivity! Roy insists he's fine and stalks away. Speaking of stalking, Digg does some more digging on Miss Cutter and finds out she was put on restricted duty at one point for becoming obsessed with her partner. Doesn't the SCPD have mandatory sexual harassment training? They should. Ollie's off to talk to Cutter's psychiatrist, so Digg heads off to …

Palmer Tower. I guess. Right? It was Queen Tower so now it would be Palmer Tower? Or if Superman works there, I guess it could be the Daily Planet. Digg pops in on Felicity and talks to her about Oliver and how Felicity being with Superman has him tied up in knots. Well, just throwing it out there, this Cupid chick seems really interested. Felicity says Ollie made his choice, and if he's got a problem with her love life, he should man up and say something. Speaking on behalf of Arrow fans everywhere, Ollie, FUCKING SAY SOMETHING.

Psychiatrist's office. A woman who looks like the Lacey half of Cagney & Lacey comes into her office to find the lights aren't working. Eh, I'm sure everything's fine. Proceed. Arrow scares the crap out of her and then asks how he's supposed to stop Cutter. Doc says to give the girl the connection she craves. Um … that doesn't sound right. Give the crazy chick what she wants? Well, he wouldn't be the first guy to do so, amiright fellas?

Flashback. Yukio and Ollie are at the docks, staking out … something. I seem to recall last season when Slade wanted Ollie to meet him "at the docks" and somehow Ollie knew exactly which docks he meant. So Yukio and Ollie must be at the right docks. We find out that Hong Kong Phooey and family are actually Japanese folks living in Hong Kong, and that they fled Japan after pissing off some very powerful people. Godzilla? As they're talking, a bunch of bad dudes show up and Ollie thinks the best plan is to go and have a chat with them. Ollie's so smart. Of course, things go south fast. But let's leave that for the moment.

Fortress of Solitude. Superman is all dolled up for his date and Felicity arrives, looking astounding, but two quick observations. One, she has her hair up, and she always looks better with it down. And two, the dress is so tight that the zipper in the back is up her ass crack. I will complain about the former but not the latter. Superman produces a multi-million dollar diamond necklace that he borrowed for her to wear. Ah, I see where this is going. She puts on the necklace and then gives him a dime, and then goes over to the couch and he sketches her in the nude, just like one of his French girls. I'll never let go, Jack!

Shitty flophouse basement. Cupid arrives and has a chat with some creepy computer hacker dude. Hey, she's got her own Felicity! FeliciHe? Anyway, dude tells her that he's figured out that the Arrow's base of operations is in and around the Verdant night club area. No it isn't! Cupid is thankful and mounts the guy, and then jabs a red spade arrow in the dude's neck! Ow, my carotid! I've mentioned how much she reminds me of my ex, right? Okay.

ArrowCave. Ollie gets a call from Captain Lance and, of course, calls him "detective." Seriously, Ollie, what the fuck? How long does he have to be captain for until you straighten up? Captain Lance tells Ollie that his new girlfriend just put a heart-shaped arrow into the neck of "one of her old CIs." Or her old sea eyes? Does anyone know what that means? I'm baffled. They finish up and Ollie says "Thanks, detective." Ollie, stop being a tool. Digg and Ollie have a heart to heart about Felicity, and Ollie admits that it bothers him that she's out with Superman, but that they both made decisions and they have to live with them. And how does Sara fit into all of this? Are we done mourning her?

Flashback. Ollie's getting his ass kicked when Yukio jumps into the fight with a sword and takes everyone down. Hey, maybe it really is Yukio! She forces information out of the one bad dude she leaves alive and finds out that her husband was killed by the Triads. Aw, man. Hong Kong Phooey, we hardly knew ye.

Restaurant. Superman and Felicity join the guy who owns the mine and his wife for dinner. I still don't understand why Superman is so determined to buy the mine, but whatever. Maybe he's got some canaries he needs to get rid of. Either way, mine guy isn't selling.

Verdant. I assume it's the grand opening, yes? The DJ that Thea hired is playing some really frightening noise and no one is dancing to it. I'm not sure anyone could dance to it, honestly. Cutter comes in looking not unlike Jessica Rabbit as Thea and Roy agree that the DJ's gotta go. Thea gives him the boot and tries to work the booth herself, but the douchebag from earlier shows up to save the day. He negotiates half the gate (!) and three nights a week guaranteed. Then he plays music that sounds just like what the last guy played, and everyone instantly mobs the dance floor. Clubs are so weird.

Restaurant. Mine guy still won't budge on selling, so Felicity makes a powerful and passionate speech about what a good guy Superman is. Aw. I want Felicity with me next time I ask for a raise.

Streets of Starling. Digg calls Ollie and tells him that Cutter is likely at Verdant, and is even more likely hating the so-called music. Ollie tells Digg to get up there and to keep an eye on Thea. What's Roy doing? Is he too busy being the bar-back?

Verdant. Ollie calls Cutter and tells her he'll meet her anywhere, but not at the club. How about the docks? Cutter says to meet her at their special place, which is even more vague than the docks, and that if he's playing with her emotions, she'll come back and kill every single person at Verdant. Could you start with the DJ? Oh, and have I mentioned how much this chick reminds me of my ex?

Special place. Which turns out to be the place where Arrow saved Cutter from the Deathstroke. So sweet! Cupid shows up and they talk about the psychiatrist, love, and Arrow being her hero. He spurns her advances, which seems like a really great plan, and then knowing Felicity is listening in, Arrow talks about wanting someone you can't have. You're killing us, Ollie! You're god-damned killing us! Cupid gets mad and fires an arrow, which Arrow ducks, then he shoots her bow out of her hands. So fisticuffs it shall be! They beat the crap out of each other, and just as it seems like Cupid is defeated, she knocks them both down into the subway. I thought the earthquake machine thingy from Season 1 shut down the subway, but what do I know?

In some inexplicable fashion, Cupid handcuffs Arrow to a railroad tie and, since a poorly timed train is arriving, they'll be together for eternity. Arrow even more inexplicably escapes the handcuffs and saves Cupid from the train, prompting her to say that she knew he loved her. Oh dear God, this is so totally my ex. You have no idea, people.

ArrowCave. Digg tells Ollie that Cupid's safely part of the Suicide Squad. Wait, what? That nut-job is on the Suicide Squad? This is a bad idea, a very bad idea, but Ollie seems to think it's great. We'll see if you still think so when she's boiling a rabbit on your stove. Digg invites Ollie over for dinner, and Ollie declines because he's a socially inept dick. Digg tells Ollie that he's got to tell Felicity how he feels. Ollie only has a moment to ponder before we …

Flashback. Ollie and Yukio return home all sad and Yukio wonders how she's going to tell Hong Kong Phooey Junior that his father's dead. Hey, she won't have to! HKP is alive and well! How about that? Ollie leaves a tender moment alone and goes to do his laundry.

Verdant. Thea is counting out cash on the bar when DJ Douchebag – oh, you'd better pray you're not a recurring character because that is SO TOTALLY GOING TO BE YOUR NAME – comes by for his cut. He decides to pass on the money and grabs himself a little smooch instead. I'm sorry, what the hell is going on with Thea? Did they just hit the reset button with her character? What about all the fighting, the training, the badassery? Am I missing something here?

Palmer Tower. Superman comes by to tell Felicity that thanks to her, mine guy has agreed to sell. Well duh, who could resist Felicity? Supes goes to help her take off the super-expensive loaner necklace and they end up making out. Oh my. You know the worst possible thing that could happen at this moment? Ollie could come walking in. Oh. Hi Ollie.

Ray decides the kiss was a mistake and excuses himself abruptly. So abruptly, in fact, that he probably ends up sharing an elevator with Oliver. That would be one long ride down to the lobby.

ArrowCave. Ollie's upset, so he does what anyone would do when there's a table full of breakable items. He sweeps them to the ground! Rah! Roy appears and asks, "Are you okay?" Roy's perceptive. Neither of the Arrow boys is okay, so Ollie tells Roy they're going to get something they both need. Turns out it's dinner at Digg's place. I don't recall Digg inviting Roy.

Palmer Tower. Superman's talking to someone about the Nevada mine and says he wants to know when the first dwarf star alloy is extracted. The what? Dude's talking crazy. He fires up his computer and we get to see a 3D rendering of the A.T.O.M. Exosuit. Okay, so he's soon to be going from Superman to the Atom, that's fine, but what does the acronym mean? I guess he's just lucky it spells something cool. It could just as easily have been the D.I.C.K. Exosuit.

Alleyway. Some Asian dude is walking the mean streets. Wait, did we flash back to Hong Kong when I wasn't looking? No, I guess we didn't. A bit of a dandy appears and Asian dude tells him to fuck off, but the dandy says he needs something the Asian dude has. He pulls out a sharp-looking boomerang. He says, "That's the thing about our work," and throws it, and it sticks Asian dude right in the back on the rebound. Then the dandy says, "It always comes back to haunt you." Ladies and gentlemen, as embarrassing as it is to type it, I give you Captain Boomerang. If he works at Sherwood Florist, I quit.

Next week! We officially enter the holiday season and must do without Arrow until December 2nd. I will see you all then!
​