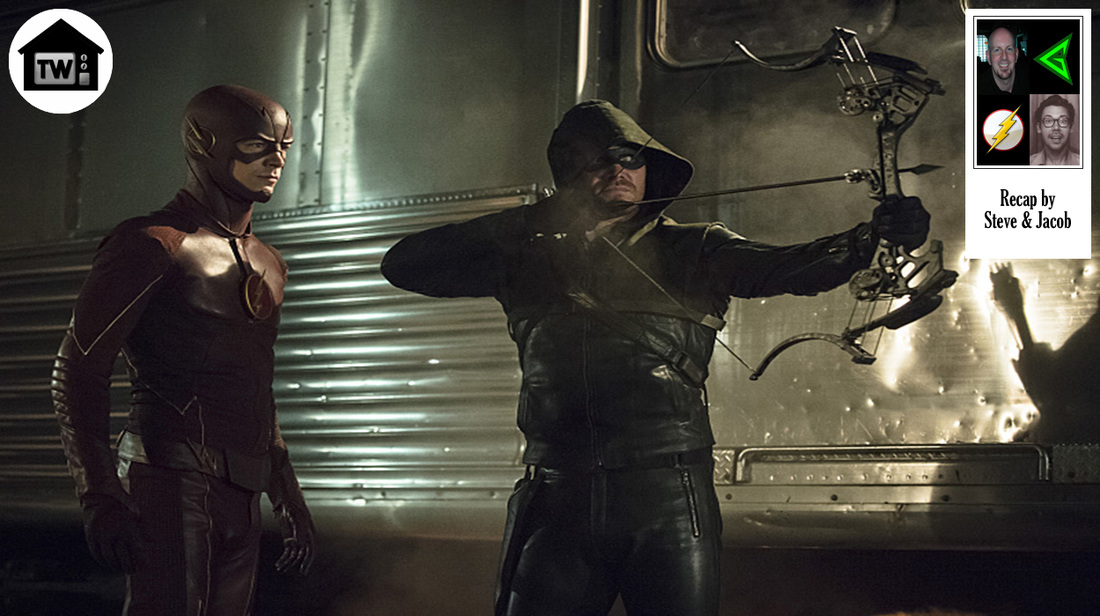 Captain Boomerang brings his ridiculous name to the heart of Starling City, and the Flash gang shows up to see how the other half lives: violently and with frequent lame flashbacks.

My name is Steve Boudreault, and I have returned for one reason – to save my recaps.

My name is Jacob Shelton, and I am the fastest Flash recapper alive.

Previouslies. When Ollie Met Barry.

Seedy shack. Ah, I see a guy in red running across the screen! Oh. It's Roy. Arsenal. Disappointing either way. Arsenal is in position. Arrow is in position. Digg is in position. If anyone is interested, I am in position too. The Arrow boys are surrounding the dilapidated little house in the hopes that he-who-is-not-yet-named-Captain Boomerang might be in there. Imagine what the neighbors must be thinking! Arrow peeks inside and confirms it's the Boomerang household because it's rigged with things that will go boom if they try to enter.

Never heard of a deadbolt?
Well now what are we supposed to do? The Arrow boys do the only logical thing they can think of – fire exploding arrows into an explodey house. Ker-boom!

Their flame-retardant pants protect them as they enter and have a look around, and a just-prepared dinner tells them they just missed the guy. Wait, he was eating dinner in a house rigged with explosives? I like this guy! Except for his stupid-ass name. A little more exploring and they find a bunch of guns pointed at them. Oh dear. They brought arrows to a gun party. The wielders of said guns are ARGUS.

Whatever that is! Is it like SHIELD? I'm going to pretend they're basically SHIELD and forget about it.

One of the ARGUS guys calls Arrow a "jerkwad." Hey, hey … arrows and guns kill, but words hurt too. After a standoff, the ARGUS guys warn the Arrow twins to let this matter go. Nothin' doin', sayeth the Arrow.

ArrowCave. The boys return and Felicity (Smokin') Smoak fills them in on who the boomerang victim was. Okay, cool, but who killed him? Roy suggests that Diggle go talk to Lyla and figure out this whole ARGUS kerfuffle. And we're going into a flashback, but before we do, I can't help notice that Roy's uniform is no longer all red. It's got a fading-to-black thing going on, kinda like the WWE's Kane used to have. Lookin' good, Roy!

Flashback. Sigh. Amanda Waller's in her favorite burned-out building and she's got a prisoner. Some Chinese guy who's planted a bomb in the city. She gives Ollie his bow and arrows and wants him to find out where the bomb is. Sounds simple enough. Can we go back to the present now?

Palmer Tower. Felicity is in her office, wrapping up for the day, when surprise! Vibe and Killer Frost show up. They claim that they came to pick up the DNA sample from Sara's killer, but really they want to see the ArrowCave. Okay, now that they've used that term on the show, it's no longer mine, so it shall henceforth be known as the Fortress of Arrowtude. Vibe asks if they have an ArrowMobile. Hm. Maybe they should get one.

It's at this moment in the show that I had an epiphany about Cisco. He's not just some super geek who works for an ex tech titan, he's a nerd from our dimension that somehow travels to the CW's DC realm to help the Flash (and Arrow in this circumstance) while also trying to influence the direction of his favorite super heroes. This explains why he's always trying to name the baddies, weapons, etc. If my theory is true (which it definitely is) we should try to work a silly phrase into both shows, maybe "Hi mom, I lost my eel statue but I know a midwife so it's okay." Real life Cisco, if you're reading this, you know what to do.

Fortress of Arrowtude. Vibe is totally fanboying out at all the cool stuff they have laying around, and makes Roy his BFF by saying red is cooler than green. Well of course he'd think so. Killer Frost asks after Digg. Yes, where is Digg?

ARGUS Headquarters. Ah, there's Digg. He's asking Lyla for help with the whole boomerang thing. She's a bit noncommittal, but isn't everyone at ARGUS?

Do Arrow's crew and the ARGUS guys all know each other? Do they know he's Oliver whatshisname or are they just like "Oh yeah, it's Arrow, whatever. I wonder who that guy is?" John's not-wife seems to know and she's also the ARGUS boss so I'm guessing everyone knows who Arrow is.

Down in the lobby, a dandy in a trenchcoat uses the dead guy's ID to access the building, but the computer rats him out. The security guard tries to detain him for being dead, but gets a boomerang across the throat for his troubles. See, now you're dead too! The man with the 'rang says what goes around comes around, which is either just as lame as, or slightly more lame than, Captain Boomerang.

How the security guard didn't immediately stop Harkness and ask to see his boomerangs boggles my mind. He looks exactly like a guy that keeps a boomerang underneath a trench coat. He probably owns at least two pairs of Matrix sunglasses and a pocket version of "The Game." That's not the kind of guy you let waltz into a building with an out-of-date security card.

Alarms go off throughout the building and the good Captain takes out scores of ARGUS soldiers who never even think to, I don't know, shoot him? Digg calls Ollie to let him know what's going down and Ollie and Roy get their gear, much to Vibe's delight. Or maybe he was excited to watch Ollie and Roy get dressed, it's hard to say. Digg and Lyla are the only two who finally start shooting at Captain Boomerang as Arrow and Arsenal race to the scene on their ArrowCycles. They arrive in time to deflect a couple of boomerangs and then it's fisticuffs! Arrow boys versus the Captain. Arsenal goes down quickly – God, is Roy useless or what? – and Arrow's about to get 'ranged. ​

As luck would have it, the crossover continues and Barry shows up to smirk and catch a boomerang with his super speed before leaving. It's kind of weird.

The Captain uses a smoke boomerang, like you do, to escape. Everyone exchanges "Thefuck?" looks. What? It's The Flash!

Arrow wants to know what the heck's going on, and Lyla says that the Captain is really Digger Harkness, and if that wasn't an Edgar Allan Poe character, it damn well should have been. He was an ARGUS operative who was supposed to have his head blown off after he screwed up a mission, but his head exploder didn't work, so now he throws boomerangs around and really wants to stick one in Lyla. I mean, we all do, but not in that way. ​

I don't have a problem with his motive. I totally get it. Once, someone tried to make me eat goose at a party and I freaked out and threw the entire carcass into a pool so I can only imagine how I would react if a government agency tried to put a bomb in my head.

Fortress of Arrowtude. Barry is showing off on the salmon ladder as Felicity and Killer Frost watch in awe. The workout makes Barry hungry so he zips off for some sushi as Ollie, Digg, Roy, and Lyla arrive. I remember the good old days, when this place used to be a secret lair. Now anyone and their baby mama can just waltz right in. Digg dumps a pile of boomerang parts on the table when Barry whooshes back in with his dinner. Killer Frost freaks out about Lyla seeing Barry without his mask, but does Lyla even know Barry? Then what difference does it make if she sees his face?

Ollie wants a word with Barry. Oh, this can't be good. Ollie, ever the stick up his ass, doesn't think they should team up again because Starling is meaner. Like Gotham meaner or like Bludhaven meaner? Barry really wants to team up again, though. Ollie relents rather quickly, and just as quickly, Barry reassembles the busted-up boomerangs. God, how many times have I written "boomerangs" already? Vibe is nearly having an orgasm about how cool the boomerangs are, and then figures out that they were built by someone named Klaus Marcos. Well of course, Klaus Marcos. I was just about to say that. Who else would it be? Felicity has no luck with Marcos, but she finds out he was arrested by Captain Lance. Well then – to police headquarters!

Police headquarters. Laurel has her minute and a half of screen time talking to her dad about something or other when Ollie and Barry arrive. Ollie stumbles over what to call Lance, which is embarrassing, but at least now he's got it right. Captain Lance. I'm taking bets on whether or not Ollie will call him "detective" next episode. Captain Lance mistakenly thinks that Barry's name is Bart, which is funny if you read the comic books. Barry asks about Klaus Marcos. Lance doesn't know where to find him, but he remembers he got busted for identity theft. He was stealing credit card numbers for the Russian mob. Hey, don't we know someone in the Russian mob?

Warehouse. Flash can't believe that Arrow was in the Russian mob. Dude, that is so two seasons ago.

Barry Home Alones the Russian mob before Oliver finds Markos and stabs some information out of him. I really like Oliver's methods. Barry is fine, he's like a high school boyfriend, or a puppy, or a high school boyfriend who is also a puppy but at some point you have to move on to a guy with abs shredded harder than cabbage that's going to stab a member of the Russian mob for you.

Flash zips Marcos over to police headquarters. Hey, didja notice that Marcos' clothes didn't catch fire the way Felicity's did in the Flash episode? Coincidence? I think not! Barry zips back to Ollie and sends papers flying. Are there pieces of paper wherever he goes? Ollie and Barry argue over the use of force and what makes a good guy and what makes a bad guy. Ollie gets mad and tells Barry that if he can't handle Starling City, he should make like a tree and get out of here.

Fortress of Arrowtude. Ollie and Lyla bond over the fact that they're both hardasses and no one understands their need to torture people.

Get a room at Guantanamo already!

Flashback. I'm begging you, send Ollie back to the island. Hong Kong is turning out to be a serious anchor around Season 3's neck. Ollie's interrogating the Chinese dude about the bomb, but Chinese dude doesn't want to discuss it. Would you like to talk about Ollie's wig? C'mon, you know you're thinking about it. You know you are. Ollie threatens the guy with an arrow, but the guy knows Ollie's a pussy and is in no way impressed. Ollie keeps up the pressure, but then ends up looking like a grade-a jackass when the bomb explodes in the background. Oh, shit, I should have asked when the bomb was exploding, not where. Okay, noted.

Mystery Machine. Roy, Digg, and Vibe are following Arrow to the warehouse and Vibe is offering up his opinion that metahumans like Flash were sent to us to help deal with the craziness of life.

I'm glad they're bonding; maybe they'll open a pet store together in the next episode.

Warehouse. Which looks like a biker bar. Maybe it's less of a cuddle party and more of a lemon party. Either way, count me out. Flash zips in yet again and smacks everyone around and zip-ties them. Again, life really is a lot easier with this guy around. Arrow drops the one guy Flash missed and then demands to know where Harkness is. The closest burly dude says they never met him, but he paid them 10 grand to give Arrow a cell phone. If they never met him, how did they get the phone and the money? Anyway, all of this leads to the realization that our heroes have been had. What a bunch of chumps!

Fortress of Arrowtude. Some technobabble about the cell phone Felicity hacked tips her off that Boom-Boom is on his way. Oh, and here he is! The girls scramble for cover as the boomerangs start a-flyin', and Lyla digs out a gun to try and get something positive out of this night. ​

"What I like most about boomerangs is that they prove things can come back to haunt you." Said no one ever in the history of boomerangs. Despite his crazy exclamations, I kind of have to side with Harkness here – who wouldn't be mad enough to buy deadly boomerangs in bulk after someone tried to put a bomb in your head? If there are any real-life boomerang men out there, I just want to say that I don't agree with putting bombs in heads or any other body parts that may cause severe damage.

Boom hides behind an open table and a computer monitor, because those are awesome cover against bullets, and Lyla fires approximately 150 rounds at him with nary a scratch. And then ouch! Lyla takes a boomerang in the shoulder! Felicity throws an arrow bomb at the good Captain, which … I'm not really sure. Drives him away? Knocks him out? ​

Caitlin is also there cowering or something. The Flash crew is really not pulling their weight in this episode.

Cap's fate is not really the issue, though. Lyla's not breathing. Suspense!

The boys return from wasting valuable time to find a blood-stained Lyla unconscious on the table. Is that the same table where they had Sara's blood-stained corpse? Keep the bleach handy. Killer Frost says she can't operate in the Fortress of Arrowtude. Wait, Killer Frost is a surgeon? I don't remember this. Killer Frost, MD. Has a nice ring. Barry gathers up Lyla and zips her off to the hospital.

Flashback. Oy. Ollie and Amanda Waller are walking through the bomb zone. Nice. Reminds me of Starling at the end of Season 1. Amanda tears Ollie a new asshole about not getting the information about the bomb in time, and Ollie says that he doesn't have the stomach for torture. Waller says he not only has the stomach for it, he's got the talent too. Um … thanks?

Verdant. Roy, Felicity, and Vibe are in the club so that Ollie can be alone with his thoughts, and Thea brings them a round of drinks so she can have a little screen time.

They're the most TV drinks I've ever heard of, "a double, straight up." It's like walking into a bar and saying, "Gimme a beer!" It sounds cool to babies watching TV, but to everyone else, it feels weird. What I'm saying is that the drink orders on the television show about a fictional green man that shoots arrows and guys that throw razor-sharp boomerangs ring false. ​

Killer Frost joins them and says Lyla is in surgery and Digg is with her. They all exchange a little dialogue about how life on The Flash is goofy and over the top whereas life on Arrow is gritty and dark. Well duh.

Fortress of Arrowtude. Ollie's down in the dumps because he ruins everything he touches. Oh, here we go again. Who let Season 2 Ollie in here? Barry thinks Ollie is full of crap – true enough – and tells Ollie that he's a hero and there's a light inside of him. You can still bring balance to the Force, Anakin! Felicity interrupts and says that she's used facial recognition to find Harkness. Is there anything they don't use facial recognition for on this show? I used facial recognition to make some coffee. The facial recognition is writing my blog for me. I baked a facial recognition pie for the holidays. Anyway. Harkness is at the …

Train station. Which is filled with loads of travelers until Flash zips in and moves them all out of harm's way. Where did he put them? Hopefully he checked their tickets and just took them to their destinations. Arrow and Flash face off with The Boom-meister, who tells them he has a contingency plan. He activates a doodad that arms five bombs planted around Starling. Now the bus can't drop below 50 miles per hour. Digger "Captain Boomerang" Harkness tells them they can stop him or disarm the bombs, but they can't do both.

Looks like Harkness didn't know this was a mutha fuckin' crossover!

Flash zips off and asks the team in the Fortress of Arrowtude to locate the bombs for him. Well if you don't know where they are, where are you running to? What if one of them is in the train station? Wouldn't you feel like a knob then? They get to work locating the bombs while Arrow and Cap battle. For some reason, the boomerangs that are thrown at Arrow don't come back. Stupid boomerangs. Arrow fires this double arrow thing with a wire that pins Cap to a pillar by his throat. I hate to drive a truck through this plot hole, but Cap's arms are still completely free. He can throw boomerangs 'till the emus come home.

Barry finds the first bomb, but if he moves it all the bombs are going to explode. Rather than try to be in five places at one time, he snags all the sidekicks and deposits them each at a bomb. It's exactly the kind of scene that belongs in a comic book and I LOVED IT! It's the kind of silliness that I wish The Flash (and most other comic book TV shows, rhymes with Schmotham) got up to more often. A show with a guy who runs fast or is basically Batman is the only place you can do something like this. If the detectives on Law and Order SVU tried to disarm five sexual predators at the same time, it would be really lame, but when the show is grounded in a heightened reality where more than one person can make fire shoot from his hands or control thoughts with his light show eyes, it's exactly the kind of thing that needs to be happening. ​

Not for nothin', but if this all goes south, it'll be because you trusted Roy to do something. Everyone cuts their wires at the same time and the city is saved. Go Team Flarrow!

Train station. Cap and Arrow are waiting for the big ker-boom, but of course there is no big ker-boom, so Cap gets all mad and tells Arrow that by not killing him, he's weak. Arrow disagrees. Cap reaches for a boomerang – yeah, exactly, which he could have done AT ANY TIME – and Arrow nails his throwing hand to the pillar with an arrow. Stigmata!

Hospital. Lyla wakes up and Digg is there to whisper sweet nothings in her ear. He asks her to marry him, which is the payoff to an episode-long gag of everyone saying "They're/we're not married." Digg says he can't believe he waited so long to ask. Wait, isn't Lyla his ex-wife? Then he didn't wait that long, did he? Either way, Lyla says yes. But she's under the influence of powerful pain meds, so we'll see.

Fortress of Arrowtude. Barry and Ollie arrive to announce that the good Captain is now cellmates with Deathstroke. Nothing bad can come of that, right? There's a new T-1000 looking dummy in the Fortress and Ollie tells Barry it's to hang his red leather on next time he's in town. Wouldn't it take just a few seconds to zip to Central City, suit up, and come back? Just asking. Vibe gifts Ollie with a new tunic that's tougher and lighter than his old one. He says he still has other designs he's working on as well. Is it for a bulletproof blonde goatee? It's time for the Flash gang to go, but Barry says he and Ollie have some unfinished business. But before we can get to that, we have one more interminable …

Flashback. Amanda Waller brings Liu Kang to her favorite burned-out building and tells Ollie that he knows what China White's doing in Hong Kong. She leaves Ollie to get the information from him. Looks like he's going to use some arrow-ish persuasion.

Empty warehouse. God, how many warehouses does this town have? Barry and Ollie are suited up and exchange some friendly banter on their way to proving once and for all who would win, Flash or Arrow. They line up at opposite ends of the warehouse. Arrow starts launching arrows and Flash starts flashing … annnnnd we get no resolution whatsoever. Thanks a lot, guys.

I guess I'm glad the crossover is finished (until sweeps), but I'd certainly enjoy revisiting the concept again. I think they'd have to pare down a few sidekicks but if there was a show(s) to make it work, it would be Flarrow. Are we the first site to coin Flarrow? ​
Next week! It's the last episode before the holiday break! Ollie has to climb a mountain without a shirt to battle an equally shirtless Ra's al Ghul. It's the Shirtless Battle of the Ages!

​#flarrow