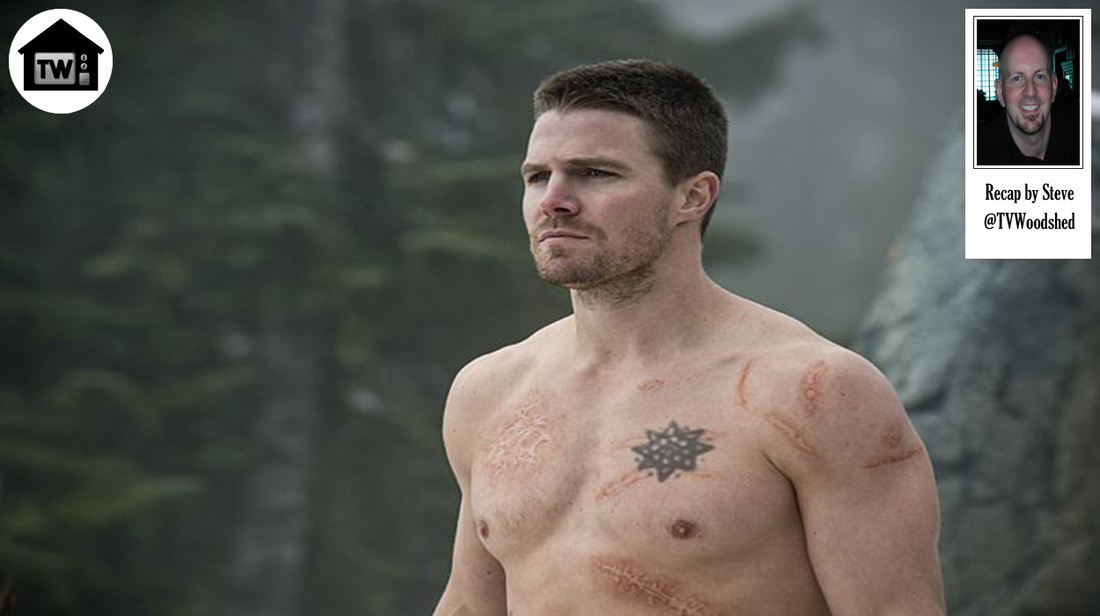 So, wait. Okay, it was <spolier> who killed Sara? But why? And because of that, Ollie is forced to climb a mountain and face Ra's al Ghul in a battle to the death, only to wind up <spoiler>? What the frack is going on around here?
Previouslies. Superman and Felicity smooched, Thea lied about Malcom, and Ra's al Ghul put on the fanciest bathrobe ever after a bath in what may or may not have been a Lazarus Pit.

Snowy mountain. Oliver is climbing a sheer cliff face wearing a jacket and a hat, but has no gloves or climbing gear. Wait, what? Um … context? Whoops, no time to mull it over, we go back in time 48 hours to the SCPD Christmas party. Is Laurel sitting on the copy machine yet? Captain Lance steps out into the alley – where an awful lot of stuff happens – and finds a fat guy all trussed up and ready for processing. The guy kind of looks like that crooked cop from Batman Begins. You know the guy I mean? Asks the falafel guy if his kids like falafel? Anyhow, Arrow and his voice changer show up to wish the good Captain a Merry Christmas. They compliment each other on keeping the city safe, and then the Captain brings the fat guy in for some egg nog. Well, I guess that's it for tonight, time to head back to the ol' –

Whoa, wait a minute! An arrow zips by Arrow's head! Geez, this could be anybody. Seriously, it could be Shado, the Dark Archer, Komodo, Arsenal, Cupid, Nyssa, Robin Hood, William Tell … the list is endless. Arrow seems to think it's Malcom, but then suddenly he's surrounded by a bunch of guys dressed the same who are all coming at him with weapons. They manage to get his arms secured and then one of them punches him in the face. Huh, look at that. All we ever needed to defeat the Arrow was a bunch of guys. Note to self. Arrow's vision goes all blurry so I suspect we're going into flashback, but I'm mistaken. I am very happy to be mistaken.

Ollie regains full consciousness and finds himself in a room with lots of torches and Nyssa al Ghul. Who's a bit of a torch herself, amiright fellas? I don't even really know what that means. Wait, wasn't this room in a far-flung country somewhere? Did they load Ollie on a plane and just keep punching him every 20 minutes or so? Ollie wants to know what's going on, and Nyssa says that Ollie's been too distracted keeping Starling safe to find Sara's killer, and Ra's al Ghul is running low on patience. Screw you, Ra's al Ghul! You think that salmon ladder's going to climb itself? Ollie's got shit to do! Anyway, Nyssa says that if Ollie doesn't produce Sara's killer in 48 hours, the League of Assassins will start killing innocent Starling citizens. I realize that's a big deal, but I'm distracted because Nyssa calls Sara by her League name and I just can't catch it. Taya Lasfar? Taria Hassenfeffer? Brock Lesnar? Meh.

Nyssa says that the duty of the mass homicides will fall to … Sarab? Corn cob? Stop throwing around exotic names, for Christ's sake! Syrah, I guess it is. Syrah, in addition to being a very tasty wine, pulls off his mask and reveals himself to be Hong Kong Phooey! Oh fuck, it's gonna be a flashback-heavy one, I can feel it in my ball bag. Ollie says that this isn't what Sara would want, and Nyssa reminds him that Sara's dead. Hm. Fair point. Go on.

Cemetery. At night. Does anyone on this show ever go to the cemetery in the daytime? Laurel's talking to Sara's headstone when she's interrupted by Thea. Sara's not dead! I mean, hi, how are you? Thea's there leaving flowers for Moira. At night. Is it just one big insomniac city? Thea wants to know why Laurel's all upset since Sara's still alive. Laurel comes clean and tells Thea that Sara's dead. Oh, and also? Ollie's the Arrow, Roy is Arsenal, and there's a secret headquarters under your club. I mean – what? Laurel makes Thea promise that she won't tell Oliver about Sara. I have no idea who knows what anymore, so I'm just gonna let that one slide.

Palmer Tower. Felicity (Smokin') Smoak is sitting at her desk with her menorah front and center – but does she have a Mensch on a Bench? – when Superman comes in to make some small talk. Felicity's clearly not in the mood and tries to excuse herself, but Superman figures this must be about the kiss. Boy, nothing gets past that sharp Kryptonian brain, does it? They talk about not talking about the kiss when Ollie texts "911" to Felicity's phone. Oh relax, Oliver, it's not like the lives of everyone in Starling City are at stake! Oh wait.

Fortress of Arrowtude. Ollie gets the team caught up on the whole Sara/mass murder thing. Felicity says that Killer Frost – you know, over there at The Flash – is working on the DNA samples from the arrows that killed Sara, but it's taking time. If only they had someone who could do things at superhuman speeds! Digg says they need a contingency plan. Ollie doesn't have one. You guys could always, I don't know, suit up and patrol the city. Defend the citizens if you see any murderous thugs about. Just throwing it out there. Do what you want.

Flashback. Ah, Christ. This bullshit again? Ollie comes home to Hong Kong Phooey's place all covered in blood. Honey! I'm home from a long day of torture and interrogation! What's for dinner? Ollie actually seems to be pretty good at the whole interrogating thing – he finds out that China White is in Hong Kong to get her hands on a biological weapon called Omega, and Ollie knows where it is. To the Olliemobile!

Fortress. Felicity has a news story up on her computer screen about the yellow blur attacking STAR Labs. Yes, yes, we watch The Flash, stop beating us about the head with it. Killer Frost sends over the DNA results and Felicity cross-checks it with the SCPD genetic markers database. The what now? She says anyone who's committed a felony in the past three years has their DNA on file. Ew. Anyway, Felicity gets a match, and Ollie demands to know who killed Sara. Felicity says, "You did." Oh shit, son!

Sheer cliff. Oliver's still climbing. It's a completely harsh and desolate wasteland, but I'm willing to bet there's a Starbucks at the top.

Fortress. The team is mulling over this revelation that Ollie's nasty ol' sweat was on the arrows that killed Sara. Oliver theorizes that Malcom Merlyn is setting him up, but Digg reminds Ollie that Malcom was in Corto Maltese when Sara was killed. Ollie: "Unless he wasn't." Watson, the game's afoot! Felicity starts looking for proof that Malcom was Starling-side as we reluctantly get dragged into another tedious …

Flashback. Ollie and Hong Kong Phooey break into a lab to find the Omega thingie, only to discover that someone else beat them to it. Always a day late and a dollar short, eh, Ollie?

Police station. Captain Lance is chatting on the phone when his ex-wife shows up. Oh. Er, hi. Is this about the alimony? Oh wait, it's a good visit! Well there's a relief. Laurel comes in and is more than a little surprised to see her mom, and says she didn't know she was coming to town. So is Santa! Captain Lance wanted it to be a surprise that the whole Lance family would be spending the holidays together. Except for the dead ones. Speaking of dead ones, Mom Lance asks about Sara, and Laurel says lamely that she's backpacking through the Andes. I would totally do that. I love those little mints.

Fortress. Ollie is beating up on a sparring dummy. Stupid! Dummy! You! Killed! Sara! Felicity interrupts and says that she hacked ARGUS' flight database. Or she just went to flightaware.com and wanted to make it sound more impressive, I don't know. We see a flight map, and boy oh boy, is this thing impressive. If I'm reading this right, and I like to think I am, Tijuana is in California wine country, San Francisco is just a few miles south of Vancouver, New York is in the Carolinas, Washington is on the Florida panhandle, and Starling City is somewhere in Michigan, despite the fact that it's currently accepted to be on the west coast. Where do I get one of these maps? I would love for Boston to be somewhere warmer! There's a shady flight that arrived in Starling the night before Sara's murder. Hm. How do we find out more? Hey, you know what would be funny? Beating the crap out of a commercial airline pilot!

Travel agency? I guess? A commercial airline pilot comes flying (no pun intended) through the front window and out into the street. Thanks for flying Arrow Air, we hope you enjoy Starling or wherever your final destination may be. The Arrow boys show the pilot a photo of Malcom and ask if he was the passenger on the shady flight. No! Arrow picks him up by the lapels and yells at him. Okay, yes! And I've got security footage too! Well, that's certainly convenient.

Fortress. Roy brings Felicity the flash drive with the security footage, because he needs something to do. They have a look, and there's Malcom Merlyn getting off the plane, and there's Thea right behind him. Yikes. Awk-ward. But hey, that could be any Thea! This proves nothing!

Super-sheer cliff face. Ollie's still climbing. Yep, still climbing. Maybe he's looking for the Bumble. Remember, Ollie, Bumbles bounce!

Fortress. As Ollie comes to grips with the fact that both Malcom and Thea lied to him, Diggle offers up the theory that it wasn't Ollie's DNA on the arrows, it was Thea's. They are siblings, after all. Okay, now, if you'll all excuse me, I just need to climb up into the cab here … put on my seat belt, adjust the mirrors … okay, I'm ready to drive this truck through that gaping plot hole that just opened up. So, now, if Ollie and Thea were twins, youmight be able to confuse their DNA. But not only are Ollie and Thea not twins, they're not even brother and sister! Remember? Thea's dad is Malcom Merlyn? So this is a plot point upon which an awful lot of the rest of the episode is based, and it doesn't make a lick of sense. Lazy, lazy writing folks.

Ollie is all like, "Thea didn't do this!" Exactly, because that's your DNA and not hers. Felicity reminds Ollie that the virtual autopsy proved by the angle of the arrows that the killer was a homunculus, so it was either Roy or Thea. Or Natalie Portman. Ollie insists that the DNA on the arrows is his because Malcom put it there. As implausible as that is, it's a better explanation than the sibling DNA thing. Felicity's phone rings and it's Superman, who's at Verdant and wants to talk. About the kiss. And perhaps future kisses. And maybe The Atom, if you play your cards right.

Verdant. Felicity is all weird and awkward, and Superman tells her that he felt guilty kissing her because of Anna. Who is Anna? Ah, she was his fiancé and she was killed by a Deathstroke the night all the Deathstrokes were running wild in the streets of Starling. Oh, boo hoo. What, you think you're the only guy whose beloved was killed by a Mirakuru rage monster? If I had a nickel for every time that's happened to me, I'd be a millionaire. Anyway, the story warms Felicity's heart. Soon other body parts will follow. Rowr.

Thea's ridiculous loft. Ollie arrives to find Thea decorating the Christmas tree from Rockefeller Center. Seriously, it's the biggest tree I've ever seen and getting it into that room defies the laws of physics. Ollie brings up Malcom, and Thea gets all defensive and then lies to Ollie's face about what the two of them have been up to. Pants on fire! Actually, Thea's wearing sparkly belly dancer pants that look pretty flame-retardant, so maybe she's not lying. Either way, Ollie's not buying any of it.

Flashback. Hong Kong Phooey kidnaps the dude who took the Omega thingie and brings him to the torture room. He tries to bribe his way out, but nothin' doin'. Ollie wants to practice his archery, and as a target, this guy will do nicely.

Restaurant. Laurel is out to dinner with her mom. So, mom, Sara's dead. I mean – sorry, did I say Sara's dead? I meant to say Sara's dead. God! What's wrong with me? Um … I love your earrings! They go so well with your Sara's dead. Gah! Okay, fine, Sara's dead. Please don't tell dad!

The temple from Indiana Jones and the Last Crusade. Ra's al Ghul is bored so he decides to duel with a bunch of his lackeys. The lackeys do not fare well, which I suppose is why they're lackeys. The last one standing gets a CGI sword right through the chest! Now I know I have a heart, I can feel it breaking. Nyssa comes in with Hong Kong Phooey. Dad, have you been minting pennies in here again? Oh, right. Never mind. Ra's tells HKP to return to Starling City and show Ollie they mean business. And pick up a Big Belly Burger while you're there. And fries.

Fortress. Ollie tells Digg and Felicity that Thea is lying and lying and lying but that she didn't kill Sara. Sounds reasonable. Digg tells Ollie that Ollie is the smartest man he's ever known. Ha! <Snort> For realz? Someone please call Stephen Hawking and let him know! Oh, man. Hilarious. Okay, where were we? Oh, right, Ollie's the smartest man ever (bwaaaaaah haaahaaaaahaaaaaaaa!) but he's blinded when it comes to Thea. Ollie and Digg bicker, and Felicity sends them both into Time Out. She tells Ollie that he shouldn't be the one asking Thea questions. Good point. Let's send Aquaman!

Thea's loft. Thea's putting up an ornament with a picture of Moira when Arrow smashes through the motherfucking window! He demands to know where Malcom is, and Thea initially plays the helpless damsel, but then she starts throwing fists! By the way, during the fisticuffs, Thea's up close and personal with Arrow's face. Doesn't recognize him at all. Why even bother with the mask and hood? Seems like no one recognizes Ollie no matter what he does. Thea tells Arrow to stay away from her and her father, and then she jumps over the balcony. Now I've seen the entire episode and there's ZERO explanation about how she was able to survive that, other than somehow she's suddenly on the first floor. Arrow's all like "The fuck was that?" Agreed. The fuck was that?

Rockface. Still climbing. Looks like Ollie has a scarf. That was smart. Certainly better than ropes and harnesses and helmets and stuff.

Verdant. Ollie's sitting at the bar when who should show his smug face but Malcom Merlyn? He wants to know why his precious Thea was attacked by the Arrow. Ollie would rather throw Malcom throat-first down on the bar. So he does. But before he can get to the good stuff, Malcom suggests he check his phone. Ollie does, and sees a very clear video of Thea killing Sara. So wait – that's the big reveal? A cell phone video? Lame. Malcom does the classic villain exposition where he explains that he had Thea under mind-altering drugs and she doesn't remember doing the killing, and that even if Ollie tells Ra's al Ghul that Malcom was behind it all, Ra's will still kill Thea because she fired the arrows. Parenting! Malcom suggests that Ollie confess to killing Sara. That way he'll have a chance to kill Ra's al Ghul in combat and everyone will be a lot happier. Except maybe Nyssa.

Fortress. Ollie channels Season 2 and tries to blame himself for everything that's happened. His team, as usual, tries to talk him down. Roy tells Ollie that if he battles Ra's al Ghul, Ra's will kill him. Roy, have you been peeking at the end of the script? Ollie says Ra's won't defeat him because he now knows what he's fighting for, and it's Thea. Yeah, that should help keep you alive.

Flash-fucking-back. Ollie's wrapping up his torture session by pulling a bloody arrow out of the poor guy's chest. Hong Kong Phooey suggests they get some drugs and try mind control. Hey, just like what Thea had! Wait, the guy with the arrow through his chest isn't dead? We zip over to HKP's place where Yukio and HKP Jr. are doing homework together. China White busts in and she and Yukio have a badass swordfight while HKP Jr. hides in a closet like a pussy.

The room with all the torches. Wherever it is. Ra's al Ghul tells Ollie that the Starling killings will now begin because Ollie didn't bring Sara's killer. Au contraire! It was me! Ollie! Nyssa's not buying it, but that's Ollie's story and he's sticking to it. Ra's al Ghul isn't buying it either, but he says it's been 67 years since someone challenged him. He's probably a little rusty, then. Ollie might actually have a shot here! Ra's accepts the duel and we've got ourselves a final act!

Mountaintop. Well it's about fucking time, Ollie. At least now we know where he was climbing to. His death! I mean the duel. Of course. The duel.

Torch room. Oh, okay, we're not at the duel just yet. Ollie and Hong Kong Phooey get all caught up. Ollie says after "it" happened, HKP moved to Beelzebub. Seriously, that's what it sounds like he says. HKP says he arrived in Beelzebub the same time as Sara, and she was a great warrior. Except when it came to dodging arrows. HKP tells Ollie he has 12 hours to settle his affairs, and on the 13th hour he needs to be on the mountaintop. If he survives the climb. So, wait – it'll take however long it takes to get back to Starling, then he's got to come back, and he has no idea how long it'll take to climb the thing. He should just start climbing now. Better early than late!

Cemetery. At night. Sigh. Laurel and her mom are visiting Sara's grave and reminiscing about the days when Sara was alive. Laurel promises mom that she'll find whoever killed Sara and make them pay. Mom wants the person to suffer as well. Oh, Thea. Things are going to go badly for you.

Thea's loft. The window repair guy, who doesn't even get a line, is leaving just as Ollie arrives. Ollie asks what happened to the window, and Thea blames a bird. Lies! Ollie tries to warn Thea off of Malcom, but Thea says not to make her choose between her father and her brother. You mean Tommy? Ollie gives her a hug and tells her he loves her, no matter what. Even if she is a compulsive liar who killed the woman he loved. And even if her scene with him leads us into a …

Flashback. HKP comes home to find blood on Junior's drawings and asks Junior what happened. He says the white-haired woman took her. Black Cat? Silver Sable? Emma Frost? Barbara Bush? Be specific, Junior!

Palmer Tower. Felicity demands to know what kinds of secrets Superman's been keeping from her. He says he can't tell her, he has to show her, but then he sure does a lot of talking. It all culminates in him showing her the virtual A.T.O.M. exosuit, and she asks what he plans to do with it. He wants to help people, and he wants her to help with the helping. And help him shake the whole Superman Returns thing. Felicity wonders why she keeps getting stuck with superheroes. Because you're just so damned adorable!

Fortress. Ollie's packing up and Digg says he wants to come with. Not this time, Digg. But you can hang out at basecamp and drink hot cocoa if you like. Ollie hugs Roy and tells him to watch after Thea. Oh yeah, that won't be awkward. Felicity arrives and the boys excuse themselves so Ollie can have a moment with her. Felicity says she knows better than to ask Ollie not to go, so she puts in a request for Ollie to kill Ra's al Ghul. Not just defeat him, but kill his ass. Bloodthirsty! Ollie doesn't know if he's a killer, but he knows two things. He'll do whatever it takes to save his sister. And he loves Felicity. Aw! We've got a superhero love triangle! Oh boy, I hope Ollie doesn't die at the end of all this.

Mountaintop stonehenge. Hong Kong Phooey and Nyssa are waiting for Ollie in the snow. About time! We'refreezing up here! HKP tells Ollie to remove the shirt because it's custom. Suuuuure it is. Trying to hang onto the female demo, are we, CW? HKP tells Ollie to choose his weapon, and there's a case with a bunch of swords, including one that has rings all the way down the blade. How does that one work? Ollie grabs two swords – sure, I guess grab as many as you like – and Ra's al Ghul makes the scene. As Nyssa helps him remove his garments, Ra's talks about the first guy he killed when he was 11 years old. See, that's what happens when there are no after-school programs. Ra's was proud of killing that guy, though, because he'd replaced evil with death. Thanks for that?

Before the shenanigans start, Nyssa tells Ollie she's jealous because he'll see Sara before she does. Hey! Ollie could win, y'know! I mean, he won't, but he could. The fight starts and Ollie has two swords and Ra's has none. Ollie swings for the fences, but it's not even a minute in and suddenly Ollie has one sword and Ra's has one. Ra's cuts Ollie's arm pretty badly, but Ollie's still in this thing. Ra's points his sword at Ollie's throat and backs him up to a cliff. It's time I told you something – I am not left-handed either! Ollie gets in a few good licks, but it's all for naught. Ra's al Ghul stabs Ollie through the motherfucking chest! Ra's recites some Arabic prayers for Ollie as Ollie flashes back to happy moments in his life, and then Ra's kicks Ollie over the cliff. What. The. Fuck.

Next week! There is no next week! Ollie is dead! The show returns in late January, when I assume it will be called The Atom. Until then, happy holidays everyone!
​