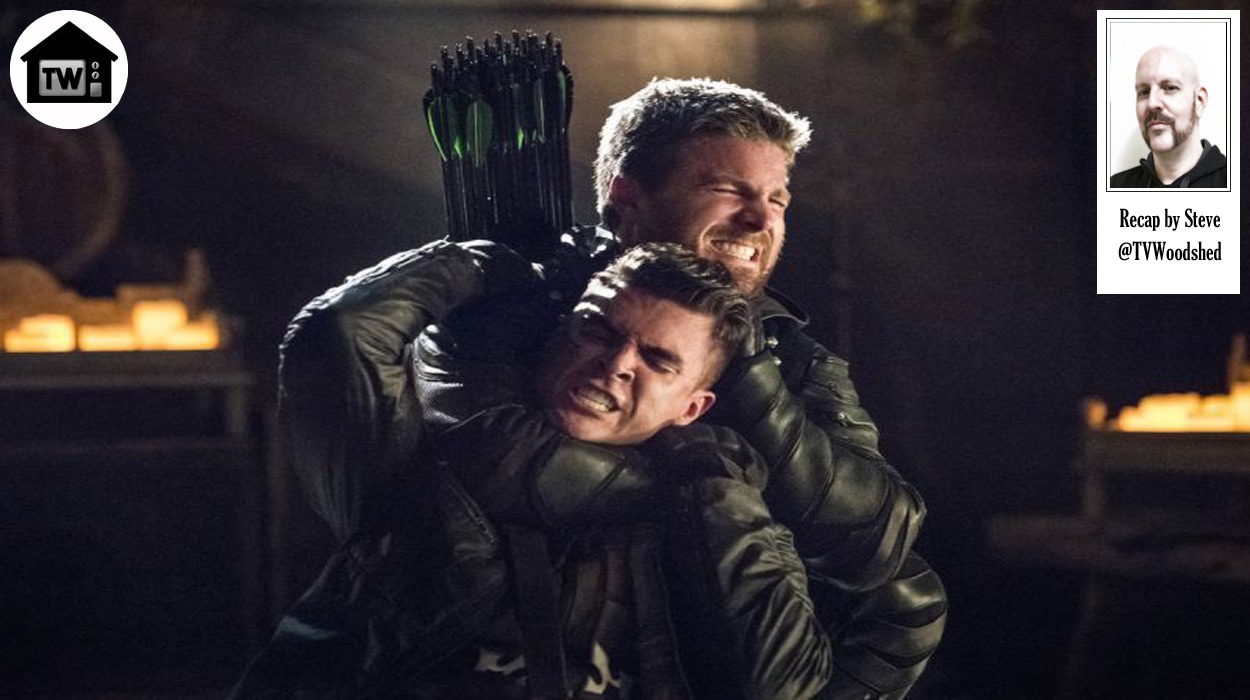 Wow. Holy shit! If I may steal from The Princess Bride, this Arrow finale has fencing, fighting, torture, revenge, giants, monsters, chases, escapes, true love, miracles ... and SLADE ONE-EYED MOTHERFUCKING WILSON!

Previouslies: A recap of the entire season, which I think could be most charitably described as "uneven."

Island prison. We pick up right where we left off, with Ollie enlisting the aid of SLADE ONE-EYED MOTHERFUCKING WILSON. The ARGUS guy who apparently feeds and waters Wilson shows up and refuses to leave his post, so Ollie knocks him the fuck out. Don't impede the plot, nameless ARGUS guy! Slade tells Ollie that the Mirakuru has worn off and he's sane now. Oh, well, never mind. You're of no use. Back in the cage! J/k, they shake on it, and Ollie says if Slade helps, he can go search for his son. There's a Deathstroke Junior? Ollie gives Slade his killing gear and it's on like Donkey Kong!

Beach. Nyssa and Malcom unpack the cooler and sunscreen while reminding each other of their mutual dislike. Speaking of dislike, I now have to type the name Captain Boomerang because he, Ollie, and Deathstroke join them. I'm just going to shorten it to Boom, kay? So anyway, nobody likes the idea of working together, but they're going to. Oh, and speaking of boom, a rocket wooshes in and booms their plane. Must have been United.

Flashback! Ivan Drago and crew go to check on Ollie in his cell, but Ollie Ollie oxen free! Suckers! Drago orders his thugs to go and find Oliver, but reminds them that no one kills him but Drago. Kinda like Voldemort and Harry. Meanwhile, Ollie is getting a serious cardio workout and then he finds a box with some stuff in it and then gets caught by the Russian goons. So, y'know, typical day.

Island. Ollie and his merry band of misfits split up: Nyssa and Malcom go to check out where the 'splosion came from, and Ollie, Deathstroke, and Boom go to find the hostages. They come across Thea, Felicity, Curtis, and some other chick trapped in cages just like the ones with the little kids in the Indiana Jones and the Temple of Doom arcade game. Before they can be whipped out, Talia and Artemis drop in — quite literally — and have weapons drawn. Oh, and the other chick is Oliver's baby mama. Wow, imagine the call sheet for this episode?

So Boom double-crosses them, like anyone with the idiotic name Captain Boomerang would, and joins Talia and Artemis, and then it seems like Deathstroke does too, but then he doesn't! And then some fisticuffs, and Malcom and Nyssa arrive and get the drop on the bad guys. My head is already spinning, you guys. Talia drops a smoke bomb and disappears, but seriously, where could she disappear to? They're in a clearing. Feh.

Flashback. Oliver gets super murdery with the Russian goons, prompting Drago to say fuck it, I'll do it myself. Lousy goons.

Island. Artemis gets caged up while the others are freed, and she doesn't know anything useful. So her character hasn't changed at all. Oliver decides to send Curtis, Thea, Felicity, and Malcom to find the plane that's somewhere on the island and get the hell outta Dodge. Thea squawks, naturally, and Felicity smooches Oliver, naturally, and then everyone goes to do their respective thing.

Temple. Yes, The Island has a temple. So what? Wanna fight about it? Black Siren reunites Quentin and Digg with Rene and Dinah and they all get chained up together. Gonna make potty breaks reaaaaallly awkward. Dinah, as it happens, can't Canary Cry because of a Canary Cry satellite dish mounted on a pole. Now that's a niche market item.

Island. While Nyssa tries to pick up Chase's trail, Oliver and SLADE ONE-EYED MOTHERFUCKING WILSON have a heart-to-heart. Slade tells Oliver that he has survivor's guilt, and the only way to move forward is to forgive himself and stop blaming himself for everything. THANK YOU! Finally, someone articulates it! Figures it would be Slade. Where have you been for the last three mopey-ass seasons?

Elsewhere, Felicity and Oliver's Baby Mama chat, and OBM says she's not getting on the plane because she won't abandon her son. Is he here too? God, the catering bill alone for this episode must have been ENORMOUS. So if OBM isn't getting on the plane, why is she walking with everyone else to the plane? No time to ponder that right now, because Thea, distracted by a sniping conversation with Malcom, steps on a land mine. She's not blown to bits, though, because this land mine only detonates when you step off it. What kind of maroon designs a land mine like that?

So of course there's lots of tense moments while they try to figure out what to do, and then Malcom pushes Thea off the land mine and takes her place on it. But – but you just said it explodes when you step off it! She stepped off it! Shenanigans! Boom shows up with a bunch of, I don't know, ninjas? Felicity, OBM, Curtis, and Thea run for it, and Malcom has a plan. If it's stepping off the land mine, it's not gonna work. Oh. It does work. But sort of off screen. So we'll see.

Island. Oliver and Deathstroke spot the plane wreckage where they used to live together and fondly remember staying up all night drinking peppermint schnapps and playing Tekken 2. Then Nyssa tells them that she knows where the others are, and points out the temple. How do you know they're in that temple? There could be dozens of temples on the island. You don't know!

Flashback! Ollie somehow has time to set up a Home Alone-style trap for one of the Russian goons and snaps the other's neck. Die, goons! Then a helicopter flies in for a strafing run. A helicopter. Sure, why not?

Temple. Nyssa goes on ahead to see what's what, and while she's gone, Slade suckerpunches Oliver. Nooooo! Slade, you motherfucker! He tells Black Siren that he's got a gift for Chase. Ooh, is it a fidget spinner? Oh. It's Oliver. I get it. Oliver is reunited and chained up with the others, and tells them that William is somewhere on the island and they have to find him. It's past his bedtime!

Island. Thea is sad and misses Malcom, for some bizarre reason, and Felicity sympathizes about having a diabolical madman for a father. Curtis finds the plane, which is good, but then also discovers that the entire island is rigged with remote controlled explosives. Well that's a fine how-do-you-do.

Temple. Oliver, ever the cagey hero, slips Dinah her sonic dampener-dampening necklace. Just go with it. She's able to Canary Cry them free, while in another part of the temple, the al Ghul sisters decide to settle their differences with swords. Like most sisters do. Hi-yah! Take that! And that! And that! When it looks like Talia's going down, her ninjas step up, but Deathstroke jumps in and uses them as human punching bags. Pow! Wham! Thwak! Deathstroke and Nyssa stand tall, and they're reunited with the good guys … just in time to run into the bad guys, led by Adrian Chase himself. Oh, it's gonna go down now. You just watch.

Flashback! Oliver shoots down the helicopter, like you do, and Drago stumbles out of it. Oliver tries to shoot him, but oops, he's out of bullets. Gonna have to do this the hard way. So be it. Fists start to fly! You got him, Rocky! You got him! Oliver does a fancy wrestling move to flip Drago over, and then instead of one big final move, he just snaps Drago's neck. This was the flashback's big bad? Lame. Oliver's Fitbit reminds him that the boat coming to rescue him is due, so he's gotta split. Run, Forrest!

Temple. And the battle is well and truly joined! Ninjas! Deathstroke! Black Canary and Black Siren! Oliver and Chase! Bang! Bop! Kerplunk!

Island. Thea asks Curtis to figure out how to get in touch with Oliver and asks Felicity to defuse the bombs. How 'bout the fillings from my fuckin' teeth while you're at it?

Temple. Oliver and Chase are brawling hard, and Oliver is winning, even though he brought a compound bow to a swordfight. Oliver wants to know where his son is. Ugh, you're like a broken record. Adrian won't drop the dime. He wants Ollie to kill him. Ollie won't. That's not who Ollie is. It is who Ollie was, just look at the flashbacks. Adrian tells Ollie his son is dead. Nuh-uh! No way! Ollie isn't buying it. And he's never gonna kill Adrian, so there!

Felicity comes over the comm system and tells Oliver not to kill Chase, because if Chase dies, the island goes boom. I'm not understanding this. The bomb trigger is connected to his heart? His brain? Lungs? How does this work? Oops, no time to figure it out, Chase uses a smoke bomb and disappears. Where does he disappear to, exactly? He's surrounded by stone. Feh. Oliver tells everyone to head for the plane, and he's going after Chase. Giving chase to Chase. I like it.

Flashback! Oliver puts on his ratty old Hood costume, Jesus wig, and Duck Dynasty beard, and then smears himself with dirt. Let me look at photos from the Season One opening sequence. Yep, looks about right. He runs off to start the series.

Island. Oliver chases Adrian down to a dock and jumps on a lil' boat that Adrian is using to escape. They fight, of course, and Oliver demands to know where William is. He's dead, Ollie. Just accept it.

Flashback! It's the opening sequence to the first episode. Bonfire, Ollie on his knees, you know the drill.

Boat. Adrian kills the boat's engine and then slyly mentions the plane that everyone else is supposed to be escaping in. Felicity pipes in to tell Ollie that the plane's fucked and they're not going anywhere. We can't have nice planes! Then Adrian opens the cabin door and pulls out a very-much-alive William. Ha! Knew it! Now Ollie's got to choose: if he kills Chase, the island blows up and everybody dies; if he doesn't kill Chase, Chase kills William. Oliver, we'll give you a few seconds to think it over. [Cue Jeopardy music]

Oliver lowers his bow … and shoots Adrian in the leg! William breaks free and runs the three or four feet to safety with Ollie.

Flashback! Oliver is on the shrimping boat that saved him. I think it's called the Jenny. He uses a phone he got from God knows where to call his mother. Moira's in this episode too? Moira gets annoyed at what would be a very cruel crank call, but then realizes that it's really Oliver and has such a beautiful scene with him that I'm going to put my snark aside for a moment and let it be.

Boat. Adrian concedes that Oliver has won. That doesn't seem consistent with his character at all. Oh no! Adrian pulls out a gun and puts it to his temple, just like Oliver's father did! Blam! And the whole motherfucking island blows the fuck up. Ho. Ly. Shit.

Next time! I guess we're gonna need a new Team Arrow. My guess is Green Arrow, Arsenal, Ragman (livin' in a movie), Huntress, Katana, and Constantine. Hey, things are looking up! See you in October!