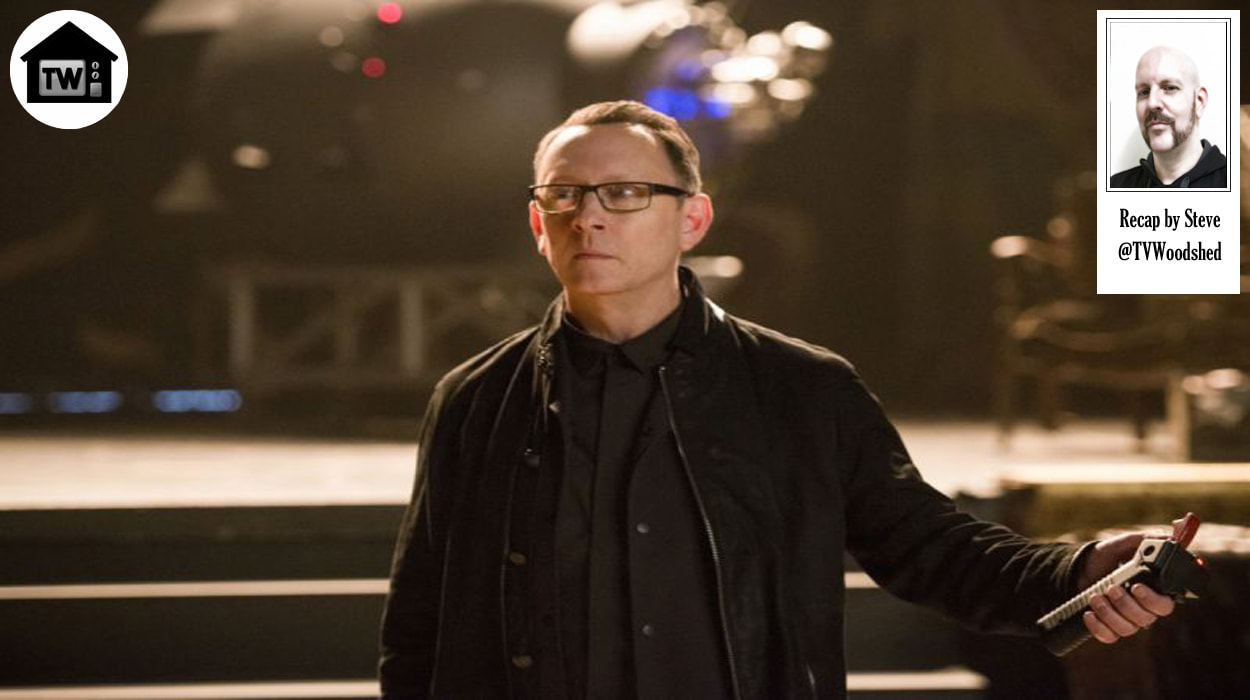 Huh. So Arrow decided to cash in its chips on Cayden James and replace him with an even blander, less inspired Big Bad. Um. Hooray?

Abandoned warehouse. See, a lot of folks take issue with my stance that Oliver and friends should just get the hell out of shithole Star City, but I present this as evidence: Star City has a mayor's office, a police station, and abandoned warehouses. And that's it. What is it that's worth saving? Anyway. Green Arrow and Blackneto enter a room and a bunch of monitors show Cayden James as he makes his bad guy monologue. Say what you will about Cayden James – even though he's really busy with his megabomb, he still makes the time to set up a lot of monitors. Speaking of the megabomb, James says he's going to detonate it at midnight. Cayden out.

Quiver. Oliver and Digg return from watching Cayden TV to find Felicity (Smokin') Smoak and Kojo (Also Smokin') Sledgehammer trying to prove that the video of Oliver killing Cayden James' son is a fake. I bet someone used Microsoft Paint.

Evil lair. Cayden James is ready to bounce, and he gathers Black Siren, Ricardo Diaz, and KGBeast to thank them and tell them that they'll be paid and airlifted out of Star City before the KER-BOOM. Sounds totally legit. So we'll just wait here for the money and the helicopter? Kay.

Flashback! What the hell, man? I thought we were done with flashbacks! Fine. So it's 18 months ago and Cayden James is working at Helix. He meets Kojo Sledgehammer for the first time, and she totally fangirls over him. See that, fellas? Even if you're a pale, creepy, four-eyed goof, hot girls will still want to bang you. There's hope for all! Cayden gets a call from his son Owen and has to leave.

Owen is a tall, well-built basketball player who looks a bit like Rob Gronkowski. Who wants to bet Cayden isn't Owen's real father? Owen's big, important game is over, and Cayden apologizes for missing it. He's just not that into sports. Owen tells Cayden that "the finals" are tomorrow night. Wow, basketball championships move fast, don't they? Cayden promises to be there.

Police headquarters. It's total chaos as everyone runs around on their phones trying to … I don't know, call the megabomb and ask it not to blow up? Ollie calls Thea and tells her to round up the important people in Star City and bring them to The Quiver so they'll survive the blast. Wasn't Donnie Darhko doing exactly the same thing at the end of Season 4? Meh.

Evil lair. Diaz decides that Cayden James has left them there to die, so he leaves to find his own transportation out of the city. Oh, I hope it's a hot air balloon! Black Siren and KGBeast come to the same conclusion and bug out too.

Police headquarters. Quentin and Thea are all worried about Dinah because she didn't show up at work. Relax, you nervous Nellies. She's just at the …

Evil lair. Black Canary is kicking ass on a bunch of hired goons, trying to find out where Black Canary is. The goons are useless, so she knocks them all loopy. Mr. T and Wild Dog make the scene and tell Canary that they have more important things to worry about than Black Siren, but Canary don't care. Bring me Black Siren, dammit!

Quiver. Kojo Sledgehammer figures out it was a paid assassin who killed Owen, and they need to get that information to Cayden James right away. Oliver has an idea, and the "Flash effect" from The Flash rushes them to James' location. Hey, Barry? Can you just do a quick run around Star City and find the megabomb for us? No? Okay then.

Green Arrow presents the video evidence to Cayden James, and James somehow knows that one of his evil associates is responsible for the deception. He wants them all gathered so he can question them, or he'll blow up the bomb. God, is there anything that won't make this guy blow up his stupid bomb?

So, in what amounts to a very long and uninteresting montage, Quentin and Black Canary capture Black Siren, Wild Dog and Mr. Terrific capture Diaz, and Green Arrow and Blackneto capture KGBeast. Also, William shows up at The Quiver and is extremely annoying. How annoying, you ask? Let's pick up the story thread at the abandoned theater, where Cayden James is waiting.

Abandoned theater. Okay, I amend my earlier criticism: Star City also has an abandoned theater. Everybody stay! So the heroes gather the villains so that Cayden James can make yet another villainous monologue. I suppose you might as well get whatever mileage you can out of him. In the midst of all of this, WILLIAM SHOWS UP, because he's an idiot and a liability and an asshole. Go home, William! Better yet, transfer to another CW show! I bet Riverdale is hiring.

Flashback! Cayden James is watching Owen's basketball game from outside. What basketball court has a glass outer wall? Anyway, the feds show up to arrest Cayden for all his illegal hacking. But look at me! What else can I do but hack? They throw him in the back of their black Chevy Suburban and he looks longingly at the game. Will Owen throw up the buzzer beater that wins "the finals"? Will he go down in humiliating defeat? We'll never know.

By the way, there seem to be about six different color uniforms on the court. I don't follow basketball, but that's not right, is it?

Abandoned theater. Cayden James wants to know who set him up and killed Owen. Black Siren confesses, but Cayden doesn't believe her and neither do I. I don't think there's a Laurel on any of the 52 Earths who's that smart. James' bomb trigger short-circuits the Canary Cry dampener they have on Black Siren and all hell breaks loose. The good guys chase down the bad guys. Diaz and KGBeast escape, and Black Canary guns down Black Siren. Hooray! Laurel's dead! Again!

Cayden James and William, of all people, fight over the bomb detonator, but Cayden winds up with it. Green Arrow consoles William over the fact that they're going to die because William's an asshole who can't stay put when he's supposed to. Cayden James has YET ANOTHER bad guy speech, and Green Arrow is able to disarm him. Hooray! Laurel's dead and the city is safe!

Quiver. Everyone is gathered for a post-caper wrap-up, and Dinah tries to convince them all that Laurel should be their focus. Oh, but Dinah, haven't you heard? Laurel's dead! Dinah storms off and Rene reminds Oliver and the audience that THIS CHANGES NOTHING and they're STILL NOT PART OF TEAM ARROW. Whatever, Hoss.

Police station. Oliver visits Cayden James in the holding area. Cayden hands over a list of where he believes Diaz, Laurel, and KGBeast might be, and the bank account number for all the money he extorted. Well, aren't we a helpful Big Bad all of a sudden? He tells Oliver to be a better father than he was – which I hope Ollie doesn't take to heart, because I want more than anything for William to be on the business side of an arrow – and then asks if he can visit Owen's grave. Ollie says he can arrange that. Um … wasn't this guy just going to vaporize the city? And now we're doing him favors? See, this is what's wrong with Star City right here.

Flashback! Cayden James is in that shipping container where we first met him, and one of the federal agents who arrested him comes in to tell him that Owen is dead. Oh, and Trump is president and global warming continues unabated. And net neutrality was repealed. Have a nice day!

Car. A not-dead Laurel (boo!) is in the back seat and Quentin drives off with her, evidently to get the bullet out of her belly and force her to be good and sweet like Earth-1 Laurel was. Ugh. KMN.

Police station. Cayden James is still hanging around when the security camera switches off. I'm sure there's nothing sinister going on, probably just a blown fuse. Ricardo Diaz comes in and tells Cayden that he was the mastermind behind the fake picture, the fake video, and Owen's death. This guy's been busy! In his terrible Al Pacino impersonation, he says he's going to take over Star City and then he stabs Cayden in the neck. Thanks for being such a great red herring, Cayden!

Next time! It's a showdown between Team Arrow and The Outsiders! But it's not until March, so enjoy the rest of February, and I'll see you then!