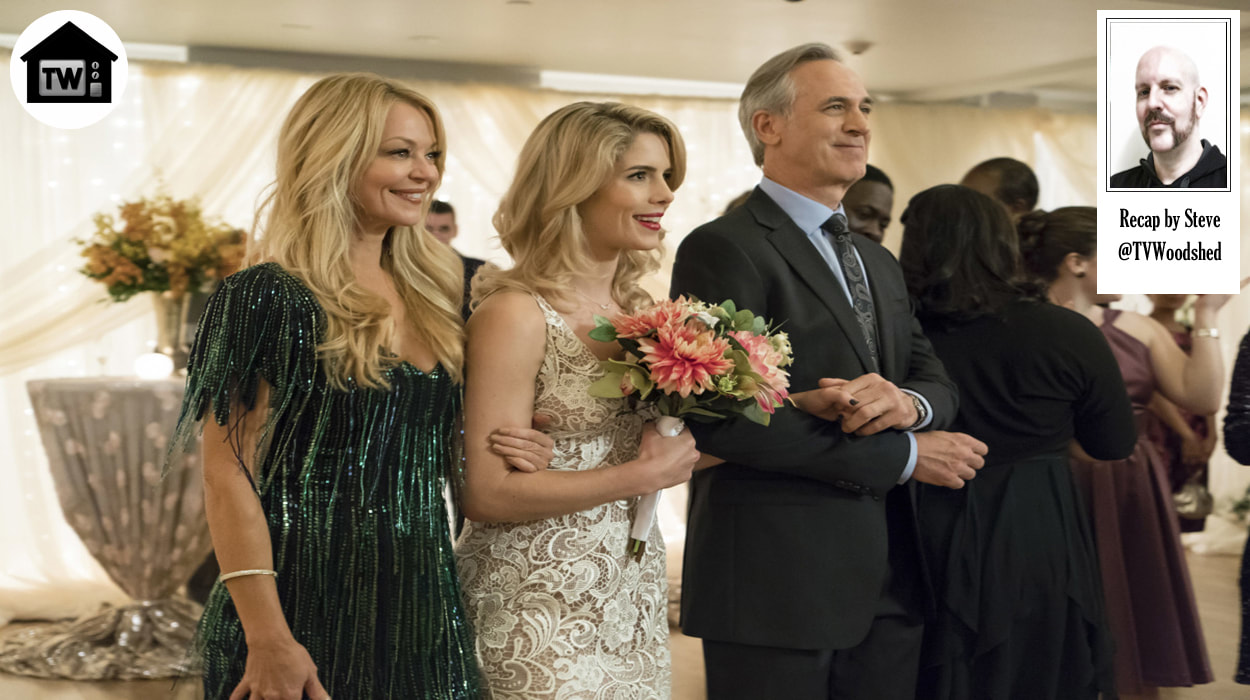 This week on Arrow, Oliver and Felicity are able to enjoy a few seconds of marital bliss before it all comes crashing down when they learn that someone on Team Arrow is a snitch. Fortunately, snitches get stitches. Or kicked off the team. Whichever.
Wedding reception. Oliver is making his way around, exchanging small talk with William and Thea and Digg, but it's all just a buildup to the arrival of Felicity (SMOKIN') Smoak, who enters the room to her very own soundtrack. She's on the arm of Donna (Smokin') Smoak and her father, whose name I forget. And wasn't he also a supervillain? Eh, no matter. You should have seen how many supervillains we had to invite to our wedding.

Donna gives Felicity no end of grief for having such a non-traditional, non-Jewish wedding/reception, and Ollie and Felicity escape to have a private kiss, which Digg makes sure everyone in the room applauds. The DJ cranks up some Pink, and we get to see that not only is William the worst actor who ever lived, he's also the worst dancer. The happy couple gets pinned down by their creepy ex-neighbors from Ivy Town (you remember Ivy Town, right?) and the rest of Team Arrow drinks their sorrows away. What a surprise that Oliver's wedding is starting to feel like a funeral.

In a very sweet moment, Quentin gifts Oliver the cheap-ass watch his own father gifted him on his wedding day. Ollie and Felicity feed each other cake, and Curtis uses his freakishly long arms to steal the bouquet from Donna. Rene saves Curtis from making an even longer, even more bitterly drunken toast to the happy couple, and toasts them himself. At last Ollie and Felicity have their first dance (to the song "At Last" – see what I did there?) and Donna and Quentin have a terribly awkward moment, as you can well imagine. Ah, but saved by the text! Quentin gets the news from Ollie's lawyer that someone is going to testify that Ollie's the Green Arrow. Let me guess – that someone is the ENTIRE FUCKING WORLD? Oh, no, Quentin says that the identity of this someone is under seal, but it's someone on the team.

Okay, let's dissect this for a second. This news is coming in from Ollie's lawyer. He says the witness' name is under seal, but somehow knows that it's a member of Team Arrow? Does Ollie's lawyer know he's the Green Arrow? Does Ollie's lawyer know the secret identities of the members of Team Arrow? The fuck?

Quiver. There's a whole lot of discussion and exposition involving this Team Arrow snitch. Ollie immediately thinks that it's Evelyn (you remember Evelyn, right?), which makes zero sense because Evelyn could have dropped that dime at any point over the past season and a half. Felicity says that she's snooping on Rene, Curtis, and Dinah. This won't come back to bite anyone in the ass, I'm 100% sure of it.

Rene's place. Curtis stumbles in, all drunkenly mopey because his husband left him, and Rene tries to talk him down, but Curtis promptly passes out. Such a typical post-reception scenario.

Alleyway. Dinah meets up with Vincelante and tells him to quit bugging her. She has to move on! And he has to go and be Cable's stunt double in Deadpool 2! So. Y'know. Scram!

Hallway. Quentin tries to walk Thea home, but their way is blocked by Black Siren. Excuse me, miss? Could you step aside, please? I'm trying to walk this young lady to her door. Thea throws the weakest punch since Ronda Rousey's last fight and gets knocked out. Quentin gets knocked out too, and before Black Siren drags him off, she puts a cell phone in Thea's unconscious hand. Call me!

Quiver. Felicity, Oliver, and Digg look at some surveillance footage and see Dinah meeting up with Vincelante. That could be any Dinah! You don't know! Thea arrives and tells everyone about Black Siren and the hallway nonsense, and just then, the cell phone Thea was given starts to ring. It's Cayden James, the worst Big Bad yet! He wants Team Arrow to steal him a doodad from ARGUS or he'll kill Quentin. Yawn. Haven't we done this, like, a million times already?

ARGUS headquarters. Team Arrow pulls a Mission: Impossible-style heist, and I mean that quite literally, since Oliver does the whole Tom Cruise-dangling-from-wires-in-the-ceiling routine. They get away with the doodad. As they pretty much always do.

Quiver. Ollie tells Curtis to fuck with the doodad so that Cayden James will think he's got the doodad but in reality it will be a poorly functioning doodad. Just then Dinah comes in and wonders why no one called her to be in the Mission: Impossible movie. Because you're the snitch! Dinah denies being the snitch. Oh yeah, lady? Oh yeah? Then who's the snitch, huh? Who's the snitch? Oh. It's Rene. Hrm. Sorry, Dinah. Who wants tacos?

Rene explains himself and I don't understand a word of it. Something about he can't get his daughter back if Ollie's the Green Arrow. Whatever, it's weak. Oliver tells Rene to get out. Seems like you wouldn't want to piss Rene off if he's willing to sell you out to the feds, but that's none of my business.

Warehouse? Maybe? Quentin and Black Siren have some time together, and we discover that Earth-1 Laurel is dead, but so is Earth-2 Quentin. So they could, y'know, start a new cross-Earths family if they wanted to. Also, since there's weird sexual tension in the room, I'll point out that since they're from different earths, they're not actually related, and could hook up if they really wanted to. Oh, what, you think that's gross? Barry married his sister on The Flash!

Outdoor eating venue. Rene has himself a triple cheeseburger from a food truck, which can only mean he's so depressed that he's decided to end it all. Dinah and Curtis are there with him, which seems weird to me, but they're united in their dislike of the spying that was done on all of them. Yeah well, if you've got nothing to hide, you've got nothing to fear, right? So sayeth the Death Eaters and the Republican Party.

Quiver. Thea earns her half-season paycheck by listening to Ollie whine about [insert whatever it is Ollie's whining about this week] and Ollie takes her tiny, 5-foot, 85-pound wisdom to heart. He decides to reassemble the team full of people he cannot trust and who do not trust him. What could go wrong?

Warehouse. Green Arrow gives Wild Dog, Black Canary, and Mr. Terrific a pep talk, and tells them to put all the bullshit aside and focus on rescuing Quentin. You got it, boss! Can I just wonder aloud why Oliver is back as the Green Arrow? Was there discussion of Digg surrendering the hood? Is it because Ollie suited up for the Crisis Crossover and decided to keep rolling with it? We may never know.

Because, and I don't want to beat a dead horse here, Digg might be disappointed with the team, but they didn't directly betray him, so they might be more willing and able to follow him into battle.

Anyway, where was I? Right, so the team gets into position and Green Arrow finds Cayden James and about a thousand mercenaries, and tries to hand off the doodad. But James knows it's been fucked with! Green Arrow and Black Canary take on the thousand mercs while Wild Dog and Mr. Terrific disobey orders and go to find Lance. They sorta kinda rescue him, but it's mostly Green Arrow who does the rescuing. Oh and Black Siren lets Lance go, so he doesn't really need rescuing. Green Arrow is very disappointed that his team can't follow instructions. Very disappointed.

By the way, it's really convenient that the mercenaries forget that they all have guns. Otherwise it would have been a bloodbath. But they step up one at a time like good little mercs and get their faces pounded in.

Quiver. Oliver gives his team what-for, and fires Rene. Again. Dinah tells Oliver that she doesn't trust him or believe in him anymore and quits. Merry Christmas, one and all!

Parking garage. Dinah meets up with Vincelante and completely backtracks everything she said to him earlier in the episode. I'm glad she quit the team. She lacks conviction!

Rene's place. Rene comes home with Zoe and tells her that they're never going to be apart again. Unless daddy gets convicted of vigilantism. Which is entirely possible. But look! Daddy got you sunflowers! Your favorite!

Quiver. Oliver tells Digg and Felicity that they need to move forward. Then Curtis comes by and quits the team. Then Oliver tells Digg and Felicity that they need to move forward. Well, at least we have a theme. Moving forward, everyone!

Oliver wonders aloud how Cayden James knew that the doodad had been fucked with. Oh yeah. How did he know?

Warehouse. Ah, there's the answer. Cayden James has a minicam in the Quiver. You sneaky little fuck. As James monologues, his ghetto Legion of Doom surrounds him. Vigilante! KGBeast! Black Siren! Some other guy! And some other other guy! James says this is only the beginning, but really, it's almost mid-season, so you kids better get cracking with your evil master plan. And no staying up past your bedtime!

Next Week! Sorry, folks, there is no next week. I mean there is, obviously (unless the Big Orange Blowhard gets us all killed before then) but Arrow is off until January 18. Judging by the previews, everything that happened in this episode will be undone, so there's that. In the meantime, from all of us at Television Woodshed, happy holidays, everyone!